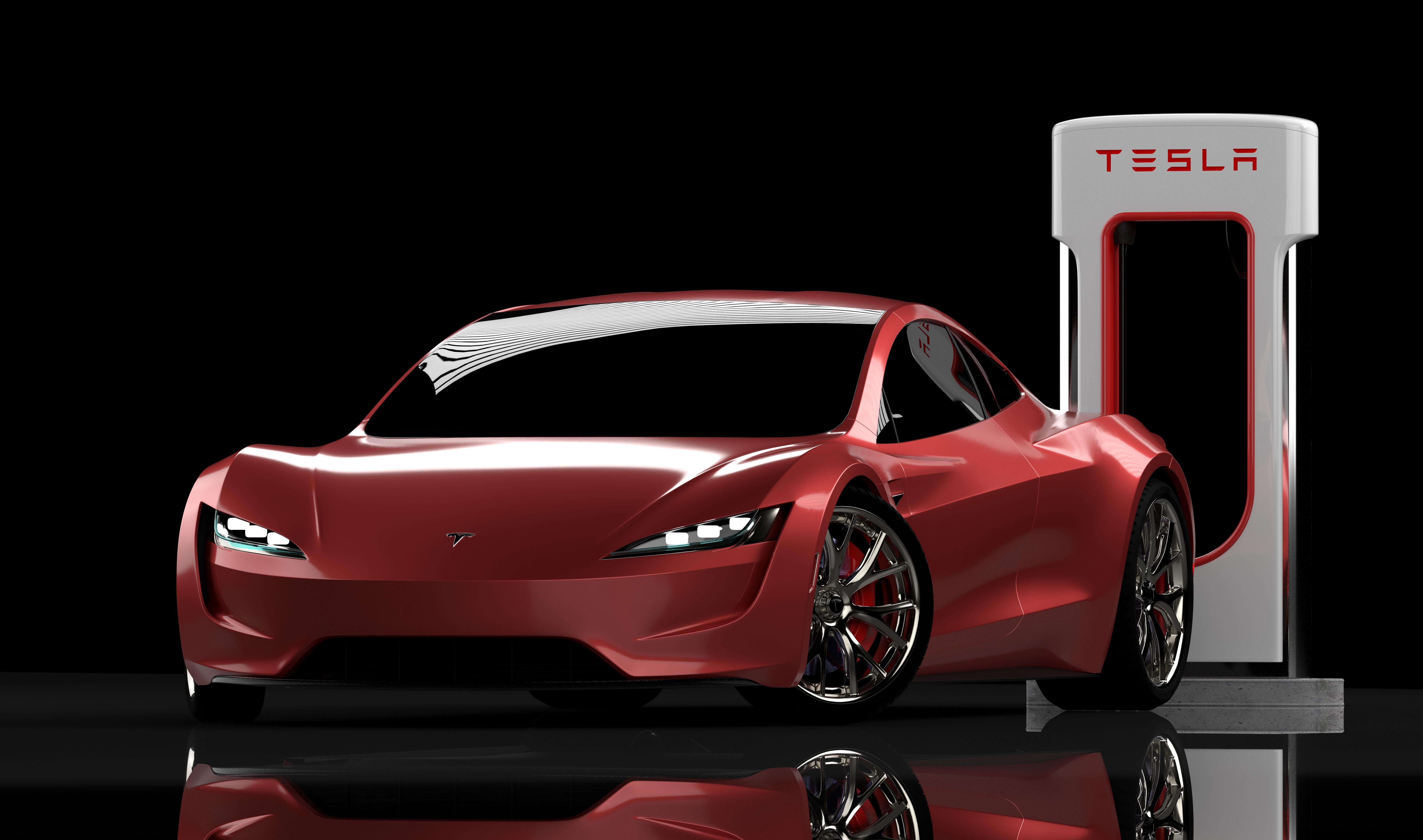 US carmaker Tesla needs lithium to power its electric vehicles, but where does it get it from? Find out more here.
Unlike some of its rivals, US electric vehicle (EV) pioneer Tesla (NASDAQ:TSLA) has been making moves to secure supply of the raw materials it needs to meet its production targets.
Lithium in particular has caught the attention of CEO Elon Musk. Back in 2020, the battery metal had a spotlight moment at Tesla's Battery Day, when Musk shared that the company had bought tenements in Nevada, and was looking for a new way to produce lithium from clay — a process yet to be proven at commercial scale.
Since then, lithium prices have hit all-time highs and stayed elevated. Prices for other key battery metals have also increased, leading to higher costs for batteries themselves — according to Benchmark Mineral Intelligence, raw materials currently make up about 80 percent of battery costs, up from around 40 percent back in 2015.
---
"Price of lithium has gone to insane levels," Musk tweeted back in April. "There is no shortage of the element itself, as lithium is almost everywhere on Earth, but the pace of extraction/refinement is slow."
Most lithium mining happens in Australia from hard-rock sources and in Chile from brines. But lithium refining is dominated by China, which currently accounts for more than 75 percent of global lithium processing capacity.
"I'd like to once again urge entrepreneurs to enter the lithium-refining business. The mining is relatively easy, the refining is much harder," Musk said on a July earnings call, adding there are software-like margins to be made in lithium processing. "You can't lose, it's a license to print money."
Do Tesla batteries have lithium and cobalt?
As mentioned, it wasn't just lithium that saw prices climb last year — cobalt doubled in price in 2021. Most cobalt mining takes place in the Democratic Republic of Congo, which has been often associated with child labour and human rights abuses, fueling concerns over supply of this battery metal in the long term.
In its batteries, Tesla is known for using nickel-cobalt-aluminum (NCA) cathodes developed by Japanese company Panasonic (OTC Pink:PCRFF,TSE:6752). This type of cathode has higher energy density and is a low-cobalt option, but has been less adopted by the industry compared to the widely used nickel-cobalt-manganese (NCM) cathodes. Those aren't the only cathodes containing cobalt that Tesla plans to use; South Korea's LG Energy Solutions (KRX:373220) is working on supplying Tesla with batteries using nickel-manganese-cobalt-aluminum cathodes.
That said, not all Tesla's batteries contain cobalt. For its standard-range vehicles, Tesla said last year it was changing the battery chemistry it uses to lithium-iron-phosphate (LFP) cathodes, which are cobalt- and nickel-free. At the time, the company was already making vehicles with LFP chemistry at its factory in Shanghai, which supplies markets in China, the Asia-Pacific region and Europe.
How much lithium is in a Tesla battery?
For those interested in the EV space, it is a fair question to ask — how much lithium is there really in a Tesla battery? The answer is that even though it might not be huge compared to other raw materials, it can become a hurdle for any EV maker if there's not enough, and enough of the right quality.
Back in 2016, Musk said batteries don't need as much lithium as they need nickel or graphite — describing lithium as "the salt in your salad" and saying it is about 2 percent of the cell mass.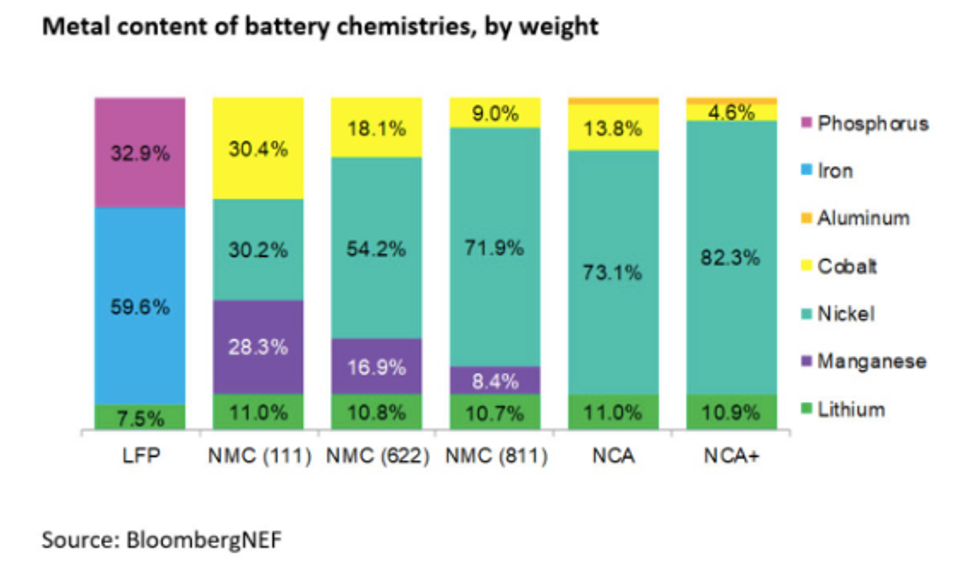 Metal content of battery chemistries by weight.
Chart via BloombergNEF.
But a key factor to remember is volume — given the amount of batteries Tesla needs to deliver its ambitious goals, if it can't secure a steady supply of raw materials, it could hit a bottleneck. Of course, this is true not just for Tesla, but for every carmaker producing EVs today and setting targets for decades to come.
For that reason, demand for lithium is expected to soar in coming years. By 2030, Benchmark Mineral Intelligence forecasts lithium demand will reach 2.4 million metric tons (MT) of lithium carbonate equivalent — much higher than the forecasted 600,000 MT of supply expected to be produced in 2022.
Which lithium companies supply Tesla?
It's important to understand that there is not only one company that supplies lithium to Tesla.
At the end of 2021, Tesla inked a fresh three year lithium supply deal with top lithium producer Ganfeng (OTC Pink:GNENF,SZSE:002460). The Chinese company will provide products to Tesla for three years starting from 2022. Major miners Livent (NYSE:LTHM) and Albemarle (NYSE:ALB) also have supply contracts in place with the EV maker, and China's Sichuan Yahua Industrial Group (SZSE:002497) agreed to supply battery-grade lithium hydroxide to Tesla back in 2020 for a period of five years.
The company also holds deals with junior mining companies for production that is yet to come on stream. Australia's Liontown Resources (ASX:LTR) is set to supply Tesla with lithium spodumene concentrate from its AU$473 million Kathleen Valley project. The deal is for an initial five year period set to begin in 2024, conditional on Liontown starting commercial production by 2025.
Earlier in 2022, Core Lithium (ASX:CXO,OTC Pink:CXOXF), another ASX-listed company, was also in talks with Musk's Tesla to supply the car company with lithium from its Finniss project, but negotiations collapsed in October. The lithium company said it remained open to maintaining further dialogue with Tesla.
Even though Tesla has secured lithium from all these companies, the EV supply chain is a bit more complex than buying lithium directly from miners. Tesla also works with battery makers, such as Panasonic and CATL (SZSE:300750), which themselves work with other chemical companies that secure their own lithium deals.
What company makes Tesla's batteries?
Tesla is currently working with Japanese company Panasonic, its longtime partner, and South Korea's LG Energy Solutions, the second largest battery supplier in the world. They supply the EV maker with cells containing nickel and cobalt.
China's CATL has been supplying LFP batteries to Tesla for cars made at its Shanghai plant since 2020. It's also been reported that BYD Company (OTC Pink:BYDDF,SZSE:002594) will soon supply Tesla with its Blade battery, a less bulky LFP battery.
Are Tesla's batteries expensive because of lithium costs?
Battery costs have been rising on the back of inflation, price hikes for raw materials and the ongoing Russia-Ukraine war, among other factors. Raw materials, including lithium, currently make up about 80 percent of battery costs, up from around 40 percent back in 2015, according to information from Benchmark Mineral Intelligence.
Lithium prices are up over 300 percent year-on-year and more than 120 percent year-to-date, and it's not only spot prices that are climbing — lithium producers have said contract prices are also up, with some moving from fixed to more variable agreements.
Is there enough lithium for electric cars?
There's plenty of lithium on the Earth's crust, but extracting, processing and qualifying it for its use in EVs is a different story. Lithium demand from the EV sector is rising, a trend that is expected to continue throughout the decade. But supply is not keeping up, with many analysts and even lithium producers forecasting a tight market ahead.
At the moment, there aren't enough raw materials in the pipeline to take the majority of EV makers beyond 2030, as per Benchmark Mineral Intelligence.
Will Tesla buy a lithium mine?
For carmakers, securing lithium supply to meet their electrification goals is becoming a challenge, which is why the question of whether they will become miners in the future continues to come up.

As mentioned before, back in 2020, at the company's Battery Day event, Musk surprised the lithium industry by saying Tesla had acquired the rights to lithium-rich clay deposits in Nevada; it said it had found a way to mine the material in a sustainable and simple way — using table salt and water.
But mining lithium is not easy, and despite speculation, it's hard to imagine an automaker being involved in it, SQM's (NYSE:SQM) Felipe Smith said in June. "You have to build a learning curve — the resources are all different, there are many challenges in terms of technology — to reach a consistent quality at a reasonable cost," he said. "So it's difficult to see that an original equipment manufacturer (OEM), which has a completely different focus, will really engage into these challenges of producing."
Even so, OEMs are coming to the realization that they might need to build up EV supply chains from scratch after the capital markets' failure to step up, as per Benchmark Mineral Intelligence's Simon Moores. Furthermore, automotive OEMs that are making EVs will in effect have to become miners.
"I don't mean actual miners, but they are going to have to start buying 25 percent of these mines if they want to guarantee supply — paper contracts won't be enough," he said.
Don't forget to follow us @INN_Resource for real-time updates!
Securities Disclosure: I, Priscila Barrera, hold no direct investment interest in any company mentioned in this article.
Editorial Disclosure: The Investing News Network does not guarantee the accuracy or thoroughness of the information reported in the interviews it conducts. The opinions expressed in these interviews do not reflect the opinions of the Investing News Network and do not constitute investment advice. All readers are encouraged to perform their own due diligence.
TSLA:AQL
Investing News Network websites or approved third-party tools use cookies. Please refer to the cookie policy for collected data, privacy and GDPR compliance. By continuing to browse the site, you agree to our use of cookies.