How to Invest in Oil and Gas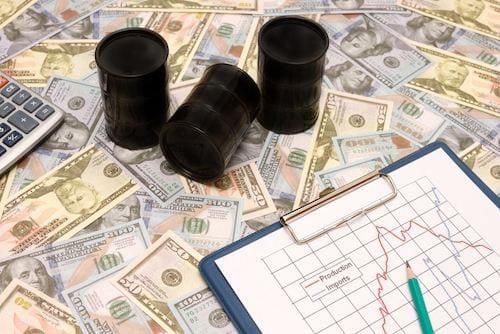 Global oil production has continued to rise over the years. Here's a look at the top 10 oil-producing countries of 2020.
Oil demand has been impacted significantly by COVID-19, as business activity, travel and daily life continue to be disrupted. Those events, paired with the price war between Saudi Arabia and Russia, sent prices on a downward spiral in 2020.
However, prior to those recent events, oil prices had rebounded quite a bit since 2016 after an output control deal was made between the Organization of the Petroleum Exporting Countries (OPEC) and 11 of the world's top oil producers. It was the first cut since 2008.
The agreement called for oil production to fall by almost 1.8 million barrels a day (bpd), and in late 2018, OPEC again decided to cut crude oil production by 1.2 million bpd in an effort to stabilize prices.
The OPEC deal faced obstacles as increasing oil production in the US and other countries like Brazil and Libya softened the effect of the cuts and created some price volatility.
In March of last year, the agreement expired, with production increasing dramatically in April following Russia's decision not to approve further cuts proposed by Saudi Arabia. The de facto OPEC leader responded by offering its product at discounted prices and pumping more oil.
In an oversupplied market being hit by a lack of demand, prices turned negative. With some pressure from the US, Russia and OPEC finally came to an agreement to cut production by 9.7 million bpd — the single largest output cut in history. Since then, the organization has begun to gradually increase production levels; at the same time, 2021 has seen oil demand slowly return as vaccination levels increase and COVID-19 lockdowns ease worldwide.
Given market events, many investors are curious to know which countries produce the most oil. Read on for a look at the top 10 oil-producing countries in the world in 2020. Statistics are from the Energy Information Administration (EIA) and include total production of petroleum and other liquids.
1. United States
Production: 18,600,000 bpd
Number one on this list of the top 10 oil-producing countries is the US. Although its output decreased from its 2019 level to reach 18,600,000 bpd last year, it produced the most oil in 2020.
The US has been described as a swing producer because its production fluctuates alongside market prices. The International Energy Agency forecasts that the country will continue to lead the way as the largest source of new supply.
In addition to being a major oil producer, the US is a big consumer of oil. Last year, the US took in a total of 6.63 billion barrels of petroleum products — that's an average of about 18.12 million bpd.
2. Saudi Arabia
Production: 11,010,000 bpd
Saudi Arabia's output came in at 11,010,000 bpd in 2020. The country possesses 17 percent of the world's proven petroleum reserves and is the largest petroleum exporter. Its oil and gas sector accounts for around 50 percent of its gross domestic product, and about 85 percent of its export earnings.
In 2020, Saudi Arabia played a key role in OPEC's decision to curb oil output. The Middle Eastern country decided to reduce production by 3.3 million bpd to meet the conditions of the deal signed with other OPEC members and allies.
3. Russia
Production: 10,500,000 bpd
Prior to production cuts in 2020, Russian oil output had spent a number of years rising; it hit 10,500,000 bpd last year. Most of Russia's reserves are located in West Siberia, between the Ural Mountains and the Central Siberian Plateau, as well as in the Urals-Volga region, extending into the Caspian Sea.
Under last year's deal with OPEC members and other nations, Russia had to find a way to cut a fifth of its oil output, or about 2.5 million bpd, to tackle the market glut.
4. Canada
Production: 5,290,000 bpd
Next on this list of the top 10 oil-producing countries is Canada. The country's annual oil production fell to 5,290,000 bpd in 2020, down from 2019's output levels of 5,500,000 bpd.
Nearly all of Canada's proven oil reserves are located in Alberta, and according to the province's government, 97 percent of oil reserves there are in the form of oil sands. Energy exports to the US account for the vast majority of Canada's total energy exports. However, because of economic and political considerations, Canada is developing ways to diversify its trading partners, especially by expanding ties with emerging markets in Asia.
Canada has been embroiled in a national debate over pipelines. In 2018, the federal government purchased the Kinder Morgan Canada (NYSE:KMI) Trans Mountain pipeline for C$4.5 billion to ensure Canadian crude reaches market ports. At the time, an expansion was estimated to cost another C$7.4 billion, after which the government would sell the project back to the private sector. In February 2020, a new cost estimate for the project sent the C$7.4 billion figure to C$12.6 billion.
Despite the global pandemic and oil price crash, construction on the expansion is progressing with COVID-19 safety measures in place. The expansion is now expected to be operational by December 2022.
5. China
Production: 4,930,000 bpd
China's annual oil output was 4,930,000 bpd in 2020. The nation is the world's second largest consumer of oil and moved from being the second largest net importer of oil to the largest in 2014.
Of the top 10 oil-producing countries, China is the world's most populous country and has a rapidly growing economy, factors that have driven its high overall energy demand. In fact, the Asian country is the top consumer of oil, with 55 percent of its imports coming from OPEC member countries.
According to Reuters, China's crude oil imports grew by 7.3 percent to reach record levels in 2020. Refineries and independent storage operators "(took) advantage of" of low prices and "robust domestic demand as the economy quickly recovered from the coronavirus pandemic."
6. Iraq
Production: 4,160,000 bpd
In 2017, despite increasing its output, Iraq got bumped from sixth place by Iran on this top 10 oil-producing countries list. Output in 2018 helped the nation regain its sixth spot position.
The Middle Eastern country saw its oil production decrease significantly from 4,740,000 bpd in 2019 to 4,160,000 bpd in 2020. It holds the world's fifth largest proven oil reserves at 145 billion barrels; that represents 8.4 percent of global reserves.
7. United Arab Emirates
Production: 3,790,000 bpd
The United Arab Emirates is an OPEC member, and has ranked among the top 10 oil-producing countries for decades. In 2020, it saw a small decrease in production from the previous year's 4,010,000 bpd, with oil output falling to 3,790,000 bpd.
The country holds the world's eighth largest proven oil reserves at 98 billion barrels, with most of those reserves located in Abu Dhabi. The UAE accounts for 5.6 percent of global total reserves.
8. Brazil
Production: 3,780,000 bpd
Last year, Brazil's oil production jumped dramatically slightly from 3,678,000 bpd in 2019 to 3,780,000 bpd in 2020.
According to the EIA, total primary energy consumption in Brazil has nearly doubled in the past decade because of sustained economic growth. The largest share of Brazil's total energy consumption is oil and other liquid fuels, followed by hydroelectricity and natural gas. The recent surge in production and exports is said to be the result of years of large investments by state-run Petróleo Brasileiro (Petrobras).
9. Iran
Production: 2,810,000 bpd
Iran's oil output decreased last year, falling from 3,190,000 bpd in 2019 to 2,810,000 bpd in 2020. According to the EIA, Iran holds the world's fourth largest proven oil reserves and the world's second largest natural gas reserves. Despite the country's abundant reserves, Iran's oil production has substantially fallen in recent years, and natural gas production growth has been slower than expected.
US sanctions and regional disputes have all weighed on Iran's energy production sector. Blocking Iran's access to crude carriers will have a huge impact on the nation's oil industry, as well as its largest buyers in Asia. China recently signed a 25-year trade and security agreement with Iran and has called on the US to drop its sanctions.
10. Kuwait
Production: 2,660,000 bpd
Last on this list of the top 10 oil-producing countries is Kuwait, whose output decreased in 2020 after increasing for two years in a row. In 2016, production reached 3,072,000 bpd, then dropped to 2,825,000 bpd in 2017. In 2018, the country made a slight recovery, producing 2,870,000 bpd and was back up at 2,940,000 bpd in 2019. In 2020, that production level has dropped to its lowest in years, at 2,660,000 bpd.
Kuwait's oil and gas sector accounts for about 60 percent of country's GDP and about 95 percent of its export revenues.
Don't forget to follow us @INN_Resource for real-time news updates!
Securities Disclosure: I, Melissa Pistilli, hold no direct investment interest in any company mentioned in this article.