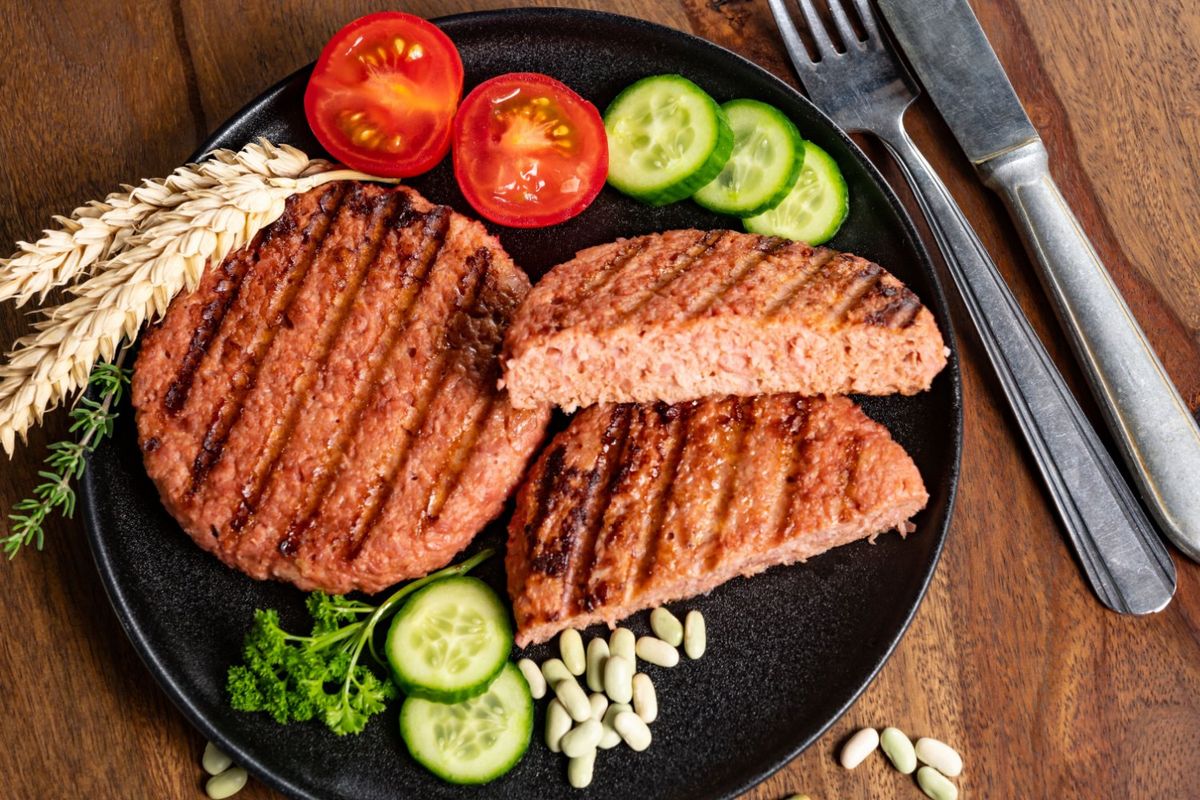 The plant-based food trend is taking over tables across North America, creating a new market of opportunity. What are the top plant-based food stocks for investors to consider?
The plant-based food industry has attracted a lot of interest in the past few years. Consumers are hungry for more plant-based diets, and their enthusiasm is creating a juicy growth market that investors can really sink their teeth into.
In 2021, several companies garnered more than US$100 million in 13 separate funding rounds. One of the biggest winners was privately held Impossible Foods, which completed a US$500 million raise for lifetime funding of over US$2 billion.
One of 2022's key financings was the US$400 million Series C round for cultured meat company Upside Foods, which included Tyson (NYSE:TSN), Cargill and Givaudan (SWX:GIVN). The money is to help build a commercial-scale manufacturing facility and a solid supply chain for cell growth media, as well as to fund more research and development on cell-based meat.
---
2023 has just begun, but BC-based alternative protein manufacturer No Meat Factory has already raised US$42 million through a Series B funding round. The company plans to use the funding to expand its North America production footprint and to build out the manufacturing capabilities it needs to address the global market.
This funding frenzy might just be the appetizer before the main course.
In its Foresight 2022 report, Lux Research includes alternative proteins among its picks for top technology innovations destined to have the greatest impact on worldwide markets in the next decade. With a nearly 12 percent compound annual growth rate forecast over seven years, the plant-based food sector represents a high-growth opportunity for investors. In fact, Future Market Insights projects that the global plant-based food market will be worth as much as US$34.5 billion by 2032.
With this future potential in mind, here the Investing News Network takes a look at the top plant-based food stocks by market capitalization in the US and Canadian markets. Read on to learn more about them.
Top US-listed plant-based food stocks
The American plant-based food stocks below were compiled using TradingView's stock screener on February 7, 2023. Companies listed on the NASDAQ and NYSE were considered and are listed by market cap size.
Market cap: US$6.64 billion
Global food manufacturer Ingredion provides plant-based ingredients to companies manufacturing vegan products; it earned a spot on Fortune Magazine's 2022 World's Most Admired Companies list, ranking second in the food industry. In mid-2021, the company opened the first facility in North America to produce pea protein isolate and pea starch.
The company's pea protein isolate is 85 percent protein and can be used to boost the protein content of a range of plant-based food and beverage products. Ingredion's pea starch can be used in a number of ways, including in the production of plant-based cheeses.
Market cap: US$3 billion
Headquartered in the UK, Nomad Foods is Europe's leading frozen foods company.
The company's brand portfolio includes well-known regional brands Birds Eye, Findus, iglo, Ledo and Frikom. In December 2022, Nomad Foods was included in the Dow Jones Sustainability Europe Index for the second year in a row, ranking in the top 19 percentile globally and as the second highest-ranked food product company in Europe.
Nomad Foods' meat-free Green Cuisine is the fastest-growing frozen meat-free brand in Europe. The brand's product offerings include plant-based Chicken-Free Nuggets and Fishless Fingers.
Market cap: US$1.44 billion
Oatly Group bills itself as "the world's original and largest oat drink company." It has a range of plant-based alternatives to dairy products, including milks, ice cream, yogurt, cooking creams and spreads.
Headquartered in Sweden, Oatly is actively expanding its global footprint in the plant-based food market. In 2021, the company opened production facilities in Singapore and China. In 2022, Oatly launched a plant-based milk alternative on trains in Germany, and added electric trucks to its transportation network in North America. More recently, in January 2023, the company announced the introduction of climate footprint labeling for select products in North America.
Market cap: US$1.11 billion
The most mature pure-play plant-based food stock on the market, Los Angeles-based Beyond Meat first launched its brand nearly a decade ago. Today, the company's plant-based meat alternatives can be purchased in grocery stores and restaurants across the globe. Designed to emulate beef and pork, its offerings include patties, sausages, hot dogs and meatballs.
In November 2021, fast food giant McDonald's (NYSE:MCD) began selling McPlant burgers made with Beyond Meat products at select US locations just months after launching a similar pilot program in the UK and Ireland. The test run initially had a positive impact on the share price for this US-listed plant-based food stock. However, Beyond Meat's stock took a hit in July 2022 when the US pilot program ended with no plans for a nationwide launch due to low demand for the plant-based burger at McDonald's stores.
However, demand for the McPlant in Ireland and the UK outshone the US. Not only did the McPlant become a permanent member of menus in those countries, McDonald's announced in January 2023 that it would begin offering a Double McPlant burger as well.
Market cap: US$526.48 million
Food technology company Benson Hill is combining data analytics, artificial intelligence and machine learning with biology, dubbed Cloud Biology, through its proprietary platform CropOS. According to the company, CropOS "enables proprietary phenotyping, predictive breeding and environmental modeling algorithms," acting as a "GPS for plant scientists and breeders."
The company's products include plant-based proteins such as ultra-high-protein soy and yellow peas. Benson Hill believes that plants with higher protein content will displace the need for expensive energy- and water-intensive processing when producing the protein ingredients used in plant-based meat alternatives.
In January 2022, Benson Hill announced the acquisition of soy flour manufacturer ZFS Creston. "This acquisition advances our integrated business model as a more efficient route to market with a smaller footprint that better aligns with consumer preferences, enabling us to harness the genetic potential of plants and help scale the growth of plant-based markets," CEO Matt Crisp said.
More recently, the company became one of the first US-based ingredient providers to receive the international ProTerra Certification for its sustainable agricultural practices and work toward achieving full transparency in the food supply chain.
Top Canada-listed plant-based food stocks
The Canadian plant-based food stocks below were compiled using TradingView's stock screener on February 7, 2023. Companies listed on the TSX and TSXV were considered and are listed by market cap size.
Market cap: C$78.82 million
Israel-based Else Nutrition develops and makes plant-based, clean ingredient alternatives to dairy-based formulas for infants and toddlers. The company's plant-based toddler nutrition products are listed with United Natural Foods for grocery distribution across the US. United Natural Foods has 58 distribution centers nationwide.
Else Nutrition products are sold on Walmart.com and Kroger.com, and the company has added more products to its offerings at Sprouts Farmers Markets. In late 2022, information from retail data aggregator SPINS showed that the two fastest-growing products in the "natural channel's" category for infant formula and toddler nutrition were both Else Plant Protein Nutritional Kids Shakes, with the vanilla flavor taking first place and the cocoa flavor coming in second.
Market cap: C$48.19 million
The Planting Hope Company develops, produces and sells a range of plant-based food and beverage products under a growing suite of brands. Currently, the company's brand family includes Hope and Sesame Sesamilk and Sesamilk creamers, RightRice Veggie Rice, Mozaics Real Veggie Chips and Veggicopia Veggie Snacks.
In September 2022, Planting Hope announced an increase in distribution across its plant-based product line, adding 135 new slots for Hope and Sesame and Mozaics across more than 15 United Natural Foods distribution centers. In that same month, the company's Hope and Sesame Barista Blend Sesamemilk won best plant-based beverage at the 2022 Plant Based World event.
In February 2023, Planting Hope announced that its RightRice branded product, a nutritious vegetable-based alternative to white rice that is high in plant-based protein, were being added to shelves at 4,581 retail locations of a leading US pharmacy.
Market cap: C$46.21 million
Burcon Nutrascience develops plant-based proteins for food and beverages. The food technology company has built an extensive patent portfolio covering novel plant-based proteins derived from peas, canola, soy, hemp, sunflower seeds and other plant sources. Through its joint venture Merit Functional Foods, Burcon has a protein production facility in Manitoba, Canada, that makes pea and canola proteins for the food and beverage industry.
In early 2022, Burcon expanded its intellectual property portfolio via the filing of five more US patent applications that cover technologies for the production of sunflower seed protein and pulse proteins. In January 2023, Burcon received a notice of allowance from the US Patent and Trademark Office for a patent application covering characteristics of Burcon's Peazazz pea protein made by the company's proprietary process.
Market cap: C$21.95 million
Modern Plant Based Foods offers a broad portfolio of plant-based products, such as meat alternatives, homemade-style soups, vegan cheezes, sauces and candies. Its brands include KitsKitchen, Modern Meat, Modern Wellness Bar and Snacks from the Sun.
In order to meet rising demand, the Vancouver-headquartered company's KitsKitchen division secured a new production facility in mid-2022 that increased its production capacity from 1,000 kilograms to 20,000 kilograms per day.
Market cap: C$15.89 million
Launched in 2014 as a produce delivery service, Odd Burger has grown into a vegan fast food business. The plant-based food technology company manufactures and distributes plant-based protein and dairy alternatives using locally sourced and sustainable ingredients. Odd Burger's product line includes over 30 plant-based protein products and sauces specifically designed for fast food.
These plant-based food products are distributed to its growing number of Odd Burger-owned and franchised fast food restaurant locations across Canada. In October 2022, the company announced its expansion into the US market targeting 25 states.
FAQs for plant-based foods
What is plant-based meat?
Plant-based meats are meat alternatives made from plants. They are made to appear, feel and taste like conventional meat. Like animal meat, plant-based meat is a source of protein, and is also composed of fat, vitamins, minerals and water.
How is plant-based meat made?
Plant-based meat is produced from a variety of plant-based sources, such as lentils, chickpeas, soy, peas, chia seeds, beans, mushrooms and wheat gluten. The plant-based meat manufacturing process involves slicing, spiralizing and extruding machines; it may also use wet texturization technology, which involves adding moisture during the extrusion process.
Is Impossible Burger publicly traded?
Impossible Foods, which makes the Impossible Burger, is a privately held company. It is not traded on any public exchange.
This is an updated version of an article first published by the Investing News Network in 2021.
Don't forget to follow us @INN_LifeScience for real-time news updates!

Securities Disclosure: I, Melissa Pistilli, hold no direct investment interest in any company mentioned in this article.
Investing News Network websites or approved third-party tools use cookies. Please refer to the cookie policy for collected data, privacy and GDPR compliance. By continuing to browse the site, you agree to our use of cookies.