Blockchain Technology Stocks
Banks, financial institutions and many others are adopting blockchain technology faster than anticipated. INN takes a look at public companies taking advantage of this rapidly-growing sector.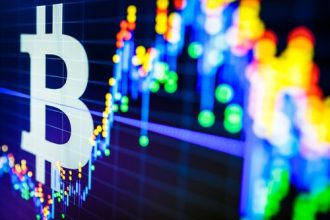 It's getting harder to ignore the fact that blockchain is on the rise, particularly as more banks and financial institutions are adopting the technology faster than anticipated.
Case in point, a Markets and Markets report that breaks down the blockchain market size projects the industry will grow from $241.9 million in 2016 to a staggering $7.68 billion in 2022, representing a compound annual growth rate (CAGR) of an impressive 79.6 percent.
Fueling that growth, the report says, will range from the increasing demand for distributed ledger technology; reduced total cost of ownership; the rise of cryptocurrencies and their market caps, as well as initial coin offerings; increasing demand for "simplified" business processes; creating transparency and immutability; quicker transactions and the increasing adoption of blockchain-as-a-service.
Putting it simply, there's a wealth of opportunity to be had in the blockchain industry, and it's only getting started. More and more companies are making their way onto the scene as well, presenting a wealth of opportunity to be had for investors keen on the space. As such, here is a look at publicly-listed blockchain technology stocks for your consideration. All numbers below are current as of January 25, 2018.
Market cap: $27.58 million; current share price: $0.18
The first on our blockchain technology stocks list is 360 Blockchain, formerly 360 Capital Financial, that changed its name to 360 Blockchain and began trading under the symbol CODE on October 10. Since going public, the company has announced a joint venture with NOS Blockchain, a subsidiary of Nerds on Site,  that its acquisition SV Cryptlab entered into contracts to mine ethereum and Zcash, and the establishment of 360 Blockchain USA, a subsidiary to focus on developing and investing in blockchain technologies in the US.
In mid-January, 360 Blockchain announced it had completed its 60 percent acquisition of the issued and outstanding shares of SV CryptoLab, with the option of purchasing the remaining 40 percent for $75,000.
360 Blockchain looks to provide financial services to both private and public companies, including finance advisory, merchant banking, IPO consulting and business advisory services.
2. BTCS (OTCQB:BTCS)
Market cap: $24.47 million; current share price: $0.12
Next on our blockchain technology stocks is BTCS. The company is also the first blockchain-focused public company in the US, and was ahead of its time in exploring digital currency ecosystems.  The company self-describes itself as an "early mover" in the digital currency ecosystems sector.
The company's CEO, Charles Allen, was interviewed by Bloomberg explaining the company's mission to "gather a currency that can be spent on goods and services", using bitcoin to buy products like televisions.
In August, BTCS announced it had signed a non-binding letter of intent to merge with Blockchain Global. On October 11, it was announced that BTCS had secured $1 million in financing, $250,000 of that being bitcoin. Near the end of October, BTCS announced it had closed the remaining finance balance in moving forward with its planned merger with Blockchain Global. In early January, however, a letter to BTCS' shareholders was issued by the company's CEO stating the board has "unanimously decided" to evaluate other potential merger markets, although stating the possibility that it may complete the merger with Blockchain Global.
3. BTL Group (TSXV:BTL)
Market cap: $234.52 million; current share price: $11
BTL is a Vancouver-based company that offers blockchain solutions across multiple industries–from banks to energy, and even to fantasy sports. BTL has a money transfer platform using distributed-ledger-technology and smart contracts, called Interbit.
On that note, the company announced in June that it is "taking steps towards a go-to production phase" of the Interbit, having completed its European energy trading pilot. As noted in the press release, the 12-week pilot included building the framework on an energy trading confirmation solution to BTL's platform, which was tested in 8 different scenarios.
"At BTL we truly believe that, by using blockchain technology and our proprietary platform, Interbit, there is a better and more efficient way for enterprises to build applications," Guy Halford-Thompson, cofounder and CEO of BTL said. "Having demonstrated the reductions in risk and cost savings that are achievable we now have an opportunity to deliver the first successful blockchain based application to the energy market. We are also very excited that the pilot has enabled participating companies to better understand the benefits of Interbit and identify other areas in their organizations where they can apply it."
At the end of August, BTL Group announced the beta launch of Interbit as it becomes closer to being launched in live commercial environment. In early November, BTL Group announced that it had increased the size of the brokered offering led by GMP Securities to $10.7 million through the offering of roughly 2.1 million units at $4.90 per unit.
In January, BTL Group announced a European energy trading project where four oil and gas companies and five energy traders will participate in using BTL's Interbit blockchain platform to deliver gas trading reconciliation through to settlement and delivery of trades, called OneOffice.
While the company's headquarters are in Vancouver, BTL Group also operates in Calgary and Canary Wharf in London, England.
4. Coinsilium Group (NEX:COIN)
Market cap: GB$19 million; current share price: GB$16
Coinsilium Group is a London-based blockchain technology investor that develops and invests in blockchain technologies, aiding new fintech applications. The company is the world's first recognized IPO for blockchain technology company and lists on the NEX Exchange, a recognized investment exchange as per the Financial Services and Markets Act 2000.
According to its website, Coinsilium is relatively new in the blockchain field: the company has been actively involved in "accelerating seed-stage blockchain tech ventures" ever since 2014. Since then, the company has accumulated interest from blockchain companies such as Factom, RSK Labs, Minebox and Indorse.
At the beginning of August, the company announced that it had completed the sale of interest in SatoshiPay, a company that processes nanopayment transactions usually in the form of bitcoins. Meanwhile, closer to the end of August Coinsilium Group announced a formation of its wholly-owned subsidiary, Terrastream, which aims to build an enterprise standard blockchain-powered platform for token-based alternative funding solutions. In late September Coinsilium announced a purchase of 5 million shares at 2.25 pence per share. By November, the company had signed a memorandum of understanding with United Mobility Technology.  At the end of November, Coinsilium had acquired a 30 percent interested in StartupToken Limited, which has had a positive boost to its market cap and share price.
Meanwhile, it was reported in late January that Coinsilium is preparing to launch a private fund for digital tokens.
5. DigitalX (ASX:DCC) 
Market cap: AU$155.72 million; current share price: AU$0.32
Next on our blockchain technology stocks list is DigitalX. The company provides ICO advisory services, blockchain consulting services, and blockchain-related software development.
More specifically, its mobile product AirPocket provides consumers secure cross-border payments and remittances from over 30,000 payout locations in 14 countries with a heavy presence in North America and South America. DigitalX's Bankera launched an ICO on August 28, which will provide payments, deposits, loans, and investments and will be supported in fiat currencies and cryptocurrencies, including bitcoin, ethereum, DASH, NEM, and ERC20 compliant tokens, among others.
In September, it was announced that DigitalX and Stargroup (ASX:STL) have joined forces to develop "two way" bitcoin ATMs to buy and sell bitcoin.
6.eXeBlock Technology (TSXV:XBLK)
Market cap:$40.53 million; current share price: $0.66
eXeBlock is relatively new, having officially begun trading on the Canadian Securities Exchange on November 16. Headquartered in Nova Scotia, eXeBlock's services include blockchain technology consulting, blockchain application development, and custom blockchain development.
In early January, the company announced that its exe50/50 decentralized application (DApp) was posted to TestNet, which the release states following the test phase, coding used in the its development will be made public on the Peerplays blockchain network.
 7. Global Blockchain Technologies (TSXV:BLOC)
Market cap: $32.62 million; current share price: $1.78
Formerly Carrus Capital, Global Blockchain Technologies is also relatively new in the blockchain sector, having just announced its name change effective October 5.
Global Blockchain provides investment services and was founded in Vancouver in early 2010.
Market cap: $88.18 million; current share price: $2
HashChain is another new addition to the list, having officially gone public on December 18, 2017.
As such, this makes HashChain the first publicly-traded cryptocurrency mining company to have filed a final prospectus in Canada.  The company's primary focus is on cryptocurrency mining with a target of 26,500 mining rigs. By January 2018, the company expects to have 100 dash rigs deployed with over 770 purchased.  On that note, the company announced on January 24 that it had received a shipment of 770 mining rigs from China. Upon the expected deployment, HashChain will operate a total of 1.23 megawatts.
"The receipt of the 770 Rigs is another step to scaling our mining operations," Patrick Gray, CEO of HashChain said in the release.
Based in Vancouver, British Columbia, Hashchain Mining is a subsidiary of HashChain Technology, located in Albany, New York.
9. HIVE Blockchain (TSXV:HIVE)
Market cap: $756.93 million; current share price: $2.94
HIVE Blockchain is also relatively new to the scene but is already making a name for itself in the market. HIVE looks to "build a bridge" between the blockchain market to traditional capital markets, and is strategically partnered with Genesis Mining, a cryptocurrency mining hashrate provider.
On October 10, the company announced a $7 million equity investment by Genesis Mining. Then on October 11, HIVE announced it had closed a $30 million bought deal financing. In mid-November, HIVE announced it had closed a $34.5 million bought deal financing, proceeds of which will be used for the second phase of construction of the digital currency mining data center in Sweden. On that note, the company announced in the middle of January that it had begun its ethereum mining operations in Sweden, which the company is fully financed to add an additional 13.6MW of GPU mining capacity in Sweden by April 18, the release states.
10. Marathon Patent Group (NASDAQ:MARA)
Market cap: $43.68 million; current share price: $3.50
While not a pure play blockchain company, Marathon Patent Group is an IP licensing and commercialization company that acquires and manages IP rights from a number of sources. Case in point, in early November the company announced it will acquire Global Ventures, a digital asset technology company that mines cryptocurrencies.
In January, Marathon Patent Group announced it had entered into an agreement to acquire blockchain and cryptocurrency transmission patents.
11. MGT Capital (OTCMKTS:MGTI)
Market cap: $178.72 million; current share price $3.68
MGT Capital is currently acquiring and adding to its diverse portfolio of cybersecurity technologies, but is also in the business of bitcoin mining. According to its website, MGT is in a strong position to become the "preeminent" crypto-mining enterprise in the US.  As it currently stands, MGT Capital has a number of locations in central Washington state.
In mid-October, the company announced an update on its cryptocurrency operations, highlighting that its bitcoin mining operations are projected to generate over $2 million in monthly revenue.  On December 5, MGT Capital provided an update on its cryptocurrency operations, stating it had executed a purchase order with Bitmain Technologies for a further 500 S9 Antminer mining rigs, which should be expected to ship in Q1 2018.
12. Neptune Dash (TSXV:DASH)
Market cap: $24.92 million; current share price: $0.44
Neptune Dash is the latest addition, having gone public on January 22 on the TSX Venture Exchange.
Neptune Dash builds and operates the Dash Masternodes, which the company says is digital currency created to meet some of bitcoin's scaling challenges.  The functions of the Dash Masternodes on the Dash Blockchain include: private peer-to-peer transactions between parties; serving as a government function, voting on treasury disbursements of the Dash-block reward assigned to the Dash DAO (Decentralized Autonomous Organization) and providing transactions that are processed almost immediately on the Dash Blockchain.
This is an updated version of an article originally published on the Investing News Network in 2016.
Don't forget to follow us @INN_Technology for real-time news updates!
Securities Disclosure: I, Jocelyn Aspa, hold no direct investment interest in any company mentioned in this article. 
Editorial Disclosure: 360 Blockchain and HashChain are client of the Investing News Network. This article is not paid for content.