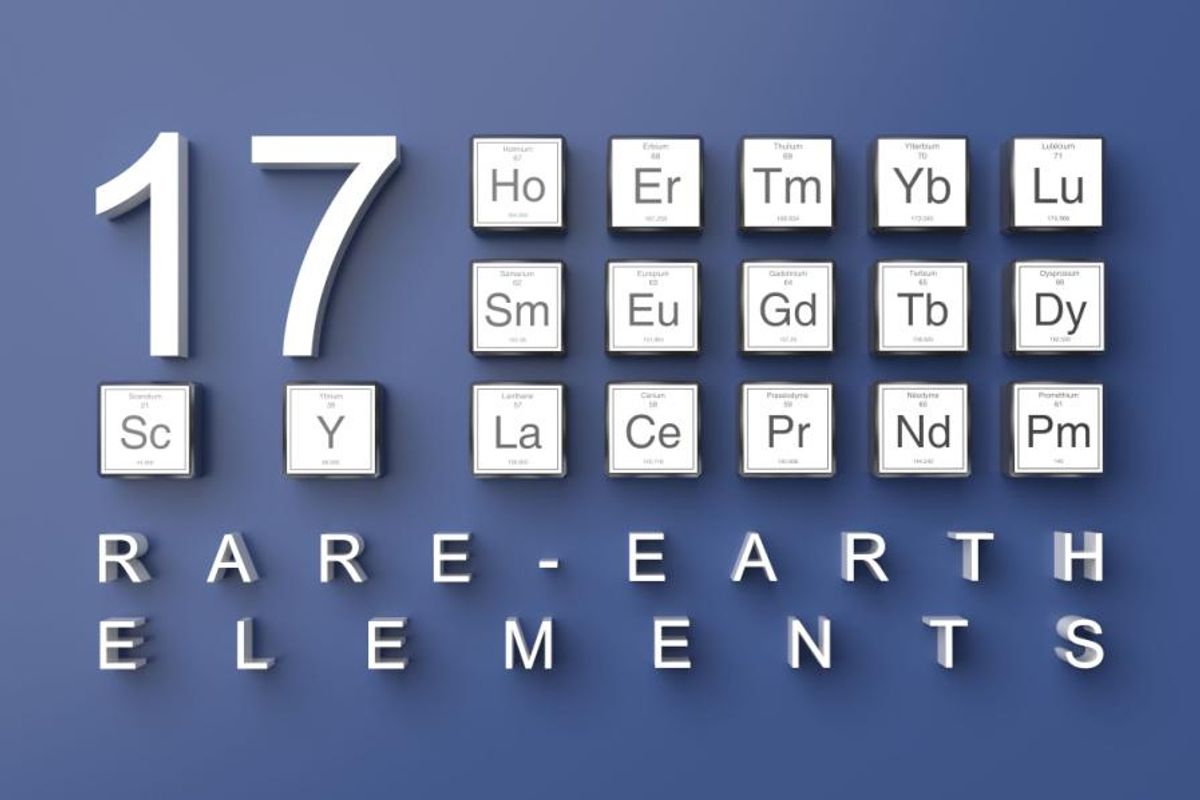 Rare earths are critical to the dawn of a new era in energy and technology. Learn more about the biggest rare earths stocks on the world's top stock exchanges.
Rare earths are essential in a wide variety of today's technologies, from smartphone cameras to defense systems.
The group of critical metals, which includes neodymium and praseodymium, has also seen increasing demand from the ever-expanding electric vehicle industry in recent years. "The simplest engineering solution for a drive train on an electric vehicle is to use a permanent magnet synchronous motor, and those permanent magnets are made of rare earth elements (REEs)," Jon Hykawy of Stormcrow Capital explained to the Investing News Network in an interview.
China is by far the world's top producer of rare earths and holds the largest rare earths reserves. The country's monopoly on the rare earths market has led other nations such as the US, Canada and Australia to incentivize rare earths mining and processing, as well as the production of value-added REE products, in order to bolster their own supply chains.
---
All in all, the global market is expected to grow at a compound annual growth rate of 12.3 percent to reach US$9.6 billion by 2026.
Below the Investing News Network profiles the biggest rare earths stocks by market cap on US, Canadian and Australian stock exchanges. Data was gathered on May 5, 2023, using TradingView's stock screener.
US rare earths stocks
The US is at the forefront in the race to secure stable supply of rare earths outside of China. While the nation has vast rare earths reserves and is the second largest global REE producer, the US is severely lacking in processing facilities. The US rare earths stocks looking to change that imbalance offer investors opportunities to leverage the growth potential of this market.
Market cap: US$3.8 billion; share price: US$21.49
MP Materials is the largest producer of rare earths outside of China, with a focus on high-purity separated neodymium and praseodymium (NdPr) oxide, a heavy rare earths concentrate, as well as lanthanum and cerium oxides and carbonates.
The company went public in mid-2020 in a US$1.47 billion deal following the purchase of Molycorp's California-based Mountain Pass mine, the only working US-based rare earths mine and processing facility. "At Mountain Pass, we sustained strong production and sales volumes while simultaneously commissioning additional Stage II circuits and moving closer to producing separated rare earth materials," Chairman and CEO James H. Litinsky reported in early May. "In addition, construction and engineering of our Stage III magnet facility continues at a rapid pace, bringing the restoration of the full magnetics supply chain closer to fruition."
Market cap: US$919.45 million; share price: US$5.85
Energy Fuels is best known as a leading US uranium company that supplies uranium products to major nuclear utilities. The company holds three key US-based uranium production centers: the White Mesa mill in Utah (the only conventional uranium mill operating in the country today), and the Nichols Ranch and Alta Mesa in-situ recovery projects in Wyoming and Texas, respectively.
Understanding the importance of REEs for a green energy future, Energy Fuels has been building out its REE production capabilities. In mid-November 2022, it announced plans to sell its Alta Mesa project to enCore Energy (TSXV:EU,OTCQB:ENCUF) for US$120 million. The money will finance Energy Fuels' uranium, REE, vanadium and medical isotope business plans for the next few years.
This includes financing the construction of Phase 1 REE separation infrastructure at White Mesa, which will give Energy Fuels total rare earth oxide (TREO) capacity of 2,500 to 5,000 metric tons (MT) per year, including 500 to 1,000 MT per year of NdPr oxide or oxalate. Phase 1 is expected to be completed and fully commissioned by late 2023 or early 2024. The company also plans to advance the design, engineering and permitting of a planned Phase 2 crack-and-leach and REE separation facility with up to 15,000 MT of TREO capacity annually.
This past February, Energy Fuels acquired the Bahia project in Brazil, which has the potential to supply the mill with 3,000 to 10,000 MT of REE-bearing natural monazite sand annually.
Canadian rare earths stocks
In December 2022, the Canadian government released its Critical Minerals Strategy, which includes C$3.8 billion in federal funding and "focuses on opportunities at every stage along the value chain for Canada's 31 critical minerals, from exploration to recycling." Canada's critical metals list includes REEs, and the announcement follows C$7.5 million in government funding earmarked for supporting the establishment of a REE processing facility in Saskatchewan.
Below are the largest Canadian rare earths stocks by market cap.
Market cap: C$249.84 million; share price: C$8.15
NioCorp Developments is developing its Nebraska-based Elk Creek project, a pure-play critical minerals project that the company claims hosts the highest-grade primary niobium deposit under development in North America; it is also capable of large-scale scandium production and is the second largest indicated-or-better rare earths resource in the US.
A 2022 updated feasibility study for Elk Creek includes a new model for mineral reserves and economics. While it does not include any projections on rare earths production, the report does feature a longer expected mine life, higher expected ore grades and tonnages and improved expected project economics for niobium, scandium and titanium production.
At its demonstration-scale processing plant, NioCorp is working to show that it can extract and separate REEs from ore that it expects to mine from the Elk Creek project site. In April, NioCorp announced "a process breakthrough" at the plant that may lead to a "potentially more efficient way to process niobium and titanium into higher-purity products."
Market cap: C$74.79 million; share price: C$0.46
Aclara Resources is developing its Chilean Penco Module project, which hosts ionic clays rich in heavy rare earths. The company's goal is to produce a rare earths concentrate through a proposed processing plant using an environmentally friendly extraction process that doesn't require a tailings facility, uses minimal water consumption and contains no radioactivity in the final product.
In December 2022, Aclara released a mineral resource update for the Penco Module project. The mineral resource update is based on drill campaigns Aclara conducted in 2021 and 2022 that totaled 5,298 meters across 175 new drill holes. The work also led to the definition of a new resource area on the project, as well as an increase in mineral resources within the project area.
Aclara will incorporate these results into a planned feasibility study for the Penco Module project that is expected to be developed during 2023. In April, the company submitted a new environmental impact assessment for the project, and said it is targeting the first quarter of 2026 for the start of production.
Market cap: C$62.32 million; share price: C$1.14
Ucore Rare Metals is engaged in the exploration and separation of rare earths in Canada and the US. The company owns the Bokan-Dotson Ridge rare earths project in Alaska, and is developing a strategic metals complex that will process heavy and light rare earths in Louisiana.
Construction of the complex is slated to begin in 2023, and it is scheduled to initially process 2,000 MT of TREO by the first quarter of 2025, increasing to 5,000 MT in 2026. It will use the company's proprietary RapidSX REE separation system, which is designed to process heavy and light rare earths feedstocks derived from bastnasite, eudialyte, ionic clay, monazite, xenotime and other mineralization sources.
Australian rare earths stocks
Australia is one of the world's largest rare earths producers and hosts the fifth largest rare earths reserves. The country is home to the biggest non-Chinese rare earths supplier, which is also the largest Australian rare earths stock by market cap.
Market cap: AU$6.01 billion; share price: AU$6.58
Lynas Rare Earths is the leading separated rare earths producer outside China. The company operates the Mount Weld mine and concentrator in Western Australia and sends mined material for refining and processing at its separation facility in Malaysia.
The company received US$30.4 million in funding from the Pentagon to build a light rare earths processing facility in Texas, and earned another contract to build a heavy rare earths separation facility in the state. The project's completion will not only benefit Lynas, but also the rare earths industry in both Australia and the US. In mid-2022, Lynas announced an investment of AU$500 million to fund its plans to boost production to 10,500 MT per year of NdPr products by 2025.
Market cap: AU$4.64 billion; share price: AU$10.89
Iluka Resources is working to develop its Eneabba rare earths refinery in Western Australia with a loan from the Australian government, which has made a significant commitment to increase its global share of the rare earths market through the development of the country's largely untapped rare earths reserves.
The refinery will be fully integrated for the production of light and heavy separated rare earth oxides and will be capable of processing material from Iluka's feedstocks, as well as from third-party suppliers. The company expects first production to commence in 2025. In October 2022, Iluka announced it has entered into an agreement with Northern Minerals (ASX:NTU) for the supply of rare earths concentrate from Northern Minerals' Browns Range project.
The company's Wimmera project in Victoria involves the mining and beneficiation of a fine-grained heavy mineral sands orebody in Victoria's Murray basin for the potential long-term supply of zircon and rare earths.
Market cap: AU$843.35 million; share price: AU$0.40
Arafura Resources is another Australian rare earths company that has secured government funding to support project development. Arafura is developing its Nolans rare earths project in the Northern Territory.
The Nolans project's definitive feasibility study shows it is highly enriched with neodymium and praseodymium, but contains all of the different rare earths in varying concentrations. Arafura has secured a binding offtake agreement with Hyundai Motor (KRX:005380) and Kia (KRX:000270), in addition to a non-binding memorandum of understanding with General Electric Company's (NASDAQ:GE) GE Renewable Energy, to collaborate on the establishment of sustainable rare earths supply chains.
Arafura has plans for Nolans to be a vertically integrated operation with processing facilities on-site. An updated mine report from 2022 states that Nolans has a 38 year life at a capacity of 4,440 MT of NdPr concentrate production per year.
Don't forget to follow us @INN_Resource for real-time updates!

Securities Disclosure: I, Melissa Pistilli, hold no direct investment interest in any company mentioned in this article.
Editorial Disclosure: Aclara Resources and Energy Fuels are clients of the Investing News Network. This article is not paid-for content.
Investing News Network websites or approved third-party tools use cookies. Please refer to the cookie policy for collected data, privacy and GDPR compliance. By continuing to browse the site, you agree to our use of cookies.