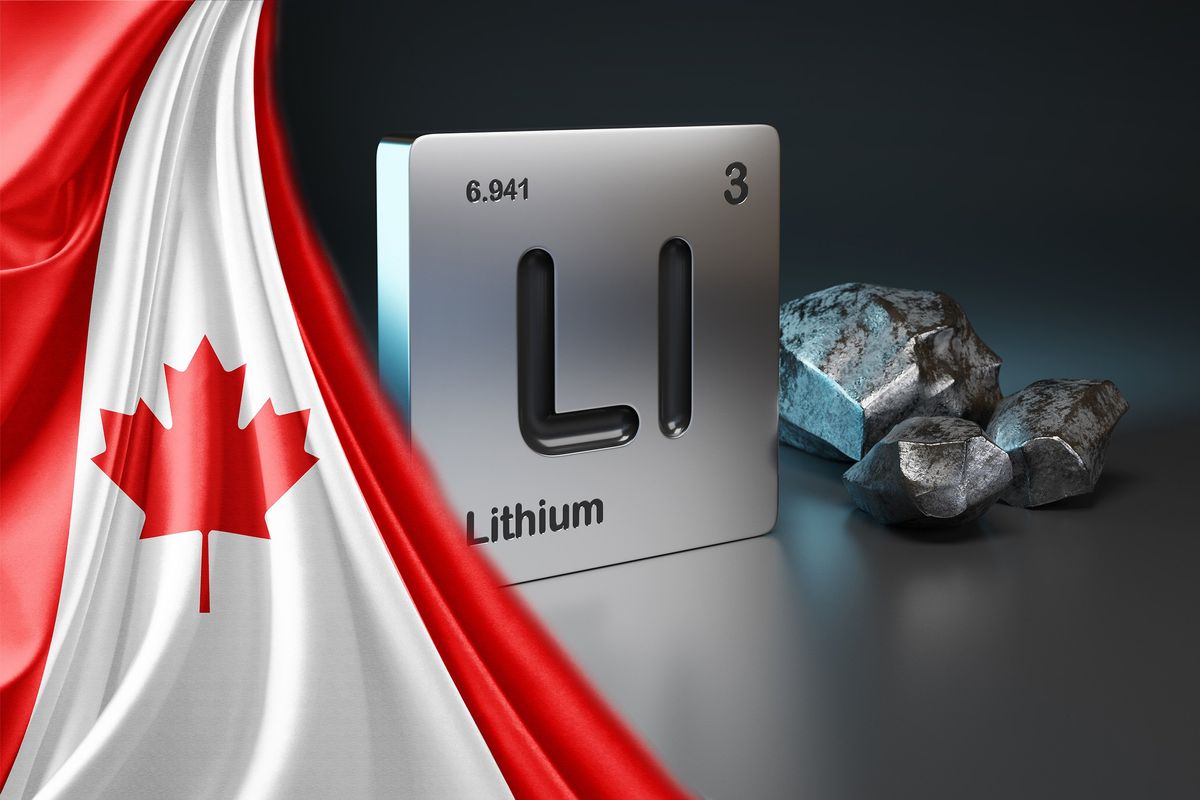 Looking for the top Canadian lithium stocks? These TSX- and TSXV-listed stocks have seen the biggest year-to-date gains in 2023.
Last year was huge for lithium, with the battery metal setting all-time highs for the second year in a row. While prices fell at a steady rate from late 2022 through this past April, they then began to bounce.
The declines in lithium carbonate and hydroxide prices were driven by a mix of factors that have led supply to outpace demand, including China ending electric vehicle subsidies and the country being hit by COVID-19 after easing its zero-COVID policy.

The Investing News Network spoke with Global Lithium's Joe Lowry at the 2023 Lithium Supply and Battery Raw Materials conference, and the expert said he takes a longer-term approach when it comes to pricing.
---
"Most of the news narrative, what people pick up, tends to be the short term, but to me there's always been a seasonality in China," he said. "That didn't really surprise me — what surprised me a little bit was how quickly the spot price came back."
Much of the talk at the Fastmarkets event centered on key themes to watch in the lithium space, including the US Inflation Reduction Act and ongoing supply concerns due to project delays and slow permitting.
For investors interested in lithium, the Investing News Network has created an overview of the top Canadian lithium stocks listed on the TSX and TSXV. This list was created on July 13, 2023, using TradingView's stock screener, and all data was current at that time. Only companies with market caps above C$10 million are included.

Year-to-date gain: 962.5 percent; market cap: C$53.21 million; current share price: C$0.85
Solis Minerals is an exploration company focused on battery metals properties in South America. It has a portfolio that includes the Borborema lithium project in Northeast Brazil and copper projects covering a combined 32,400 hectares in Southwest Peru.
On May 29, the Investment Industry Regulatory Organization of Canada, which oversees trading on Canadian exchanges, suspended trading for Solis pending upcoming news. The company's closing share price before that was C$0.11. Two days later, Solis Minerals entered into a binding option agreement to acquire a 100 percent interest in the Jaguar hard-rock lithium project in Northeast Brazil, which has confirmed spodumene grades of up to 4.95 percent in oxidized pegmatite.
However, trading didn't open until June 8, when Solis announced it had received commitments totaling AU$8.16 million for a placement that will be used to, among other things, fund drilling at both its lithium projects and complete the fees for the Jaguar acquisition. Following that announcement, trading resumed and the company's share price shot up to C$0.65. The first tranche of the placement, totaling AU$3,050,000, was closed on June 19.
Solis began its maiden drilling program at Jaguar on June 22. According to the announcement, it will take place over about 90 days and will "test the strike extent, thickness, orientation and the down dip extent of the pegmatite body." Solis' share price has continued to perform strongly since it began trading again last month, and climbed to a year-to-date high of C$1.04 on July 4.

Year-to-date gain: 218.93 percent; market cap: C$63.98 million; current share price: C$0.79
Q2 Metals is an exploration company focused on advancing its Mia lithium property in James Bay, Quebec. It also has the Stellar lithium property north of Mia, which it acquired in March, as well as the Big Hill and Titan gold projects in Queensland, Australia.

Q2's share price began climbing early in the year after the January 23 appointment of Neil McCallum as a director and the company's vice president of exploration. In 2016, McCallum identified and staked Patriot Battery Metals' (TSXV:PMET,OTCQX:PMETF) Corvette lithium property, which is also in the James Bay region. Two days later, the company commenced a C$10 million private placement financing. The company's share price climbed during the following weeks to hit a Q1 high of C$1.05 on February 6.
Q2 commenced its 2023 exploration at the Mia project in early April, and the company completed Phase 1 — induced polarity and resistivity surveying — on April 26. On May 31, Q2 began Phase 2, which will consist of ground mapping and sampling; the company's share price hit a year-to-date peak of C$1.07 that day.
While the company had to shut down work in early June due to spreading wildfires in Quebec, on June 29 it shared an update with results from completed exploration work. Once work can begin again, Q2 intends to begin drilling at the Mia zone immediately alongside other Phase 2 activities.

Year-to-date gain: 137.41 percent; market cap: C$1.42 billion; current share price: C$15.74
Patriot Battery Metals is an exploration and development company that is working on advancing its Corvette lithium property, which hosts the CV5 lithium pegmatite target, in Quebec's James Bay region.
The company's winter 2023 drill program, which concluded on April 17, focused on extending the CV5 pegmatite at Corvette. After climbing through January following high-grade assays from 2022 exploration, Patriot hit a Q1 high of C$17.17 on February 6 when it announced that holes from its 2023 drill campaign extended the CV5 pegmatite by at least 400 meters to 2.6 kilometers. As of May 1, a series of further results from the campaign had extended it to at least 3.7 kilometers.
In late May, Patriot began its summer/fall exploration work, which will include drilling and surface exploration, and is aimed at further delineating the CV5 and C13 pegmatites and testing other pegmatite clusters. However, like Q2 Metals, Patriot had to cease exploration in early June due to the wildfires in Quebec, and exploration remained on hold until June 14. The company's share price hit a year-to-date high of C$17.53 on June 16 after climbing throughout the Q2 period.
On July 4, Patriot shared that heavy liquid separation testing on core samples from CV13 indicate that a dense media separation process can be used for the pegmatite body. The testing returned spodumene concentrate grades of 6 percent and up with lithium recoveries over 70 percent. The company saw similar results for its CV5 pegmatite in February, and it believes this means material from both can be jointly processed.
Patriot's final assays from the winter exploration program were released on July 10, and the company said it plans to release an initial mineral resource estimate for CV5 that will include all drill holes from the winter program "in a few weeks."

Year-to-date gain: 68.09 percent; market cap: C$122.92 million; current share price: C$0.79
Brunswick Exploration is a Quebec-based explorer focused on lithium pegmatite projects. The company has a large portfolio of exploration projects throughout Central, Eastern and Atlantic Canada, much of which was built through Brunswick identifying and acquiring properties and land packages throughout 2022 and 2023.
For example, in January alone, the company staked the Trans-Hudson and Lake Athabasca projects in Saskatchewan and the Mirage project in Quebec's Eeyou-Istchee James Bay region, applied for three mineral exploration licenses in Manitoba and signed an option agreement for a 100 percent interest in Searchlight Resources' (TSXV:SCLT,OTCQB:SCLTF) Hanson Lake project in Saskatchewan.
All of this news drove Brunswick's share price higher, and it continued upward when the company shared that it was included on this year's TSX Venture 50 list. Over the following week, its share price climbed to a year-to-date high of C$1.10 on February 28.
In March, Brunswick initiated its 2023 exploration program, which will include "multiple drilling and stripping programs across Canada, while conducting aggressive grassroots lithium prospecting in tandem."
So far, the company has intersected multiple spodumene-bearing pegmatites at its Anatacau West project, at a major trend of large spodumene-bearing pegmatite boulders at the Mirage project and most recently at a significant lithium pegmatite outcrop at the Anacatau Main project. Brunswick has also been exploring its Hearst project in Ontario, including drilling and stripping. In May, it detailed its prospecting and exploration plans for other projects and claims in its portfolio.

Year-to-date gain: 48.4 percent; market cap: C$1.06 billion; current share price: C$6.01
Standard Lithium is a US-focused near-commercial lithium company with two flagship lithium brine projects in the Smackover formation in Arkansas: the Lanxess project and the South West Arkansas project. Standard plans to use direct lithium extraction technology at its projects.
The Lanxess project is in the definitive feasibility stage and is being developed in partnership with LANXESS, a specialty chemicals company that operates brine processing facilities in the state. The agreement allows Standard Lithium to leverage the chemical company's pre-existing infrastructure.
After climbing throughout January, Standard Lithium's share price hit a year-to-date peak of C$6.56 on February 2, two days after the company announced the successful installation of its carbon capture pilot plant. Standard Lithium will use the plant to test "the technical and financial viability of capturing CO2 directly from natural gas burning flue-gas streams."
Although the company's share price cooled over the following months, it began climbing back up in May alongside the announcement of a joint development agreement with Koch Technology Solutions; the two companies will work together to develop and commercialize integrated lithium brine processing flowsheets that Standard Lithium will have exclusive rights to use.
Later that month, the company announced that it had drilled and sampled the highest-grade lithium brine sample in Arkansas' history. Samples taken from four holes at the South West Arkansas project averaged 563 milligrams per liter, with one sample hitting 581.

Don't forget to follow us @INN_Resource for real-time news updates!

Securities Disclosure: I, Lauren Kelly, hold no direct investment interest in any company mentioned in this article.
Editorial Disclosure: Brunswick Exploration is a client of the Investing News Network. This article is not paid-for content.
Investing News Network websites or approved third-party tools use cookies. Please refer to the cookie policy for collected data, privacy and GDPR compliance. By continuing to browse the site, you agree to our use of cookies.