---
Overview
The project generator model has become one of the resource industry's best strategies for minimizing risks associated with exploration-stage projects. Analysts point out that much value in prospective companies is its team's intellectual capital and prospecting talents that can develop a portfolio of 100 percent owned projects with world class discovery potential that minimizes risk for investors.
Investors in project generators get an opportunity to capitalize on some of the most prospective exploration and mining companies in the world under highly favorable conditions but also leverage talented teams. Full ownership provides flexible alternatives for delivering discoveries.
One such project generator that has an impressive portfolio of 100 percent controlled projects is Endurance Gold (TSXV:EDG), a precious metals exploration company focused on project generation, exploration and development of highly prospective projects in top jurisdictions in BC, Alaska and the Yukon.
Endurance Gold – 100 Percent Owned Projects
The company's primary focus is to advance the Reliance Gold project near Gold Bridge, BC, in the historic Bralorne-Pioneer gold camp. The Reliance property has already delivered high grade orogenic-type gold at surface in recent drilling, hosted within a powerful alteration system with significant strike and outstanding depth potential, similar to the nearby Bralorne-Pioneer mine that has already produced over 4.2 million ounces of gold.
The company's other key projects include the Elephant Mountain gold project in Alaska and the Bandito REE-Niobium project in Yukon, Canada. All three projects are 100% controlled.
Enduranc's expert business development, prospecting and technical team have primed the company to expose investors to high-quality exploration and development across its robust asset portfolio. Each key property leverages strategic positioning in productive geological environments that are road and infrastructure accessible.  On the gold projects there is widespread alteration and mineralization indicating multi-million ounce potential.
These results helped precipitate the company's announcement of the completion of its non-brokered private placement financing of CAD$2,114,200 through the sale of 6,820,000 units at CAD$0.31 per unit. Endurance intends to put the proceeds from the financing towards funding its exploration activities and general corporate capital, with a focus on expanding the discoveries at Reliance.
Endurance Gold has a very tight capital structure with a large shareholder ownership by directors and insiders. This structure and project generator model prime the company for significant economic prosperity.
"Our prime strategy is to focus on generating high quality assets with prudent management of shareholder funds including cost effective exploration to add value and deliver discoveries to shareholders.. Our collective large shareholding means we are very engaged in wanting to make this company a success," stated Endurance Gold CEO Robert Boyd.
Endurance Gold's Company Highlights
Endurance Gold is a project generator focused on exploring, acquiring majority control and developing high quality mineral projects near existing infrastructure within the best mining friendly jurisdictions of North America.
The company's flagship Reliance gold project in British Columbia leverages a new high-grade discovery on a parallel orogenic-type structure only 10 kilometres from the former high-grade Bralorne-Pioneer gold mine. The Reliance property is relatively underexplored and presents Endurance Gold with exceptional discovery potential.
Its other key projects include the Elephant Mountain gold project in Alaska and the 100% owned Bandito REE-Niobium project Yukon, Canada.
The company has a tight capital structure with 123.8 million shares outstanding and a market cap of CAD$33 million. Insider holdings stand at over 55%
Exploration plans for 2021 include at least two campaigns of drilling, IP surveying, lidar, orthophotography, channel sampling, and geochemistry.
Endurance extended its Reliance gold-in-soil anomaly to 1.2 km with 450 m of horizontal width and over 750 m of the vertical extent. The company confirmed gold in drilling at the Eagle Zone, Imperial Zone, Diplomat Zone and the Treasure Prospect with drill assays of 16.39gpt gold over 4.6 metres at the Diplomat Zone and 14.08gpt gold over 15.24 metres at the Eagle Zone.
The company also signed a diamond drill contract for the Reliance project which will commence in August.
Endurance Gold's Key Projects
Reliance Gold Project
WATCH: A Visit to the Reliance Gold Property
The Reliance gold project is located 10 km north of the Bralorne-Pioneer gold mining camp, which has historically produced over four million ounces of gold. The property hosts excellent orogenic gold mineralization potential. Endurance has the option to control 100% interest in the Reliance gold property.
Eagle Zone – The Eagle Zone continues to deliver encouraging drill results with seven (7) additional very encouraging drill intersections expanding the Eagle Zone downdip to the southwest and towards the southeast along the Royal Shear structural corridor. All intercepts reported from the Eagle Zone to date are exposed at surface or within 50 metres ("m") of surface with a projected footprint that is now expanded to 170 m by 80 m. The Eagle Zone is still open for expansion to the southeast and downdip to the southwest. Highlight gold assay results from the 2021 Eagle Zone RC drilling include 14.08 grams per tonne gold ("gpt Au") over 15.24 m (est. 8.4 m true width). Other excellent intersections at Eagle include 4.88 gpt Au over 24.39 m (est. 12.8 m true width), 5.57 gpt Au over 22.86 m (true width), and 2.86 gpt Au over 21.34 m (true width). Drill highlights from the 2020 program include 10.5 g/t gold over 6.1 m and 9.7 g/t gold over 12.2 m at the Eagle Zone, and 7.23 g/t gold over 4.6 m at the Imperial Zone.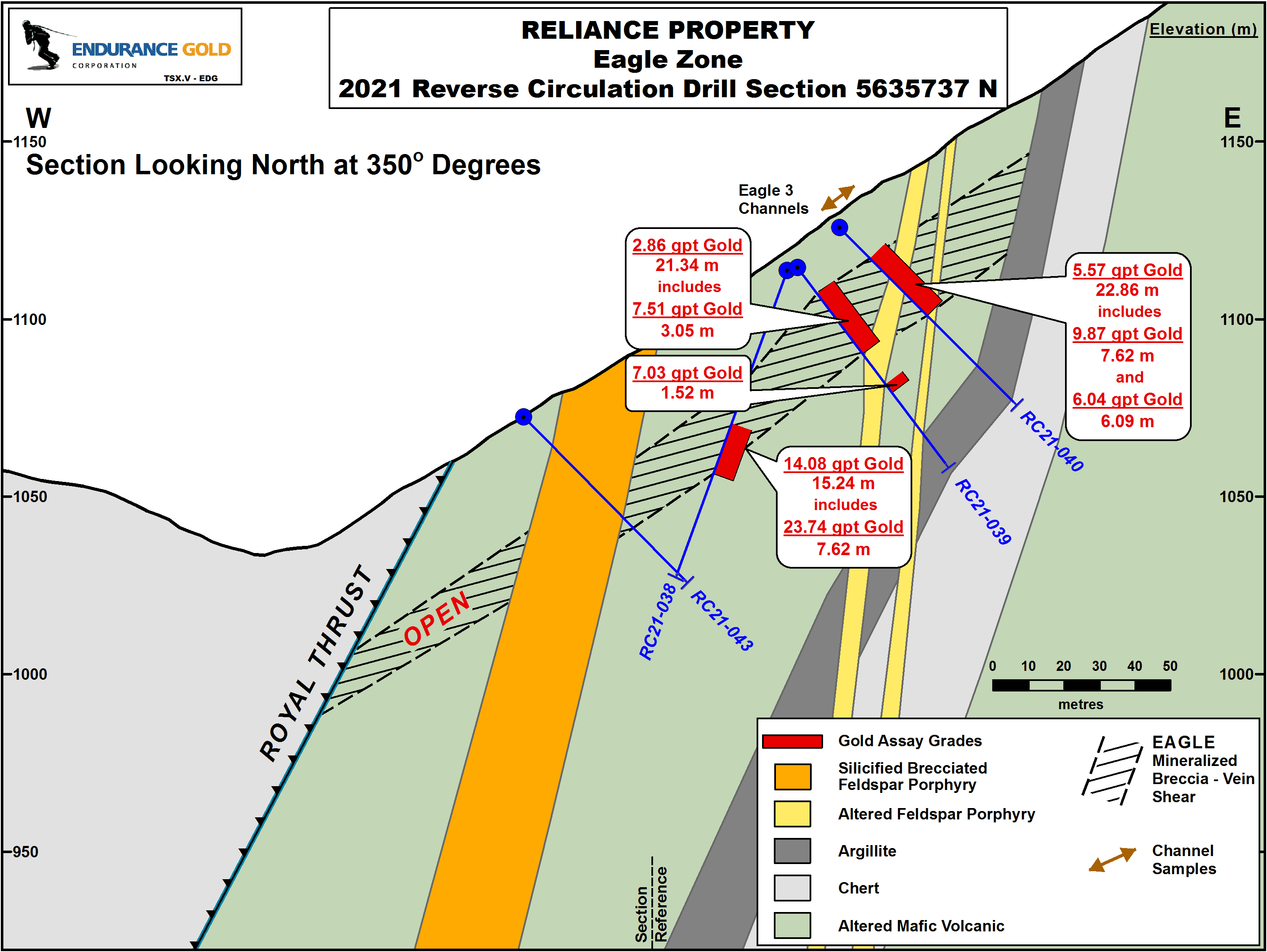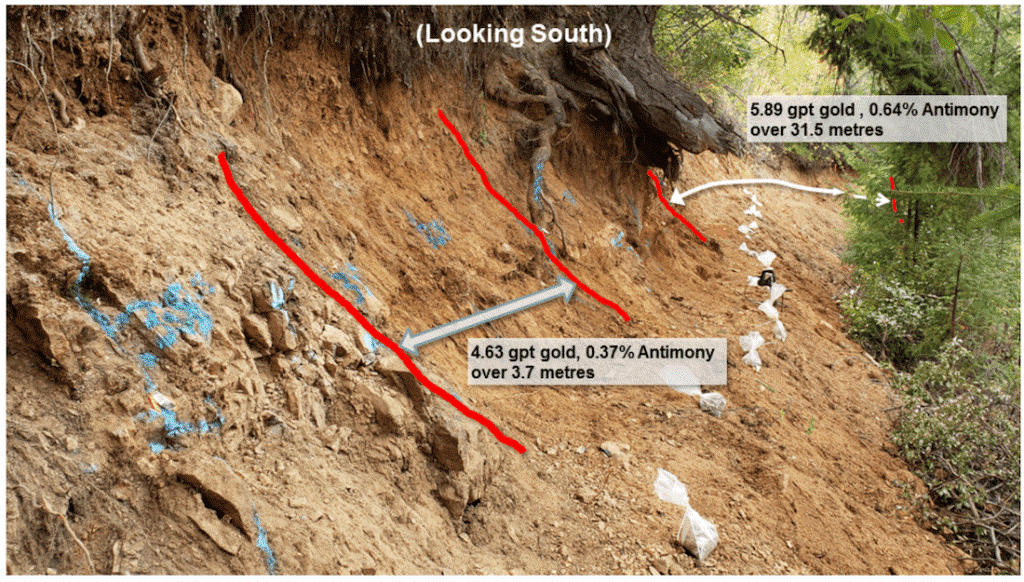 Elephant Mountain Gold Project
The 100 percent owned Elephant Mountain gold project consists of two properties, the Elephant, and Trout-Wolverine claim groups, located in the Rampart-Eureka-Manley Hot Springs placer gold mining district near Eureka, Central Alaska. The property is well located next to the Elliott Highway and leverages multiple large kilometre scale exploration targets in a top-rated mining jurisdiction. Endurance Gold owns 100 percent of the Elephant Mountain claim group and has the option to earn 100 percent interest in the Trout-Wolverine claim group.
Elephant Mountain has a unique geological profile with intrusive hosted stockwork and shear hosted gold mineralization within a 10,240 acre land position.
The property has seven priority targets over 12 km, six of which warrant drilling. Two of the gold targets have been drill tested by the company, resulting in intrusive hosted discoveries of 4.09 g/t gold over 4.6 m in the Elephant Mountain South Zone and 0.40 g/t gold over 147.1 m in the Elephant Mountain North Zone. The North Zone target is a very large IP target requiring grid drilling with potential for a Fort Knox style gold deposit
The high-quality Trout Peak Target consists of a large soil anomaly, with gold values exceeding 100 ppb gold and grab samples up to 23 g/t gold and the Wolverine Target includes visible gold-bearing quartz veinlets with assays from grab samples up to 11.65 g/t gold.
Elephant Mountain Project – Drill Target Summary
The company remains excited about the opportunity to advance exploration on the Elephant Mountain property with recommendations for further work, including diamond drilling, soil grid expansion and geological mapping.
Bandito REE-Niobium Project
The Bandito REE-Niobium project covers 3,700 hectares and is located 155 km east of Watson Lake, Yukon. The property leverages existing infrastructure next to the northern extensions of the Liard shale gas basin, historic petroleum drill activity, an airstrip in mining friendly conditions. Endurance Gold owns 100% of the property.
The Bandito property is underlain by Proterozoic aged basement rocks intruded by Late Proterozoic-aged multi-phased reddish coloured rare earth and niobium enriched and altered nepheline syenite (Red Syenite). The Red Syenite encompasses a target area of approximately 9 sq. km area that is altered through extensive hematization and associated potassium and sodium metasomatism.
Endurance Gold has collected 1464 soil samples from the Bandito Property. Results of the soil and rock samples were summarized in a press release dated November 7, 2011. Highlights of results from soil sampling include the recognition of:
The strongest of the 90th percentile niobium-tantalum and rare earth soil anomalies are underlain by Red Syenite and extend to the edge of the sampled grid. Prospecting of these soil anomalies has identified potential for discovery of bulk mineable intrusive-hosted rare earth-niobium-zirconium deposits. Copper and nickel mineralization discoveries are also present on the property.
Additional exploration is warranted on the Bandito property. Due to the large soil geochemical footprint and encouraging elevated grades in the rock sampling, particular attention should be given to the possibility of bulk tonnage rare metal (i.e., REE-Nb-Ta-Zr-Hf) targets hosted within the Red Syenite.
Endurance Gold's Management Team
Robert T. Boyd – President, CEO & Director
Robert T.  Boyd is a senior mining executive with over 38 years of experience in exploration, executive-level management, corporate finance and corporate governance. He had recently served as lead director for Peregrine Diamonds Limited, which De Beers acquired in 2018. He formerly held the position of president, CEO and director of Athabasca Potash Corporation, a Saskatchewan potash exploration company acquired by BHP. Boyd was also the president, CEO and director of Ashton Mining of Canada Inc., a leading and successful diamond exploration company acquired by Stornoway Diamonds.
Boyd was a founding principal and major shareholder of a financial and strategic advisory firm to the mining and mineral exploration industry and formerly the VP of Exploration for Homestake Canada Limited. He currently serves as a director of Peru-focused Condor Resources Inc., the Prospectors and Developers Association of Canada and the Canadian Mining Hall of Fame.
Teresa Cheng – CFO & Corporate Secretary
Teresa Cheng brings a solid background to the CFO role, holding that position at Atna Resources for ten years. Her familiarity with the financial and regulatory requirements of the junior resource sector greatly enhance the Endurance management team.
H. Ross Arnold – Director
Ross H. Arnold has work experience with several Wall Street investment banking firms and is currently the president of Quest Capital Corp., a private investment and management company. Arnold has a controlling interest in more than seven companies with annual revenues over US$325 million. He brings practical business experience to the Board and shares the desire to build a new and substantive resource company.
Richard Gilliam – Director
Richard Gilliam has spent his lifetime building and operating coal mining companies. He is the past president and founder of Cumberland Resources Corporation, one of the largest privately-owned coal mining companies in the United States. In March 2010, Cumberland Resources was sold to Massey Energy for US$960 million in cash and shares. He brings to the board a fundamental understanding of building and operating a new resource company.
J. Christopher Mitchell – Director
Christopher J. Mitchell is a metallurgist whose career in the mining industry spans more than four decades in Canada, the United States, Australia and South America.  He has served as CFO for several public companies, including FPX Nickel Corp., Independence Gold Corp. and Silver Quest Resources Ltd. Earlier in his career, he was a senior VP of Viceroy Resource Corp. and executive VP and CFO of Orvana Minerals Corp. Mitchell has served as a director of publicly listed mining companies, including FPX Nickel Corp. and Orvana Minerals Corp. in Canada and Matrix Metals Limited and Mariana Resources Limited in Australia.
Robert Pease – Director
Robert Pease is the former president, CEO and director for Sabina Gold & Silver Corp., a company focused on developing the Back River gold deposits in Nunavut, Canada. Pease was previously the founder, president, CEO and director of Terrane Metals Corp. from its inception in 2006 until its acquisition in 2010 by Thompson Creek Metals Company. He guided the company through development studies and permitting and initiated construction before the acquisition by Thompson Creek. He was also formerly a director and strategic advisor for Richfield Ventures, a mineral exploration and development company focused on the Blackwater Gold project in central British Columbia, Canada. New Gold Inc. acquired Richfield in 2011. Pease is currently a director of Liberty Gold, Pure Gold Mining, Libero Copper Corporation and FPX Nickel, all mineral exploration and development companies.
---
*Disclaimer: This profile is sponsored by Endurance Gold (TSXV:EDG). This profile provides information which was sourced by the Investing News Network (INN) and approved by Endurance Gold in order to help investors learn more about the company. Endurance Gold is a client of INN. The company's campaign fees pay for INN to create and update this profile.
INN does not provide investment advice and the information on this profile should not be considered a recommendation to buy or sell any security. INN does not endorse or recommend the business, products, services or securities of any company profiled.
The information contained here is for information purposes only and is not to be construed as an offer or solicitation for the sale or purchase of securities. Readers should conduct their own research for all information publicly available concerning the company. Prior to making any investment decision, it is recommended that readers consult directly with Endurance Gold and seek advice from a qualified investment advisor.
Request an Investor Kit
EXCITING upcoming projects!
IN-DEPTH reliable insights!
SUCCESSFUL growth strategies!
VALUE-BASED content!
Endurance Gold