7 Companies 'Best Positioned to Deliver in 2015′
A recent report from Haywood Securities looks at several companies that the firm believes are positioned to do well next year. Overall, Haywood suggests that "while the [exploration and development] group may be down, it is certainly not out, with many good opportunities remaining."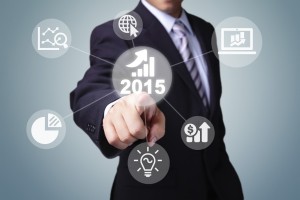 This post was originally published on Gold Investing News on December 10, 2014.
2014 hasn't been the best year for mining companies, and those involved in exploration and development have been having an especially difficult time. Indeed, a recent white paper from SNL Metals & Mining is not out of line in calling the situation a "persistent financing drought."
However, despite the volatile market, there's definitely still some silver lining out there. A recent report from Haywood Securities entitled "Down But Not Out — Identifying Opportunities in the Exploration and Development Space" looks at several companies that the firm believes are positioned to do well next year.
Overall, Haywood suggests that "while the [exploration and development] group may be down, it is certainly not out, with many good opportunities remaining."
The method
The firm picked four gold companies, as well as one copper, one nickel and one uranium company, as top exploration and development opportunities for next year. Haywood didn't put its top picks in any particular order, but looked at factors such as project quality, expected cash on hand at year end, equity raise requirements and the potential for further catalysts in 2015 to determine which made the list. Not surprisingly, all of the companies selected have been assigned a "buy" rating by Haywood analysts.
Of course, it's worth mentioning that analyst recommendations are just one piece of the due diligence pie, and it's important for investors to do their own research before making investment decisions. As a relevant point, Haywood has given plenty of companies "buy" recommendations, but has also identified risks for several. Still, it's encouraging to see some positive sentiment in the space, and resource investors will be happy to see some favorable predictions for companies.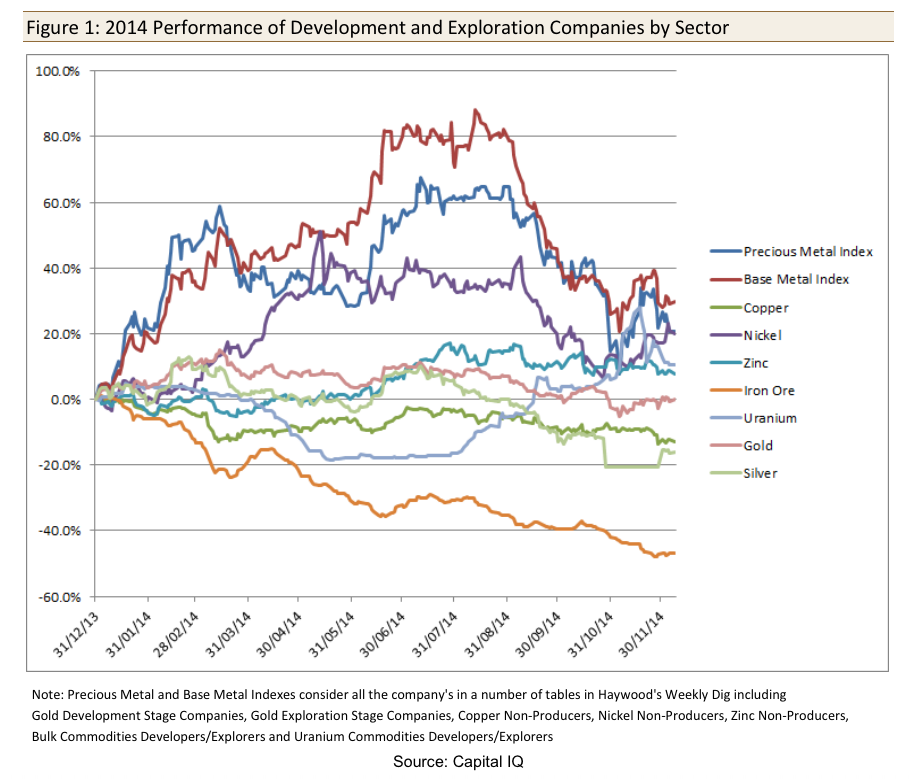 From a December 10 Industry Report on Metals & Mining published by Haywood Securities.
Top companies
First on the list is Asanko Gold (TSX:AKG). The company is aiming to become a mid-tier gold producer, and is currently moving ahead with construction at its Asanko gold mine in Ghana, having released an optimized mine plan last month. Asanko is up roughly 24 percent year-to-date, and has gained 34 percent in the past month.
Wednesday's Haywood report notes that commercial production is expected to begin at the mine at the start of 2016, as the project is fully financed through construction. Haywood analyst Geordie Mark has assigned Asanko a target price of $3.35. Shares of the company were trading at $2.13 on Wednesday.
Denver's Midway Gold (TSX:MDW) also made the list, with shares trading around $0.86 on Wednesday afternoon. Mark has given the company a target price of $1.50.
Midway made headlines this summer when it increased its mineral resource at the Spring Valley project in Nevada by 102 percent. Midway has a joint venture agreement with Barrick Gold (TSX:ABX,NYSE:ABX), but while that project and a number of others in its portfolio seem promising, the main focus seems to be its near-term production Pan project, also in Nevada. The company anticipates that its first gold pour will take place in January 2015, and the Haywood report points out that Midway is fully financed through construction at Pan.
True Gold Mining (TSXV:TGM,OTCMKTS:RVREF) investors might have been a bit worried this fall when protests erupted in Burkina Faso, where True Gold's Karma project is located. However, the company is still a top pick for Haywood, which suggests True Gold is "trading at a substantial discount to peers." While pointing out that True Gold has all its permits in hand and is largely financed to get to production near the end of next year, Haywood also notes that the company has a $5-million exploration program that could improve the project's potential.
Haywood analyst Tara Hassan has assigned a target price of $0.80 to True Gold, much higher than Wednesday's share price of around $0.225.
Rounding out Haywood's top gold picks is Pilot Gold (TSX:PLG), which released additional high-grade drill results from its Kinsley Mountain project (majority owned with joint venture partner Nevada Sunrise (TSXV:NEV)) this week. Haywood notes that Pilot is financed through 2016 for exploration at Kinsley and TV Tower, which has also been returning good results, and points to further exploration results and an updated preliminary economic assessment for the company's Halilaga project in Turkey as catalysts to watch for.
Trading at about $0.84 on Wednesday afternoon, Hassan has given the company a target price of $1.70.
On the copper side, Michigan-focused Highland Copper Company (TSXV:HI) made the list, with the Haywood report suggesting that the company's holdings "will set the stage for Highland to define the scope of a significant milti-mine copper development plan in 2015." The company acquired the White Pine North and Copperwood projects this summer, and also holds the Keweenaw project in Michigan. Highland is also working towards completing a 50/50 joint venture agreement with AMCI.
Highland Copper has received a target price of $0.75 from Stefan Ioannou, and was trading at $0.42 on Wednesday.
Also from the base metals sector, Talon Metals (TSX:TLO) is seen as positioned to do well. The company entered an exploration and option agreement with Kennecott for the Tamarack nickel-copper-platinum project this June, and Wednesday's Haywood report notes that a ~$10-million exploration program planned for 2015 could potentially extend the 6.87-million-tonne deposit at the project. The company was trading near $0.25 on Wednesday, and Ioannou has assigned Talon a $0.50 target price.

Finally, Denison Mines (TSX:DML) represents the top opportunity in the uranium space. Haywood's Colin Healy has assigned the exploration and development company a target price of $2.10, a dollar above where Denison was trading on Wednesday.
Denison has a number of projects in its portfolio, and with a continually growing resource at its Wheeler River project, it's definitely an analyst favorite. The Haywood report pegs Denison as "well positioned to participate in uranium sector catalysts," such as potential reactor restarts in Japan, and expects that the company will be fully financed through to the end of next year.
Of course, there are plenty of other miners that could very likely do well next year as well. However, the list from Haywood Securities is a good place to start, and will certainly give resource investors plenty to think about over the holidays.

Securities Disclosure: I, Teresa Matich, hold no direct investment interest in any company mentioned in this article.
Related reading:
A Guide to Analyst Recommendations