Bitcoin ETF Decision Delayed Until September by SEC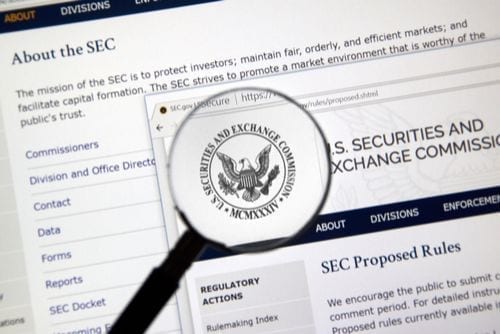 In its Federal Register, released on Tuesday, the US Securities and Exchange Commission gave notice to investment firm Direxion that it is postponing any decision on the firm's proposed bitcoin ETF filings until September 21, 2018.
A decision on whether or not to approve bitcoin exchange traded funds (ETFs) is being delayed yet again by the US Securities Exchange and Commission (SEC).
The SEC's most recent Federal Register released on Tuesday (July 24) issued its notice to Direxion Investments–a firm that proposed five bitcoin-related ETFs in January–advising it is postponing any decision making on whether or not to approve Direxion's ETF proposals.
According to the statement, the SEC is designating September 21, 2018 as the date it will either approve or disprove the proposed rule change.
"The Commission finds it appropriate to designate a longer period within which to issue an order approving or disapproving the proposed rule change so that it has sufficient time to consider this proposed rule change," the SEC states.
In Direxion's initial bitcoin ETF filing to the SEC in January, the firm revealed its plans for the five bitcoin-related ETFs, namely: Direxion Daily Bitcoin Bear 1X Shares, Direxion Daily Bitcoin 1.25X BullShares, Direxion Daily Bitcoin 1.5X Bull Shares, Direxion Daily Bitcoin 2X Bull Shares, and Direxion Daily Bitcoin 2X Bear Shares.
"The Funds will offer investors the opportunity to obtain daily short, leveraged long or leveraged short exposure to the lead month bitcoin futures contract traded on the Chicago Mercantile Exchange ("CME") or on Cboe Global Markets, Inc. ("CBOE") or on any other U.S. exchange that subsequently trades bitcoin futures contracts (the "Bitcoin Futures Contract")," the filing read in terms of the investment objectives of the funds.
In the SEC's Federal Register, it said that it had only received two comments on the proposed ETF filings, both of which were submitted in May.
The first comment submitted by Steven A. Williams on May 17 stated that "two things" should happen before Direxion's bitcoin-futures ETFs can list and trade. Williams' first suggestion was that the fund's sponsor should procure an SEC exemptive order. Following that, Williams said the exchange should then obtain SEC approval by way of a rule filing.
"Respectfully, the Commission cannot possibly determine the proposal properly if the relief is not considered," Williams said in his comment. "The public certainly cannot comment meaningfully if the exemptions are not disclosed."
Sharon Brown-Hruska, Ph.D, and Trevor Wagener, M.S. from NERA Economic Consulting submitted the second comment on May 18.
In the joint memo, the duo made suggestions on a "suitability-based regulatory approach" instead of a "prescriptive approach like an effective ban on Bitcoin ETFs."
While it may not be entirely related to the SEC's decision to postpone the proposed bitcoin ETF filing, the bitcoin price surged tremendously on Tuesday past the US$8,000 threshold for the first time in two months to reach a 60-day high.
Since May 20–when bitcoin was priced at US$8,500.79 according to data from Coinmarketcap.com–the digital currency has been on a steady decline and reached a 2018 low at the end of June when it plummeted to US$5,826.41.
Over a 24-hour period alone, the digital currency rose 6.33 percent to US$8,229.79 as of 2:40 p.m. EST on Tuesday.
Don't forget to follow us @INN_Technology for real-time news updates!
Securities Disclosure: I, Jocelyn Aspa, hold no direct investment interest in any company mentioned in this article.