Best Silver Stocks of 2020 on the TSX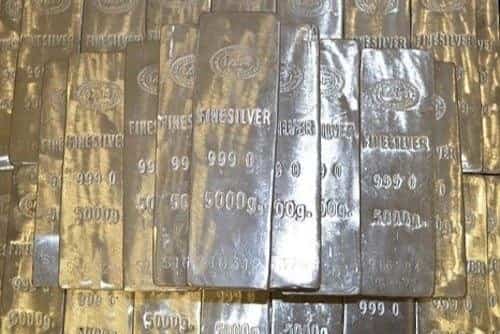 The silver price been volatile so far this year, but what are the best silver stocks on the TSX? We've got the answers here.
Click here to read the latest best silver stocks on the TSX article.
Silver rose rapidly at the start of Q3, climbing 61 percent from July to mid-August. After beginning the quarter at US$18.02 per ounce, a sharp spike sent it to a seven year high of US$29.14.
The price of the white metal then pulled back to the US$26 range, holding there until mid-September, when it shed a few more dollars to sit at the US$24 level.
In the face of depressed industrial demand, silver's currency status has attracted safe haven investors and those looking for a leveraged play on gold.
With the metal still relatively elevated, many silver producers and explorers have experienced share price growth. With that in mind, the Investing News Network has rounded up the five best silver stocks on the TSX with the biggest share price gains year-to-date.
The list below was generated on October 19, 2020, using TradingView's stock screener, and all companies listed had market caps above C$50 million at that time.
1. Fortuna Silver Mines (TSX:FVI)
Year-to-date gain: 75.4 percent; current share price: C$9.22
Fortuna Silver Mines is a diversified miner with projects in Peru, Mexico and Argentina. The company's flagship asset is the Caylloma silver mine in Southern Peru.
During Q3 of this year, Fortuna produced 2.13 million ounces of silver and 12,791 ounces of gold; both of those figures are up from the year-ago period.
At the beginning of Q3, the miner decided to temporarily close its Caylloma mine for a two week period after the death of a contract employee. The time was used to sanitize and disinfect the site. Mining and processing recommenced on July 27 at a capacity of 1,430 tonnes per day.
Shares of Fortuna reached a quarterly and year-to-date high on September 19 to trade for C$10.27.
2. Avino Silver & Gold Mines (TSX:ASM)
Year-to-date gain: 75.3 percent; current share price: C$1.41
Based in Mexico, Avino Silver & Gold Mines owns a portfolio of precious and base metals projects.
In early July, the miner temporarily halted production at its namesake silver mine near Durango, Mexico, due to a union blockade. The protest continued throughout the quarter, reaching a resolution in early October. Despite the dispute, company shares rose to a year-to-date high of C$1.84 on August 6.
In mid-August, Avino fulfilled an option agreement with Silver Wolf Exploration (TSXV:SWLF), formerly Gray Rock Resources. The cash-and-share deal gives Silver Wolf exclusive rights to acquire a 100 percent interest in Avino's Ana Maria and El Laberinto properties in Mexico.
3. Wheaton Precious Metals (TSX:WPM)
Year-to-date gain: 70 percent; current share price: C$65.28
Wheaton Precious metals is one of the leading precious metals streaming companies in the world, with streaming agreements with 20 mines and nine development-stage projects.
In a July press release, Wheaton reported its financials for the first half of the year. The overview highlights more than US$500 million in revenue and US$330 million in operating cash flow.
The announcement also notes some of the production challenges Wheaton's partners encountered due to COVID-19. Despite the disruptions, the company reported 3,650 ounces of produced silver in Q2.
Wheaton's shares were trading at a year-to-date high of C$75.28 on July 27. Towards the end of the quarter, news of the company's intentions to list on the London Stock Exchange circulated.
"As a leader in the precious metals sector, Wheaton is excited to take our place amongst the largest mining companies globally on the London Stock Exchange," wrote Randy Smallwood, president and CEO.
4. MAG Silver (TSX:MAG)
Year-to-date gain: 54 percent; current share price: C$23.10
Focused on silver exploration and development, MAG Silver is another of the best silver stocks by share price performance. It is engaged with its primary joint venture asset, the Juanicipio project. MAG controls a 44 percent stake in Juanicipo, with Fresnillo (LSE:FRES) controlling the other 56 percent.
During the third quarter, MAG completed a US$50 million at-market equity program. The explorer intends to use the funds to the complete construction and advance development at Juanicipo.
In mid-September, MAG announced plans to acquire the consolidated silver-rich Deer Trail carbonate replacement deposit in Utah. The project consists of 111 patented and 682 unpatented claims.
Shares of the firm trended higher in July and August, reaching a quarterly high of C$23.84 on July 27.
5. Endeavour Silver (TSX:EDR)
Year-to-date gain: 47.9 percent; current share price: C$4.57
Mid-tier producer Endeavour Silver owns and operates three underground silver-gold mines in Mexico.
Endeavour's efforts are currently focused on the Terronera mine. The company also holds a portfolio of exploration and development projects in Mexico and Chile.
An H1 update released in August highlights the disruption that government-mandated COVID-19 closures had on the company's production levels.
"Endeavour was able to reduce its net loss quarter-on-quarter, as each mine generated positive Mine Free Cash Flow thanks to improved operating performance and higher precious metal prices," said CEO Bradford Cooke. "After the mines restarted, we were able to outperform our adjusted mine plans in June." Shares reached a year-to-date high of C$6.20 on August 4, the day the H1 update came out.
Don't forget to follow us @INN_Resource for real-time news updates!
Securities Disclosure: I, Georgia Williams, hold no direct investment interest in any company mentioned in this article.