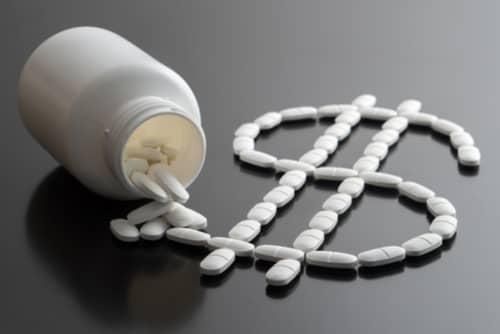 This was the largest panel of pharmaceutical executives "in decades" to appear before a congressional committee.
Company executives from several top pharmaceutical companies testified in Congress on Tuesday (February 26) about the rising cost of drug prices—an issue that has plagued the United States on and off for years.
The hearing, titled "Drug Pricing in America: A Prescription for Change, Part II," was led by Chairman Chuck Grassley and spotlighted seven pharmaceutical CEOs as witnesses.
According to the Senate Finance Committee, this was the largest panel of pharmaceutical executives "in decades" to appear before a congressional committee.
"America has a problem with the high cost of prescription medicines," Grassley said in his opening statement. "I've heard about people skipping doses of their prescription drugs to make them last until the next paycheck."
Companies that appeared before the Senate Finance Committee included: AbbVie (NYSE:ABBV), AstraZeneca (NYSE:AZN), Bristol-Myers Squibb (NYSE:BMY), Johnson & Johnson (NYSE:JNJ), Merck (NYSE:MRK), Pfizer (NYSE:PFE) and Sanofi (NASDAQ:SNY).
"Without a doubt, drug pricing is a complex issue." Grassley said. "But, I think we should also be asking whether it should be so complex. We cannot allow anyone to hid behind the current complexities to shield the true cost of a drug."
Senate Finance ranking Democrat Ron Wyden said in his opening remarks that prescription drugs did not become "outrageously expensive by accident."
"[Drug price increases are] not the result of a system too complicated for Americans to understand," he continued. "Drug prices are astronomically high because that's where pharmaceutical companies and their investors want them."
Wyden slammed pharmaceutical executives by stating that the way they do business is "unacceptable and unsustainable" and said that 10 companies accounted for at least half of the profits in the health care sector last fall. "Nine of those 10 were drug manufacturers," he said.
Although the executives agreed that their drug prices might be too high for patients, most of the CEOs explained that drug development is expensive and that pricing reflects the efforts gone into research and development (R&D).
"Research is at the core of who we are and what we do," Kenneth C. Frazier, CEO of Merck, said in his remarks and explained that in 2018 the company invested almost US$10 billion in R&D towards preventing, treating and curing diseases. "Our more than 12,000 researchers are focused on cancer, infectious diseases, and Alzheimer's, as well as other major health challenges that affect large numbers of people around the world."
AstraZeneca CEO Pascol Soriot echoed similar sentiments and said that developing treatments that "deliver long-term benefits" to patients and the overarching health of the US population "requires society's commitment to supporting investment in the innovation through purchasing [Merck's] medicine for the duration of patent protection at a reasonable price."
However, Soriot acknowledged that the state of drug pricing in the US is currently not sustainable and forcing patients into increasingly high out-of-pocket costs.
"We believe that these issues must be addressed urgently, and we hope to be a constructive partner in finding solutions," Soriot said.
That being said, none of the executives made any suggestions as to how to lower the price of their drugs and instead suggested that changes should be made to Medicare.
"[AbbVie] believe[s] it is important that discussions about access and affordability include a focus on how to alleviate Medicare Part D out-of-pocket burdens above and beyond just lowering list prices," AbbVie CEO and chairman Richard Gonzalez said in his statement.
Some of the executives claimed that some of the pricing is what's advertised and not what is paid by customers.
"The list price of a medicine is a starting point that is ultimately reduced by the substantial discounts, rebates, and fees we provide to insurance companies, pharmacy benefit managers ("PBMs"), government programs, and others," Jennifer Taubert, executive vice president of Johnson & Johnson, said in her statement. "[Johnson & Johnson] pays required discounts to government programs, and we negotiate with private payers so that they will cover our medicines and make them available to patients with lower out-of-pocket cost."
According to the Organization for Economic Cooperation and Development, Americans spend roughly US$1,200 per year on prescription drugs, which is more than anyone else in the world. For example, data from Bloomberg shows that cancer drugs in the US costs on average US$10,000 per month.
A Peterson-Kaiser Health System Tracker fact sheet states that one in four people on prescription drugs have difficulties affording the cost of medication. While prescription spending per capita dipped in 2017 by 0.30 percent, for the first time since 2012, that spending is expected to increase by 3.9 percent in 2019 and by as high as 5.4 percent in 2027.
For example, the price of AbbVie's Humaria, a drug to treat arthritis, has almost doubled in price since 2014 to US$60,000 per year.
In January, US President Donald Trump slammed pharmaceutical leaders, stating that these companies aren't "living up to their commitments on pricing."
Drug makers and companies are not living up to their commitments on pricing. Not being fair to the consumer, or to our Country!

— Donald J. Trump (@realDonaldTrump) January 5, 2019
"We've all seen the finger pointing. Every link in the supply chain has gotten skilled at that," Grassley said in his statement. "But, like most Americans, I'm sick and tired of the blame game. It's time for solutions. One way or another we're going to get some clarity."
Despite Big Pharma companies being slammed on Tuesday in Congress, share prices of several of these organizations weren't impacted negatively. Shares of AbbVie were up slightly 0.25 percent to close at US$80.51 and AstraZenca plc was up 1.16 percent to US$41.98. Merck saw a 0.45 percent bump to its stock to US$80.74 and Sanofi was up 1.35 percent to close at US$41.38.
Meanwhile shares of Bristol-Myers Squibb dipped 0.97 percent to US$50.16, Johnson & Johnson decreased a slight 0.066 percent to US$136.11, and Pfizer was down 0.14 percent to US$43.02.
Don't forget to follow @INN_LifeScience for real-time updates!
Securities Disclosure: I, Jocelyn Aspa, hold no direct investment interest in any company mentioned in this article.