What Would a Brexit Mean for Gold Prices?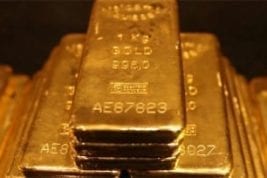 Gold prices could see a turnaround if Britain decides to leave the European Union after the referendum on June 23, some analysts are saying.
Gold prices could see a turnaround if Britain decides to leave the European Union after the referendum on June 23, some analysts are saying.
Year-to-date, gold prices have jumped 18.91 percent—a $201.60 increase from $1,076.30 to over $1,260 per ounce. On Tuesday, gold prices fell 1.65 percent, a $21.30 drop, to $1,268.50.
Although analysts surveyed in FocusEconomics' June report project the gold price to average $1,221 an ounce in the fourth quarter of this year, they do see an increase in the latter half of 2017, with gold averaging $1,269 an ounce by then.
Some have indicated that the gold price strengthened and the dollar weakened on Tuesday as the referendum inched closer. This was despite gold previously posting its biggest loss in four weeks based on speculations that a vote by the Brits to stay in the union will undercut demand of the yellow metal as a haven.
Meanwhile, others reported that the gold price fell on Tuesday, suggesting Britain may vote in favour of staying in the European Union.

How would a Brexit affect gold prices?
New polls have suggested there is a split on the outcome of the referendum. YouGov polled 1,652 voters for the Times, which showed 44 percent would vote to leave, while 42 percent would vote in favour of staying. The numbers weren't quite as balanced for the 800 people surveyed for the Daily Telegraph: 53 percent chose 'remain' while 46 percent were at 'leave' after 'don't knows' were eliminated from the voting.
Yet, if the Brexit happens, a number of analysts are projecting that gold and silver will soar to great heights and investors will invest in the yellow and white metals instead of stocks. If the Euro currency goes down, they still see people taking their money and putting it towards gold and silver.
The British pound held its biggest two-day advance against the dollar in more than seven years. George Soros, a billionaire investor, said the possibility of Britain leaving the European Union could have a big impact on the pound.
"I want people to know what the consequences of leaving the EU would be before they cast their votes, rather than after," Soros wrote in the Guardian newspaper. "It is reasonable to assume, given the expectations implied by the market pricing at present, that after a Brexit vote the pound would fall by at least 15 percent and possibly more than 20 percent."
James Butterfill, head of research and investment strategy at ETF Securities backed that statement up, stating at the Inside ETFS Europe conference, "Brexit would be very beneficial for shorting sterling and we will probably see a big pick up in gold. In that scenario we think gold could hit $1,400 an ounce."
Many analysts and speculators in the gold market have remained bullish on the yellow metal and see it climbing higher as the referendum gets closer.
"With just over two days left until the EU referendum vote, uncertainty and anxiety should skyrocket and this could propel gold prices higher," said Lukman Otunuga, research analyst at ForexTime.

What if Britain stays?
Even if the United Kingdom stays in the European Union, analysts expect that any reason that could cause a pullback in gold may be limited, as the US Federal Reserve rate hike trajectory has slowed. The CME Group's (NASDAQ:CME) FedWatch put the odds of a June rate spike at 2 percent ahead of last week's meeting (the fed left rates unchanged), but that number jumps to 21 percent for July. The odds of rates going up by year-end are only at 59 percent, down from several months ago when many market watchers expected interest rates to go up once or twice in 2016.
Naveen Mathur, commodity head at Angel Broking said gold prices will see a "knee-jerk" reaction. The yellow metal may catch up on the higher side if Britain votes in favour of leaving, reaching around $1,375 per ounce.
"Obviously, it will have a positive influence on the gold's safe haven status. However, if the referendum decides on remaining in the EU, then gold will consolidate and remain $1,300 per troy ounce range," Mathur said.
Don't forget to follow us @INN_Resource for real-time news updates!

Securities Disclosure: I, Jocelyn Aspa, hold no direct investment interest in any company mentioned in this article.