Sep. 20, 2021 12:55PM PST
How to Invest in Uranium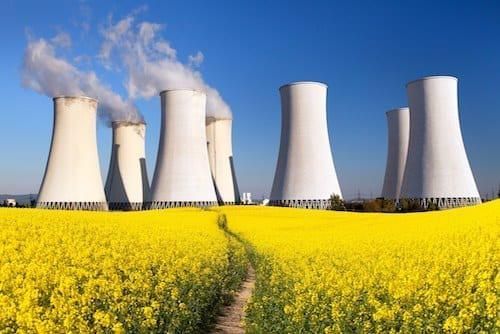 Which country had the highest uranium production in the world in 2020? Kazakhstan topped the list, followed by Australia and Namibia.
Output from the top uranium-producing countries rose steadily for a decade, leading to a peak of 63,207 tonnes in 2016. However, global uranium production has noticeably declined in the past five years.
The lower production numbers are related to the persistently low spot price the uranium market has experienced over the last seven years; COVID-19 has also had an impact on global uranium output. While prices have begun to rebound, there is much work to be done for the industry to reach the strength seen prior to the 2011 Fukushima disaster.
The majority of mined uranium makes its way into the nuclear energy sector. Currently, 10 percent of the world's electricity is generated by nuclear energy, and that number is expected to grow. Another by-product of mined ore is uranium oxide, which is used in glass, ceramics and for optic applications.
---
10 largest uranium-producing countries
Due to its significance in energy generation, it's important to know where uranium is mined and which nations are the largest uranium-producing countries.
Kazakhstan is the leader by a long shot, and has been since 2009. Last year, it was followed by Australia and Namibia in second and third place, respectively.
For investors interested in following the uranium space, having familiarity with these uranium production hotspots is essential. Read on to get a closer look at 2020's largest uranium-producing countries. All statistics are from the World Nuclear Association's most recent report on uranium mine production.
Mine production: 19,477 tonnes
As mentioned, Kazakhstan had the highest uranium production in the world in 2020. In fact, the country's total output of 19,477 tonnes accounted for 41 percent of global uranium supply.
When last recorded in 2019, Kazakhstan had 906,800 tonnes of known recoverable uranium resources, second only to Australia. Most of the uranium in the country is mined via an in situ leaching process. Kazataprom (LSE:KAP), the country's national uranium-mining company, is the world's largest uranium producer with a number of projects and partnerships in various jurisdictions.
Mine production: 6,203 tonnes
Australia's uranium production decreased slightly in 2020 to 6,203 tonnes, down from 2019's 6,613 tonnes. The island nation holds 28 percent of the world's known recoverable uranium resources.
Uranium mining has been a contentious and often political issue in Australia. While the sector is heavily regulated, the future of the industry is often called into question. Recently, the Western Australian government decided to allow existing projects to go ahead, but was clear that no new domestic uranium-mining projects will be approved. This decision has left a number of companies in limbo.
Australia is home to Olympic Dam, the largest-known deposit of uranium in the world. While the country permits some uranium-mining activity, it is opposed to using nuclear energy. A new partnership between Australia, the US and the UK that will allow the Oceanic country to acquire nuclear submarines has renewed debate over whether the country should develop its own nuclear energy capacity.
Mine production: 5,413 tonnes
Namibia's uranium production has been steadily increasing after falling to a low of 2,993 tonnes in 2015. In fact, the African nation overtook longtime frontrunner Canada to become the third largest uranium-producing country in 2020, putting out 5,413 tonnes of the material.
The country is home to two uranium mines that are capable of producing 10 percent of the world's output. Uranium miner Paladin Energy (ASX:PDN,OTCQX:PALAF) owns the Langer Heinrich mine, and mining major Rio Tinto (NYSE:RIO,ASX:RIO,LSE:RIO) controls the majority of the Rössing mine.
In 2017, Paladin took Langer Heinrich offline due to weak uranium prices. In 2020, the uranium spot price began to rise, prompting the uranium miner to ramp up restart efforts.
Mine production: 3,885 tonnes
Canada's uranium output has fallen dramatically in recent years since hitting a peak of 14,039 tonnes in 2016. After producing 6,938 tonnes of yellowcake in 2019, Canadian uranium production sank to 3,885 tonnes in 2020 as the COVID-19 pandemic led to operational shutdowns.
Saskatchewan's Cigar Lake and McArthur River are considered the world's two top uranium mines. Both projects are operated by sector major Cameco (TSX:CCO,NYSE:CCJ).
Uranium exploration is also very prevalent in Canada, with the majority occurring in the uranium-dense Athabasca Basin. That particular area of Saskatchewan is world renowned for its high-quality uranium deposits and friendly mining attitude. The province's long history with the uranium-mining industry has helped Saskatchewan assert itself as an international leader in the uranium sector.
5. Uzbekistan
Mine production: 3,500 tonnes
In 2020, with an estimated 3,500 tonnes of output, Uzbekistan became one of the top five uranium-producing countries. Domestic uranium production has been gradually increasing in the Central Asian nation since 2016. Previously the seventh in terms of global uranium output, it is expanding production via Japanese and Chinese joint ventures.
Navoi Mining & Metallurgy Combinat is part of state holding company Kyzylkumredmetzoloto, and handles all the mining and processing of the domestic uranium supply.
Mine production: 2,991 tonnes
Niger's uranium production has declined year-over-year over the past decade, with output totaling 2,991 tonnes in 2020. The African nation has two uranium mines in production, SOMAIR and COMINAK, which account for 5.5 percent of the world's uranium production.
Both projects are operated by subsidiaries of Orano, a private uranium miner with projects in top uranium-producing countries Kazakhstan and Canada.
Niger is also home to the flagship project of explorer GoviEx Uranium (TSXV:GXU,OTCQB:GVXXF). The uranium company is presently developing its Madaeouela asset, as well as projects in Zambia and Mali.
7. Russia
Mine production: 2,846 tonnes
Russia was in seventh place in terms of uranium production in 2020. Output has been steady in the country since 2011, usually coming in near the 3,000 tonne range.
The top uranium-producing country is expected to increase its production in the coming years to meet its energy needs and growing uranium demand around the world. However, Russian uranium has been an area of controversy in recent years, with the US conducting a Section 232 investigation around the security of uranium imports from that region.
In terms of domestic uranium production, Rosatom, a subsidiary of ARMZ Uranium Holding, owns the country's Priargunsky underground mine and is working on developing the Vershinnoye deposit in Southern Siberia through a subsidiary.
8. China
Mine production: 1,885 tonnes
China's uranium production rose from 885 tonnes in 2011 to 1,885 tonnes in 2018, and has been holding steady since then. China General Nuclear Power, the country's sole domestic uranium supplier, is looking to expand nuclear fuel supply deals with Kazakhstan and additional foreign uranium companies.
China's goal is to supply one-third of its nuclear fuel cycle with uranium from domestic producers, obtain one-third through foreign equity in mines and joint ventures overseas and purchase one-third on the open uranium market. China is also leading the way in nuclear energy generation; Mainland China has 51 nuclear reactors with an additional 18 in construction.
9. Ukraine
Mine production: 400 tonnes
After reaching a high of 1,200 tonnes in 2015, uranium production in Ukraine slid to 800 tonnes in 2016. After a few more years at around the 800 tonne level, output dropped to 400 tonnes in 2020.
Ukraine is heavily dependent on nuclear power, and has 15 reactors that meet about half of the country's electricity requirements. Most of its uranium demand is met through Russian uranium.
Ukraine holds just 2 percent of the world's known uranium reserves; in comparison, neighboring Russia accounts for 8 percent of the world's uranium reserves.
10. India
Mine production: 400 tonnes
Rounding out the list is India, which produced 400 tonnes of the energy fuel in 2020. The country's uranium output has held steady between 300 and 420 tonnes over the past decade.
As of 2018, the country had uranium stockpiles of 71,000 tonnes dedicated to its domestic nuclear energy sector. India currently has 23 operating nuclear reactors with another seven under construction. "The Indian government is committed to growing its nuclear power capacity as part of its massive infrastructure development programme," according to the World Nuclear Association.
"The government has set ambitious targets to grow nuclear capacity."
Don't forget to follow us @INN_Resource for real-time news updates!
Securities Disclosure: I, Melissa Pistilli, hold no direct investment interest in any company mentioned in this article.