Top 3 Uranium Stocks on the TSX and TSXV (Updated November 2022)
Nov. 18, 2022 09:00AM PST
Uranium Investing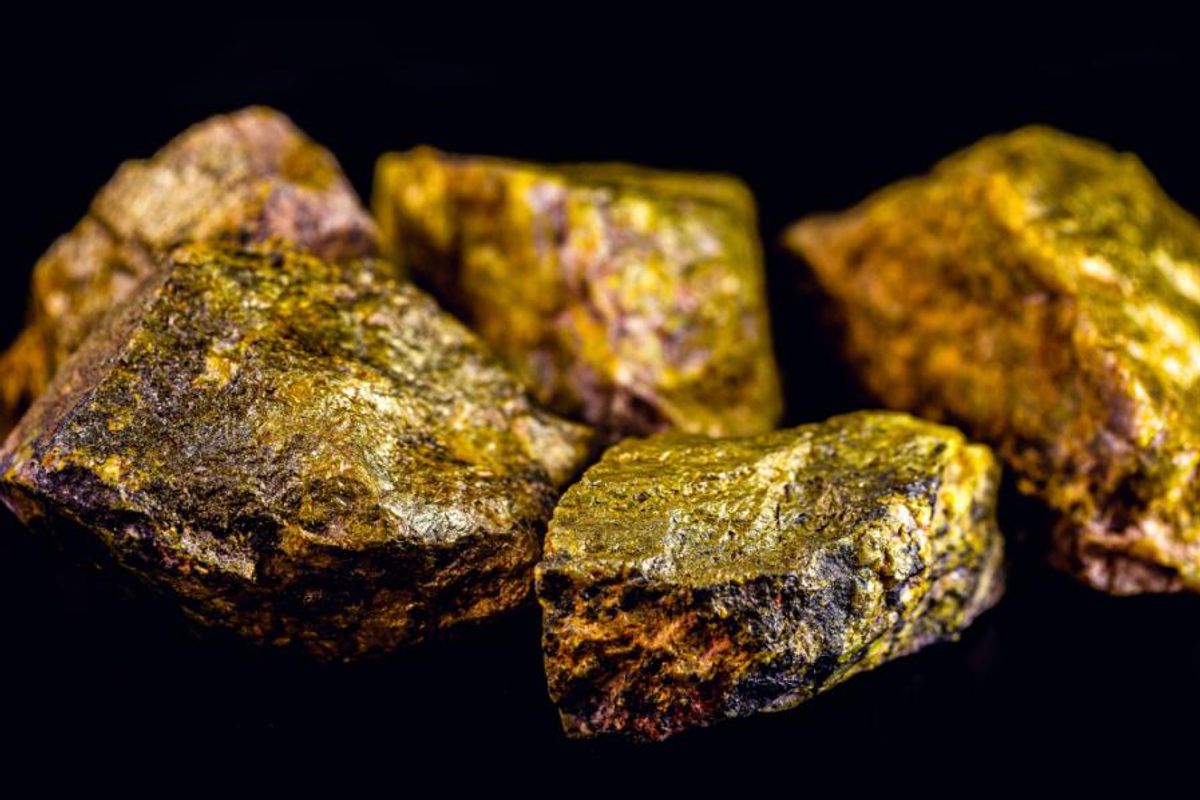 What are the top uranium stocks? Here's a list of the companies on the TSX and TSXV with the biggest year-to-date share price gains.
Click here to read the previous top uranium stocks on the TSX and TSXV article.

As was anticipated by experts, uranium has seen large gains in 2022, reaching US$64.50 per pound on April 14 — a decade high — due to factors like Russia's invasion of Ukraine and increasing nuclear adoption.
While prices have fallen since then, uranium is still performing well, remaining in the range of US$46 to US$54 throughout Q3 and Q4. However, many stocks are still not seeing the performance one might expect. What do experts think?
The Investing News Network spoke with many market watchers who are bullish on uranium at the New Orleans Investment Conference in mid-October, including Lobo Tiggre, Rick Rule, Nick Hodge and Gerardo Del Real.
---
"We need uranium if we're going to be independent of this fossil energy that we've had for so many years, and there's actually a lot of bipartisan support for that," Del Real said in his interview. "There's real capital, especially here in the US right now, into developing independent critical metals supply chains, specifically with uranium."
For his part, Hodge said uranium's fundamentals have never been better.
"What we're waiting on now is for the price of uranium to go back up," he said. "You're going to see a time in the next two to three years, I'm pretty sure, of +US$100 uranium, if not +US$150 uranium, just like you did in 2007."
Below are the top uranium stocks on the TSX and TSXV by share price performance so far this year. All data was obtained on November 14, 2022, using TradingView's stock screener, and all companies had market caps above C$10 million at the time.
Year-to-date gain: 60 percent; market cap: C$11.59 million; current share price: C$0.12
Marvel Discovery is focused on projects for many different metals throughout Canada. While uranium is not one of its top commodities, the company has been working on acquiring and exploring uranium properties in the Athabasca Basin in 2022. It now has the Highway North claims, the KLR claim group and the Walker claim group in the basin; these are contiguous with Cameco's (TSX:CCO,NYSE:CCJ) Key Lake property, which is past-producing and now hosts the Key Lake mill, as well as Fission 3.0's (TSXV:FUU,OTCQB:FISOF) Hobo Lake uranium properties. Marvel also has properties with rare earths, gold, platinum-group elements, nickel and copper.
In late February, Marvel received approval from the TSXV to acquire Highway North, and completed a ground magnetic survey at the property in early March. Later that month, the company entered into an option agreement to acquire the KLR and Walker claims. Its share price spent March trending upwards, opening the month at C$0.10 and closing it at C$0.15.
"We are extremely fortunate to have acquired the KLR and Walker claim groups being directly tied on to the north and south of our recently acquired Highway North Project," Marvel President and CEO Karim Rayani said. "This brings our new total to over 16,000 hectares along a trend that hosts some of the highest-grade uranium mines in the world."
After Marvel Discovery completed an airborne survey at KLR and Walker, the company defined the DD zone, which it calls an area of "high merit and potential for success." It plans to perform diamond drilling at the zone to explore it further. On October 5, Marvel signed a joint venture agreement that will allow Carmanah Minerals (CSE:CARM) to earn a 50 percent interest in the Walker claims. To do so, Carmanah will need to fund C$1.5 million in exploration, pay C$400,000 in cash and issue 3.5 million shares and warrants. Marvel Discovery said in the release that both companies share the goal of a tier one discovery at the site.

Year-to-date gain: 11.03 percent; market cap: C$12.92 billion; current share price: C$32.32
Cameco is a top global uranium miner with active operations in Canada and Kazakhstan and suspended mines in the US. Its Canadian mines are the Cigar Lake joint venture, the world's highest-grade uranium mine, and McArthur River/Key Lake, the world's largest high-grade uranium mine and mill. Both are in Saskatchewan's Athabasca Basin. Although McArthur River/Key Lake was previously on care and maintenance, it's been slowly brought back online in 2022 due to strengthening uranium market conditions. Cameco's Inkai mine in Kazakhstan is a 40/60 joint venture between it and national operator Kazatomprom (LSE:KAP).
The company's H1 share price high came early in Q2, when it reached C$39.68 on April 13. In May, Cameco and Orano Canada, the majority owners of the Cigar Lake joint venture, bought out Idemitsu Canada Resources' 7.875 percent participating interest in the mine. Cameco's ownership stake is now 54.547 percent. Although the company's share price traded lower after April, a spike in the uranium price in late August coincided with a similar spike for Cameco, which hit a year-to-date high of C$40.10 on September 8.
Q4 has brought significant news for the company. On October 11, Cameco and Brookfield Renewable Partners announced that they were forming a strategic partnership to acquire Westinghouse Electric Company. Cameco will own 49 percent of the company, while Brookfield and its institutional partners will own 51 percent. According to a press release, "Westinghouse services about half the nuclear power generation sector and is the original equipment manufacturer to more than half the global nuclear reactor fleet."
A week later, Cameco shared that it had completed a C$747.6 million bought deal offering. The company said it intends to use the majority of the funds for its approximately US$2.2 billion portion of the aforementioned acquisition.
On October 31, Cameco released its Q3 results, in which it shared updates on many parts of its business. In November, the company announced it had signed a uranium supply agreement with China Nuclear International for an undisclosed amount. Its most recent news came on November 9, when it announced that the first pounds of uranium had been packaged from the McArthur River/Key Lake mine restart. According to the company, it expects 2 million pounds of uranium to be produced there in 2022.

Year-to-date gain: 1.14 percent; market cap: C$408.32 million; current share price: C$1.77
Ur-Energy is a uranium miner with two primary projects. Its Lost Creek in-situ uranium recovery facility has been in production since 2013 and has produced 2.7 million pounds of U3O8 in that time. It also has the Shirley Basin project, which has received all necessary permits and is nearly construction ready.
The company's share price also hit an early year-to-date high of C$2.37 on March 9, in sync with uranium's spike. It reached those heights again on April 13, although it has since fallen, staying lower throughout the year.
Significantly, in early August, Ur-Energy entered into a multi-year sales agreement to supply uranium to a leading US nuclear utility company. Ur-Energy will deliver 200,000 pounds annually for a six year period to the utility company. Ur-Energy also shared in that release that it has entered a bid with the US Department of Energy to supply uranium towards the national stockpile. The company's share price began moving upwards again in the weeks following this news.
Ur-Energy released its Q3 results on November 1, with operational updates, as well as the promotion of a new chief operating officer.
"We continue to steadily advance construction and drilling at our Lost Creek Mine in preparation for a ramp up as we seek to layer in additional sales contracts," Ur-Energy CEO John Cash said. "U.S. and international support for nuclear power continues to strengthen as countries recognize the carbon-free attributes of reliable nuclear power and increasingly desire to be energy independent."
FAQs for investing in uranium
What is uranium used for?
Uranium is primarily used for the production of nuclear energy, a form of clean energy created in nuclear power plants. In fact, 99 percent of uranium is used for this purpose. As of 2022, there were 439 active nuclear reactors, as per the International Atomic Energy Agency. Last year, 8 percent of US power came from nuclear energy.
The commodity is also used in the defense industry as a component of nuclear weaponry, among other uses. However, there are safeguards in effect to keep this to a minimum. To create weapons-grade uranium, the material has to be enriched significantly — above 90 percent — to the point that to achieve just 5.6 kilograms of weapons-grade uranium, it would require 1 metric ton of uranium pre-enrichment.
Because of this necessity, uranium enrichment facilities are closely monitored under international agreements. Uranium used for nuclear power production only needs to be enriched to 5 percent; nuclear enrichment facilities need special licenses to enrich above that point for uses such as research at 20 percent enrichment.
The metal is also used in the medical field for applications such as transmission electron microscopy. Before uranium was discovered to be radioactive, it was used to impart a yellow color to ceramic glazes and glass.
Where is uranium found?
The country with the greatest uranium reserves by far is Australia — the island nation holds 28 percent of the world's uranium reserves. Rounding out the top three are Kazakhstan with 15 percent and Canada with 9 percent.
Although Australia has the highest reserves, it holds uranium as a low priority and is only fourth overall for production. All its uranium output is exported, with none used for domestic nuclear energy production.
Kazakhstan is the world's largest producer of the metal, with production of 21,819 metric tons in 2021. The country's national uranium company, Kazatomprom, is the world's largest producer.
Canada's uranium reserves are found primarily in its Athabasca Basin, and the region is a top producer of the metal as well, although some of the major mines have been under care and maintenance in recent years.
Why should I buy uranium stocks?
Investors should always do their own due diligence when looking at any commodity so that they can decide whether it fits into their investment plans. With that being said, many experts are convinced that uranium has entered into a significant bull market, meaning that uranium stocks could be a good buy.
A slew of factors have led to this bull market. While the uranium industry spent the last decade or so in a downturn following the 2011 Fukushima nuclear disaster, discourse has been building around the metal's use as a source of clean energy, which is important for countries looking to reach climate goals. Nations are now prioritizing a mix of clean energies such as solar and wind energy alongside nuclear. Significantly, in August 2022, Japan announced it is looking into restarting its idled nuclear power plants and commissioning new ones. Experts consider this an important catalyst for uranium.
Uranium prices are very important to uranium miners, as in recent years levels have not been high enough for production to be economic. However, in 2021, prices spiked from the US$30 to US$45 range, and moved even higher in 2022 on supply concerns from the Russia/Ukraine war, hitting US$64.50 before moving back to stabilize around US$50. This price action has resulted in some companies bringing their mines out of care and maintenance, including Cameco's McArthur River/Key Lake.
Don't forget to follow us @INN_Resource for real-time updates!

Securities Disclosure: I, Lauren Kelly, hold no direct investment interest in any company mentioned in this article.
Editorial Disclosure: Marvel Discovery is a client of the Investing News Network. This article is not paid-for content.
Uranium Outlook:
Featured Uranium Investing Stocks
Investing News Network websites or approved third-party tools use cookies. Please refer to the cookie policy for collected data, privacy and GDPR compliance. By continuing to browse the site, you agree to our use of cookies.