Uranium Mining in Canada
The country is poised to be a major force in the uranium sector for years to come.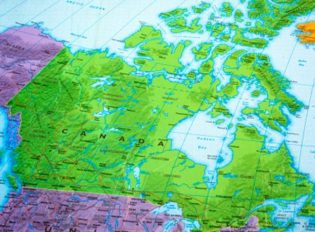 Until 2014, Canada had mined more uranium than any other country in the world. In total, it had produced 485,000 tonnes of uranium, or at least one-fifth of global production, according to the World Nuclear Association (WNA).
Uranium ores first became known in Canada in the 1930s, when Eldorado Mining Company began recovering radium; however, uranium exploration didn't begin until 1942. The first phase of uranium production in the country peaked in 1959, says the WNA. At the time, over 12,000 tonnes of uranium were produced, generating $330 million in export revenue.
Since then, uranium mining in Canada has flourished, particularly since discoveries were made in Saskatchewan's Athabasca Basin in the 1970s. For years the country was the top producer of uranium, though it is now in second place behind Kazakhstan. According to the most recent WNA data, Canada mined 13,325 tonnes of uranium in 2015.
With known uranium resources of 582,500 tonnes, Canada will probably be a major supplier of uranium into the future. In particular, the Athabasca Basin is likely to play a big role in uranium supply. It's home to the highest-grade uranium deposits in the world, and accounts for 18 percent of global production
The Athabasca Basin also plays host to the world's largest uranium mine. Called McArthur River, it's 69.8-percent owned by Cameco (TSX:CCO,NYSE:CCJ). Cameco and Areva Resources, a subsidiary of AREVA (EPA:AREVA), are currently the largest uranium producers in Canada, but other companies are putting themselves on the map. Read on to learn more about those large producers and about many of the other companies producing and exploring for uranium in Canada.
Cameco
Cameco alone accounts for roughly 18 percent of world uranium production from operations in Canada, as well as the US and Kazakhstan. The company has three mines and two mills in Canada, all located in the Athabasca Basin.
As mentioned, McArthur River is the world's largest uranium mine. In 2015, it produced 8,673 tonnes of uranium, and has put out more than 291 million pounds since operations began in 1999.
Cameco also operates the Cigar Lake mine, in which it holds a 50-percent interest. It began commercial production in May 2015, and is the world's highest-grade uranium mine. By the end of that year, the mine had produced 11.3 million pounds of uranium; it is expected to produce 18 million pounds in 2017.
In addition to those two mines, Cameco once operated the Rabbit Lake mine. Operations are currently suspended due to tough market conditions, but it is Saskatchewan's longest-running uranium mine. In early 2016, Cameco discovered the Fox Lake deposit, located on its Read Lake property close to McArthur River. The company also holds the prospective Boomerang project in the Northwest Territories.
While Cameco is no doubt a powerhouse in the uranium sector, it's expected to report a loss for 2016.
Denison Mines (TSX:DML)
Denison Mines holds a 22.5-percent interest in the McClean Lake mill, which is also located in the Athabasca Basin. Commercial production began in 1999 and operations were halted at the end of June 2010. During that time, the mill produced roughly 50 million pounds of uranium. By 2014, McClean Lake was up and running again, taking delivery of ore shipments from the Cigar Lake mine.
Throughout 2014, McClean Lake processed over 456,800 pounds of ore with a 97.5-percent recovery rate. By 2015, production was on the upswing, with 11.3 million pounds of U3O8 produced. In 2016, the Canadian Nuclear Safety Commission authorized an increase to 24 million pounds, up from 13 million pounds. Looking ahead, it is expected that 18 million pounds will be produced each year starting in 2017.
Denison also holds an interest in the Wheeler River property, which is currently estimated to hold an inferred resource of 45 million pounds of uranium at a grade of 2.3 percent. The company has an executed agreement with partners of the Wheeler River Joint Venture to increase its ownership to 66 percent up from 60 percent by the end of 2018.
The Wheeler River Joint Venture holds 19 unsurveyed mineral claims totaling 11,720 hectares in the Athabasca Basin.
UEX (TSX:UEX)
UEX is also largely focused on the Athabasca Basin, and has interests in a number of projects in the region. The Shea Creek project, in which UEX holds a 49.1-percent interest, hosts one of the largest undeveloped uranium resources in the basin.
The company is also focused on the Horseshoe and Raven deposits at the Hidden Bay project on the eastern side of the Athabasca Basin. Additionally, the company has a 30-percent interest in the Christie Lake project, and is its acting operator; it has an option to acquire up to a 70-percent stake in that project.
At the end of January 2017, UEX began drilling at Christie Lake. It is targeting a new high-grade zone of uranium mineralization along the Yalowega mineralized trend.
Fission Uranium (TSX:FCU)
Fission Uranium is the owner of the Patterson Lake South project, which hosts the Triple R deposit. Triple R is a high-grade, shallow-depth deposit — much of the deposit is less than 250 meters deep, and nearly half of it will be mineable via an open pit. In September 2015, a preliminary economic assessment for Triple R was completed. It shows that the deposit has an estimated indicated mineral resource of 2,011,00 tonnes at 1.83 percent U3O8 containing 81,111,000 pounds of U3O8. Its inferred mineral resource is estimated to be 785,000 tonnes at 1.57 percent U3O8 with 27,157,00 pounds of U3O8.
In mid-January 2017, the company announced that a winter drill program at Patterson Lake South would soon begin, with 15 holes focusing on exploration targets for new discoveries.
NexGen Energy (TSX:NXE)
Close to Patterson Lake South is NexGen Energy's Rook I property. The company holds over 259,000 hectares in the southwestern part of the basin, including Rook I, which was discovered in early 2015. In January 2017, NexGen began a winter drilling program at the property; it will consist of 35,000 meters of drilling using seven drill rigs.
Also in the southwestern part of the basin are three other discoveries made by NexGen: the Harpoon, Bow and Cannon discoveries.
Forum Uranium is also heavily focused on the Athabasca Basin, and holds a portfolio of near-surface wholly owned and joint venture projects. Its flagship property is the Fir Island project. In late November 2016, gravity and soil surveys showed multiple drill targets on the project. Plans for 2017 include expanding gravity survey coverage; future drill programs will concentrate on newly developed target areas.
The company's Key Lake road projects are also located in the eastern Athabasca Basin. What's more, in May 2016 Forum Uranium acquired a 100-percent interest in the Wham property, located roughly 20 kilometers northeast of the Key Lake mine and mill.
Purepoint Uranium (TSXV:PTU)
Athabasca Basin-focused Purepoint Uranium is currently drilling at the Hook Lake project. The project is owned by Cameco (39.5 percent), Areva Resources (39.5 percent) and Purepoint (21 percent), although Purepoint has been the project operator since 2007.
Purepoint also operates the Smart Lake project under an agreement with Cameco that will allow it to acquire up to a 50-percent interest. The company's other Canadian projects include Red Willow, Smart Lake, Turnor Lake, McArthur East, Umfreville and Henday Block.
Kivalliq Energy's flagship project is the Angilak property, located in Nunavut. The property hosts a number of high-grade deposits, including the Lac 50 trend and the Dipole-RIB trend. Its estimated inferred mineral resource is 2,831,000 tonnes grading 0.69 percent U3O8 for a total of 43.3 million pounds of U3O8.
The company has also acquired the Baker Basin property, as well as the Hatchet Lake and Genesis properties, located in the Athabasca Basin.
Other projects
There are a variety of other companies exploring for uranium in Canada, including:
Did we miss a company that is mining or exploring for uranium in Canada? Please let us know in the comments!
Don't forget to follow us @INN_Resource for real-time news updates.
Securities Disclosure: I, Jocelyn Aspa, hold no direct investment interest in any company mentioned in this article.
Editorial Disclosure: Forum Uranium and Kivalliq Energy are clients of the Investing News Network. This article is not paid-for content.
---
Below is an older version of this article. Please scroll to the top for the most recent information.

By Dave Brown – Exclusive to Uranium Investing News
Canada has been a major world producer of uranium since global demand for production of the mineral developed; and the country is rich in uranium resources with a well established track record of successful exploration, mining and generation of nuclear power. Exploration for uranium ore began in earnest in 1942 under direction of the government for military purposes and at its zenith in 1959, Canada's $330 million in uranium exports exceeded the value for every other mineral. With known uranium resources of 499,000 tonnes of U3O8, as well as increasing exploration projects on the horizon, Canada is certain to maintain a significant role in meeting future global demand.
Canada was the world's largest uranium producer for many years, accounting for about 22 percent of global supply; however, in 2009 the leading position belonged to Kazakhstan with about 28 percent. Today, production comes mainly from the McArthur River mine in northern Saskatchewan, which is the largest in the world, although other areas have been active in the past including Ontario and the Northwest Territories. Canada is the world's leading exporter of uranium and hosts three of the top ten producing mines in the world. In addition to being the world's largest supplier of uranium and potash, Saskatchewan has a wealth of developing mineral resources including coal, diamonds, gold, platinum & palladium, rare earth elements, copper, zinc, nickel, oil, gas, sodium and mineralized brines.
Current General Investment Climate
Since 1997, The Fraser Institute has conducted an annual survey of metal mining and exploration companies to assess how mineral endowments and public policy factors such as taxation, geopolitical risk, legislation and regulation impact exploration. The most recent survey includes data on seventy two jurisdictions around the world, on every continent except Antarctica, including sub-national jurisdictions in Canada, Australia, and the United States. This year Canada has continued its world leading performance with six Canadian provinces positioned in the top ten: Alberta, Newfound land & Labrador, New Brunswick, Manitoba, Saskatchewan, and Quebec (in top spot as the global leader). Ontario is also considered a relatively strong investment jurisdiction ranking twenty second, down from last year's tenth spot finish.
Present Production
Canada produced 10,617 tonnes of uranium in 2008, and in 2009 production was 11,997 tonnes of uranium, 22 percent of global output. Most of this comes from a third generation of mines, which began operating in 1999 at McClean Lake and McArthur River in northern Saskatchewan. The Rabbit Lake mine in the same region is the third source, and is the longest operating uranium production facility in Saskatchewan. The primary uranium producers are Cameco (TSE:CCO) and Areva Resources Canada (formerly Cogema Resources), part of France's Areva Group (EPA:CEI).
Future Operations
Uranium production in Canada is likely to increase significantly as several new mines, now planned or under construction, go into operation sometime after 2011 well positioned to accommodate forecasts for strong Asian demand. The two largest projects are Cameco's Cigar Lake mine and Areva's Midwest mine, both in northern Saskatchewan. The mill at McClean Lake has been modified to process ore from both mines. The Rabbit Lake mill will also be modified to take ore from Cigar Lake. Total production is expected to be 8,200 tonnes per year of uranium from Cigar Lake and 2,600 tonnes per year from Midwest.
Prospective Exploration Opportunities
In addition to mining operations planned for the near future, active exploration involving more than 40 companies continues in many parts of Canada. While exploration has concentrated on northern Saskatchewan, new prospects expansively range from Labrador and Nova Scotia in the Atlantic provinces, Quebec province, Nunavut Territory in the far north, and Ontario's Elliott Lake area.
In uranium-rich northern Saskatchewan, exploration projects are now well-advanced at several locations. The Millennium deposit, which is a joint venture (42 percent owned by Cameco, 30 percent by Japan-Canada Uranium Consortium and 28 percent by Areva Resources) has indicated resources of 21,000 tonnes of 4.5 percent grade uranium and 4,400 tonnes of 2.1 percent grade inferred. It is between McArthur River and Key Lake, with the ore expected to be milled at Key Lake. A feasibility study on the project has advanced to Cameco seeking approval for extraction. Underground development is envisaged over 2013 to 2017. The Tamarack deposit associated with Dawn Lake is also a focus of interest.
Denison Mines Corp. (TSE: DML) is actively exploring the Phoenix deposit in the Wheeler River area half way between Key Lake and McArthur River. It is a long strike from the latter and geologically very similar, with some high-grade uranium mineralization. Denison has a 60 percent interest, Cameco has 30 percent and the Japan-Canada Uranium Consortium is at 10 percent ownership. Last month, Denison announced that the summer drill program had discovered two new mineralized zones at the extreme northeast and southwest edges of the Phoenix trend, which the company believes makes the deposit "one of the most exciting discoveries to come out the uranium-rich area in the last twenty years."