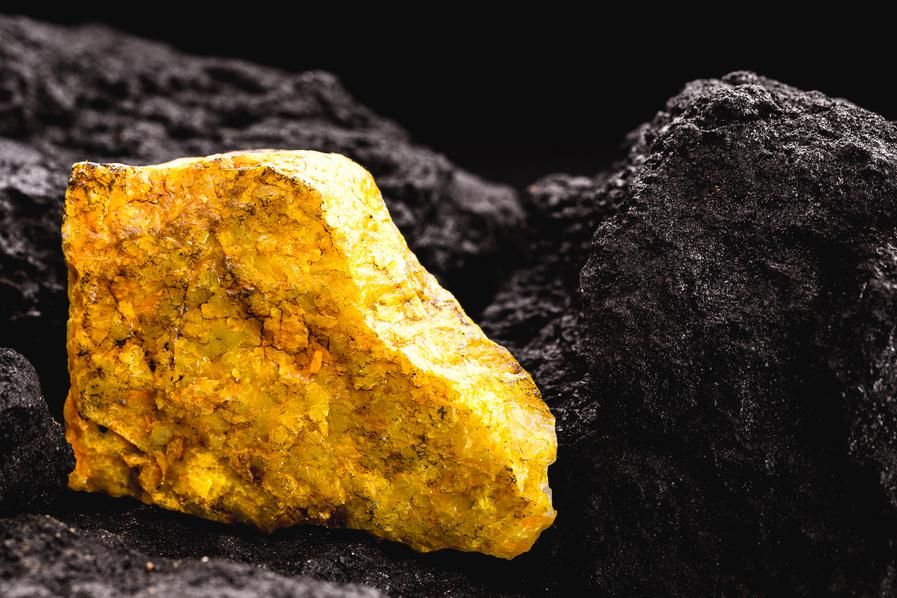 What are the largest uranium companies in the world by market cap? We run through the biggest firms producing and exploring for the nuclear fuel.
Uranium is an important commodity in the energy sector. As the value of this nuclear fuel has continued to rise, investors have become more interested in the uranium market.
Uranium began this year at US$39.50 per pound, and prices tracked much higher during the first quarter, pushing the energy fuel to an 11 year high of US$63.50 in mid-April.
Various factors have pushed prices upward. Production declines caused by COVID-19-related closures in 2020 have played a role, as has widespread demand for nuclear power generation as a clean energy source.
---
New nuclear technology will require more uranium output, which bodes well for uranium-producing companies. The long-term outlook for uranium shows that demand is projected to climb 25 percent higher by 2025. This uptick will largely come from Asia's robust and growing nuclear energy industry.

There is also increasing interest in small modular reactors. Capitalizing on the same processes used to create nuclear power on a smaller scale, they offer another way to integrate atomic energy into a project or energy grid.
Aside from that, eyes are on competition in the spot market from uranium producers that are purchasing to meet contracts following a year of mine shutdowns and logistical woes. Utilities are beginning to make deals again too, and the Sprott Physical Uranium Trust (TSX:U.UN) has become a key buyer of uranium in its own right.
More recently, Russia's war against Ukraine has served as a serious catalyst for uranium's value increase.
With that in mind, it's worth looking at which companies are the world's leading uranium miners. The list below lays out the five largest uranium companies by market cap, providing a brief overview of their uranium operations and projects. All market cap data was current as of April 11, 2022.
Market cap: US$192.12 billion
Major miner BHP's Olympic Dam mine in Australia is one of the largest uranium deposits in the world. Although copper is the primary resource mined at Olympic Dam, the project also hosts uranium, gold and silver. According to the company, Olympic Dam has a fully integrated processing facility.
After completing a comprehensive study, the company scrapped plans for a brownfields expansion at Olympic Dam in late 2020. Citing the complexity of the copper deposit, BHP instead has opted to focus on "targeted debottlenecking investments, plant upgrades and modernization of infrastructure" at the Australian property.
In 2021, output from the uranium asset decreased 11 percent year-over-year. Total production fell from 3.678 million metric tons (MT) of uranium oxide concentrate to 3.267 million MT.
Currently BHP is looking for new opportunities to add to its resource profile. One area of interest for the company is Oak Dam in South Australia, at which high-grade copper, gold, silver and uranium mineralization has been identified. In 2021, BHP conducted resource definition drilling at the site to "inform resource characterisation and potential development pathways."
Market cap: US$12.2 billion
Due to COVID-19 regulations, Cameco temporarily suspended production at its Cigar Lake uranium project in early 2020, and operations were curtailed until late September. The company experienced a decline in production that year as the result of project shutdowns in Canada, a segment that factors largely into the company's annual tallies.
In 2021, Cameco's uranium production was operating at 75 percent below productive capacity. The company's uranium output totaled 6.1 million pounds for the year. In its annual results report, the company advised that it will be increasing production in the near term to reach 40 percent below productive capacity by 2024.
Cameco's notable Canadian operations include a 50 percent stake in Cigar Lake, which is considered the most prolific uranium mine in the world, as well as the McArthur River mine and Key Lake mill, located in the Athabasca Basin, a well-known uranium jurisdiction in the province of Saskatchewan.
In the US, Cameco owns the Smith Ranch-Highland operation in Wyoming's Powder River Basin, as well as the Crow Butte operation in Nebraska. Production has been curtailed at both properties as of 2016. Additionally, Cameco has a 40 percent stake in the Inkai mine in Kazakhstan.
Back in 2018, the company shuttered McArthur River and Key Lake due to weak spot prices. The closures reduced Cameco's uranium supply dramatically from 23.8 million pounds in 2017 to 9.2 million pounds in 2018.
Market cap: US$2.99 billion
Uranium exploration and development company NexGen Energy is focused on projects in Canada's Athabasca Basin. Its main property is Rook I, which hosts a number of discoveries, including Arrow and South Arrow. NexGen also holds a 51 percent interest in exploration-stage IsoEnergy (TSXV:ISO,OTCQX:ISENF).
In late 2021, NexGen inked an engineering, procurement and construction management contract for Rook I's front-end engineering design (FEED) stage. This work follows the completion of the feasibility study for the project, and will further prepare the asset for construction. The FEED stage is scheduled for completion in Q3 2022.
"The Feasibility Study outlines an initial 11 year mine capable of producing 29 Mlbs U308 per annum (first 5 years), making it the largest and lowest cost uranium mine in the world," according to the company. Other potential catalysts for NexGen include the submission of its environmental impact statement and licensing application.
Market cap: US$1.59 billion
Uranium Energy has two production-ready, in-situ recovery (ISR) hub-and-spoke platforms in South Texas and Wyoming that include fully licensed and operational processing capacity at the Hobson and Irigaray plants. The company also has seven US-based ISR uranium projects with all of their major permits in place.
Uranium Energy's South Texas assets include multiple deposits in close proximity to its Hobson central processing plant. The company believes these projects could be brought into production at a relatively low CAPEX.
The fully permitted Reno Creek project is ready for construction and has the potential for 4 million pounds of U3O8 output per year. Uranium Energy is waiting for uranium price levels to warrant a production decision.
The company began purchasing physical uranium in March 2021, and, as of mid-March 2022, it had amassed an inventory of 4.1 million pounds of US-warehoused physical uranium.
Market cap: US$1.52 billion
The largest producer of uranium in the US, Energy Fuels provides major nuclear power plants with uranium supplied from its White Mesa mill in Utah, the only conventional uranium mill operating in the country. The mill has a licensed capacity of over 8 million pounds of U3O8 per year.
Energy Fuels is the only uranium producer with both conventional and ISR production in the US. The company also owns the Nichols Ranch ISR project in Wyoming and the Alta Mesa ISR project in Texas, both of which are currently on standby. The Nichols Ranch ISR project has a licensed capacity of 2 million pounds of U3O8 per year.
Additionally, the company has one of the largest S-K 1300 and NI 43-101 compliant uranium resource portfolios in the country. This includes a pipeline of uranium and uranium-vanadium mining projects on standby and in various stages of permitting and development.
FAQs for investing in uranium
What is uranium?
First discovered in 1789 by German chemist Martin Klaproth, uranium is a heavy metal which is as common in the Earth's crust as tin, tungsten and molybdenum. Named after the planet Uranus, which was also discovered around the same time, uranium has been an important source of global energy for more than six decades.
What country has the most uranium?
Australia and Kazakhstan lead the world in both terms of uranium reserves and uranium production. Australia takes first prize for the world's largest uranium reserves, representing 28 percent globally at 1,692,700 tonnes of U3O8. However, the Oceanic island ranks fourth in global uranium production, putting out 4,192 tonnes of U3O8 in 2021.
For its part, Kazakhstan controls 15 percent of global uranium reserves and leads the world in uranium production with 2021 output of 21,819 tonnes. Namibia is the second largest uranium producer, putting out 5,753 tonnes of U3O8 in 2021; it represents 7 percent of worldwide uranium reserves.
Don't forget to follow us @INN_Resource for real-time updates!

Securities Disclosure: I, Melissa Pistilli, hold no direct investment interest in any company mentioned in this article.
Editorial Disclosure: Energy Fuels is a client of the Investing News Network. This article is not paid-for content.
BHP:CA
How to Invest in Uranium:
Featured Uranium Investing Stocks
Investing News Network websites or approved third-party tools use cookies. Please refer to the  cookie policy for collected data, privacy and GDPR compliance. By continuing to browse the site, you agree to our use of cookies.