Overview
As Canada's western-most province, British Columbia connects the giant country with the powerful Pacific Ocean. Because the province occupies such a unique geographic spot, it's home to great oceanic resources and the perfect mix of geological and mineral structures.
For years, metal mining companies have been leveraging the province's rich mineral history and diverse rock profile that dates back to tectonic plate formation. British Columbia has proven to be one of the most exciting precious metal jurisdictions to explore, especially for emerging junior gold companies.
Gold Mountain Mining (TSXV:GMTN) is a BC-based exploration company focused on developing the highly prospective Elk gold project in South-central British Columbia. Operating out of such a safe and mining-friendly jurisdiction, the company is on a clear path for fast-tracked development of this shovel-ready, past-producing mine.
After acquiring the Elk gold property in May 2019 from Equinox Gold (TSX:EQX,NYSEAMERICAN:EQX), Gold Mountain has been quick to begin the exploration of this historically prosperous asset. With over two centuries of mining history, British Columbia has seen over 32 million ounces of gold production from lode deposits alone. Both the strong numbers and 100 percent ownership means the Elk gold project is well-positioned and could generate a significant yield and cash flow.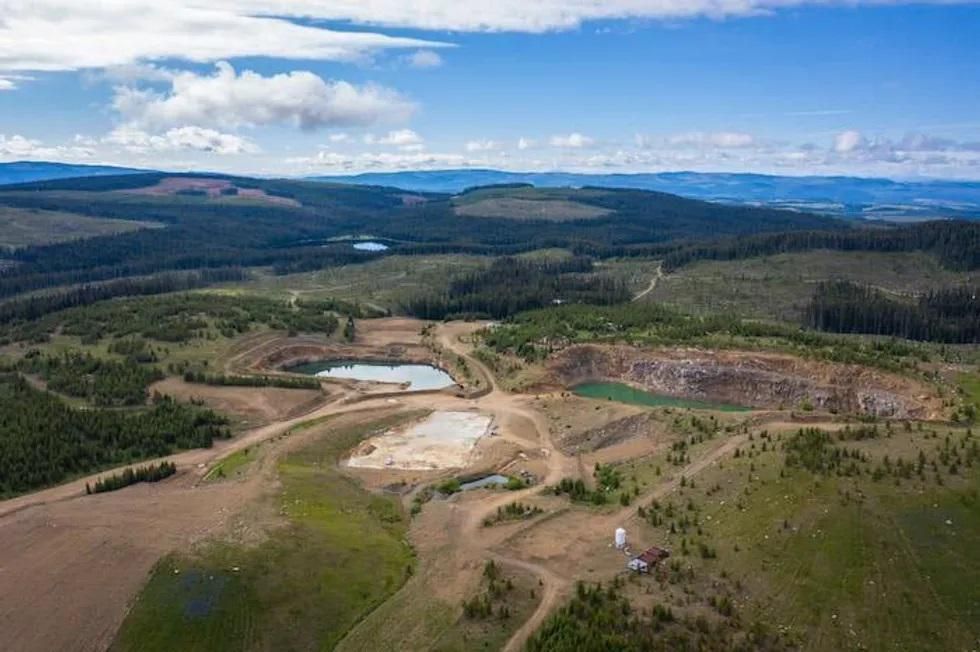 The property's geological profile consists of high-grade gold veins with widespread gold mineralization. Previous drilling and surveying campaigns have also pointed to highly-prospective mineralized zones that are ready for expansion.
Gold Mountain occupies a unique spot in the bullish gold market as a junior pure gold company operating a shovel-ready project with strong near-term economics. The energetic team has laid out structured timelines and provided investors with an entry opportunity on the early development of this flagship project. Mining permits are expected to be achieved in the latter part of 2021, and the company is already conducting exploratory campaigns to get a head-start on revealing what the Elk gold property has to offer.
Two years after the property acquisition, Gold Mountain has updated the environmental baseline work of its 500,000 ounce resource and successfully raised C$4.7 million to pursue its major 7,000 meter drill program. The developmental timeline anticipates permit approval, a PEA/Resource update and significant revenue production that could potentially reach over C$35 million in the upcoming years.
The company's capital structure is firm and has a strong financial free cash flow foundation. As it is in the early stages of development, it is focused on running lean operations to avoid dilution and reach profitable production. This is also made possible with the tight-knit and diverse shareholder base, including management and insiders, who hold 35 percent of the company.
Gold Mountain Mining's management team comprises innovative and experienced veterans in the mining, resource and capital market industries.
Gold Mountain's deeply connected and innovative minds have positioned the company for short-term and long-term successes with the execution of proposed development and exploration plans.
Company Highlights
Gold Mountain Mining is a BC-based exploration company focused on developing its highly prospective flagship Elk gold project in Merritt, BC.
In May 2019, the company acquired the Elk gold project from Equinox Gold. The company now has 100 percent interest ownership of the asset.
The Elk gold project site is shovel ready and near major resource and workforce networks in South-central British Columbia.
Gold Mountain Mining is currently working to advance a C$3 million drill program across four zones and expand prospective targets.
Key Project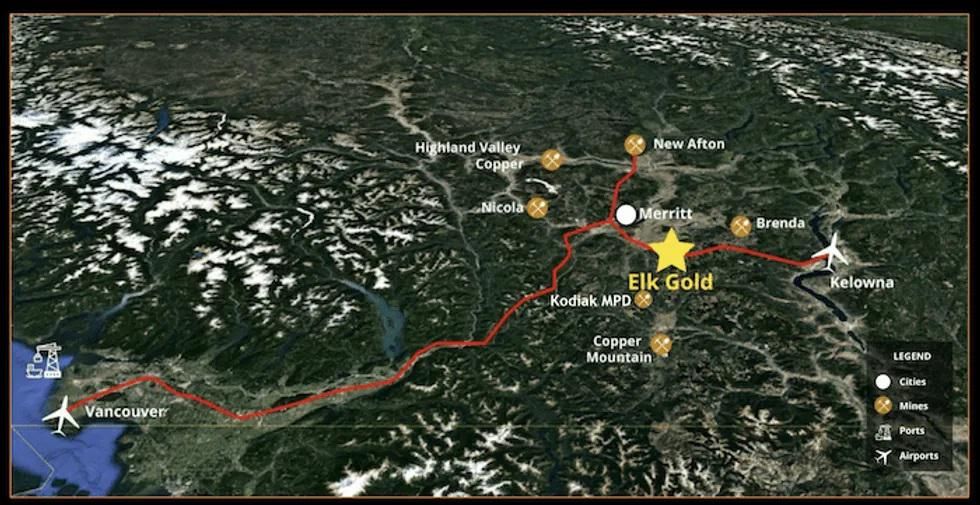 Elk Gold Project
The Elk gold project is a massive 16,716 hectare land package that includes a historic past-producing high-grade gold mine and excellent infrastructure. Located near Merritt, British Columbia, the project site has been a host to historical drilling, geochemical surveying and advanced geophysical programming. The strategic positioning gives the company access to an all-season highway, skilled workforce and natural resource networks.
The property has open access to project resources in both directions along the strike and down-dip and has eight other established gold zones primed for major discovery opportunities. The company currently intends to advance a C$3 million drill program across four zones to delineate further resources and add to exploration targets. Prospective exploration targets measure up to 638,000 ounces with grades between 2.13 g/t and 4.26 g/t gold.
Gold Mountain expects to deliver permit acquisition and begin initial production within 12 months. Long term goals for the project include expanding multi-pit mining operations. Gold Mountain is working to get a toll mining agreement ready in 2021 and has positioned the project for continued production, development and significant revenue growth.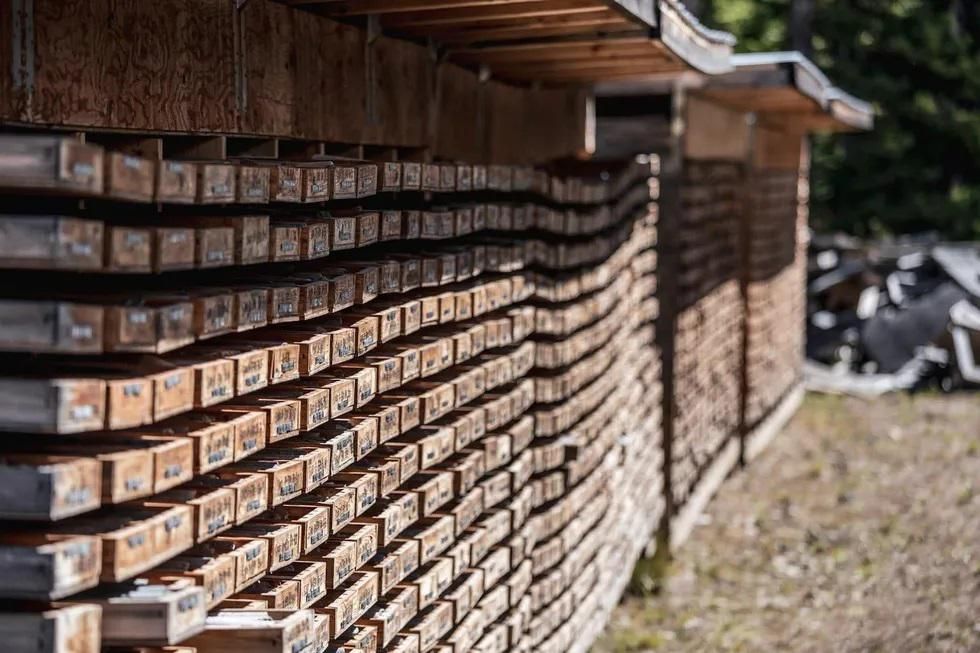 Management Team
Kevin Smith — CEO & Director
Kevin Smith is an entrepreneur with experience across a host of industries. Smith has extensive experience in organizing finance and construction of commercial and industrial development projects. He is also currently the CEO/Director of Polarity Minerals.
Ronald Woo — President
Ronald Woo holds a P.Eng and MBA and is a mining engineer with over 20 years of experience. Previously, Woo held the position of COO for Rover Metals, project manager for Ledcor, technical services manager for Western Coal Corp and senior mine engineer for Hunter Dickinson.
Braydon Hobbs — CFO
Braydon Hobbs holds a B.A., CPA and CA. Hobbs is a professional accountant with seven years of experience. He worked as a manager at BDO Canada LLP, and before that he worked with Woodbridge Homes as director of finance and with Deloitte UK LLP as a manager in assurance – Private Markets.
Grant Carlson — COO
Grant Carlson holds a P.Eng and has been a mining engineer with over 15 years of experience. Prior, Carlson has been a consultant with SRK and a mining engineer with Taseko Mines Ltd.
Alexander Bayer — General Counsel & Corporate Secretary
Alexander Bayer holds a BA. and LLB. He has been a corporate and securities lawyer with over 15 years in the capital markets sector. Bayer has extensive experience as director and officer with mining companies operating at all development stages and is currently the principal of Bayer Law Corporation.
Request an Investor Kit
EXCITING upcoming projects!
IN-DEPTH reliable insights!
SUCCESSFUL growth strategies!
VALUE-BASED content!
Gold Mountain Mining