Copper Investing
Copper Outlook 2022: Prices Likely to Remain High, Modest Surplus Expected
Dec. 14, 2021 01:55PM PST
What's the copper outlook for 2022? Read on to learn what analysts see coming for the red metal next year.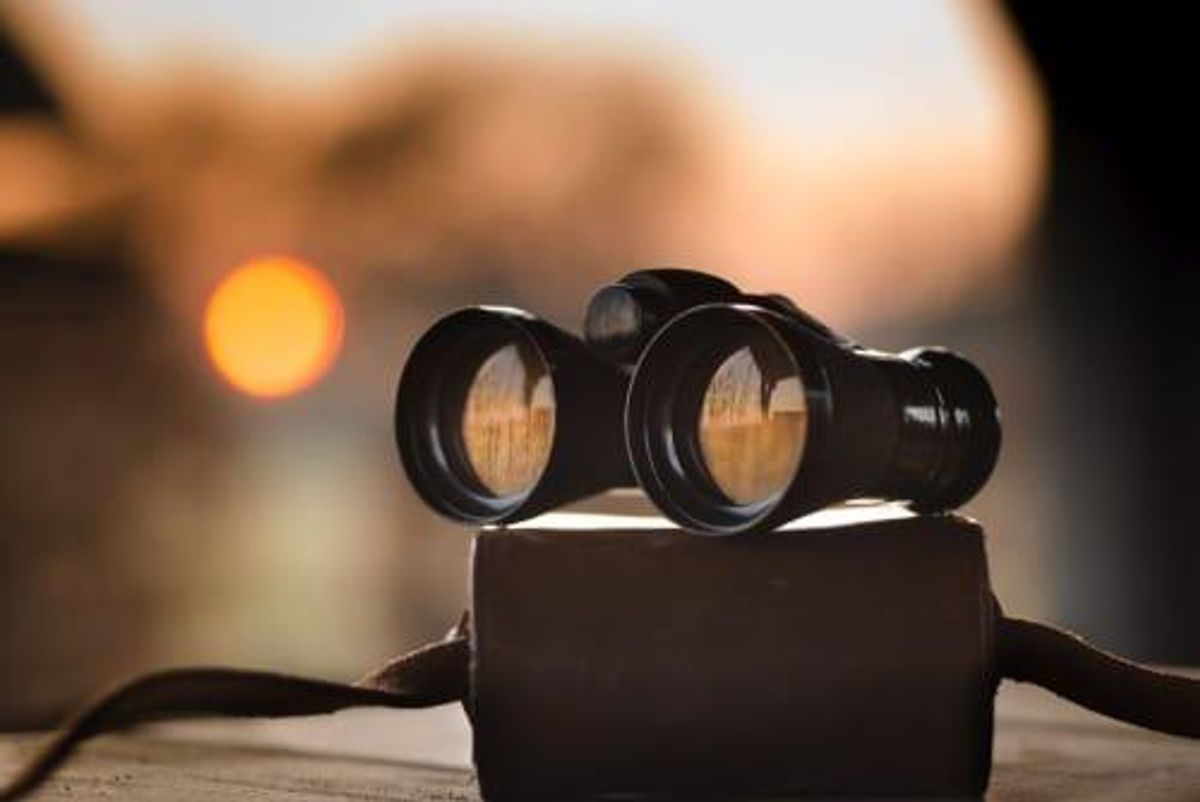 Click here to read the latest copper outlook.
Copper's performance was a positive surprise for many investors in 2021, with the red metal hitting its highest level ever following a 2020 that saw prices plummet.
In 2022, many market watchers expect copper to take a pause in its price rally, and some are forecasting that supply of the metal will get tighter in the coming decades.
With the year at an end, the Investing News Network (INN) asked analysts in the field for their thoughts on what's ahead for the vital base metal. Read on for their predictions.
---
Copper outlook 2022: Price performance review
Copper had a stellar year, reaching an all-time high during Q2 2021. Prices rallied to above US$10,700 per tonne on the back of higher demand expectations and the world reopening following strict COVID-19 restrictions.

"The price overshot our expectations in 2021," Eoin Dinsmore, research manager of base metals at CRU, told INN.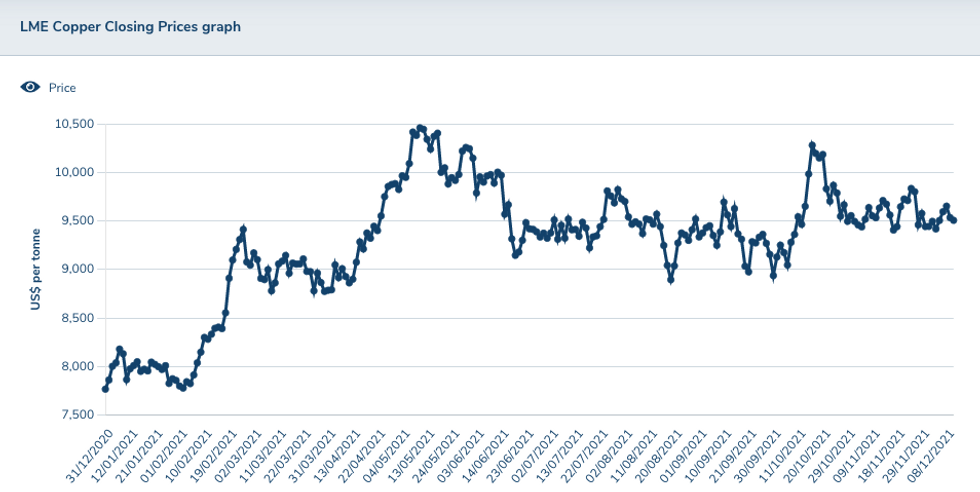 Copper's price performance, December 2020 to December 2021.
Chart via the London Metal Exchange.
Copper traded above US$9,000 for most of the year, a level many analysts were not foreseeing at the end of 2020.
Dan Smith of Commodity Markets Analytics told INN that, although he had expected prices to rally in 2021, markets overshot his forecast on the upside.
"This was because demand was unexpectedly strong, but also supply growth struggled to keep up due to various challenges, including maintenance, operational issues and the shutdown of some mines producing copper."
In fact, the International Copper Study Group is expecting the copper refined market to see a small deficit of 42,000 metric tonnes (MT) in 2021, following a deficit of 479,000 MT in 2020.
Karen Norton of Refinitiv echoed those thoughts, saying that she had anticipated further strength and the possibility of multi-year highs, but not necessarily new record highs. She believes the energy transition narrative grabbed the market's imagination earlier than perhaps expected.
"The extent of the tightness in the cash to three months spread, exacerbated by global supply chain problems, probably was the biggest surprise," she added.
Copper outlook 2022: Demand and supply dynamics
After over a year of shutdowns, the world started to slowly reopen again in 2021, which in turn meant higher demand for metals such as copper.

Even though Smith had expected demand to recover strongly in 2021, the biggest surprise was how much it picked up in Q1, which caught many unawares. "However, demand has been softer in H2 2021, reflecting weak demand in China and a significant slowdown in the property market," he said.
Looking at how demand could perform in the Asian powerhouse in 2022, Smith said economic growth is slowing in China and the rest of the world, which is weighing on global copper demand.
"China looks set to accelerate its imports though in 2022, after a period of relative weakness," he added.
CRU analysts think China will face headwinds from a slowing real estate sector next year. "But growth in electric vehicles (EVs) and renewable energy will result in copper demand in China and globally in 2022," Dinsmore added.
Refinitiv is also expecting Chinese demand growth to be much more subdued next year versus the 3 percent anticipated in 2021, a slowing expected in part because of problems in the real estate sector.
"Higher investment in the power grid sector in the next five year plan is viewed broadly as likely to have a positive influence over the period, though in 2022 its influence may prove more limited," Norton said.
Looking over to the supply side of the story, the copper market saw scrap supplies rising significantly in 2021 to plug the supply gap and in response to high prices, Smith said.
"If scrap supplies fall away next year, this will add to upward pressure on copper prices," he added.
As 2022 begins, Refinitiv is forecasting another strong year for global mine production, with year-on-year growth approaching 4 percent, up from around 3 percent this year.
"New projects are expected to have an impact, although many of these will be commissioned towards the end of the year, and of more significance in many cases to the 2023 picture," Norton said.
Ramp ups, expansions and stronger production at some existing mines will also play a key role in growth.
Commenting on what supply could come online to the market in the near term, Smith said there are some big projects and expansions coming through at the moment, including Kamoa Kakula in the Democratic Republic of Congo, Grasberg in Indonesia and Spence in Chile.
"This will be followed by a couple of medium-sized mines in Chile and Peru in 2022 and 2023," he said. "China is also in the process of building some new copper mines, which are due onstream soon."
In 2022, Anglo American (LSE:AAL,OTCQX:AAUKF) will start production at the Quellaveco mine in Peru, which will produce 300,000 tonnes of copper.
"Along with Teck Resources' (TSX:TECK.A,TSX:TECK.B,NYSE:TECK) Quebrada Blanca Phase 2, these are the mine project startups that the market will be watching closely," CRU's Dinsmore.
Entering 2022, Smith believes the biggest challenge to copper miners is political risk.
"Miners in Chile are facing tighter rules around the use of water, and pressure is building to increase payments to local communities. Taxation levels are also likely to be pushed upwards," he said.
Additionally, in Chile, the final round of the presidential election in December 2021 will add risks for 2022, "particularly if the left-wing candidate (Gabriel) Boric delivers a surprise victory," CRU's Dinsmore said.
Similar problems are hampering copper in Peru, the world's largest copper producer after Chile.
"These developments are impacting both majors and juniors trying to develop projects," Smith said. "Indonesia is also threatening to restrict raw material exports."
In addition to these factors, Dinsmore mentioned Peruvian mine supply as one of the biggest concerns for supply.
Antamina has halted production, and the Las Bambas mine has announced plans to suspend output in December as protesters forming road blockades have disrupted inbound and outbound logistics.
"In 2022, focus will remain on Peru, which accounts for around 14 percent of global mine supply. These two mines account for around 30 percent of Peruvian mine supply," the research manager said.
Commenting on the opportunities for copper junior miners, Norton said next year has the potential to be an exciting time for junior miners that have projects with strong potential.
"Especially with majors (that) do not have many committed projects (and are) likely to continue scouring the globe for new assets to help them ride the energy transition wave," Norton said. "However, increasingly juniors are likely to need to demonstrate strong environmental, social and governance credentials to be considered attractive."
In 2022 and 2023, Commodity Markets Analytics expects copper to be in a modest surplus, helped by ample mine supply growth, with inventory levels likely to remain low.
Similarly, Refinitiv is looking for a market in surplus in 2022. "But moderately so, such that the impact on prices will not be that marked, and more a time to pause for breath ahead of the anticipated substantial tightening from the middle of the decade,'' Norton said. "Prices are likely to remain high enough to incentivize new projects."
For his part, while shortages might be on the distant horizon, CRU's Dinsmore sees a balanced market in 2022.
"(That said), inventories are at extremely low levels and any disruption in logistics could lead to localized shortages," he added.
Copper outlook 2022: Factors to watch for
Commenting about trends in the copper market that he is following closely, Smith said at the moment sales of EVs are growing rapidly.

"If this combines with significant delays to any of the major copper mines coming through, then this has the potential to create an explosive rally in copper prices," he added.
Dinsmore pointed out that high prices will drive copper substitution and thrifting of the red metal. "This is a reality we have seen in the past," he said. "The most optimistic investors need to factor in that future demand in EVs and linked to renewables will be eroded if prices rise well beyond the gains in competing materials."
For the analyst, recycling and EVs are particularly interesting for next year. "The boom in EVs is resulting in copper battery foil investments," he said. "On the recycling side, companies see growth in end-of-life scrap and a pull from consumers for enhanced circularity. The miners will be watching the recycling space very closely."
For Norton, scrap supply is also an area that remains interesting in the copper market.
"Not necessarily for next year, but I remain excited about the potential for scrap supply to help fill what, on the face of it, threatens to be a gaping hole between supply and demand in the coming years," she told INN.
Looking at price forecasts for next year, on an annual average basis, Refinitiv is expecting prices to be lower than this year as the market digests a year of strong supply met with relatively sluggish demand growth.
Panelists recently polled by FocusEconomics have diverging views on the price outlook for 2022. The minimum forecast for 2022's fourth quarter comes from Euromonitor at US$6,642, while the maximum forecast was made by Goldman Sachs (NYSE:GS) at US$12,250.
Don't forget to follow us @INN_Resource for real-time news updates!

Securities Disclosure: I, Priscila Barrera, hold no direct investment interest in any company mentioned in this article.
Editorial Disclosure: The Investing News Network does not guarantee the accuracy or thoroughness of the information reported in the interviews it conducts. The opinions expressed in these interviews do not reflect the opinions of the Investing News Network and do not constitute investment advice. All readers are encouraged to perform their own due diligence.
https://www.linkedin.com/in/priscilabarrera/
pbarrera@investingnews.com
Priscila is originally from Buenos Aires, Argentina, where she earned a BA in Communications at Universidad de San Andres. She moved to Vancouver for the first time in 2010 and fell in love with the city. A few years after she went to London, UK, to study a MA in Journalism at Kingston University and came back in 2016. She enjoys reading, drinking coffee and travelling.
Investing News Network websites or approved third-party tools use cookies. Please refer to the cookie policy for collected data, privacy and GDPR compliance. By continuing to browse the site, you agree to our use of cookies. 
Priscila is originally from Buenos Aires, Argentina, where she earned a BA in Communications at Universidad de San Andres. She moved to Vancouver for the first time in 2010 and fell in love with the city. A few years after she went to London, UK, to study a MA in Journalism at Kingston University and came back in 2016. She enjoys reading, drinking coffee and travelling.