Silver Outlook 2015: Price May Improve by Year End
Dec. 30, 2014 04:30PM PST
Precious Metals
Full-year silver price estimates for 2015 are looking fairly conservative, but the consensus seems to be that a weak start to the year may lead to a stronger finish. Read on to find out more about what's in store for the white metal moving forward.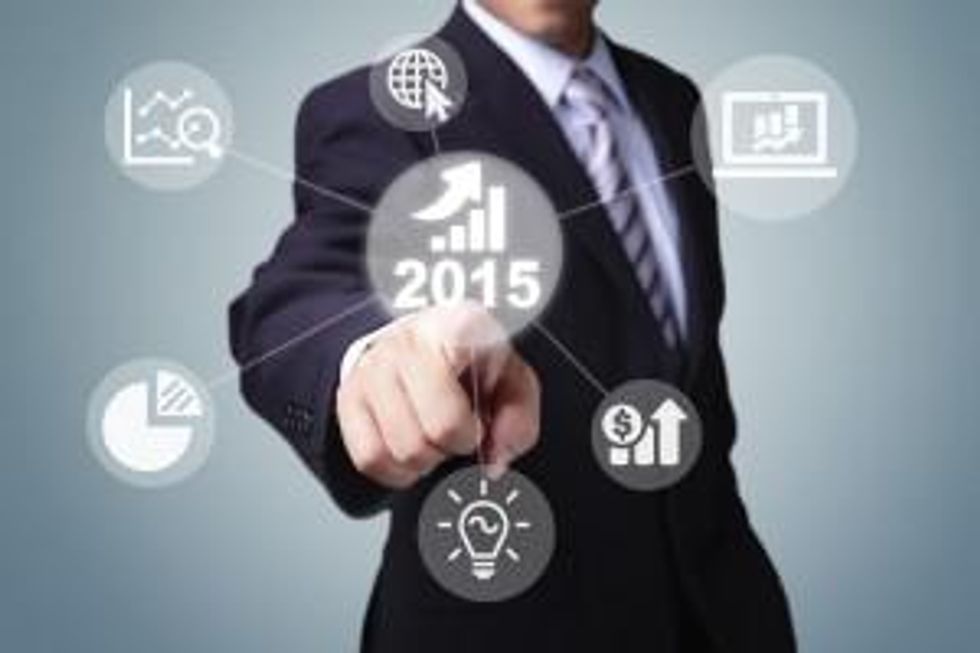 For our 2016 silver outlook, see Silver Predictions 2016: Watch China and the Gold Price.
At the end of 2013, silver was sitting at about $20 per ounce and had earned the dubious distinction of being the year's worst-performing metal. Market participants were still reeling from the metal's dramatic April price drop, and analysts were predicting that it would average about $21 in 2014. 
It's now one year later, and silver still hasn't recovered — according to a Kitco chart, the white metal averaged just $19.09 in 2014.
That said, the year didn't begin too badly. As the chart below shows, the white metal started 2014 at around $20, and even neared $22 during the first quarter and again in the third. In fact, it was only in September that it began to really spiral downward.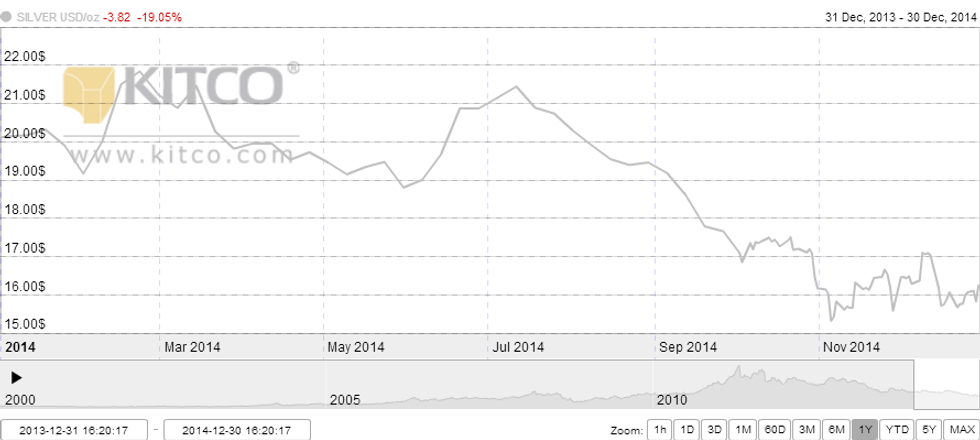 Commenting on silver's price activity this past year, Andrew Chanin, co-founder of the PureFunds ISE Junior Silver ETF (ARCA:SILJ), said it surprised him as he "thought we would see the gains from earlier in the year hold," with "over $30 silver" ultimately being the result. "Given the continued strong demand (investment, coin/bar, industrial) and relatively flat supply, I am surprised that laws of supply and demand did not propel silver prices to a higher plateau," he explained.
In terms of what hurt silver's prospects, by most accounts a strong US dollar was largely to blame. That said, the end of quantitative easing and fear of higher US interest rates also played a role. Thus far the white metal has not been able to pull off a substantial recovery.
So long, and thanks for all the fix
Silver's downward movement was certainly in the spotlight in 2014, but the price of the white metal was also in focus due to the London silver fix, which came to an end in August after operating for over a century. Run by a bevy of banks, its demise was spurred by increased scrutiny from regulators and banks' growing desire to exit the commodities space.
Beyond shock, the most common reaction to the news that the fix was due to end was concern about whether anything would replace it. Ultimately it was indeed replaced, with the LBMA Silver Price — run by the LBMA, CME Group (NASDAQ:CME) and Thomson Reuters (TSX:TRI,NYSE:TRI) — stepping in to fill the gap.
According to Chanin, it's too soon to tell whether the LBMA Silver Price will be better than its successor or worse. "I think the initial cause for the change was a lack of trust in the process," he said, adding, "I do not think the new benchmark has created any new trust yet."
Other key events
While the end of the London silver fix was certainly a highlight in 2014, other events made waves as well. Here's an overview of a couple others that had market participants talking:
First Majestic Silver's (TSX:FR,NYSE:AG) stockpiling: The miner made headlines in October when it announced plans to postpone the sale of about 934,000 ounces of silver. The company described the move as an "attempt to maximize future profits," and it was lauded by many silver market participants who saw it as a sign companies were ready to take a stand against the metal's low price. Ultimately, however, First Majestic sold those ounces and it doesn't seem as though any other companies have followed its example.
US Mint: The year ended with the US Mint setting a new sales record for American Eagle silver bullion coins. On December 9 it announced a 2014 sales total of 42,864,000, beating the previous record of 42,675,000 set in 2013. Earlier in the year the mint temporarily sold out of the coins.
It will be interesting to see whether those stories develop further in the new year.
Silver in 2015
Of course, it will also be interesting to see how the silver price fares in 2014.
For his part, Chanin sees plenty of potentially positive catalysts on the horizon. "The Silver Institute is estimating that 100 million ounces of silver will be required for solar panels alone in 2015. I think we might see record demand for silver (especially investment demand) in 2015, and I do not think supply will be able to keep pace" he said, also noting, "I think growing demand from China, Russia and India may be the catalyst that propels silver prices upwards."
Though he didn't offer a specific price prediction, many others have. Here's a selection of 2015 estimates from a variety of firms:
CIBC — $17 per ounce
Citi Research — $16.50 per ounce
Commerzbank (OTCMKTS:CRZBY) — $17 per ounce
CPM Group — $16.65 per ounce
HSBC (NYSE:HSBC) — $17.65 per ounce
JPMorgan Chase & Co. (NYSE:JPM) — $18.25 per ounce
Metals Focus — $16.20 per ounce
Natixis (EPA:KN) — $15.20 per ounce
TD Securities — $17.81 per ounce
Given silver's current price, those estimates are pretty conservative. That said, they seem to be in line with what executives at silver-focused companies believe is in store. For instance, in response to a survey, Bradford Cooke, CEO of Endeavour Silver (TSX:EDR,NYSE:EXK), said that though he's an "eternal optimist," he has "a very muted outlook for the precious metals in 2015." He sees the white metal "test[ing] new lows over the next four months," but did add that "since the gold and silver mining sectors are not sustainable below $15 silver and $1,100 gold, that should mark the bottom, and [he] see[s] a slow climb to $18 silver and $1,350 gold by year end."
Similarly, Ron Tremblay, president, CEO and director of Levon Resources (TSX:LVN), said he expects "more of the same, with a bias to improve over time."
Waiting to see what the silver price does will certainly be tough, and it will also be tough to weather another year with limited upward momentum. However, for those getting discouraged, Cooke provided some good advice, commenting, "this current run in the US dollar defies gravity … something always comes out of left field to pop the bubble, so gold and silver investors only need to be a bit more patient. Once the US dollar starts to unravel, things could evolve fairly quickly in the precious metals."
Certainly food for thought as the new year begins.
Securities Disclosure: I, Charlotte McLeod, hold no direct investment interest in any company mentioned in this article. 
Related reading: 
Silver Outlook 2014: Analysts See Silver Around $21 per Ounce
Investing News Network websites or approved third-party tools use cookies. Please refer to the cookie policy for collected data, privacy and GDPR compliance. By continuing to browse the site, you agree to our use of cookies.