Will silver outperform gold? In the first of a two-part series, INN examines silver's role in the markets over the last 30 years compared to gold.
While both silver and gold are precious metals, and are often impacted by the same influences, the two metals have taken different paths in terms of their perceived value in the market.
Since the first silver coin was minted on October 15, 1794, the white metal has been in a power struggle of sorts with gold.
While the metals generally rise and fall at the same time, there have been only a few moments in silver's history where it has been able to outperform gold. Even so, many insiders believe that the markets are on the precipice of favoring silver, allowing it to be the top performer.
In the first of a two-part series, the Investing New Network (INN) will examine silver's role in the markets over the last 30 years compared to gold.
Silver's performance over the last 30 years
At the beginning of 1980, silver hit its highest point in the last 30 years, climbing to just under US$50 an ounce. During this time, the gold price also rose dramatically as both precious metals responded to the Soviet invasion of Afghanistan. However, by the end of that year, the white metal had lost most of its gains and dipped to about US$15.
By 2010, silver managed to outperform gold when it climbed to 30-year highs and prices gained more than 80 percent. That was followed by another price surge in April 2011 as silver shot to US$48.84.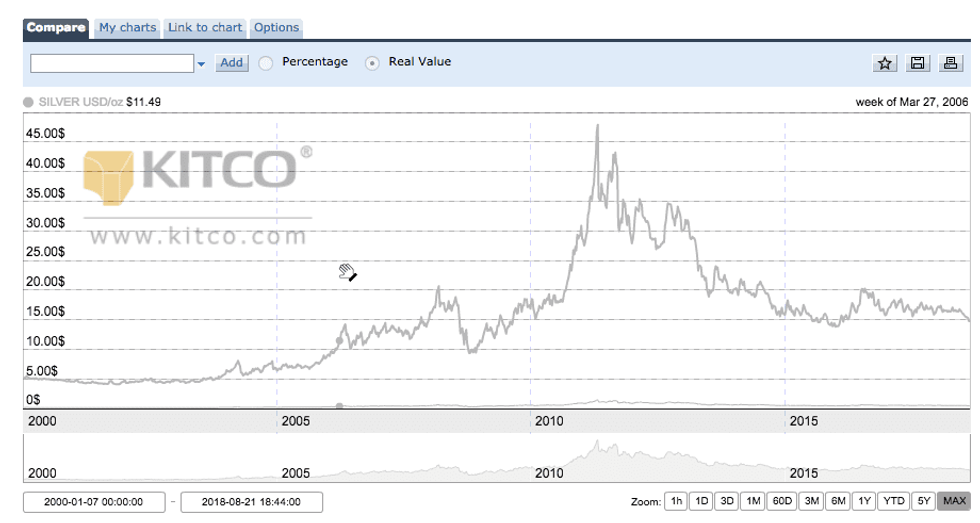 Chart via Kitco.
The sudden surge in the silver price was reportedly due to the global economic crisis, which had investors scrambling and led to private investor demand for small silver bars and coins to soar.
It has also been noted that silver's photovoltaic use by the solar industry played a big part in the metal's massive uptick — a use that continues to aid the metal in 2018.
Not surprisingly, it did not take long for the silver price to plummet after the surge; in fact, the metal closed out 2011 at a price of just under US$28.
From 2012 until today, silver has been on a steady decline, experiencing a dip under US$14 in 2015 — a price that current markets have been narrowly avoiding.
The gold/silver ratio
The gold/silver ratio determines the relative value of the two precious metals, and is often used by investors as a parameter in deciding which metal to buy during various points in time.
Over the past 10 years, the ratio has averaged around 63.8. Ratios from 30 to 40, 50 to 60, 60 to 70 and 70 to 80 are the most common and are distributed relatively evenly in the price records.
From 2000 to the present time, the gold/silver ratio has risen above 80, which theoretically means that if a person possesses 1 ounce of gold bullion, they could sell this single gold ounce for a return investment of approximately 80 ounces of silver bullion.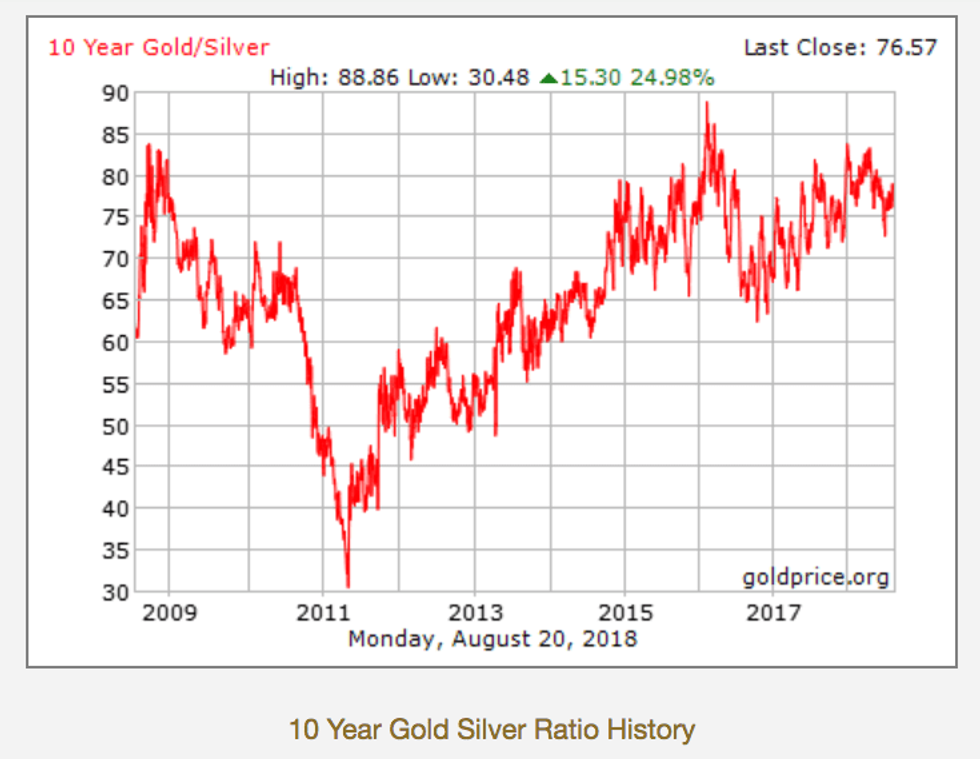 Chart via goldprice.org.
Angela Bouzanis, senior economist at FocusEconomics, spoke with INN about recent ratio standings, stating, "the gold/silver ratio climbed throughout 2017 and peaked in the first quarter of 2018, averaging just under 80 in the quarter."
Bouzanis believes that a dip in the ratio will be beneficial for the white metal, giving it more potential to outperform gold.
Why gold typically outperforms silver
There are a variety of reasons that keep investors favoring gold over silver in their portfolios. For starters, silver is more volatile than gold.
"The total supply of new silver each year is close to 1 billion ounces. Annual gold supply is around 120 million ounces," said Jeff Clark, senior precious metals analyst at GoldSilver.  
"This makes it seem like the silver market is 8 times bigger than gold. But just the opposite is true, because of the huge difference in their price. Silver's lower price makes the value of annual supply much smaller than gold's," he added.
Because of this fact, it only takes a small amount of money to have a greater impact on the white metal's price — far less than gold. Historically, this has resulted in silver rising more than gold on up days and falling more than gold on down days.
Bear markets, which have made many appearances in the past 10 years, are not favorable for silver and the focus tends to remain on gold. However, the volatility of silver can prove positive during a bull market — more on that in part two of this series.
Other factors that make gold more appealing include central banks, which are buying a lot of gold. Gold is touted as a better long-term investment and its role as moneymakes it superior to any currency.

Another reason investors have turned to gold in the past is that it is seen as a safe haven during times of geopolitical unrest. While silver is also considered a type of safety net, it rarely reaches gold's levels.
Bouzanis also addressed this issue, telling INN, "[h]igher gold prices have been supported by heightened global geopolitical uncertainty, which has not stoked the same demand for silver. Silver prices have generally been more volatile and have recently underperformed gold."
In part two of this series, we will examine why silver may become the more favored precious metal and what it may mean for the white metal's future. Stay tuned!
Don't forget to follow us @INN_Resource for real-time news updates!
Securities Disclosure: I, Nicole Rashotte, hold no direct investment interest in any company mentioned in this article.
Investing News Network websites or approved third-party tools use cookies. Please refer to the  cookie policy for collected data, privacy and GDPR compliance. By continuing to browse the site, you agree to our use of cookies.