Base Metals Round-Up: Copper Price Rallies as Production Stops at Grasberg
Copper investors were likely pleasantly surprised looking at price charts at the end of this week. After plummeting near the start of the year and sitting around $2.60 per pound for the past month, the metal's price appear to be heading up.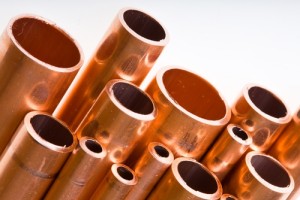 The market continues to bring different fortunes for the various base metals, with some on the rise while others remain under pressure.
Case in point: this week was an eventful one for copper, while iron continued to find itself under pressure. Here's a look at some of the news from the past week for the red metal, as well as some brief highlights for zinc, iron and nickel.
Copper
Copper investors were likely pleasantly surprised looking at price charts at the end of this week. After plummeting near the start of the year and sitting around $2.60 per pound for the past month, the metal's price appear to be heading up.
As of 2:00 p.m. EST on Friday, copper was up 3.63 percent, or 10 cents, at $2.75 on news that Freeport-McMoRan (NYSE:FCX) has halted production at its Grasberg mine in Indonesia.
According to Bloomberg, about 50 mine workers have blocked road access to Grasberg for the fourth day in a row. Output from the mine was suspended Monday, although the miner continued to make shipments from its inventories.
Grasberg is one of the largest copper mines in the world, so it isn't surprising that a halt in production is affecting the metal's price. "Investors are keeping a nervous eye on a lingering work stoppage at Grasberg," INTL FCStone analyst Edward Meir told the publication. "Clearly, this is something the markets are watching."
It's worth noting that Grasberg isn't the only copper mine to have seen production problems as of late. Last month, BHP Billiton (NYSE:BHP,ASX:BHP,LSE:BLT) reported that copper production from its Olympic Dam mine in Australia would be reduced by 60,000 to 70,000 tonnes due to problems at its mill.
In other news, on Thursday the red metal recorded its biggest gain in over a month following the results of the latest Federal Reserve meeting; according to The Wall Street Journal, some investors were caught off guard. Certainly, that alone was a welcome change for those watching the market.
"The sentiment is overwhelmingly bearish in copper right now, and when markets get that kind of day, it's only natural to get rallies that shake out some of the weaker hands," Bob Haberkorn, senior commodities broker at RJO Futures, told the publication.
Iron
The iron ore price is still facing intense downward pressure from continued expansion by BHP and Rio Tinto (NYSE:RIO,ASX:RIO,LSE:RIO). It fell to about US$55 at the end of the week, leading at least one Aussie politician to lash out at the miners due to the effect the lower price is having on his state's economy.
"The two big ones in Western Australia [Rio and BHP] and the Brazilians have been putting too much iron ore into the market and they've precipitated a continuing downward trend in iron ore prices," Western Australian Premier Colin Barnett told ABC Radio.
In the northern hemisphere, Cliffs Natural Resources (NYSE:CLF) found itself in more trouble this week when the Bank of Nova Scotia (TSX:BNS) announced it wants to sue the company for $52.6 million. The bank claims that Cliffs breached the terms of a loan agreement by filing for creditor protection for its Bloom Lake mine in Quebec.
Zinc
Zinc is still the favorite in the base metals sector. Although some have been losing patience waiting for the metal to rise higher, its price was up 2.6 percent by Friday to $0.93 per pound. This week, Zinc Investing News gave an overview of a PDAC presentation by Wood Mackenzie's Jonathan Leng.
Leng pointed to problems for zinc on the supply side. While he admitted that there are new mines coming online as some of the larger, older zinc mines shut down, he noted that the new mines are smaller and may not come online as fast as expected. Overall, he sees the zinc price heading for $4,000 per tonne by 2018 before settling at $2,800 long term.
Nickel
Nickel posted a loss for the week, falling 7.8 percent to finish at $6.45 per pound. To be sure, the outlook for the metal isn't overly optimistic. Its price has come back down following a spike in the wake of Indonesia's nickel export ban last year, while larger nickel miners are reporting good production numbers.
Overall, the message from Cormark Securities in the firm's latest Base Metals Monthly update suggests that the firm isn't expecting a breakout performance for the metal any time soon.
Still, there was some positive news from the nickel space this week — Poseidon Nickel (ASX:POS) reported boosting indicated resources at its Maggie Hays project by 50 percent, bringing 80 percent of the resource into the indicated category.
Securities Disclosure: I, Teresa Matich, hold no direct investment interest in any company mentioned in this article.