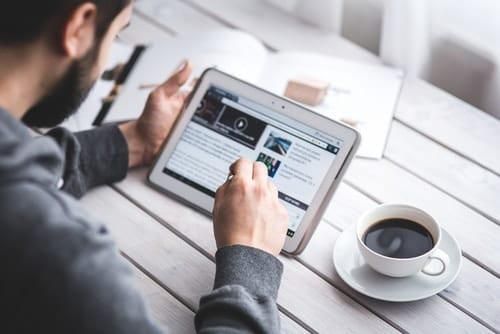 What is technology investing? Here's a breakdown of why the sector is so important for investors to follow.
The evolution of technology has certainly grabbed the interest of the general public and investors alike as innovation continues to move forward at a remarkable speed.
Overall, the sector has come a long way in the last two decades. In March 2000, the S&P 500's (INDEXSP:.INX) technology index hit its peak of 988.49 points, rising by almost 500 points in the five years leading up to the dotcom bubble. Similarly, the NASDAQ reached an all-time high of 5,000 points during this milestone period.
More than 20 years later, both the S&P 500's technology index and the NASDAQ have more than tripled. The tech market is dominated by major players, with companies like Meta Platforms (NASDAQ:FB), Apple (NASDAQ:AAPL), Amazon (NASDAQ:AMZN), Netflix (NASDAQ:NFLX) and Google (NASDAQ:GOOG) creating vast monopolies.
---
With so much growth in the technology sector over the last two decades, tech developments are disrupting and shaping our cultural fabric at unprecedented speeds. Industries such as finance, real estate, transportation and healthcare are transforming with current technological advancements.
Here's a breakdown of what technology investing is and why investors should pay attention.
The current market for technology
The past decade or so has seen the evolution of countless tech-related industries. Take, for example, the music industry, which has gone from compact discs to streaming.
The most notable streaming company to emerge from this trend has been Spotify (NYSE:SPOT), which made its NYSE debut in 2018. The platform was used by over 172 million subscribers worldwide as of Q3 2021, compared to 144 million in Q3 2020. Its subscriber count has nearly tripled since Q3 2017, when it was only 62 million.
The cable industry has been shaken up as well. Video-streaming company Netflix (NASDAQ:NFLX) has expanded to over 190 countries worldwide, and is projected to grow its subscriber base to 360 million by 2025. Amazon Prime Video has also exploded in recent years, and is projected to reach 120 million to 150 million subscribers by 2025.
Apple's Apple TV Plus and Disney's (NYSE:DIS) Disney Plus recently joined the ranks, launching video-streaming services with original content in late 2019. Disney Plus was 2019's top Google search term, and the platform is expected to reach 230 million to 260 million subscribers by 2024. Apple has withheld the number of users it has garnered since launching, but was reported to have an estimated 40 million subscribers as of September 2021.
Another tech segment that has grown over the last 10 years is messaging apps, which connect people around the world. WhatsApp, the world's largest messaging app, boasts over 2 billion users.
Speaking of connectivity and the future, the fourth industrial revolution has been tied to various technology arenas, from artificial intelligence (AI) to 3D printing. Countries such as India are banking on "Industry 4.0" to aid in growth optimization and to improve supply chain efficiencies in enterprise.
Blockchain has of course also garnered interest in the tech sector; the global market size is set to hit US$67.4 billion in 2026, growing at a compound annual growth rate of 68.4 percent from 2021. The Stanford Center for Blockchain Research states that blockchain could transform payment systems such as clearings and settlements.
Market Reports Center notes that this part of the market has been held back partially by outdated aspects of mainframe computing technology. "Blockchain is spurred by more modern ways to manage global transactions across national borders from IBM (NASDAQ:IBM), Microsoft (NASDAQ:MSFT) and Accenture (NYSE:ACN)."
In addition, a report from Adobe (NASDAQ:ADBE) shows that mobile advancements and smartphones ranked at the forefront of innovation among participants polled. For its part, Oberlo comments that in 2021 the number of smartphone users was estimated at 6.4 billion worldwide.
The esports industry is also making significant headway, with Statista projecting 2024 revenue of US$1.62 billion worldwide. The burgeoning market currently has over 474 million viewers worldwide, with games such as Dota 2, Fortnite, League of Legends and Counter Strike: Global Offensive awarding millions in esports prize money.
The majority of the esports industry is currently run by a handful of large players, including Tencent Holdings (OTC Pink:TCTZF,HKEX:0700), Activision Blizzard (NASDAQ:ATVI) and Take-Two Interactive (NASDAQ:TTWO).
Industry outlook for technology investing
When looking at the technology market worldwide, its reach is almost untouchable. Globally, the technology economy is the world's third largest, surpassed only by the US and China. "The 10 largest tech firms, which have become gatekeepers in commerce, finance, entertainment and communications, now have a combined market capitalization of more than US$10 trillion," the New York Times notes.
Deloitte posits that the drive by enterprises to embrace digital transformation is pushing the growth of emerging technologies such as cloud computing, which the research firm forecasts will see revenues of US$354.6 billion by 2022. "Growth opportunities abound for tech companies that execute on all forms of digital transformation, particularly in the areas of cloud, XaaS, analytics, robotic process automation, AI, cybersecurity, and edge computing," Deloitte notes in its technology industry outlook for 2021.
The McKinsey Global Institute highlights that the internet of things (IoT) market could impact several industries, such as manufacturing, oil and gas, the public sector and healthcare. The firm anticipates that the IoT industry will have a US$11.1 trillion global impact by 2025.
The healthcare sector is expected to see the most growth, with some analysts calling for a compound annual growth rate of 25.9 percent to 2028. In the healthcare field, IoT devices are used for data collection and analysis in medical research, including tracking electronic health records, monitoring patients for improved outcomes and tracking the location of medical equipment.
Despite exciting and profound advancements in natural language processing and prediction, adoption of AI still remains slow. Even so, the evolution of AI is projected to influence and shape society, and analysts estimate that revenues from AI will reach US$126 billion in 2025, up from US$1.37 billion in 2016.
In its technology outlook, PwC points to eight verticals that it thinks will disrupt business: AI, augmented/virtual reality, blockchain, drones, IoT, robotics, 3D printing and autonomous vehicles. All of these verticals are set to see massive returns in revenue.
Ways to start investing in technology
Within the broad scope and magnitude of the tech industry, there are countless ways investors can gain exposure to transformative disruptive technologies.
Exchange-traded funds (ETFs) provide exposure to a basket of securities and are a popular and often inexpensive method for investing. Here's a brief overview of a few technology ETFs for consideration:
iShares US Technology ETF (ARCA:IYW): This ETF began on November 12, 2001, and has 151 holdings. It covers big tech names such as Microsoft, Apple, Meta Platforms and Alphabet.
iShares Global Tech ETF (ARCA:IXN): Unlike the iShares US Technology ETF, this iShares fund focuses on technology companies from around the world. Founded in 2001, it provides exposure to Japan, Korea, Taiwan and Germany, but also offers a percentage of exposure to US companies. Its international holdings include Samsung Electronics (KRX:005930) and Taiwan Semiconductor Manufacturing Company (NYSE:TSM,TPE:2330).
More advanced investors or those willing to do their research may want to look at stocks in the tech space. Large-cap technology stocks are a good place to start, but it's possible to get specific as well — AI, robotics, esports, virtual reality and blockchain are just a few niche sectors those interested in tech may want to look into.
This is an updated version of an article originally published by the Investing News Network in 2016.
Don't forget to follow us @INN_Technology for real-time news updates!
Securities Disclosure: I, Melissa Pistilli, hold no direct investment interest in any company mentioned in this article.

How to invest in Tech:
Featured Technology Investing News Stocks
Investing News Network websites or approved third-party tools use cookies. Please refer to the  cookie policy for collected data, privacy and GDPR compliance. By continuing to browse the site, you agree to our use of cookies.