How to Invest in Canadian Virtual Reality Stocks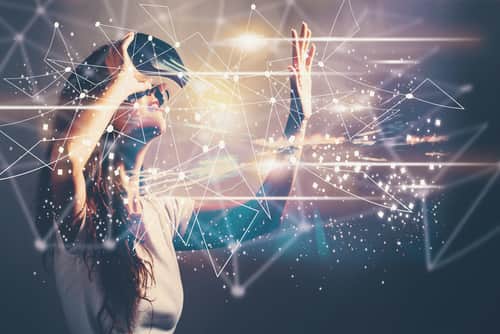 The adoption of virtual reality tech is projected to grow in important industries. Here's a look at several Canadian virtual reality stocks.
Virtual reality technology, or VR, may be but a whisper in Canada right now, but some say the volume is set to get turned up for virtual reality stocks in a matter of just a few years.
While adoption for virtual reality has been fairly slow so far, many industry watchers see this exciting technology as the next evolution of entertainment.
Advancements in VR have so far largely come from the video game industry, although the technology is also making a splash in markets such as medicine, business, architecture and manufacturing.
"We think (virtual and augmented reality) has the potential to transform how we interact with almost every industry today, and we think it will be equally transformative both from a consumer and an enterprise perspective," said Heather Bellini of Goldman Sachs Research in a report.
In terms of overall market size, estimates on the virtual reality market are mixed. Allied Market Research states that worldwide, the VR market is expected to reach US$571.42 billion in 2025.
The research firm projects that the combined augmented reality (AR) and VR markets will grow at a compound annual rate of growth of 63.3 percent until that year. According to its data, growth is expected to be driven by an influx of smartphone and mobile gaming activity.
In a much more cautious estimate, Markets and Markets predicts that the global VR market should reach US$20.9 billion by 2025, growing at a compound annual growth rate of 27.9 percent.
In Canada, the virtual reality sector still has yet to make a significant impact on a global scale, although IDC expects the Canadian VR sector to reach US$7.1 billion by 2021. For investors, this could present an opportunity to get in early with Canadian virtual reality stocks.
So how can investors get exposure to Canadian virtual reality stocks? While there are several privately held Canadian VR companies, only a handful of VR companies in Canada are publicly traded.
Below are three Canadian virtual reality stocks, all with market capitalizations under C$25 million. Data was gathered on November 30, 2020, and all stats were accurate at that time.
1. Spectra7 Microsystems (TSX:SEV)
Market cap: C$20.67 million; current share price: C$0.04
Spectra7 Microsystems is a VR stock that makes VR hardware such as head-mounted displays. Its VR-9 DreamWeVR design is an industry first and has an integrated cable, connector and embedded chip product line. Spectra7's chips allow VR and AR devices to drive 4K UHD and 5K resolutions.
Founded in 2012 by Declan Farrelly, Spectra7's products integrate unique data and information conduits. These solutions create lightweight and thinner products that can be used by a VR headset, for example. Additionally, the company says that its virtual reality technology can remove as much as 90 percent of the metallic bulk that is used by VR applications to detect signals.
2. Urbanimmersive (TSXV:UI)
Market cap: C$9.47 million; current share price: C$0.10
Urbanimmersive is a software-as-a-service company that provides solutions for visual content providers in the residential and commercial real estate, construction and local business markets.
The company's platform allows for visual content creation through a website builder tool, along with AI-backed image indexing, file transfer systems and interactive visual technologies. The core of this technology is a 3D emulator powered by a post-production visual content recognition algorithm for the cost-effective creation of immersive digital environments.
In February 2020, the company launched 3D Pocket Websites, a new generation of websites powered by its propriety 3D emulation technology in which backgrounds are replaced with high-quality 3D immersive experience. When applied in the real estate industry, the technology allows home buyers to visit properties in a more immersive way.
3. YDX Innovation (TSXV:YDX)
Market cap: C$3.04 million; current share price: C$0.11
YDX Innovation is positioning itself "in the new post-digital reality" by integrating augmented and VR technology with design and narrative. The company's clients include Coca-Cola (NYSE:KO), Qualcomm (NASDAQ:QCOM), Adidas (OTC Pink:ADDYY,ETR:ADS) and Cisco (NASDAQ:CSCO).
YDX Innovation has developed a diverse array of projects, including the Arkave VR gaming platform, immersive VR games, experiential design agencies and interactive retail displays that show product information when a customer picks up merchandise.
This is an updated version of an article originally published by the Investing News Network in 2017.
Don't forget to follow us @INN_Technology for real-time news updates!
Securities Disclosure: I, Melissa Pistilli, hold no direct investment interest in any company mentioned in this article.