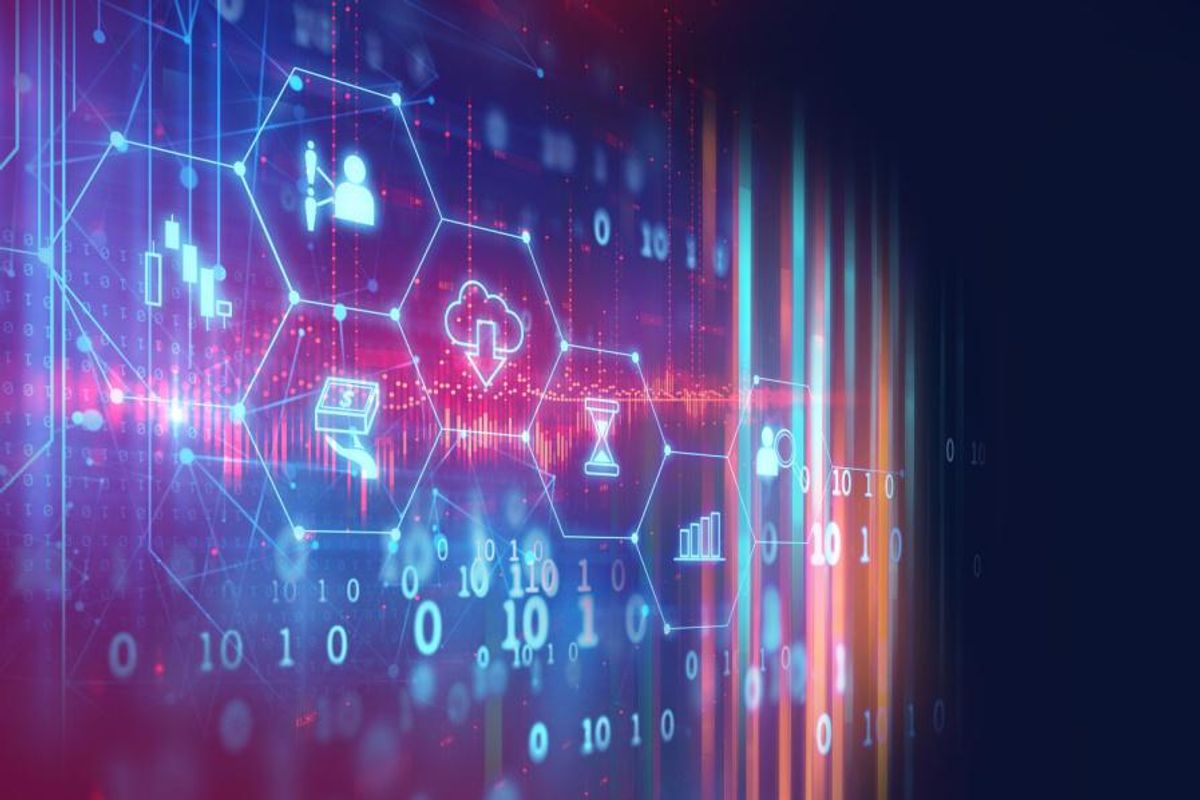 What are the top technology stocks? Here's an overview of the 10 largest companies by market cap.
Technology has become inescapable in everyday life, and the top tech companies are advancing in many sectors, from computer hardware and software to cleantech to artificial intelligence (AI) and more.
Major moves from the tech industry's giants have been reflected in growing valuations. In 2018, Apple (NASDAQ:AAPL) became the first publicly traded company to reach a US$1 trillion valuation, and Microsoft (NASDAQ:MSFT) passed the US$1 trillion mark in 2019 as better cloud sales bolstered its earnings and stock price.

Since then, both of these tech behemoths have gone on to reach further gargantuan valuations, and both Amazon (NASDAQ:AMZN) and Google holding company Alphabet (NASDAQ:GOOGL) have joined the over US$1 trillion club.
---
Top technology stocks
Below the Investing News Network takes a look at the top 10 largest tech companies globally, according to market capitalization. All numbers and figures for the tech companies listed were correct as of January 31, 2023.
Market cap: US$2.29 trillion
First on this top technology stocks list is Apple. Since the company shot to fame with the Macintosh computer in 1984, its hardware portfolio has expanded to include items like the iPhone, iPad, Apple Watch and Apple TV. The company also has a wide range of digital services, such as the App Store, Apple Music, Apple Pay and iCloud.
According to Statista, Apple's digital services segment raked in all-time high revenues of US$73.17 billion during the 2022 fiscal year; that's compared to US$68.43 billion for the previous year.
Market cap: US$1.84 trillion
Founded in 1975, Microsoft is well versed in hardware and software. Its hardware lineup consists of its flagship Surface brand, which covers a broad array of price points. The line is a competitor for Microsoft's archrival Apple and its iPad Pros and MacBooks.
The company's software portfolio has always been a strong focus. That includes its computer operating system, where Microsoft's Windows 11 edition debuted in Q4 2021, as well as its Windows Server. Furthermore, Microsoft has been targeting business users with its productivity suite, which includes the Office and Cloud platforms. These, along with its Azure platform, which includes machine learning and AI, are expected to account for an estimated 27 percent of the company's 2023 fiscal year revenue.
Microsoft partnered with FedEx (NYSE:FDX) in 2022 on a "new cross-platform logistics solution for e-commerce" as part of a larger multi-year deal that involves integrating cloud, AI and machine-learning tech. In early 2023, the company announced "a multiyear, multibillion dollar investment" in privately held OpenAI to help the AI research lab with ChatGPT, its ultra-powerful AI chatbot.
Market cap: US$1.29 trillion
Alphabet, the holding company of internet search giant Google, operates through multiple brands via a portfolio of companies. Some of the companies under Alphabet are Calico, GV, Capital G, Verily, Waymo, X and Google Fiber.
Founded in 1998 as a search engine, Google quickly became a household name with numerous products under its vertical. The list now includes Google Pay, Google Cloud, Android, Google Maps and YouTube.
In November 2021, Alphabet briefly broke through the US$2 trillion market cap level. The company's revenues have been growing steadily for years. According to Alphabet's financial reports, the company's revenue for the 12 months ended in September 2022 was US$282.11 billion, up by nearly 18 percent year-over-year.
Market cap: US$1.05 trillion
Founded in 1994, Amazon has evolved from its start as an online retailer to become a tech monolith through its Amazon Web Services (AWS) platform. While Amazon is still a dominant force in web-based sales, AWS offers a broad range of services for computing, storage, databases, networking, analytics, machine learning and AI, among others. Furthermore, Fire TV, Amazon's streaming platform, had sold more than 150 million streaming devices worldwide as of January 2022.
In late 2021, Amazon announced the launch of a new Internet of Things (IoT) service, AWS IoT FleetWise. It allows automakers to collect, transform and transfer vehicle data to the cloud in near-real time more efficiently and cost effectively than was previously available. The data can then be organized and standardized for analysis in the cloud.
From the fourth quarter of 2021 to 2022's third quarter, AWS sales grew each quarter by an average of 34 percent year-on-year, resulting in an impressive US$76.5 billion in revenue for the combined four quarters. If this revenue growth pattern continues, AWS revenues will have the potential to crack the US$100 billion level for 2023.
Market cap: US$546.98 billion
Tesla is one of the world's most influential tech companies. Aside from focusing on the electric vehicle (EV) market, the company is also innovating in AI, robotics, autonomous vehicles and energy storage.
In early 2022, the company announced a partnership with Panasonic (OTC Pink:PCRFF,TSE:6752) to produce lithium-ion batteries for its EVs. Mass production at facilities in Japan is slated to commence in 2024.
Tesla's EV sales grew by more than 40 percent in 2022 over the previous year to reach more than 1,313,860 units delivered. Still, Tesla's market cap lost nearly 43 percent of its value from January 31, 2022 to January 31, 2023. Several market factors are responsible for the massive decline, including an expected drop in EV sales as a global recession sets in; however, Tesla boss Elon Musk's Twitter distraction has also been blamed for the EV maker's loss of investor confidence.
Market cap: US$486.86 billion
NVIDIA, the inventor of the graphics processing unit (GPU), creates interactive graphics on laptops, workstations, mobile devices, notebooks, PCs and more. Alongside GPUs, NVIDIA offers processing capabilities to scientific researchers with supercomputing sites across the globe. The primary arms of NVIDIA's business model are in gaming (including its cloud gaming service GeForce Now), automotive electronics, mobile devices and more recently AI.
The company's major competitors are Advanced Micro Devices (NASDAQ:AMD), Intel (NASDAQ:INTC) and Qualcomm (NASDAQ:QCOM). NVIDIA is working with Meta Platforms (NASDAQ:META) to build the latter's AI supercomputer, which the former expects will be the largest NVIDIA DGX A100 customer system to date. The company is also working with Dell Technologies (NYSE:DELL) on more AI offerings for enterprises.
Market cap: US$480.8 9billion
Created in the late 1980s, Taiwan Semiconductor Manufacturing Company was originally a semiconductor innovator. Since then, the firm has spawned a tech division that focuses on automotive tech, AI and 5G applications, plus wearable tech and mobile platforms.
The company's net profit for 2022 came in at 1.01 trillion New Taiwan dollars (US$32.89 billion at the time of the announcement), up 70.4 percent from the year prior. The increase in net profit was driven by a boom in demand for semiconductors — which power many technologies, from smartphones to TVs to vehicles — in the midst of a global supply crunch.
Market cap: US$470.23 billion
Founded in 1998, Tencent Holdings invests in a slew of internet-related businesses with an enormous global footprint. It owns China's largest messaging app, WeChat, and publishes a large number of the world's most popular video games. Tencent also invests in gaming companies, and offers tech services such as cloud computing, fintech and other digital enterprise services.
Tencent became the first Chinese tech company to land a valuation of over US$500 billion in 2017. More recently, the company has been divesting some of its assets while at the same curbing its acquisitions as it navigates China's increasingly rigid regulatory landscape for big tech companies. However, shares in the company have gotten a boost from signs that China's video game regulator is easing restrictions and granting new licenses in 2023.
Market cap: US$390.62 billion
Meta Platforms, the parent company of social media giant Facebook, occupies the ninth spot on this list. The company's product suite — which also includes Instagram, Messenger, WhatsApp and Oculus — connects more than 3.71 billion users across the globe.
In early 2022, Meta announced that its AI Research SuperCluster will be the fastest AI supercomputer in the world once completed. According to the announcement, the AI Research SuperCluster "will help Meta's AI researchers build better AI models that can learn from trillions of examples; work across hundreds of different languages; seamlessly analyse text, images and video together; develop new augmented reality tools and more."
10. Samsung Electronics (KRX:005930)
Market cap: US$331.05 billion
With headquarters in Seoul, South Korea, Samsung Electronicsis the 10th largest tech company in the world. Founded in 1938, Samsung originated as a grocery trading store. It then focused on the textiles industry after the Korean War ended in 1953, and 1969 was when it first entered the electronics industry. It is now among the largest electronics manufacturers in the world.
In addition to products such as tablets, smartphones, watches and even appliances, Samsung operates a semiconductor business, developing chips and smartphone application processors. In 2022, one of the company's most interesting product launches was a portable screen and entertainment device; known as the Freestyle, it is essentially a portable projector.
More recently, Samsung brought to market its latest flagship PC lineup, the Galaxy Book3 Series, which "is designed for those who need seamless multi-device connectivity and premium hardware to supercharge their productivity and creativity."
Don't forget to follow us @INN_Technology for real-time news updates!

Securities Disclosure: I, Melissa Pistilli, hold no direct investment interest in any company mentioned in this article.
From Your Site Articles
Related Articles Around the Web
Featured Technology Investing News Stocks
Investing News Network websites or approved third-party tools use cookies. Please refer to the cookie policy for collected data, privacy and GDPR compliance. By continuing to browse the site, you agree to our use of cookies.