3D Printing Investing
3D Printing Stocks: 9 Biggest Companies in 2023
Aug. 14, 2023 01:30PM PST
The 3D printing industry is expected to be worth US$105.99 billion by 2030 — here's a look at the nine biggest stocks in the market.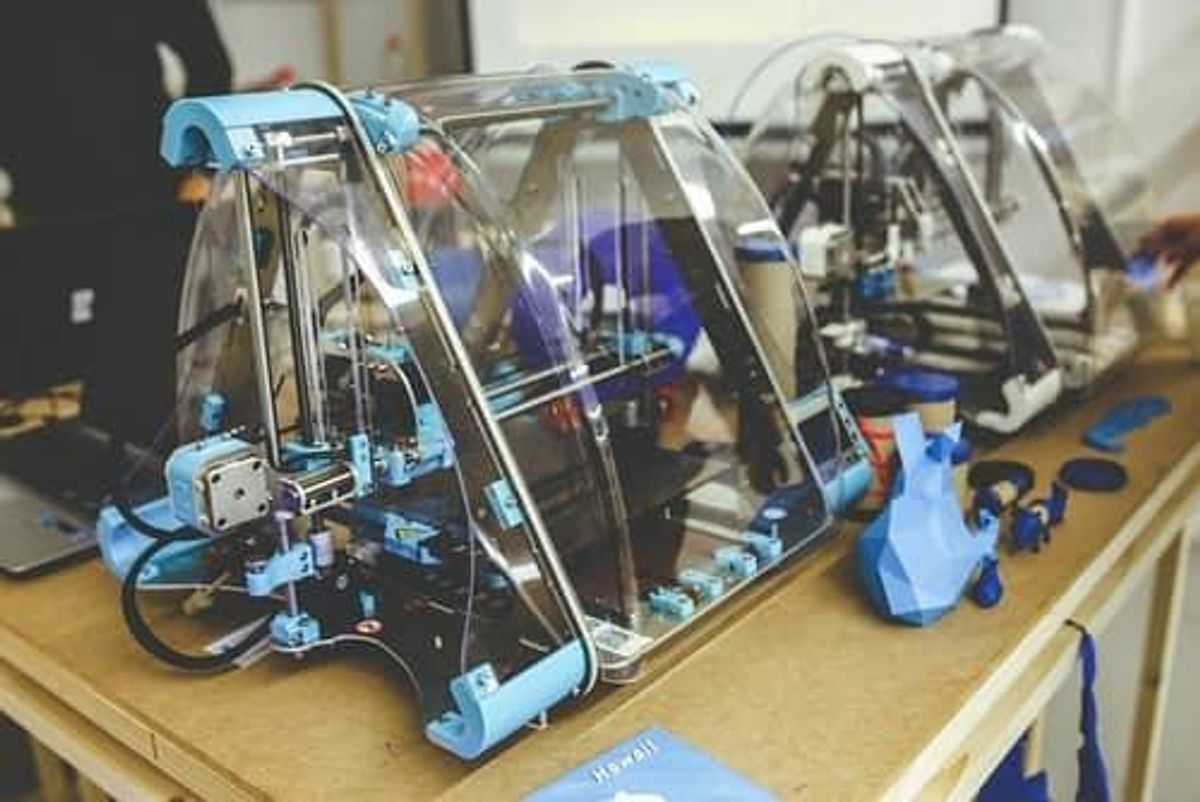 3D printing has always been a niche market dominated by a few top 3D printing stocks. That said, the industry is growing rapidly — so much so that it's expected to be worth over US$105.99 billion by 2030.
Factors contributing to this growth include mass customization, production of complex parts, government investment in 3D printing and improvements with respect to efficiencies in the manufacturing process.
While North America currently holds the biggest share of the 3D printing market, Fortune Business Insights believes the Asia Pacific region will have the fastest growth between 2023 and 2030.
---
For those interested in jumping into this market, it's worth becoming familiar with the top 3D printing companies. Below the Investing News Network provides an overview of some of the biggest 3D printing stocks by market cap. All data was collected using TradingView's stock screener on August 9, 2023.
Market cap: US$43.67 billion
First on this list of top 3D printing companies is multinational software developer AutoDesk. The company makes 3D design software products and provides services for a broad range of industries, including architecture, engineering, construction, manufacturing, media, education and entertainment.
Autodesk generates revenue through a subscription model and demonstrates strong renewal rates. Its most popular product is the Fusion 360 3D modeling platform. For its 2024 fiscal year, the company has pegged its anticipated revenue to between US$5.025 billion and US$5.175 billion.
Market cap: US$35.13 billion
L3Harris Technologies delivers end-to-end technology solutions to the global aerospace and defense industry. Some of its products include command and control systems, avionics and electronic systems, wireless equipment, tactical radios and night vision equipment.
In partnership with the International Space Station (ISS) National Laboratory and SpaceX, L3Harris Technologies is researching 3D printed radio frequency (RF) circuit and various 3D printed materials for use in satellite components that will encounter the harsh environment of low Earth orbit.
Market cap: US$33.15 billion
Originally founded in 1883 as a plate glass producer, today PPG Industries is a Fortune 200 company and the world's leading manufacturer of paints, coatings and specialty materials. The company recently added 3D printing capabilities to its wheelhouse.
The company's proprietary PPG Ambient Reactive Extrusion additive manufacturing technology can produce high-quality gaskets and seals for the aerospace industry. PPG made its first commercial sale of 3D printed parts in 2021, supplying custom designed ramp seals for Lockheed Martin's C-130J Super Hercules military aircraft.
Market cap: US$32.44 billion
Although it is not strictly a 3D printing company, HP devotes some of its resources to leveraging 3D printing technology for mainstream manufacturing. It is making inroads with its Multi Jet Fusion technology and created the world's first state-of-the-art laboratory to help companies develop, test and deliver the next generation of materials and applications for 3D printing.
HP is actively collaborating with major automakers Ford Motor Company (NYSE:F), General Motors (NYSE:GM), Nissan Motor (OTC Pink:NSANF,TSE:7201) and Volkswagen (OTC Pink:VLKAF,ETR:VOW3). HP and Ford also have a sustainability partnership aimed at reusing 3D-printed materials and turning them into vehicle parts.
Market cap: US$5.01 billion
Altair Engineering is a software and cloud solutions provider with a focus on simulation, high-performance computing and artificial intelligence. Altair is also establishing a footprint in the field of 3D printing; the company states that its software provides a simulation toolchain to support production designs.
For example, the global technology firm's Inspire Print3D product reduces product development time and additive manufacturing costs. Altair expanded its 3D printing business with the acquisition of 3D printing design software and consultancy firm Gen3D, a spinout started at the University of Bath in the UK.
Market cap: US$1.05 billion
Stratasys has been in the 3D printing business since 1988 and operates primarily in the healthcare, aerospace, automotive and education markets. One of the original companies in the space and a major innovator, as of December 2021, the company had over 1,800 patents globally, of which 1,380 were active.
The company has a line of 3D printers for dental labs called the DentaJet series, and earlier this year introduced the entry level J3 model to join its advanced J5 model.
Market cap: US$995.14 million
Since 1983, 3D Systems has been providing 3D products and services. This includes everything from 3D printers and printing materials to parts services and digital design tools. Chuck Hull — the inventor of stereolithography — is the company's co-founder, executive vice president and chief technology officer.
As a printer manufacturer, 3D Systems aims to simplify this process by streamlining the supply chain. It does this by providing both raw materials — such as metal powder and plastic filament — and computer numerical control machining, a process in which computers control the directions of a machine. 3D Systems uses this technology to build electronic parts and perform machine engraving.
3D Systems serves several industries, such as manufacturing, design and engineering, 3D scanning and healthcare.
Market cap: US$762.76 billion
Nano Dimension is focused on 3D electronics printing and nanotechnology-based ink products.
Its flagship products include the DragonFly IV 3D printer, which the company describes as a "multi-material, multi-layer 3D printer that generates entire circuits in one step." The applications of Nano Dimension's technologies include sensors, antennas, magnets and molded interconnected devices.
Market cap: US$736.94 billion
Proto Labs specializes in rapid prototyping using three additive processes: stereolithography, selective laser sintering and direct metal laser sintering. It also uses its additive manufacturing technology to produce plastic parts using 3D carbon digital light synthesis printing methods. The firm launched its industrial-grade 3D printing services in 2014 and is now a leader in helping developers, designers and engineers move from prototyping to low-volume output.
Founded in 1999, the company has manufacturing facilities in North America and Europe, with its global headquarters situated in Minnesota.
FAQs for 3D printing investing
What is 3D printing?
3D printing, also known as additive manufacturing, is a process where three-dimensional solid objects are created layer by layer using a digital file. Notably, 3D printing enables the production of complex shapes using less material than traditional manufacturing processes.
Depending on the complexity of the object to be produced, 3D printing uses different types of support structures to maintain part geometry. Two of the most common are a flat lattice structure and a tree-like support structure.
What materials do 3D printers use?
3D printers can use a wide range of materials, including: plastics, powders, metals, concrete, liquid resins, ceramics, carbon fiber, graphene, paper and even edibles such as chocolate. The most common raw material for 3D printing is plastic, although many state-of-the-art 3D printers use powdered materials.
The materials must have suitable mechanical properties for the object that will be made. Mechanical properties include material hardness, flexural strength, tensile strength and elongation.
What can 3D printers make?
The products 3D printers can make are endless. Consumer products such as eyewear and footwear, and even furniture can be produced with 3D printers, as can industrial products such as manufacturing tools, end-use parts and prototypes. 3D printing is also quickly being adopted by the dental and prosthetic industries. The military and aerospace sectors are using 3D printers for the production of parts for naval vessels, airplanes and vehicles.
This is an updated version of an article first published by the Investing News Network in 2015.

Don't forget to follow us @INN_Technology for real-time news updates!
Securities Disclosure: I, Melissa Pistilli, hold no direct investment interest in any company mentioned in this article.
From Your Site Articles
Related Articles Around the Web
https://twitter.com/INN_Resource
https://www.linkedin.com/in/melissa-pistilli-865271a9/
mpistilli@investingnews.com
Melissa Pistilli has been reporting on the markets and educating investors since 2006. She has covered a wide variety of industries in the investment space including mining, cannabis, tech and pharmaceuticals. She helps to educate investors about opportunities in a variety of growth markets. Melissa holds a bachelor's degree in English education as well as a master's degree in the teaching of writing, both from Humboldt State University, California.
How to invest in Emerging Tech:
Investing News Network websites or approved third-party tools use cookies. Please refer to the cookie policy for collected data, privacy and GDPR compliance. By continuing to browse the site, you agree to our use of cookies. 
Melissa Pistilli has been reporting on the markets and educating investors since 2006. She has covered a wide variety of industries in the investment space including mining, cannabis, tech and pharmaceuticals. She helps to educate investors about opportunities in a variety of growth markets. Melissa holds a bachelor's degree in English education as well as a master's degree in the teaching of writing, both from Humboldt State University, California.