When Will Silver Go Up?
Many investors are asking themselves, "when will silver go up?" Unfortunately, it's tough to get a straight answer.
It's no secret that the silver price has had ups and downs this year. As of May 25 at 11:30 a.m. EST, it was sitting at $17.19 per ounce, but that's far from its 2017 high point of $18.52 and way off its low point of $15.88.
Many investors are a little confused by silver's volatile price movement. After all, the white metal is a safe-haven asset that generally fares well in times of turmoil, and the last six months have been packed with tumultuous events.
Unfortunately, answering the question "when will silver go up?" is tricky — even seasoned analysts can't tell the future, and it's usually fairly difficult to find a broad consensus on the topic. Nevertheless, it's definitely possible to track down different opinions on the topic. Investors interested in betting on the silver price would do well to keep them in mind as they try to answer the question "when will silver go up?"
When will silver go up?: Silver in 2017
While 2017 has brought both climbs and drops for silver, overall the metal has definitely trended upward — in fact, it had gained 11.34 percent year-to-date as of May 25 at 11:30 a.m. EST. As mentioned, $18.52 is the highest price it has hit so far this year, and it reached that level from April 13 to 14.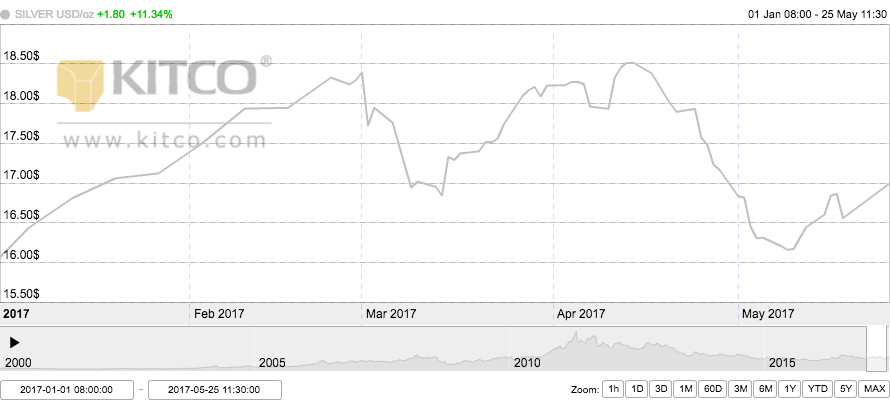 Chart via Kitco. 
To understand silver's price action this year, it's helpful to look at gold price drivers. Silver is of course the more volatile of the two metals, but nevertheless it often trades in tandem with the yellow metal. As the above chart from Kitco shows, that has been the case so far in 2017.
For gold, and by extension, silver, a key price driver in 2017 has been uncertainty. As noted, the year has been filled with major geopolitical events like Donald Trump's inauguration and elections in Europe; those and other developments have been major sources of concern for investors. For example, the rise in silver and gold prices that happened in early April was driven by a US missile strike on Syria.
Precious metals investors have also been closely following the US Federal Reserve's interest rate plans. The central bank has raised rates twice this year, and while it left them unchanged at its most recent meeting, many market watchers believe another hike will happen in June. 
Rate hikes are generally negative for gold and silver — that's because when rates are higher it is more profitable to invest in products that can accrue interest. However, this year's rate hikes were widely anticipated, and thus had a muted impact on both metals. The increases were essentially "baked into" precious metals prices and they adjusted early to the prospect of higher rates.
That said, further rate hikes remain front and center in many investors' minds. The Fed's next meeting is scheduled for June 13 to 14.
When will silver go up?: Silver in the future
While the silver price is up year-to-date, some investors are disappointed that it has not risen further. They continue to ask the question, "when will silver go up," and are on the lookout for catalysts that may drive the white metal higher.
Moving forward, geopolitical events and potential Fed rate hikes will be key factors to watch. But what about supply and demand? Interestingly, the latest World Silver Survey, published by the Silver Institute and Thomson Reuters' GFMS team, reveals that in 2016 the silver market was in deficit by 147.5 million ounces — that's the largest deficit in three years and the third largest on record.
When asked why those supply and demand dynamics have not resulted in a higher silver price, Johann Wiebe, lead analyst for Thomson Reuters' GFMS team, explained, "the answer is very simple and straightforward: aboveground stock."
He said that unlike base metals, silver "has an investment component [and] is stored in almost the same form as it is refined" — notably bars, coins and the like. Wiebe added, "there is an abundance of that material available. That is metal that can come back to the market quite quickly in the case that there is demand." In other words, there's rarely a chance for silver supply and demand imbalances to get out of hand.
While that doesn't mean the silver price will never again reach its highest price of nearly $50, it does mean that investors should try to keep their expectations realistic. This year, firms surveyed by FocusEconomics expect an average silver price of $17.50 in 2017 and $18 in 2018. For 2017, FastMarkets is the most optimistic, with a forecast of $20.20, while Capital Economics and Societe Generale (EPA:GLE) are at the other end of the spectrum with calls for $16.
For investors, a key point to remember is that the resource space operates cyclically — while commodities like silver experience price rises and falls, ultimately what goes up must come down, and vice versa. The advice to "buy low and sell high" is repeated often for a reason, and though it's nigh impossible to predict market bottoms, at today's price, silver may certainly be a good bet.
This is an updated version of an article first published by the Investing News Network in 2015.
Don't forget to follow us @INN_Resource for real-time news updates!
Securities Disclosure: I, Charlotte McLeod, hold no direct investment interest in any company mentioned in this article.