Largest Producers of Gold by Country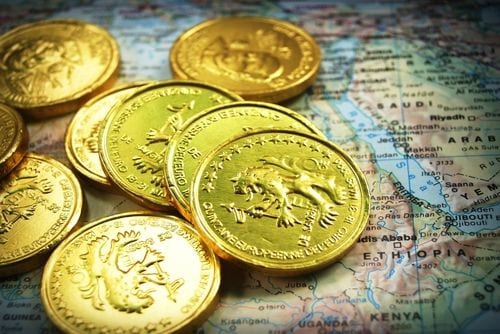 China, Australia and Russia are the largest producers of gold in the world, but which countries round out the list? Find out here.
Gold has been making consistent gains in 2020 so far, even surging to more than US$2,000 per ounce over the summer, a level never seen before.
The yellow metal's price increase has come on the back of uncertainty surrounding the economic impact of the COVID-19 pandemic, as well as political turmoil in the US and beyond.
These circumstances have left investors wanting gold. But at the same time, supply disruptions caused by the coronavirus have made experts wonder how gold production will be affected.
According to the US Geological Survey, in 2019, gold mine production worldwide came in at approximately 3,000 metric tons (MT), which is on par with the gold mined in 2018.
It's too soon to tell what the numbers will look like for 2020 — for now it's only possible to examine the 10 top gold-producing countries that contributed to that output last year. Read on for a rundown of each country and how they contribute to global gold production.
1. China
Mine production: 420 MT
Once again, China was the largest producer of gold in the world, mining 420 MT in 2019. The country has held its top position for more than a decade.
Back in 2018, China's production dropped by 39 MT, and the decrease is thought to be the result of increased environmental regulations. According to the World Gold Council, China is also the world's leading consumer of gold jewelry.
2. Australia
Mine production: 330 MT
Gold production in Australia had another high-performing year, reaching 330 MT in 2019, up from 315 MT in 2018. Recent exploration activity in the Pilbara region of Western Australia has renewed interest and helped increase the country's consistent gold output.
While the Pilbara area is best known as one of the world's largest producers of iron ore, the region is currently in the midst of increased gold exploration thanks to a major discovery in 2017 by Novo Resources (TSXV:NVO,OTCQX:NSRPF) and Artemis Resources (ASX:ARV,OTCQB:ARTTF).
3. Russia
Mine production: 310 MT
In 2019, Russia was once again the third largest producer of gold. The country's output has been rising over the past few years, increasing from 255 MT in 2017 to 310 MT last year. Additionally, the nation plans to ramp up its output over the next decade or so.
Russia is reportedly planning to raise its annual gold production in 2020 and beyond in a bid to become the world's largest gold producer by 2029. According to the US Geological Survey, Russia's gold reserves stand at 5,300 MT, the second largest gold reserves after Australia at 10,000 MT.
4. United States
Mine production: 200 MT
US gold production has been dropping over the past few years. In 2019, the US produced 200 MT, down by 26 MT from the previous year. Most gold in the country was produced at more than 40 lode mines, several large placer mines in Alaska and a number of smaller placer mines in the Western US. The top 27 operations in the country were responsible for 99 percent of American gold output.
An assessment of US gold resources has revealed that it has approximately 33,000 MT of gold in identified and undiscovered resources. Additionally, close to one-quarter of the gold in undiscovered resources can be found in porphyry copper deposits. Gold reserves in the US are estimated at 3,000 MT.
5. Canada
Mine production: 180 MT
Gold production in Canada declined marginally in 2019, allowing the nation to maintain its status as the fifth largest producer of the yellow metal. Last year, the country reported output of 180 MT of gold compared to 183 MT in 2018.
6. Indonesia
Mine production: 160 MT
Indonesia made the list of largest producers of gold by country in 2019, taking the number six spot from Peru. The mineral-rich country produced 160 MT of gold last year. Half of the country's gold production originates from Freeport-McMoRan's (NYSE:FCX) Grasberg mine, the world's largest gold mine, which is believed to contain the largest gold reserves globally.
7. Peru and Ghana
Mine production: 130 MT each
In 2019, Peru and Ghana tied for the position of seventh largest gold-producing country. Peru saw a decrease in gold production last year, with output slipping from 145 MT in 2018 to 130 MT in 2019. Illegal gold mining continues to be a struggle for the country, and has been responsible for the devastation of land, including patches of the precious Amazon forest.
Ghana's gold production held steady from the previous year, and the country once again produced 130 MT of the yellow metal in 2019. It is also worth noting that Ghana is Africa's largest gold producer, having overtaken South Africa in recent years.
Mine production: 110 MT
Mexico is another notable gold producer, knocking South Africa out of the eighth spot in 2018 with production of 125 MT. In 2019, Mexico's gold production fell slightly to 110 MT. While Mexico was plagued by underwhelming gold prices and maturing gold mines that caused production challenges in 2017, gold and silver account for more than 50 percent of the country's total metals output.
9. Uzbekistan and Kazakhstan
Mine production: 100 MT
Kazakhstan made it onto the list of largest gold-producing countries last year to tie for ninth place with Uzbekistan. Both countries produced 100 MT of gold in 2019.
Uzbekistan's Muruntau gold mine is one of the largest open-pit mines in the world. Uzbekistan has been producing from old mines for quite some time, and has not seen much exploration investment. Kazakhstan's most strategic gold-producing mine is the Vasilkovskoye mine, which is run by Glencore (LSE:GLEN) subsidiary Kazzinc. It has more than 5 million ounces of proven and probable gold reserves.
Mine production: 90 MT
South Africa has been one of the world's top gold producers for decades, but the nation's gold output has fallen 85 percent since 1980. South Africa's gold production decreased once again in 2019, falling from 117 MT in 2018 to 90 MT.
In recent years, South Africa has been hit with political strife, mostly due to conflicts between the Association of Mineworkers and Construction Union (AMCU) and gold producers in the area. The AMCU has held many protests and strikes at several gold and platinum mines within the last few years in the hopes of garnering more wages and stopping any mergers that could cause job losses.
---
INNdepth
Want more details? Check out these articles for more INNdepth coverage:
Want and overview of investing in gold stocks? Check out An Overview of Gold Stocks and Price.
---
Don't forget to follow us @INN_Resource for real-time news updates!
Securities Disclosure: I, Melissa Pistilli, currently hold no direct investment interest in any company mentioned in this article.