Gold Investing
Why Do Central Banks Buy Gold?
May. 01, 2023 01:50PM PST
In 2010, global central banks switched from being net sellers of gold to net buyers. They've now amassed more than 35,715 MT of the yellow metal.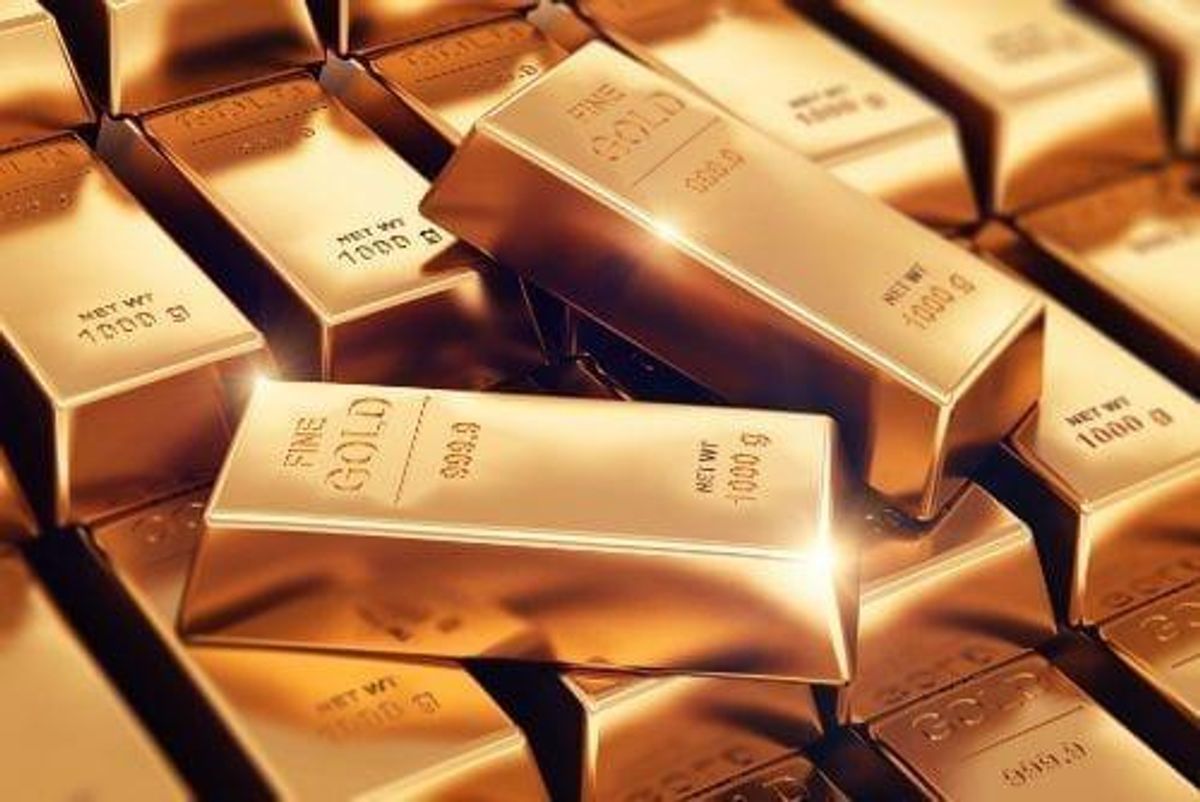 Global central banks hold more than 35,715 metric tons (MT) of gold in their reserves. Most of that supply has been amassed since 2010, when central bankers commenced a gold-buying spree.
Central banks were net sellers of gold before that time, selling roughly 4,426 MT of gold between 2000 and 2009. But for more than a decade now they've been net buyers, and in 2022 central bank gold reserves were at their highest level since 1950, according to data provided by the World Gold Council (WGC).
In 2018, national financial institutions set a 50 year record for gold purchases, snapping up 656 MT of the yellow metal. Buying was slightly lower in 2019, clocking in at approximately 605 MT .
---
2020 marked a second year of declines, with additions of just 255 MT, falling significantly short compared to the previous year. The abrupt drop off was attributed to a rapidly rising gold price — mid-2020 was when values rose to what was then an all-time high of US$2,063 per ounce .
These past few years have marked a significant turnaround in demand. In 2021, central banks added 455 MT of gold to their holdings, and 2022 saw a massive 1,135.7 MT of gold added to central bank vaults — an all-time high. These banks are expected to continue their net gold-buying streak this year. According to a mid-2022 central bank survey from the WGC, 25 percent had plans to increase their gold reserves in the next 12 months.
It's clear that central banks are a key component of gold demand. But why do they buy and sell the precious metal, and how do they decide when to do so? Keep reading to find out.
Why do central banks purchase gold?
Central banks serve a few primary functions, including setting interest rates, regulating monetary policy and controlling the printing and circulation of coins and bills.
However, their most important task is to provide price stability to their national currency while preventing banking system collapse. This is achieved through controlling inflation — although as the present global economic crisis has shown, sometimes the fate of a country's currency may be difficult for a national bank to control.
This risk is part of the reason central bank gold buying has increased in the last decade.
As the Dutch central bank notes , "A bar of gold always keeps its value. Crisis or not. That gives a safe feeling. The gold holdings of a central bank are therefore a beacon of confidence."
Here are three primary uses of gold as the reserve commodity of choice for national banks.

1. To mitigate risk
Gold is a well-known safe-haven investment prone to acting positively in times of uncertainty and market volatility. It is viewed as an asset that holds no liability, adding to its ability to mitigate risk.
American banker and financier JP Morgan is famously quoted as saying, "Gold is money. Everything else is credit," highlighting another intrinsic benefit of gold, which is its sustained purchasing power.
Central banks look to purchase gold as a hedge against a weakening dollar or any other fiat currency.
Gold's role as a portfolio or investment diversifier also aids in its ability to mitigate risk.
Central banks have therefore traditionally held large reserves of gold to safeguard their financial systems. In the case of a system collapsing, gold supply provides the means to recover. In this way, gold instills confidence in the strength of the central bank and the financial security of the nation.
2. To hedge against inflation
Hedging against the effects of inflation is another reason why central banks buy gold. In its simplest terms, inflation is the rise in price of a basket of goods.
In order for inflation to not dramatically impact a country's economy, the nation requires investments that are not tied to the dollar — enter gold and the other precious metals.
Many view gold as a barometer of the value of foreign exchange instruments. Gold's rising value is viewed as evidence that currencies are becoming devalued.
3. To facilitate stability and growth
The primary function of central banks is to promote stability and foster economic growth. As currencies become increasingly devalued, banks must ensure their respective economies don't flounder. As such, gold is used to control the size and speed of market growth.
Using Chinese and Russian central bank gold buying as an example, a Global Bullion report explains that emerging economies are especially exposed to free market excesses and use gold to offset the risk.
"Owning gold prevents these excesses from utterly driving currency and damaging industry," it reads .
Which central banks hold the most gold?
The US Federal Reserve tops the list of central bank gold buyers. The US holds 8,133.46 MT of the yellow metal, more than doubling second place Germany's number of 3,355.14 MT.
Italy, France and Russia take the third, fourth and fifth spots, holding 2,451.84 MT, 2,436.75 MT and 2,301.64 MT, respectively. China and Switzerland are in the sixth and seventh positions with 2,010.51 MT and 1,040 MT.
Down the list with less than 1,000 MT each are Japan (845.97 MT), India (787.4 MT) and the Netherlands (612.45 MT).
Where do central banks store gold?
Most banks store gold in their subterranean vaults, although some keep their physical gold in foreign reserves.
For example, of its 612.45 MT, the Dutch central bank has 15,000 gold bars, or 31 percent, of its gold stock on hand. The remainder is split between two foreign banks: 31 percent is held in New York's Federal Reserve bank and 38 percent is kept in Canada's central bank.
Central bank gold agreements
With stores exceeding 35,715 MT, central banks own one-fifth of all the gold ever mined, which is estimated at 208,874 MT . To prevent a single bank from impacting the price of gold with a selloff, the Central Bank Gold Agreements were drafted.
The pact, which was signed in 1999 between major European central banks, caps the amount of gold any one bank can sell in a year. The first Central Bank Gold Agreement lasted five years and was reaffirmed three times in 2004, 2009 and 2014. However, in 2019, the world's central banks decided not to renew the agreement.
Are central banks being priced out of the gold market?
Since central banks became net buyers of gold a decade ago, the metal's price has increased 89 percent. In 2010, the price of an ounce of gold was US$1,096. At its 2022 peak, gold was selling for US$2,074.
After making the second largest net gold purchase (25 MT) by a central bank in Q1 2020, the Russian central bank suspended new gold purchases. Demand for gold from the Russian bank had been steady since 2006 prior to that point. At the time, weakening oil prices, rising bullion prices and the country's already robust gold reserves were the likely reasons behind the buying moratorium.
However, the higher gold price hasn't stopped India and Turkey's central banks from growing their gold holdings. In 2020, Turkey made the largest net purchase of gold, acquiring 198 MT, while India added more than 24 MT.
"One of the primary reasons (Turkey and India) have been adding gold to their holdings is the weakness in their domestic currencies, which they seek to hedge by purchasing dollar denominated gold," notes CPM Group .
More recently, in 2022, Turkey's central bank was once again the largest net buyer of gold, taking in 148 MT , while India increased its holdings by another 33 MT.
As central banks battle inflation with higher interests and the markets fret over the potential for economic recession, gold prices have once again broke past the US$2,000 level, reaching as high as US2,048 per ounce in mid-April 2023. Increased concerns over another global financial crisis are expected to have central banks once again building up their gold reserves.
"Looking ahead, we see little reason to doubt that central banks will remain positive towards gold and continue to be net purchasers in 2023," the WGC notes . "However, by how much is difficult to call, as evidenced by our expectations at the start of 2022. But it is also reasonable to believe that central bank demand in 2023 may struggle to reach the level it did last year."
This is an updated version of an article first published by the Investing News Network in 2020.
Don't forget to follow us @INN_Resource for real-time updates!

Securities Disclosure: I, Melissa Pistilli, hold no direct investment interest in any company mentioned in this article.
https://twitter.com/INN_Resource
https://www.linkedin.com/in/melissa-pistilli-865271a9/
mpistilli@investingnews.com
Melissa Pistilli has been reporting on the markets and educating investors since 2006. She has covered a wide variety of industries in the investment space including mining, cannabis, tech and pharmaceuticals. She helps to educate investors about opportunities in a variety of growth markets. Melissa holds a bachelor's degree in English education as well as a master's degree in the teaching of writing, both from Humboldt State University, California.
Featured Gold Investing Stocks
Investing News Network websites or approved third-party tools use cookies. Please refer to the cookie policy for collected data, privacy and GDPR compliance. By continuing to browse the site, you agree to our use of cookies.
Melissa Pistilli has been reporting on the markets and educating investors since 2006. She has covered a wide variety of industries in the investment space including mining, cannabis, tech and pharmaceuticals. She helps to educate investors about opportunities in a variety of growth markets. Melissa holds a bachelor's degree in English education as well as a master's degree in the teaching of writing, both from Humboldt State University, California.