The World's 10 Largest Gold Mines by Production
The world's largest gold mines come in all shapes and sizes.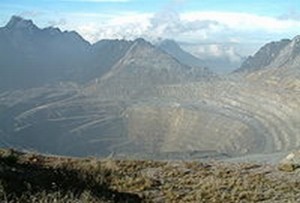 Gold mines around the world come in all shapes and sizes, but it's hard not to wonder where the true behemoths are, and which companies own them.
Below is an overview of the 10 largest gold mines in the world, based on 2016 production figures from the commodities research team at Thomson Reuters GFMS, and on production stats released by gold miners.
The mines on the list are located in various countries, from Indonesia to the US to the Dominican Republic. However, many of the world's largest gold mines are owned at least in part by major miner Barrick Gold (TSX:ABX,NYSE:ABX), which was the largest gold-producing company in the world last year. Without further ado, here are the 10 largest gold mines in the world by production.
1. Muruntau
Production: 2.19 million ounces
Muruntau is owned by the government of Uzbekistan, and easily takes the title of the largest gold mine in the world by production — it produces nearly double the amount of gold as the next mine on this list. That being said, Muruntau comes with an important caveat. GFMS notes that it put out roughly 2.19 million ounces of gold last year, but warns that information about the mine has been a longtime state secret.
2. Pueblo Viejo
Production: 1.28 million ounces
Pueblo Viejo is one of the newer large gold mines in the world, and is a 60/40 joint venture between Barrick and Goldcorp (TSX:G,NYSE:GG). The mine is located in the Dominican Republic, and its production rose 22.65 percent from 2015 to 2016, coming in at 953,000 ounces.
3. Goldstrike
Production: 1.1 million ounces
Goldstrike, one of Barrick's biggest gold mines, is located within Nevada's prolific Carlin Trend. The property consists of the Betze-Post open-pit mine and the Meikle and Rodeo underground mines.
Goldstrike's proven and probable reserves as of December 31, 2016 stood at 8.1 million ounces of gold. In 2017, it is expected to produce between 910,000 and 950,000 ounces of gold at an all-in sustaining cost of $910 to $980 per ounce.
4. Grasberg
Production: 1.061 million ounces
Grasberg, a copper-gold mine in Indonesia, is another of the largest gold mines in the world. The mine is mostly owned by Freeport-McMoRan (NYSE:FCX), with the government of Indonesia owning roughly 9 percent.
The open-pit mine has been in operation since 1990, but has recently faced struggles. Freeport is currently involved in a dispute with the Indonesian government over mining contract terms. The resulting fallout has lead to layoffs and resignations amounting to thousands of workers. Grasberg has continued to operate amid the tensions, but has faced heavy cost cutting and slowdowns on future development.
5. Cortez
Production: 1.06 million ounces
Cortez is another large mine owned by Barrick and located in Nevada. Cortez produced slightly less gold than Grasberg, putting out 1.06 million ounces in 2016 — that's a 6.11-percent increase from 2015. The mine is expected to produce between 1.25 and 1.29 million ounces of gold in 2017 at an all-in sustaining cost of $430 to $470 per ounce. The mine's proven and probable reserves stood at 10.2 million ounces of gold as of December 31, 2016.
6. Lihir
Production: 991,000 ounces
Lihir is a gold mine that was acquired by Newcrest Mining (ASX:NCM) back in 2010 as the result of a merger with exploration company LGL. The mine is located on Lihir Island in Papua New Guinea, and produced 991,000 ounces of gold in 2016. The site has produced over 10 million ounces of gold since 1997.
7. Carlin
Production: 944,000 ounces
Carlin is part of a much larger Nevada gold operation owned by Newmont Mining (NYSE:NEM). It includes the Phoenix, Long Canyon and Twin Creeks mines, but the company reports production from Carlin individually. The mine's production was up by 6.14 percent in 2016 from 2015's 886,000 ounces.
8. Olimpiada
Production: 896,000 ounces
Located in Russia, Olimpiada is an open-pit operation owned by UK-based Polyus Gold (MCX:PLZL). Olimpiada began production in 1996, and is the company's largest gold operation. It holds proven and probable reserves of 30.01 million ounces of gold. The mine increased its gold output by 135,900 ounces last year, amounting to a jump of 17.88 percent.
9. Boddington
Production: 878,300 ounces
The Boddington gold-copper mine is one of the largest gold mines in Australia. The operation began as a three-way joint venture between Newmont, AngloGold Ashanti (NYSE:AU) and Newcrest, but is now wholly owned by Newmont. Boddington's production increased by 10.62 percent from 2015 to 2016, coming in at 878,300 ounces.
10. Kalgoorlie Super Pit
Production: 758,000 ounces
The final mine on this list is the Kalgoorlie Super Pit, a joint venture in Western Australia that is split 50/50 between Barrick and Newmont. The mine's production saw a significant increase in 2016 over 2015 thanks to high mill throughput as well as higher ore grades being milled.
Don't forget to follow us @INN_Resource for real-time news updates!
This is an updated version of an article originally published by the Investing News Network in 2015. 
Securities Disclosure: I, Sivansh Padhy, hold no direct investment interest in any company mentioned in this article.