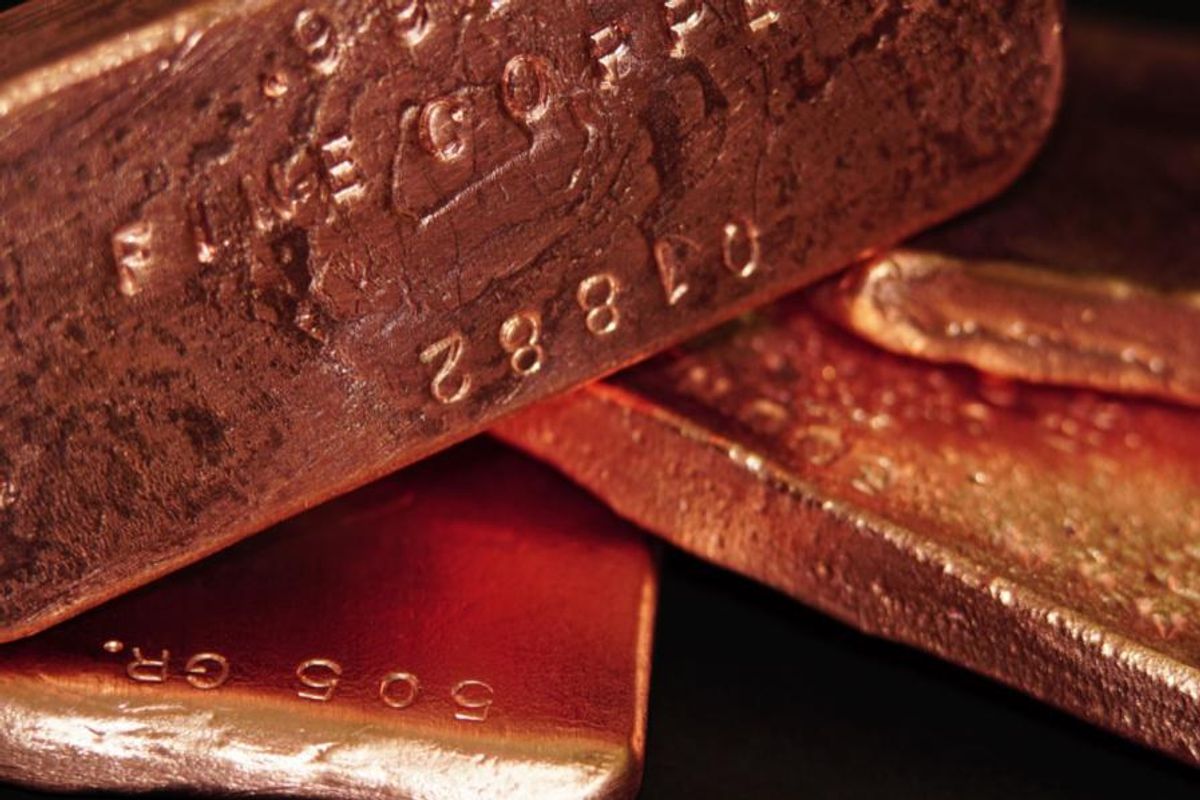 What are the best copper stocks on the TSX so far this year? These three companies have seen the biggest gains year-to-date.
Top 3 Copper Stocks on the TSX (Updated August 2022)
Company
Description
1. Turquoise Hill Resources (TSX:TRQ)

Year-to-date gain: 57.22 percent; market capitalization: C$6.55 billion; current share price: C$32.45

Turquoise Hill Resources operates the Oyu Tolgoi copper-gold mine in Mongolia, which it claims has the potential to operate for 100 years from five deposits. Oyu Tolgoi is jointly owned by Turquoise Hill (66 percent) and Mongolian government-owned entity Erdenes Oyu Tolgoi (34 percent). Turquoise Hill itself is 50.8 percent owned by Rio Tinto (ASX:RIO,NYSE:RIO,LSE:RIO), which is the operator of Oyu Tolgoi. The mine has been in production since 2013.

The company performed positively through mid-March, when Rio Tinto proposed a plan to buy the remaining 49.2 percent of Turquoise Hill that it does not already own for C$34 per share. The news drove Turquoise Hill's share price even higher, rising from C$25.68 on the previous trading day to C$34.02 on the day of the announcement. Shares continued to climb from there, hitting a year-to-date high of C$38.58 on April 13. On April 7, Turquoise Hill shared that it had created a special committee to review the proposal, although that should not be considered a guarantee that the deal will be completed. On May 18, the company announced amendments to the arrangement.

In other news, in April and May, Turquoise Hill shared its Q1 operating results for Oyu Tolgoi, as well as its financial results for the same period. Copper and gold production came in lower year-on-year, but that was expected and numbers are still in line with previous guidance. As for its Q2 operating and financial results, production was again lower year-on-year, but up 1 percent over Q1 at 30,600 metric tons of copper in concentrate. With regards to news about its mines, the company announced that on June 17 that the first drawbell of the Hugo North mine at Oyu Tolgoi was scheduled to be fired.

2. Filo Mining (TSX:FIL)
Year-to-date gain: 47.58 percent; market capitalization: C$2.09 billion; current share price: C$17.96
Filo Mining is focused on advancing its Filo del Sol copper-gold-silver project in Chile along the Chile-Argentina border. It is currently performing drill programs at the project. According to the company, "(Filo del Sol's) complex geological history has created a heterogeneous orebody which is characterized by zones of very high-grade copper +/- gold +/- silver mineralization within a large envelope of more homogeneous, lower-grade mineralization."
Filo's share price began to see significant growth in mid-March after it closed a C$100 million strategic investment from BHP Western Mining Resources, which is a subsidiary of BHP (ASX:BHP,NYSE:BHP,LSE:BHP). The company's share price rose to reach a peak of C$24.44 on April 18 before falling through mid-May to C$16.62, during which time it shared its first quarter results. However, the day after that low, Filo's share price rocketed back up on positive drill results that extended the Breccia 41 zone at Filo del Sol.
Further positive exploration news continued to drive the company's share price, culminating in a year-to-date high of C$26.58 on June 2. On June 3, Filo shared that it has been included in the S&P/TSX Composite Index. The company also announced the discovery of a new copper-gold porphyry center at Filo del Sol.
3. PolyMet Mining (TSX:POM)
Year-to-date gain: 12.42 percent; market capitalization: C$376.46 million; current share price: C$3.71
PolyMet Mining's flagship project is its NorthMet copper-nickel project, which is also expected to produce cobalt and precious metals. NorthMet has proven and probable reserves of 290 million metric tons grading 0.288 percent copper and 0.083 percent nickel. The future mine is located in Minnesota, US, in the Duluth Complex. The company is working to secure permits that will allow it to begin mining.
Although PolyMet's share price performed relatively flatly for the early part of the year, it saw a spike from C$3.74 on March 7 to C$5.06 the following day; the company released no news to accompany this rise. PolyMet fell back down to the C$4 to C$4.50 range in the following weeks, during which time it shared its 2021 financial results and a Q1 business update. Shares did experience another jump, hitting a year-to-date high of C$5.17, this time following the March 29 news that Senior Vice President Richard Lock was moving on. Since then, PolyMet has fallen significantly.
On July 20, PolyMet Mining announced the significant news that it was creating a 50/50 joint venture with Teck Resources (TSX:TECK.A,TSX:TECK.B,NYSE:TECK) subsidiary Teck American. The companies' respective NorthMet and Mesaba projects will be under a single management team, an entity named NewRange Copper Nickel. According to a press release, the projects "represent two of the largest undeveloped clean energy mineral resources in the U.S."

Click here to read the latest best TSX copper stocks article.
After a strong 2021, copper has seen even greater success in 2022, reaching an all-time high of US$10,910 per metric ton on March 4. However, prices have fallen in Q3, dropping to US$8,085 as of August 11.
This decline began in Q2, and experts have weighed in on what happened and where copper will go from here. In the short term, some market watchers believe prices will fall further, but long-term factors look positive.
"Any sign that inflation is coming down quickly would potentially be a bullish trigger for copper and financial markets more generally," Dan Smith of Commodity Markets Analytics said. "Russia remains a key swing factor, of course, and this is likely to remain a significant headwind for copper."
---
The list below shows the top-performing TSX-listed copper stocks by share price performance so far this year. It was generated on August 8, 2022, using TradingView's stock screener, and only TSX copper companies with market capitalizations greater than C$50 million at that time are included.

Don't forget to follow us @INN_Resource for real-time news updates!

Securities Disclosure: I, Lauren Kelly, hold no direct investment interest in any company mentioned in this article.