Overview
Australia is no stranger to gold production. The country stands as the second-largest gold producer, following behind China. Despite exploration and mining disruptions from COVID-19, the country produced a record AU$25 billion at the average gold price in the 2019-2020 financial year.
That level of production for Australia is no anomaly, either. Mining companies are taking advantage of the resource-rich and mining-friendly jurisdiction, especially in the southern regions of the country where a new gold rush is occurring. With such high grade and high yield gold mineralization, it's no wonder many are excited about the region.
Outback Goldfields Corp. (TSXV:OZ,OTCQB: OZBKF,FSE: S600) is an exploration mining company focused on developing highly prospective gold assets adjacent to Kirkland Lake Gold's (TSX:KL) Fosterville mine in Victoria, Australia. The company's experienced exploration team has positioned it in one of the world's most historically prolific gold districts and plans to apply modern mining techniques to find the source of the historically high grade near surface gold.
Outback is currently operating a large land package in the high-grade, low-cost mining district of Victoria, which has produced over 80 million ounces of gold historically. Current mineral reserves at the Fosterville mine including the Swan Lake reserve measure 2.7 million ounces at 31.0 g/t gold. Outback has a unique first-mover advantage to explore previously overlooked areas for high-grade epizonal gold mineralization.
Additionally, the company's land package is often considered the premier of any junior company in the area. In December 2020, Outback completed the acquisition of four prospective gold projects from Petratherm (ASX:PTR). "After months of diligence, the company is finally in a position to start exploring for high-grade gold in the Victorian goldfields," CEO Chris Donaldson stated. This acquisition represents an exciting step for this emerging player in Australian gold mining.
Outback's key assets provide investors with an entry opportunity to explore a world-class gold belt with limited modern exploration outside of near-surface mining campaigns. Assets Yuengroon, Ballarat West, Glenfine and Silverspoon have a combined 1,100 hectares of documented gold occurrences and mineralization. These deposits also have the potential to mimic positive drill results from nearby mining companies like Fosterville South Exploration (TSXV:FSX), Navarre Minerals (ASX:NML) and Mawson Gold (TSX:MAW).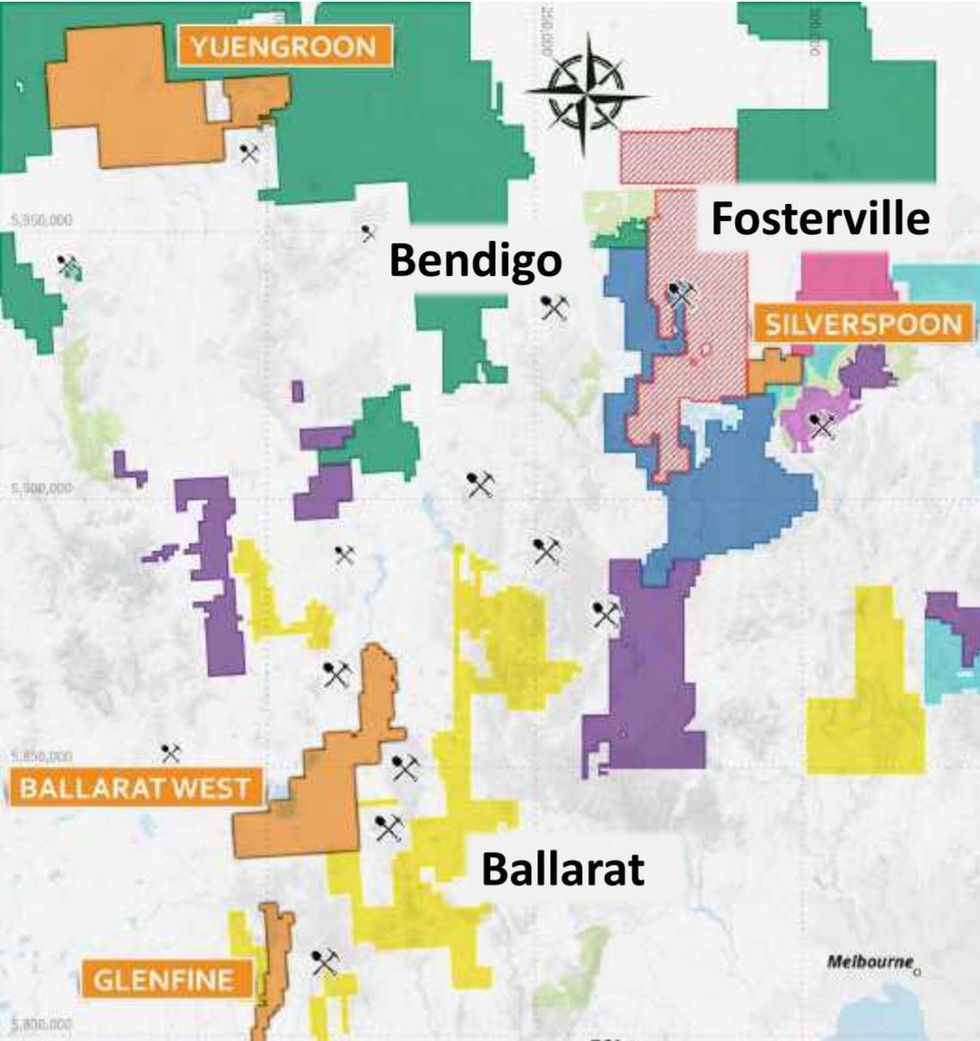 Entering into 2021 with positive growth, the company intends to continue evaluating priority drill targets and commence Phase One of its drill program early in the first quarter.
Outback has an experienced board and management team with years of experience in gold mining, community relations and exploration. In late 2020, the company welcomed Eric Zaunscherb and Penny Jaski to the board. These deeply connected leaders have a track record of creating significant shareholder value and, together with the existing team, prime Outback for mining and project development success.
Company Highlights
Outback Goldfields is a well-financed exploration mining company focused on the resource-rich Fosterville gold district in Victoria, Australia.
The company announced the acquisition of several high-grade gold projects from Petratherm in December 2020. This acquisition has positioned the company for initial exploration of these prospective gold projects.
Outback currently operates four key gold assets, the Yuengroon, Glenfine, Silver Spoon and Ballarat West projects. These projects host limited modern exploration but are in the position to leverage past production histories.
The company's large land package is a premier of any junior mining company in the area. It strategically positions Outback Goldfields Corp for first-mover advantage for prospective high-grade and high-yield gold mining.
Key Projects
Outback Goldfields
Outback Goldfields has four key assets in the highly prospective Fosterville gold district in Victoria, Australia.
Silver Spoon Project
The Silver Spoon project is adjacent to both Kirkland Lake and Newmont Gold's tenements. Despite nearby mining heavyweights, the area has a limited exploration history due to shallow cover over most of the tenement. This project is the closest of Outback's assets to the Fosterville gold mine, which many consider to be the highest grade and highest margin mine in the world.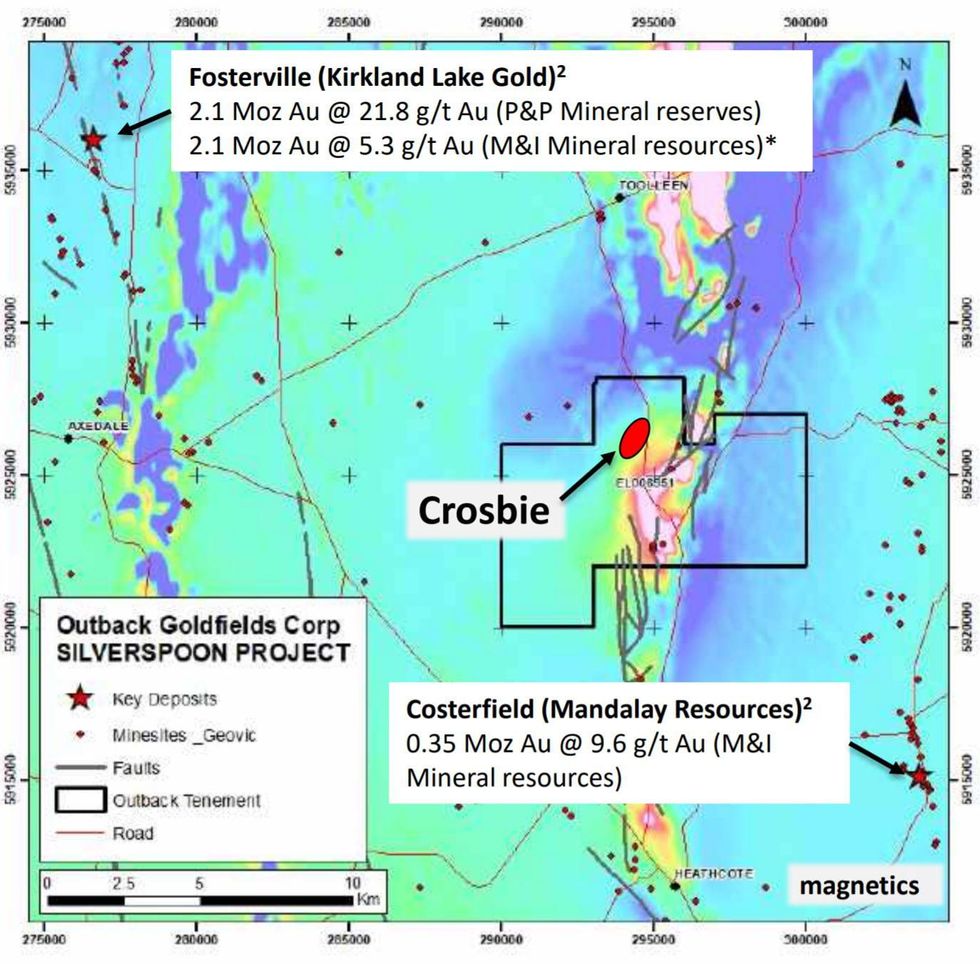 Yeungroon Project
Outback Goldfield's most northern project, Yuengroon covers 692 km² over a portion of the Wedderburn Goldfield. This project has 140,000 ounces of historic regional production including shallow reef production with grades up to 250 g/t gold at the Golden Jack mine. Prospective regional-scale faults are still left to be explored and tested by drilling.
Recently, six large new arsenic-in-soil anomalies have been revealed in the Wedderburn area and represent potential drill targets. These new findings are an exciting step towards exploration and discovery for the project.
Glenfine Project
The Glenfine project is an advanced exploration project with documented Ballarat style reef gold and mineralized intercepts from historic strike developments. The project also hosts historic reef production of 44,000 ounces gold in the immediate area. As of December 2020, only a handful of targets have been systematically tested by drilling. However, these campaigns push the Glenfine project further toward leveraging favorable site infrastructure and achieving forecasted yield in the future.
Ballarat West Project
This asset hosts historical gold alluvial production from widespread deep lead mines on and near the project tenement. Due to close proximity to the past-producing Ballarat gold mines and shallow cover, the project has the potential to mimic historic gold production of adjacent deposits that have historic gold production totaling 17.3 million ounces of gold.
Management Team
Craig Parry — Chairman
Craig Parry is a geologist, an experienced executive and a member of the Austrasian Institute of Mining and Metallurgy (AusIMM). Over 15 years of mineral exploration experience in gold, petroleum, diamonds, iron ore, copper, coal and uranium. Parry holds an Honors degree in Applied Geology from the University of New South Wales. Parry is the Chairman of Vizsla Resources, Skeena Resources, Outback Goldfields and Goldbull Resources.
Chris Donaldson — CEO & Director
Chris Donaldson is an experienced executive with 25 years of focus on capital markets, government and community relationships. Formerly Director, Corporate Development with Western Copper and Gold and Director, Corporate and Community with Casino Mining Corporation.
Ota Hally — CFO & Director
Ota Hally is a chartered professional accountant and a chartered financial analyst with broad experience in executive-level financial management positions across multiple industries. He has held positions with Yamana Gold, Endeavour Mining and Pan American Silver.
Louis Archambeault — Director
Louis Archambeault is an engineer by profession. He has a B.Eng in mining and mineral engineering and an M.Eng in mineral economics and artificial intelligence, both from McGill University. Currently, Archambeault is the vice president of corporate development at Orezone and formerly with Goldcorp and CIBC.
Penny Jaski — Director
Penny Jaski has over 20 years of experience in community and stakeholder relations and government affairs, including 15 years in mining with Rio Tinto. Jaski has worked as a community relations officer across several municipalities in Western Australia and worked with several indigenous communities in the Goldfields and the Western Desert regions. Jaski has also worked for Rio Tinto across numerous exploration projects in Western and South Australia as the Manager of Community.
Eric Zaunscherb — Director
Eric Zaunscherb is a Canadian geologist with over 30 years of experience as a mining analyst. He has enjoyed working in Toronto, Vancouver and London, learning best practices in capital markets and seeing hundreds of exploration, development and mining projects globally.
Request an Investor Kit
EXCITING upcoming projects!
IN-DEPTH reliable insights!
SUCCESSFUL growth strategies!
VALUE-BASED content!
Outback Goldfields