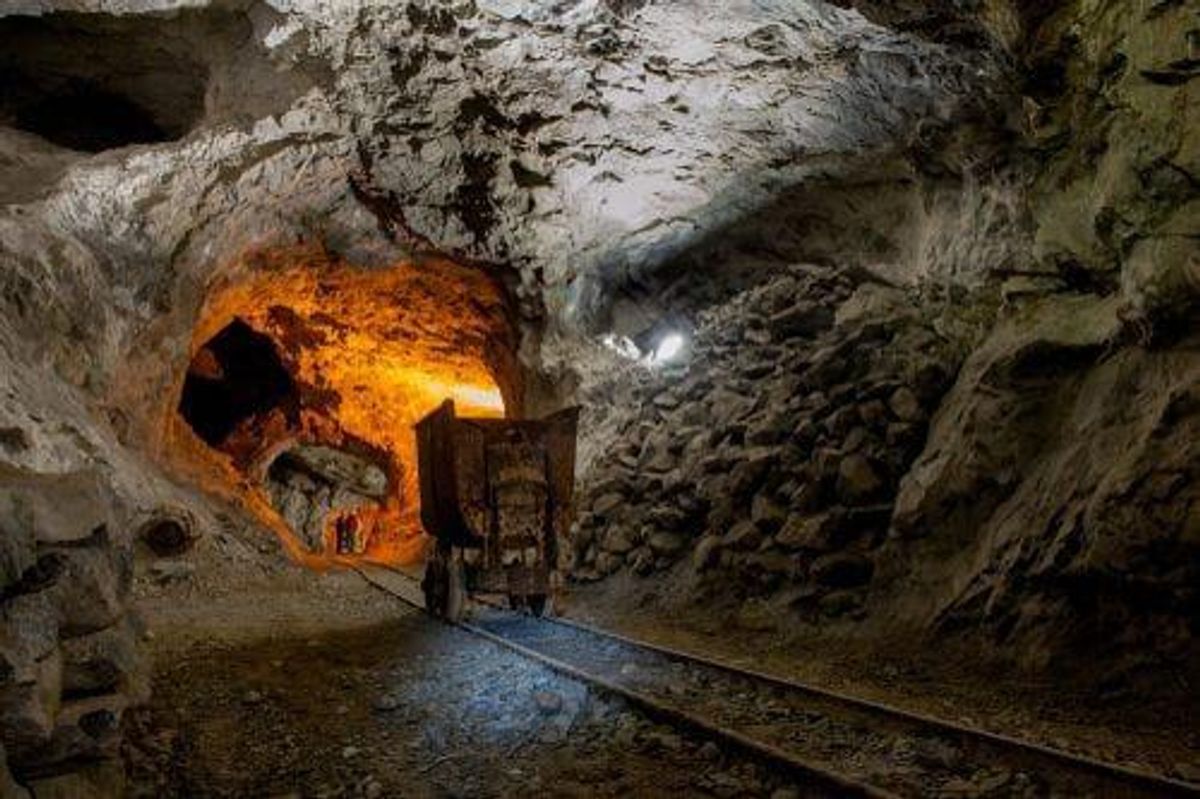 The world's best zinc sources are often found in carbonate replacement deposits, which frequently contain other metals as well.
Why are carbonate replacement deposits (CRDs) the world's best zinc sources?
CRDs are by nature massive ore bodies that extend over long distances, and these deposit types typically demonstrate decades-long mine lives. CRD mineralization contains significant amounts of some of the world's most important metals, including lead, copper, molybdenum, silver, gold and, most notably, zinc. CRDs are recognized for their potential to deliver some of the world's best zinc sources.
China and India, the two fastest urbanizing countries in the world, are driving up demand for zinc. The silvery metal is essential to the fabrication of steel, one of the most critical components of large infrastructure projects, such as India's US$90 billion Delhi-Mumbai Industrial Corridor Project. China is reportedly importing large amounts of base metals like zinc to help build urban infrastructure for its growing middle class. By 2030, 60 percent of the country's population is expected to live in cities.
This is just a part of the story for zinc's positive price outlook. Rising zinc demand has already overtaken supply, especially as production is winding down at large, older zinc mines in Australia, Ireland and South Africa. CRD ore bodies host a large percentage of the world's zinc resources, which, coupled with their long mine life, makes them an ideal supply source.
The world's best zinc sources: CRDs
There are three main CRD deposit types: Leadville-type mineralization (LTM), sedimentary exhalative (SEDEX) and Mississippi Valley-type (MVT).
Rich in zinc, LTM deposits are also known for their precious metals production. LTM deposits get their name from the former mining town of Leadville, Colorado; however, these deposits are most commonly associated with the carbonate-dominated polymetallic mineralization of Northern Mexico's Sierra Madre Occidental range. The region is responsible for a majority of the country's gold and silver output. The world's most recognized CRD belt, the Chihuahua Trough, is found in this region.
SEDEX and MVT style deposits, however, are where the world really goes for zinc.
New model driving new exploration for SEDEX deposits
"The enormous size of SEDEX deposits strongly suggests that basin-scale geologic processes are involved in their formation," according to the US Geological Survey. They are also among the most geographically diverse geological formations in the world. In fact, SEDEX-style deposits have been found in at least 25 sedimentary basins across the planet.
The world's largest zinc producer and host of the world's largest zinc reserves is Teck Resources' (TSX:TECK.A,TSX:TECK.B,NYSE:TECK) SEDEX-style Red Dog mine in the Brooks Range of Alaska. Other great examples of SEDEX deposits include the Howard's Pass District in Eastern Yukon and the Northwest Territories, Sullivan in Southern BC and Mount Isa and Century in the McArthur River District of Australia.
SEDEX formations are often large, high grade deposits that offer continuous district-scale mineralization, making economically attractive projects amenable to lower-cost bulk mining methods. They are known to occur in clusters, so there is a high potential for the discovery of additional deposits that can potentially extend the mine life of a project.
Trevali Mining (TSX:TV,OTCQX:TREVF) owns a 90 percent stake in the high grade, high tonnage SEDEX-style Rosh Pinah zinc-lead-silver mine and mill complex in Namibia. Rosh Pinah is in its 50th year of production and remains capable of annual production rates of more than 100 million pounds of payable zinc, 6 million pounds of lead and 120,000 ounces of silver. The proven and probable reserves at Rosh Pinah total more than 7 million tonnes grading 7.61 percent zinc, leaving significant room for any potential expansion.
Recent research into SEDEX-style mineralization has led geologists to a new model for understanding how these deposit types are formed. That new knowledge is leading to exploration opportunities in areas that were previously underexplored for zinc.
One of the most prospective regions for new discoveries is Western Canada's Selwyn Basin. The basin is already home to some of the world's most economically important SEDEX-style deposits, and most of the low-hanging fruit has been identified. However, large parts of the basin have been ignored by exploration. The next discoveries will have to be found with modern exploration techniques and the new deposit model. This is the exploration strategy Fireweed Zinc (TSXV:FWZ) is employing at its Macmillan Pass zinc-lead-silver project in the Yukon. Macmillan Pass hosts two SEDEX deposits, Tom and Jason, and yet the nearly 23,000 hectare land package remains largely underexplored.
Pasinex Resources (CSE:PSE,FWB:PNX) is also exploring a SEDEX-style project in Northeastern Nevada with similar geology to Macmillan Pass. Initial drilling at the Spur high grade zinc project yielded assay results as high as 26.1 percent zinc. The company also owns a 50 percent stake in the producing Pinargozu high-grade zinc mine in Turkey.
Exploration for MVT deposits heating up in Western Cordillera
The largest MVT zinc-lead deposits occur in the US and Canada. The classic district for MVT deposits is its namesake, the Mississippi River drainage basin, which contains nearly 400 such deposits. The Navan deposit in Ireland, however, is the largest active MVT style mine. Other well-known examples of MVT deposits include the Pine Point District in Canada's Northwest Territories, the Cevennes region of Southern France, the Vazante deposit in Brazil, the San Vicente and Bongará districts in Peru and the Lennard Shelf district in Australia.
Geologists believe that MVT deposits originated from large hydrothermal systems involving massive quantities of fluids that traveled hundreds of kilometers following major tectonic events. The resulting ore bodies are composed of zinc and lead concentrations, as well as occurrences of silver and copper hosted within carbonate sedimentary rocks.
The most recent major discovery of an MVT ore body is Arizona Mining's (TSX:AZ) Taylor zinc-lead-silver deposit in Arizona's Great Basin. The 2018 PDAC Thayer Lindsley Award winner hosts a measured and indicated resource of 100.9 million tons with a grade of 10.4 percent zinc equivalent, and an inferred resource of 43.6 million tons at 11.9 percent zinc equivalent. The preliminary economic assessment shows that the mine is expected to have a 29 year life, with average yearly production of 946 million pounds of zinc equivalent.
Arizona Mining's discovery has made other companies decide to take a second look at the zinc potential of the North American Cordillera, which runs from the southern border of Mexico through much of the Western US states all the way up through Canada to Alaska. While Nevada is most well known for its precious metals production from carbonate-hosted deposits along the Carlin and Cortez trends, its desert landscape is also an abundant source of base metals like copper, zinc and molybdenum. In fact, there is an increasing amount of zinc exploration occurring in the Silver State.
Northern Lights Resources (CSE:NLR) is exploring the Medicine Springs silver-zinc-lead project in Elko County, Nevada. Mineralization on the property is consistent with the CRDs observed in the Cordillera, including that of the Taylor deposit. Historic production between 1910 and 1956 reportedly totaled 160,000 kilograms of lead, 770 kilograms of zinc and 480 kilograms of silver. Northern Lights' recent geophysics and geochemistry work on the property has identified multiple targets for the 2019 drill season.
In contrast to SEDEX deposits, MVT ore types are much easier to process. Their excellent metallurgy makes them capable of producing the clean zinc concentrates preferred by zinc smelters. This translates to a low cost, high return operation.
Like the SEDEX-style mine at Rosh Pinah, MVT deposits can demonstrate high grades and a long mine life with plenty of exploration upside. According to the US Geological Survey, "a single MVT deposit is unlikely to be the only one in the region because MVT deposits are the result of large regional occurrences." MVT deposits occur in extensive clusters consisting of up to hundreds of deposits spread across thousands of square kilometers. For example, Osisko Metals' (TSXV:OM) Pine Point mine, once owned by Cominco, produced 64 million tonnes grading 7 percent zinc and 3.1 percent lead between 1964 and 1987. Today, the property still contains more than 40 untapped deposits.
Takeaway
Expanding urbanization and the resulting massive infrastructure projects could require significant amounts of base metals, including zinc. With their district-scale potential, new discoveries of CRDs could go a long way toward supplying that growing demand.
---
This INNSpired article was written as part of an advertising campaign for a company that is no longer a client of INN. This INNSpired article provides information which was sourced by INN, written according to INN's editorial standards, in order to help investors learn more about the company. The company's campaign fees paid for INN to create and update this INNSpired article. INN does not provide investment advice and the information on this profile should not be considered a recommendation to buy or sell any security. INN does not endorse or recommend the business, products, services or securities of any company profiled. If your company would benefit from being associated with INN's trusted news and education for investors, please
contact us
.
NLR:CC
Investing News Network websites or approved third-party tools use cookies. Please refer to the  cookie policy for collected data, privacy and GDPR compliance. By continuing to browse the site, you agree to our use of cookies.