10 Top Countries for Zinc Production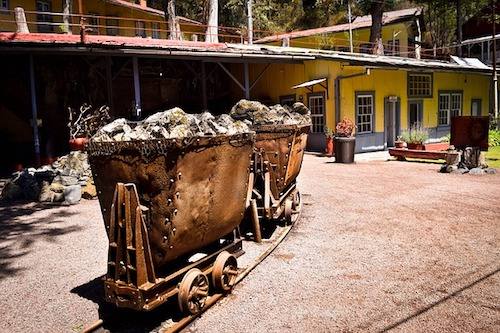 Curious about zinc production? According to the US Geological Survey, China remained the top producer in 2017 by a long shot.
Zinc prices have oscillated a great deal in recent years, especially in 2018, when the metal hit highs not seen since 2006 and low levels last reached in 2016.
The metal came to its peak early in the year, but like other base metals was battered by concerns about the trade war between the US and China. Nevertheless, the broad consensus among market watchers is that zinc prices will do better in the years to come.
Given that situation, it's interesting to look at how zinc supply is doing. Here's a brief overview of top zinc production in the world by country for 2017, as per the most recent data from the US Geological Survey.
1. China
Mine production: 5.1 million MT
In 2017, China achieved top zinc production in the world by a long shot, putting out 5.1 million MT of the metal; that's an increase from the 4.8 million MT it produced in 2016.
Not surprisingly, the Asian nation is not only the world's largest zinc producer, but also a significant consumer of the metal. In fact, China is a big part of why zinc fared so well last year — growing demand for the metal was supported by strong property sales in the country and by the Chinese government's push for more infrastructure projects.
2. Peru
Mine production: 1.4 million MT
Zinc production in Peru increased by 70,000 MT in 2017. The country produced 1.4 million MT compared to 2016's 1.33 million MT, but made it to second place due to continued output declines in Australia.
Modern zinc refining began in Peru in the 1920s, and from the 1970s to the 1990s the country saw an increase in private international investors hoping to up the country's zinc production. Currently, a big name in Peruvian zinc production is Trevali Mining (TSX:TV), which is producing zinc and lead–silver concentrates at its Santander mine in the country.
3. India
Mine production: 1.3 million MT
India's zinc production nearly doubled year-over-year; it put out 1.3 million MT of the metal in 2017 compared to 682,000 MT the year prior. The country is home to one of the world's top zinc mines — the Rampura Agucha mine in Rajasthan, which has an ore production capacity of 6.15 million MT per year.
India's increase is thought to be the result of the completion of the Rampura Agucha underground mine, as per the US Geological Survey.
4. Australia
Mine production: 1 million MT
Australia produced 1 million MT of zinc in 2017, a small comeback towards 2016's 1.6 million MT.
A significant drop in recent years happened because in October 2015 mining concluded at MMG's (HKEX:1208) Queensland-based Century mine. While MMG had originally hoped that output from its Dugald River project would fill the gap left by Century, its production has not quite measured up.
Interestingly, since Century's closure, New Century Resources (ASX:NCZ) has stepped forward to reopen the Century mine. The mine started back up in September 2018, and may help Australia move up the list for zinc production again.
5. United States
Mine production: 730,000 MT
The US produced 730,000 MT of zinc in 2017, a decrease from 2016's 805,000 MT. According to the US Geological Survey, zinc was mined in five states at 14 mines operated by four companies last year.
Mine production in the US is thought to have declined because of an ongoing strike at the Lucky Friday mine in Idaho, as well as lower output from the Red Dog mine in Alaska. Production resumed at the Middle Tennessee mines, and the Clarksville smelter in Tennessee also increased production, bringing refined zinc production up by 6 percent.
6. Mexico
Mine production: 680,000 MT
Mexico's zinc output increased by 10,000 MT from 2016 to 2017. According to MBendi Information Services, while Grupo Mexico (OTCMKTS:GMBXF) is the country's biggest mining company, Industrias Penoles (BMV:PE&OLES) is its largest natural resource company and Mexico's biggest producer of zinc.
Despite the relative strength of zinc, Nyrstar sold its mothballed Campo Morado zinc mine in Mexico for $20 million in June of 2017 to Telson Mining (TSXV:TSN). The mine was originally shut down in the first quarter of 2015 due to regional security issues. Telson announced in the spring of 2018 that a preliminary economic assessment had come back positive, and by May the mine was back in operation.
7. Bolivia
Mine production: 500,000 MT
Bolivia produced 500,000 MT of zinc in 2017. That's slightly higher than the year before, when production reached 490,000 MT. Sumitomo's (TSE:8053) San Cristobal mine is a key producer of zinc in the country. The company states that the mine is the world's sixth-largest zinc-producing mine, as well as the third-largest producer of silver in the world.
In 2017, Comibol, the country's state-owned mining company, reached an agreement with zinc miners to increase wages after protests were held across the country by mine workers in 2016. Since then, it's been announced that Comibol may open a bidding process for a contract to build a US$77-million Colquiri zinc-tin concentrator plant.
8. Kazakhstan
Mine production: 360,000 MT
Kazakhstan's 2017 zinc production increased by 20,000 MT to reach 360,000 MT. Despite being one of the top zinc producers in the world, the country's zinc output has decreased around 75 percent since reaching its peak in the 1980s, as per MBendi Information Services.
Kazzinc, which is majority owned by Glencore (LSE:GLEN), is a major zinc producer in the country. It also produces considerable amounts of copper, precious metals and lead. Kazzinc bills itself as one of the five lowest-cost zinc producers in the world.
9. Canada
Mine production: 340,000 MT
Canada's zinc output has generally speaking been on the decline for the last few years, but its output increased from 322,000 MT in 2016 to 340,000 MT in 2017. The country has been producing less zinc in part due to the closure of the Brunswick mine in May 2013. It was one of the world's largest and most profitable zinc mines, according to CBC News, but its resources are now depleted.
Trevali Mining has broken into the Canadian zinc space as well — it declared commercial production at its Caribou mine in New Brunswick in 2016. Guidance for 2018 is set at 86 to 90 million pounds of zinc.
10. Sweden
Mine production: 260,000 MT
Rounding out the top 10 for zinc production in the world by country is Sweden, which produced 260,000 MT of zinc in 2017, a slight increase from 257,000 MT the year before. Boliden's (STO:BOL) Garpenberg zinc-silver mine and Lundin Mining's (TSX:LUN) Zinkgruvan zinc-copper mine are located in the Scandinavian country.
Don't forget to follow us @INN_Resource for real-time news updates!
Securities Disclosure: I, Amanda Kay, hold no direct investment interest in any company mentioned in this article.
Editorial Disclosure: Telson Mining and Trevali Mining are clients of the Investing News Network. This article is not paid-for content.