Graphite Investing: An Overview of the Market Today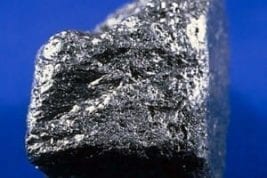 What exactly is graphite? And in today's tough markets, can investors really make a profit from graphite investing? Here are some brief answers to those questions and more.
Graphite is one of the hottest sectors in the resource space today and has sparked investor interest and an exploration boom. Some of the most critical factors that have pushed the metal to the fore include the ongoing shift toward alternative energy and the issue of Chinese supply.
But what exactly is graphite? And in today's tough markets, can investors really make a profit from graphite investing? Here are some brief answers to those questions and more.
What is graphite?
Graphite has a layered, planar structure, with carbon atoms arranged in a honeycomb lattice. It's thermally stable and can conduct electricity, but is also valued for its self- and dry-lubricating properties. Interestingly, there is more than one type of graphite, with the three main kinds being flake, amorphous and vein. While all are important for different industries, currently flake graphite is getting the most buzz.
Flake graphite has become especially important since early 2014, when Tesla Motors (NASDAQ:TSLA) CEO Elon Musk announced that his company would be building a lithium-ion battery gigafactory. Graphite is used in lithium-ion battery anodes, and the announcement immediately sparked predictions of how much of the metal the gigafactory might require. That speculation has only continued as Tesla has taken further steps — most recently, it signed its first lithium supply deal.
Aside from lithium-ion batteries, flake graphite can be used in pebble-bed nuclear reactors, as well as in the refractory and steel industries. It's also used in fuel cells and vanadium-redox batteries. Amorphous graphite is used in the refractory industry as well, and also in mechanisms like brake linings, gaskets and clutch materials. Vein graphite finds a home in advanced, thermal and high-friction applications.

The graphite market today
As mentioned, Tesla and flake graphite are currently gaining a lot of attention in the graphite market as market participants try to guess how much the gigafactory will impact graphite demand (the fact that other megafactories are in the works hasn't hurt either).
However, other factors are impacting the graphite space as well, with a key one being China. Back in 2013, the Asian nation ordered 55 graphite miners and processors in the city of Pingdu to cease production on environmental grounds. Originally the expectation was that those companies would start producing again midway through 2014, and indeed, they did begin to do so; however, at the start of 2015, sanctions were increased — to date, output from the area remains restricted.
Those shutdowns, coupled with impending megafactory demand, were expected to boost graphite prices, but ultimately that did not happen. Now, the consensus is that prices for the metal may start to rise as buyers become more concerned about impending megafactory demand.
Graphite investing
To get an idea of why restricted Chinese output was expected to have such an impact on the graphite space, one need only look at how much graphite the country produces. Even in 2014, when production of the metal was restricted, the Asian nation was the world's top producer of graphite, putting out 780,000 MT of the material — that's miles ahead of India, the second-biggest producer at 170,000 MT.
Unfortunately for investors, it's tough — and not necessarily desirable — to invest in Chinese graphite companies. For one thing, they're generally state owned, and for another, as mentioned above, environmental problems are an issue. So where's an investor to look for graphite stocks if not in the top-producing country?
Many investors are interested in graphite juniors, particularly those they believe have a chance at signing supply contracts with Tesla, which has expressed an interest in companies operating in North America. Juniors focused on that region include: Alabama Graphite (TSXV:ALP), Canada Carbon (TSXV:CCB), Canada Strategic Metals (TSXV:CJC), Caribou King Resources (TSXV:CKR), Focus Graphite (TSXV:FMS), Graphite One Resources (TSXV:GPH), Great Lakes Graphite (TSXV:GLK), Lomiko Metals (TSXV:LMR), Northern Graphite (TSXV:NGC) and Zenyatta Ventures (TSXV:ZEN).
That said, there are plenty of graphite juniors focused on other areas. Indeed, Australia and Africa are popular locales, with plenty of companies pursuing projects there. A few examples include Energizer Resources (TSX:EGZ), IMX Resources (ASX:IXR), Kibaran Resources (ASX:KNL), Magnis Resources (ASX:MNS), Next Graphite (OTCMKTS:GPNE) and Triton Minerals (ASX:TON).
There are also options for investors interested in small-scale graphite producers. Eagle Graphite (TSXV:EGA) bills itself as Western North America's only flake graphite producer, and Flinders Resources (TSXV:FDR) holds the producing Sweden-based Woxna graphite mine. StratMin Global Resources (LSE:STGR) is also an option.

Graphite prices
The overall downturn in the graphite market is no secret, but it can be tough to get an idea of exactly how much graphite costs. That's because unlike gold, silver and other more common metals, graphite is not traded on an exchange. Instead, graphite miners will typically set up offtake agreements under which end users agree to buy a specific amount of graphite over a particular period of time.
That set up comes with a variety of issues for graphite companies and market participants alike, but for many investors the key concern is that they can feel like they're operating blind. After all, it's tough to get an idea of whether a company is putting out good results without having an idea of how much it will be able to sell its product for.
Luckily, some industry experts are looking to increase transparency in the graphite sector. In particular, Simon Moores-led firm Benchmark Mineral Intelligence is working to provide investors with accurate and up-to-date information on graphite pricing.
Don't forget to follow us @INN_Resource for real-time news updates!
This article was originally published in September 2015.
Securities Disclosure: I, Charlotte McLeod, hold no direct investment interest in any company mentioned in this article.
Editorial Disclosure: Canada Carbon, Energizer Resources, Focus Graphite, Graphite One Resources, Lomiko Metals, Magnis Resources, Next Graphite, Eagle Graphite and Flinders Resources are clients of the Investing News Network. This article is not paid-for content.
Related reading:
Introduction to Graphite Investing
Types of Graphite: Amorphous, Flake and Vein