Overview
Project diversity has become one of the resource industry's best strategies for minimizing risks and maximizing exposure to exceptional discoveries associated with mineral exploration projects. Companies with a diversified portfolio covering battery metals, gold, energy and rare earths demonstrate that mining players don't always have to put all their eggs in one basket.
Diversification across world-class mining countries like Canada presents even more exceptional economic upside. Investors can gain exposure from Ontario's prolific multi-million-ounce gold camps while leveraging the country's hottest iron and copper mines in Newfoundland. With the right company, operating a broad portfolio presents the best of all worlds.
One such company is Marvel Discovery (TSXV:MARV, Frankfurt:O4T1, OTCQB:MARVF), a Canadian mineral exploration company focused on generating, acquiring and exploring mineral opportunities across Canada. The company holds a robust project portfolio covering gold, nickel, PGE's rare earth and battery metals.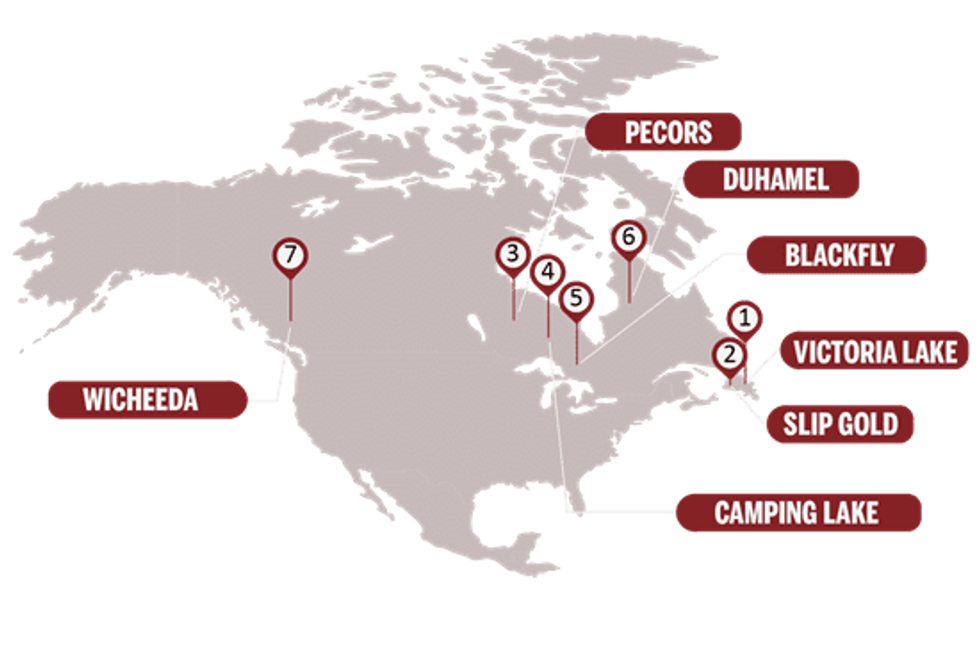 The company's projects host mineral richness across a wide spectrum of metals and leverage lengthy histories of mining and exploration in prolific jurisdictions, which many are seeing an exciting revitalization of.
Its outstanding gold project portfolio provides the company even more upside potential. Leveraging advantageous positioning in two of Canada's hottest gold mining provinces, its Blackfly and Camping Lake properties in Ontario and Slip and Victoria Lake gold projects in Newfoundland pose exceptional exploration and high-grade gold mineralization opportunities.
Marvel Discovery's flagship Blackfly gold property is located in the historic Atikokan district in Ontario. Blackfly is strategically positioned in one of the province's earliest gold camps and in proximity to Agnico Eagle's Hammond Reef gold deposit, which has an estimated open pit mineral reserves of 3.3 million ounces of gold (123.5 million tonnes grading 0.84 g/t gold).
The Slip gold project is 10km west of New Found Gold's (TSXV:NFG) Queensway project, which is "the largest ever consolidation of property within the Central Newfoundland Gold Belt." Recent drill results at Queensway continue to demonstrate its potential to be a significant high-grade gold discovery. Historic work at Slip Gold indicate that both Queensway and Slip Gold are hosted in similar structural settings.
The Victoria Lake gold project in Newfoundland is also another one to highlight from Marvel Discovery's portfolio. Historic work at Victoria Lake has indicated that it is hosted within similar structural settings to Marathon Gold's (TSX:MOZ) Valentine Lake gold deposit, which is only 18 km away. Valentine Lake is poised to be the largest gold mine in Atlantic Canada. Preliminary grab samples from Victoria Lake ranged in value from 15.5 to 24.9 g/t gold and 18.6 g/t to 139.9 g/t silver.
Future plans for the company include the continued development of its flagship Blackfly and secondary Slip gold project. In May 2021, Marvel Discovery received its work permit issued by the Ontario Ministry of Northern Development and Mines for Blackfly and its 2021 exploration program is ongoing. First results have been reported, with 40 of the 78 samples returned assays greater than 100 ppb gold, and 7 samples graded from 1.00 g/t and up to 2.99 g/t gold.
The company also acquired a significant land position within the Hope Brook Area where it staked 763 claims (19,075 hectares) which are strategically located and contiguous to First Mining Gold and to Sokoman Minerals-Benton joint venture. The new land position is hosted within the Exploits Subzone of the central Newfoundland gold belt. The property is proximal to two major structures linked to significant gold prospects (Cape Ray, Matador Mining) and deposits (Hope Brook, First Mining) in southern Newfoundland.
Marvel Discovery's six rare earth, nickel and uranium projects span across the entire country. This diverse spread of assets includes the Serpent River, Wicheeda North, Duhamel, Uranium City and Ungava & Overtime properties. The projects offer the company excellent exposure to Canada's most prospective base and battery metal mining jurisdictions, including Ontario, British Columbia, Quebec and Saskatchewan.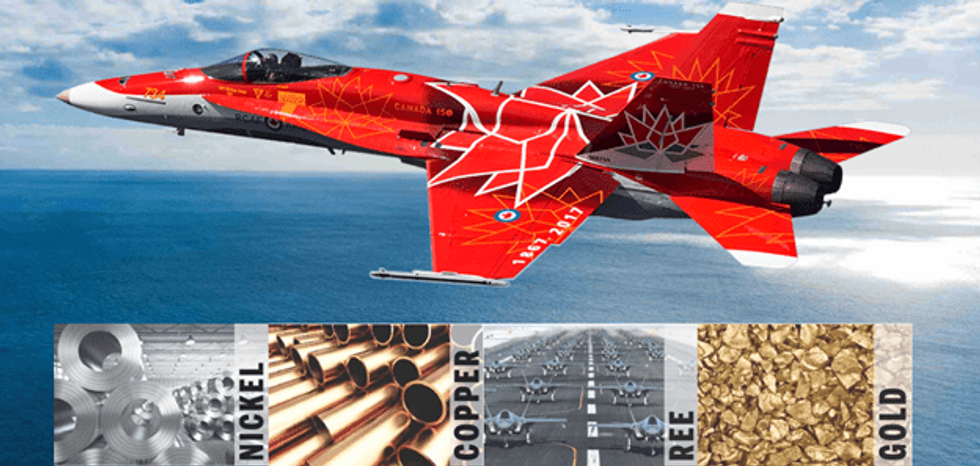 Company Highlights
Marvel Discovery is an emerging Canadian mineral exploration company focused on generating, acquiring and exploring opportunities in Canada. The company's robust project portfolio includes ten highly prospective properties covering gold, nickel, PGE's rare earth and battery metals.
Its six rare earth metal, nickel and uranium portfolio spans across Canada, which offers excellent exposure and mineral diversity from the country's most prolific mining jurisdictions, including Ontario, Quebec, British Columbia and Saskatchewan.
Marvel Discovery holds four highly prospective gold properties, including the flagship Blackfly property in Ontario and the secondary Slip gold project in Newfoundland. All projects prime the company for remarkable gold discovery and development possibilities.
The flagship Blackfly gold property is located in proximity to Agnico Eagle's Hammond Reef gold deposit, which has an estimated open pit mineral reserves of 3.3 million ounces of gold.
40 of the 78 samples from the exploration program at Blackfly returned assays greater than 100 ppb gold, and 7 samples graded from 1.00 g/t and up to 2.99 g/t gold.
Marvel Discovery has a strong management team, which combines years of experience and a proven track record in corporate finance, project development and resource-based operations.
Key Projects
Blackfly Gold Property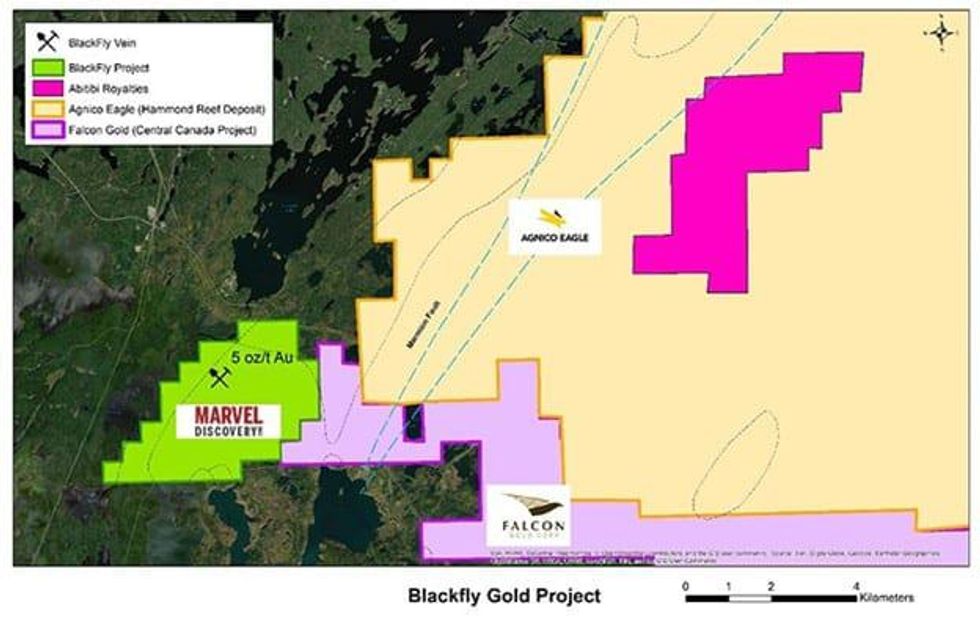 The Blackfly gold property comprises 64 unpatented mining claims totaling 1,296 hectares near the historical Atikokan gold camp in Ontario, Canada. The property is located along and within the Marmion Lake fault zone, approximately 13.6 kilometers southwest along the strike of Agnico Eagle's Hammond Reef gold deposit, which has an estimated 208 million tonnes grading 0.67 grams/tonne gold containing 4.5 million ounces of gold
Initial work documented by D.K. Burke in 1941 reported two gold vein shoots to the north and south of the property. The southern shoot averaged 11.9g/t gold over a thickness of 0.33 meters along a strike of 21.6 meters and the northern shoot averaged 13.44g/t gold over 0.27 meters within a 32-meter strike length.
The next step for the Blackfly gold project is to validate the 2012 drilling results through exploration. The first batch of 78 assay results from Blackfly were released in June 2021, and 40 of the 78 samples returned assays greater than 100 ppb gold.
The project presents exciting exploration potential as a high-grade system that has never been drilled to depth. Marvel has the option to earn 100 percent in the project subject to cash and exploration conditions.
Slip Gold Project
​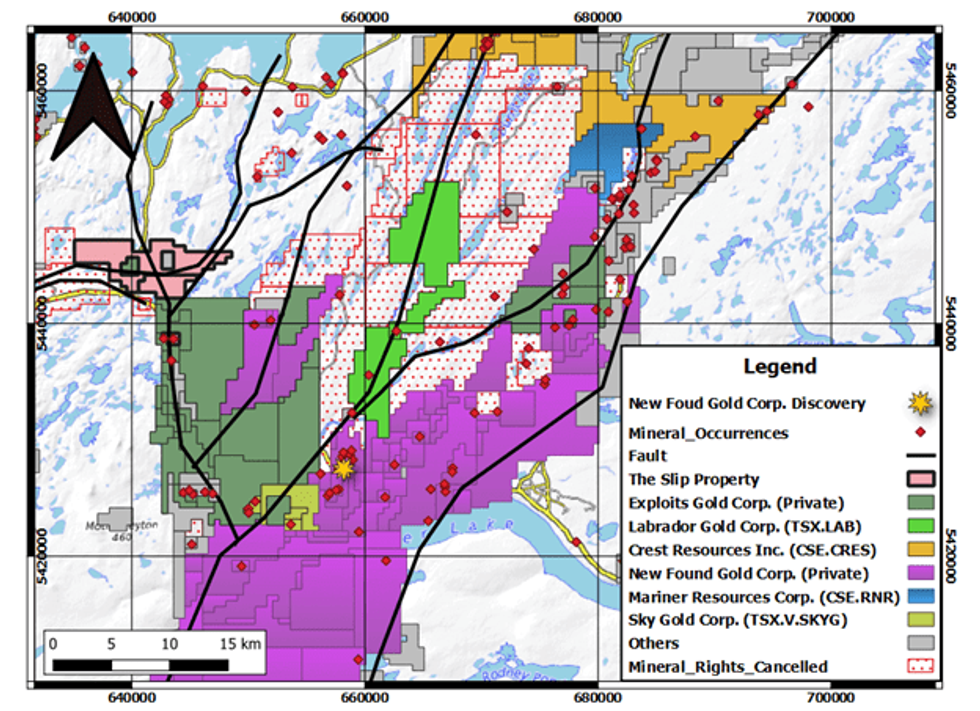 The Slip Gold project spans approximately 3,700 hectares in the mining-friendly and resource-rich province of Newfoundland, Canada. The property leverages strategic positioning within the Exploits Subzone, a hotspot for a potential district-scale gold camp. Likewise, Slip Gold boasts similar structural settings to New Found Gold's Queensway project and is tied to Marathon Gold, which is the northern Atlantic's largest gold deposit hovering 4.6 million ounces.
The project hosts gold mineralization within altered intrusive rocks and quartz veins, historically sampling up to 44.5g/t gold at surface level. Additionally, Slip lies along a major regional structural thrust feature known as the Dog Bay Line and displays characteristics and gold values aligned with possible orogenic epizonal-type deposits. This unique geological profile warrants further exploration and development of the tremendous land package.
Marvel plans to begin exploration immediately and conduct the first phase of prospecting along the gold-bearing trends. The company plans to initiate soil and rock geochemistry and structural mapping to narrow down prospective grids for airborne magnetic and TDEM geophysical surveys and later drill targeting with the data collected.
Serpent River Project
The Serpent River project is located in Elliot Lake, Ontario and hosts a 20 million tonne uranium historical resource. This geological profile is consistent with high levels of chromium and nickel as well. With established mining companies nearby, the company is hopeful Serpent River will demonstrate similar high-quality mineralization and development opportunities.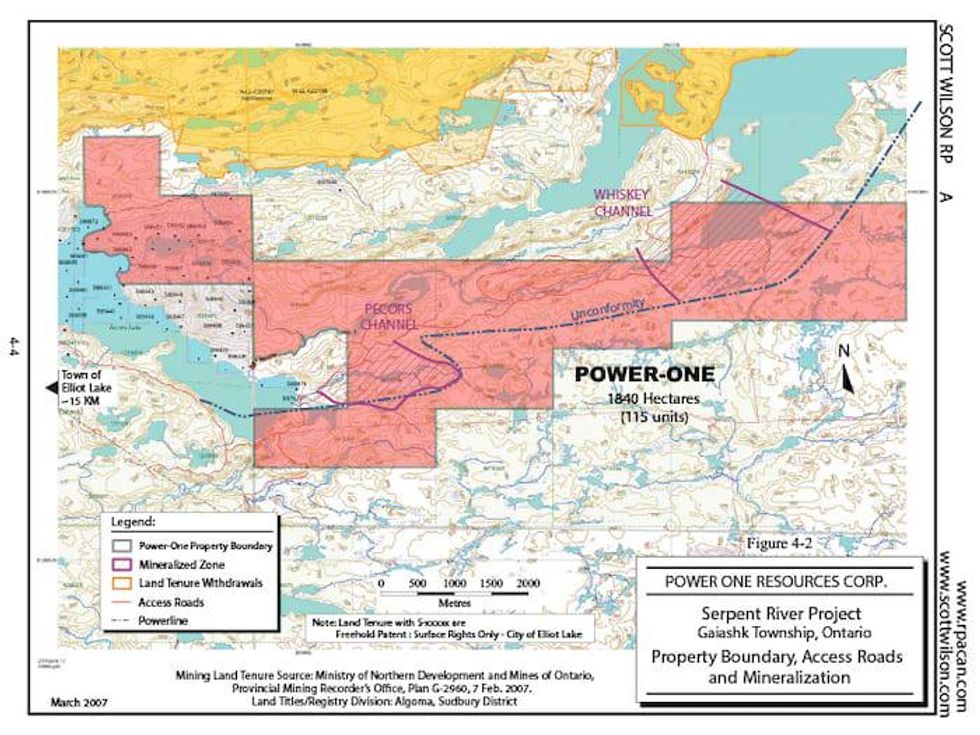 Marvel has spent upwards of CAD$300,000 in VTEM surveying across the property's six-kilometer-long and three-kilometer-wide anomaly. This unique Pecor anomaly is a strong regional magnetic high that has never been drilled at depth.
Wicheeda North Project
The Wicheeda North project is a rare earth elements property that spans 1,444 hectares of claims in the Cariboo mining division, British Columbia. The claim block adjoins the Defense Metals (TSXV:DEFN) Wicheeda rare earth mineral project hosts an indicated 4.9 million tonne rare earth deposit in Prince George, British Columbia.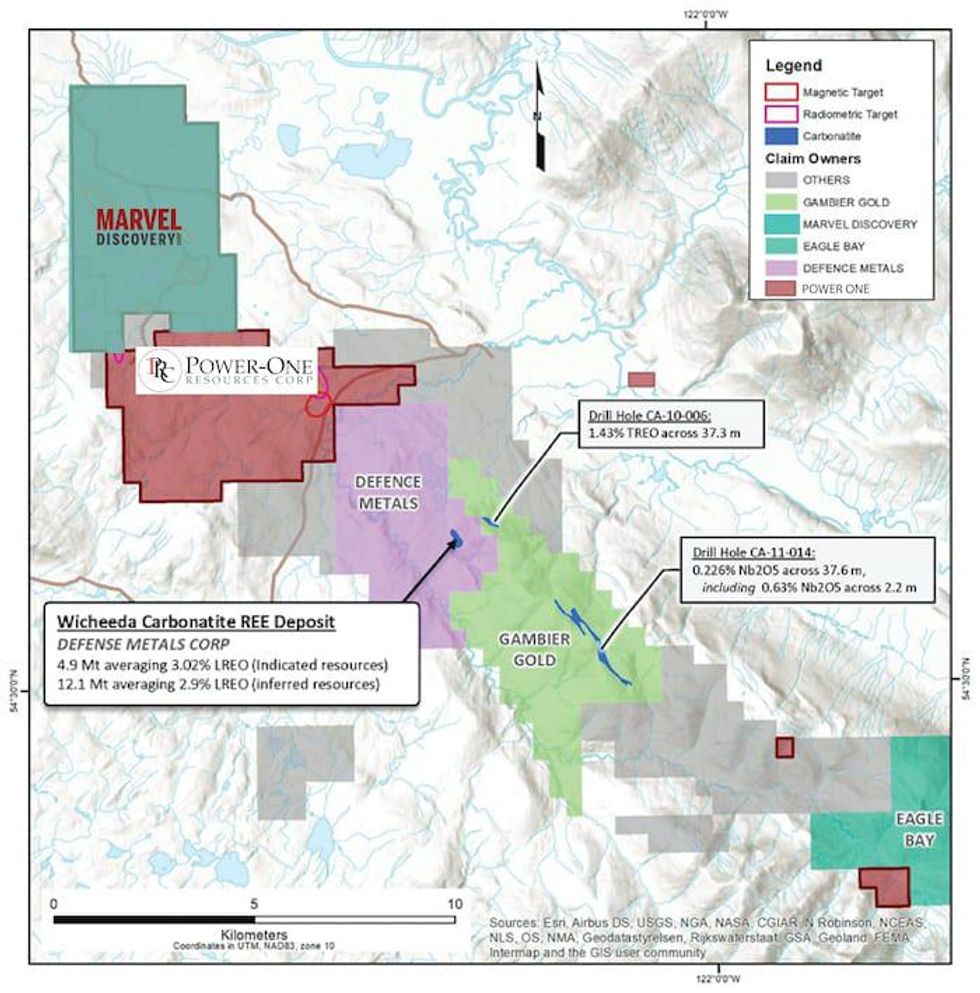 Past exploration on the property includes airborne geophysical surveying from 2010, which successfully mapped Wicheeda's magnetic and conductive geological properties across a 29.4 square kilometer area. The property remains highly prospective for Marvel.
Management Team
Karim Rayani — CEO & Director
For the past 15 years, Karim Rayani has focused on financing domestic and international mineral exploration and development. Most recently, Rayani was head of Bloomberry Capital Group, a Vancouver-based merchant bank and capital advisory firm. Prior, he worked independently as a management consultant and Financier. He is currently chair of R7 Capital Ventures Ltd; director of Fiber Crowne Manufacturing Inc., chair of District 1 Exploration Corp. Rayani has developed an extensive network of contacts throughout North America and Europe, focusing on Corporate Development and Finance.
Geoff Balderson — CFO
Geoff Balderson has over 20 years of capital markets experience, having worked in public and private practice. Balderson is a senior officer and director of several TSX Venture listed companies and currently runs a private consulting practice Harmony Corporate Services Ltd., providing corporate advisory, accounting, filing and secretarial services to many publicly traded companies. Before, Balderson was an investment advisor at Union Securities and Georgia Pacific Securities and a University of British Columbia graduate in Marketing and Sales Management.
Gary Musil — Chairman of the Board & Director
Gary Musil has more than 30 years of management and financial consulting experience and has served as an officer and director on numerous public companies since 1988. This experience has resulted in overseeing the financial aspects and expenditures on exploration projects in Peru, Chile, Eastern Europe, British Columbia, Ontario, Quebec, and New Brunswick (Canada). Prior, he was employed for 15 years with Dickenson Mines Ltd. and Kam-Kotia Mines Ltd. as a controller for the producing silver-lead-zinc mine in the interior of British Columbia, Canada.
Mark Luchinski — Director
Mark Luchinski holds degrees in Biochemistry & Microbiology from the University of Victoria and an Associates degree in Chemistry from Camosun College in British Columbia. Luchinski is an experienced board member, having served as an officer and director of many TSX Venture listed issuers. He is well versed in corporate governance, compliance and the administration of publicly traded companies.
Fraser Rieche — Director
Fraser Rieche has a BA in Economics and has 25 years of experience in international project management, logistics planning and corporate finance, having worked with resource-based industries and financial institutions worldwide. He has helped develop and finance mining projects in both North America and South America along with energy projects, oil and gas projects, fisheries projects and forestry projects in many different areas of the world.
Request an Investor Kit
EXCITING upcoming projects!
IN-DEPTH reliable insights!
SUCCESSFUL growth strategies!
VALUE-BASED content!
Marvel Discovery