Industry Experts Optimistic About Uranium Market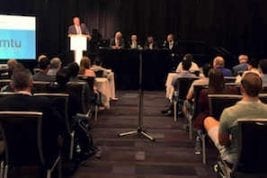 Analysts and uranium exploration companies discussed complex factors impacting the uranium market now and in the future at a recent conference.
The uranium market was a frequent topic of discussion at the recent International Metal Writers Conference in Vancouver. There was much talk about a looming global supply shortage, growing demand and when uranium prices will improve.
Since the 2011 Fukushima disaster in Japan, the uranium market has been slow to recover. Jordan Trimble, president and CEO of uranium exploration company Skyharbour Resources (TSX:SYH), said there are not a lot of uranium companies left.
"This has been an absolutely decimated sector. I like that. I like there only being a handful of us out there doing this because when the market turns — and we saw a glimpse of this in January through March — it turns quickly," Trimble said.

Skyharbour is focused on uranium and
thorium
deposits in Saskatchewan's Athabasca Basin, located in
Canada
. Trimble said even the lowest-cost producing mine in the world's
top uranium-producing country
, Kazakhstan, cannot make a profit in the current market and would need uranium prices at $22.50 per pound to break even.
"I really do think in the next year or two you're going to see the uranium market take off. It's not sustainable. The price cannot continue to trade at $20 a pound," Trimble said. That's especially true given that demand for uranium is growing in China,
India
and the Middle East.
Uranium market: The global picture
Gianni Kovacevic, executive chairman of CopperBank Resources (CSE:CBK), said there are 447 nuclear reactors currently operating in the world. There are also about 60 reactors under construction, with a third of those reactors being built in China. Currently 3 percent of China's electricity comes from nuclear power, but that number is expected to grow.
As Fission Uranium (TSX:FCU) Chairman and CEO Dev Randhawa explained, China is following America's example.
"The model for most people in the world is America. In America, 20 percent of their energy comes from nuclear, and that's the goal for China. So as you mentioned [they're at] 3 percent, so they have to go seven times from where they are today," Randhawa said.
Michael Alkin, founder and director of research at The Stock Catalyst Report, confirmed that America is interested in uranium. He told investors that the US Department of Energy under the Trump administration is very pro-nuclear power.
"There's 23 million homes in the country. One out of every five homes in the US is running on nuclear power. It's not going anywhere. They can't afford to shut it down," Alkin said.
Nick Hodge of the Outsider Club said Germany has announced that it is turning away from nuclear power, but Japan is returning to it. "Since the nuclear capacity has been taken off Japan has suffered rolling brownouts. That just shows you how critical it is to their economy," he said.
Hodge added that a 2016 report from International Atomic Energy Association revealed that in 2016, 10 new nuclear reactors came online, the same number that started up in 2015.
"Ultimately, that puts the amount of nuclear energy being generated at an all-time global high, and I think that has to translate to the years ahead. There's 2 billion more people coming into the world and they're all energy hungry," he commented.

Uranium market: Future predictions
Hodge said each new reactor coming online requires almost 2 million pounds of uranium to start up and needs about half a million pounds of uranium to keep running. He added that the World Nuclear Association said the world is approaching a supply shortfall in uranium, and prices could climb very quickly.
"While utilities will wait until prices to start to rise to contract, they're relatively price agnostic because the cost of uranium to run a reactor is such a small fraction of the overall cost of building, running, maintaining and decommissioning it. They don't care if uranium is $35 a pound or $75 a pound. It's irrelevant to them," he said.
GoviEx Uranium (TSXV:GXU) CEO Daniel Major said that in the next 10 years, 20 percent of uranium world production will close as old mines come to their end. He said uranium companies making money off their existing contracts will stay in business, but negotiating new contracts will mean making decisions regarding mine production. For example, he said that when Tepco (TSE:9501) canceled its contract with Cameco (TSX:CCO,NYSE:CCJ) production was taken out of the uranium market.
"The big tier-one utilities we're talking to, because we're at that development stage, are saying they're comfy today. They have contracts, they have inventory. They're very nervous three years from now, and five years from now they're very, very nervous about where their supply will come from," Major said.
Alkin said many utilities are nearing the end of their contracting cycle and, "by 2020, 40 percent of the global power companies who provide nuclear power are not contracted for uranium. If they want to keep the lights on, they have to come into the market right now."
Don't forget to follow us @INN_Resource for real-time news updates!
Securities Disclosure: I, Melissa Shaw, hold no direct investment interest in any company mentioned in this article.