Best Copper Stocks of 2020 on the TSX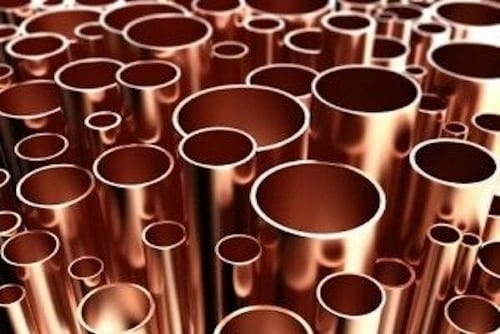 What are the best copper stocks on the TSX so far this year? These five companies have seen the biggest gains year-to-date.
Click here to read the latest best TSX copper stocks article.
After a turbulent first half of the year, with COVID-19 disrupting supply and demand around the world, copper was able to recover lost ground in Q3.
Copper prices trended upward for most of the third quarter, with the red metal reaching a quarterly high of US$6,837 per tonne on September 21.
Despite the current volatile environment, many analysts and companies expect copper to boom in the coming years, with electrification and electric vehicles growing in popularity and subsequently increasing the world's appetite for copper.
Some of the top copper stocks on the TSX have seen over 600 percent year-to-date gains, which you can find on the list below. This list was generated on October 15, 2020, using TradingView's stock screener, and only companies with market capitalizations greater than C$50 million are included.
1. Aura Minerals (TSX:ORA)
Current price: C$13.55, year-to-date gain: 688.40 percent
Focused on copper and gold, Aura Minerals is a mid-tier producer working on multiple projects in Mexico, where its Aranzazu copper-gold-silver mine is located, as well as Honduras, Colombia and Brazil.
On March 3, Aura released updated resources and reserves estimates for its projects. Aranzuzu currently holds total proven reserves of 1,494,000 tonnes of copper grading 1.6 percent, and measured resources of 3,249,000 tonnes of copper grading 1.71 percent.
Earlier this year, the company announced an initial public offering in Brazil, but plans were postponed due to the impact of COVID-19 on market conditions. The company resumed the process on June 1, giving more details on June 24; it finally announced on July 2 that the price per BDR, which represents one share, was set at R$820.
The company had a busy third quarter, releasing its Q2 results in July. Production in the second quarter fell by 7 percent compared to Q1, and by 10 percent compared to the same period in 2019, due to COVID-19 challenges. In September, the company announced the first gold shipment from Gold Road.
2. Northern Dynasty Minerals (TSX:NDM)
Current price: C$1.43, year-to-date gain: 155.36 percent
Northern Dynasty Minerals is focused on developing the Pebble project in Alaska, which according to the company holds the world's largest undeveloped copper-gold-molybdenum-silver resource.
In February, the company made news headlines when a draft environmental impact statement for the project started to circulate. The company said the information it had seen in a leaked copy of the executive summary was positive and appeared to support the issuance of a permit for construction.
On March 26, Northern Dynasty released a statement saying it had been able to continue to advance its project despite taking COVID-19 precautions. In April, a US federal district court rejected a litigation filed by Pebble opponents, and later in the second quarter, the company published a letter issued by the US Environmental Protection Agency confirming that the environmental impact statement process being conducted for Pebble by the US Army Corps of Engineers was proceeding well.
However, the third quarter was full of challenges for the company, creating additional delays and controversy for Pebble. The Trump administration proposed to approve the project in July, but ultimately environmental concerns prevented that from happening.
Early in September, short seller J Capital Research said Northern Dynasty management was "gaslighting investors," adding that the project will lose money, that capital costs have been underestimated and that the project's proposed mining plan intentionally targets low-grade portions of the deposit. The company responded saying the comments were "self serving."
Later in September, Pebble Partnership CEO Tom Collier resigned after conversations with Collier, as well as others with Northern Dynasty President and CEO Ron Thiessen, were secretly videotaped by two unknown individuals posing as representatives of a Hong Kong-based investment firm with links to a Chinese state-owned enterprise.
3. Taseko Mines (TSX:TKO)
Current price: C$1.41, year-to-date gain: 123.81 percent
Headquartered in Vancouver, Taseko Mines operates the Gibraltar mine, the second largest copper mine in Canada; it produces an average of 140 million pounds of copper and 2.5 million pounds of molybdenum per year. The company also holds the Florence, Yellowhead and Aley projects.
Q1 saw Taseko Mines achieve its 2019 guidelines at Gibraltar, with total production for the year reaching 126 million pounds of copper and 2.7 million pounds of molybdenum, both slightly higher than in 2018. In January, the company also updated its resource estimate for Yellowhead, resulting in a 22 percent increase in recoverable copper reserves and significantly improved project economics.
During the second quarter, the company reported Q1 cash flows from operations at $17.7 million and adjusted EBITDA at $5.3 million, impacted by COVID-19. Its second quarter results, released in August, show that Gibraltar produced 36.8 million pounds of copper, a 14 percent increase over the first quarter. In August, the company also confirmed that the draft aquifer protection permit for its Florence project had been issued by the Arizona Department of Environmental Quality.
4. Marimaca Copper (TSX:MARI)
Current price: C$3.48, year-to-date gain: 114.15 percent
Formerly Coro Mining, Marimaca Copper announced its name change on May 27. The company name now aligns with its flagship development asset in Chile, the Marimaca project, which is one of the largest copper discoveries in Northern Chile.
In January, the company provided an updated and expanded mineral resource estimate for the asset. On June 1, Maricama published the results of a detailed trade-off analysis, conducted by independent consultant Gestion y Economia Minera Limitada for the development of its flagship.
The most significant news in the third quarter came in August, when the company published results of a preliminary economic assessment, showing average annual steady state copper production over the first six years of close to 40,000 tonnes of cathode.
5. Capstone Mining (TSX:CS)
Current price: C$1.54, year-to-date gain: 102.63 percent
Capstone Mining is a base metals-focused company with two producing copper mines: Pinto Valley in the US and Cozamin in Mexico. In addition, Capstone has the large-scale, 70 percent owned copper-iron Santo Domingo development project in Region III, Chile, in partnership with Korea Resources. The company also holds a portfolio of exploration properties.
In January, Capstone released its 2019 actual production results, which were above the midpoint guidance range of 145 million to 160 million pounds of copper for the year; actual costs were below the bottom end of the guidance range of US$1.80 to US$2 per pound of payable copper.
Due to COVID-19 challenges, the first quarter of the year saw Capstone report a net loss of $21.9 million, with copper production reaching 35.5 million pounds. The second quarter of the year saw the company take a turn and report net income of $4.3 million and copper production of 38.5 million pounds despite COVID-19-related production limitations at Cozamin.
In September, the company released an updated technical report for Cozamin, showing that proven and probable mineral reserves had increased by 97 percent.
Don't forget to follow us @INN_Resource for real-time news updates!
Securities Disclosure: I, Priscila Barrera, hold no direct investment interest in any company mentioned in this article.