10 Top Canadian Cannabis Stocks
With the cannabis industry on the rise in Canada, a number of companies are making a name for themselves. Here's a look at the 10 top cannabis stocks in Canada.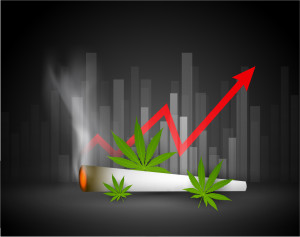 The Canadian cannabis stocks industry is on the rise, with increasing demand coming from recreational and medicinal users.  
Predictive Index analyst Jason Zandberg believes that, by 2019, the market will be worth $4.6 billion and will reach $7.4 billion in the first years.
What's more, international rap star, Snoop Dogg, has partnered with Canopy Growth (TSX:CGC) with a line of marijuana products for the domestic market, sending the cannabis industry to record highs.
That being said, under the Marijuana for Medical Purposes Regulations (MMPR), there are currently 34 licenses to grow and sell, while there are 22 licenses to sell cannabis oil. Although marijuana is still illegal in Canada, the wheels are in motion to have it legalized in the spring of 2017.
With that in mind, the following are the 10 top performing cannabis stocks in Canada year-to-date, according to Cantech Letter.
1. THC Biomed (CNSX:THC)
THC Biomed started in 2012 under its first name, THC Medical Systems. In 2013, the company was granted permission to conduct research and development for scientific purposes with medicinal marijuana.
Currently, the company is waiting to receive the sale portion of its license from Health Canada in order to sell medicinal marijuana, however in September the company announced it had signed a letter of intent to acquire a clone shipper for $1 million, which would enable the company to transport live plants.
2. Maple Leaf Green World (TSXV:MGW)
In addition to medicinal marijuana in Canada, Maple Leaf Green World announced its first shipment of product in California back in September.
The release noted harvesting of the second crop will begin in November, with shipment taking place in December, while seeding for the third crop will be cultivated in November with harvesting expected in March 2017.
The company says it is expecting to target six harvests per year, beginning in 2017.
3. Emerald Health Therapeutics (TSXV:EMH)
Last year, Emerald Health Therapeutics received a supplemental license–through its wholly owned subsidiary, Emerald Health Botanicals–to produce cannabis oil as well as capsules. Recently, the company announced a private placement with Emerald Health Science of up to 4,411,764 units, at a price of $0.68 each.
Year-to-date, shares of Emerald Health have steadily increased over 240 percent to $0.75.
4. Tetra Bio-Pharma (CSNX:TBP)
Previously Grow Pros, Tetra Bio-Pharma has been in the business of developing dried medicinal cannabis over the last decade with a focus on treating pain. Its shares have seen a year-to-date increase of 200 percent to reach $0.18.
In other news, the company announced in October 2016 that it had entered into a non-binding agreement for a draw-down equity facility of up to $2 million.
5. PharmaCan Capital (TSXV:MJN)
PharmaCan Capital–doing business as Cronos Group–has 100 percent interest in two projects: the Peace Naturals and In the Zone. Peace Naturals is licensed to produce and sell medicinal marijuana, as well as cultivate cannabis oil, while In the Zone is licensed to cultivate medicinal marijuana.
In October, the company took its first step in global expansion as Peace Naturals shipped its first export to Germany.
Shares of PharmaCan have also increased significantly year-to-date, rising 300 percent to reach $1.26.
6. Aphria (TSXV:APH)
In April 2016, Aphria became Canada's medical marijuana leader, when it entered into a $6.5-million deal to acquire 360,000 square feet of existing production space. Since then, Aphria has partnered with Mass Roots (OTCMKTS:MSRT) to become one of the first international partnerships between cannabis companies.
The company is also the first public licensed medical cannabis producer to report cash flow from operations and earnings in consecutive quarters.
With that in mind, shares of Aphria have increased over 198 percent year-to-date to $3.88.
7. Aurora Cannabis (TSXV:ACB)
Aurora Cannabis is new to the TSX Venture Exchange and, since joining, its shares have increased over 3,800 percent to $2.17.
The company was officially issued its license to sell in November 2015 and claims it is the lowest cost-per-gram licensed producer in Canada.
8. Cannabix Technologies (CSNX:BLO)
Cannabix Technologies is currently focused on developing tools for law enforcement and the workplace to detect THC in breath.
With that in mind, in October the company announced an update on the development of its FAIMS instrument for detection of THC, noting that the beta 2.0 version has been updated with greater sensitivity, improved performance by the square waveform generator.
The company's shares have also risen significantly–a 293 percent increase year-to-date to $0.65.
9. Supreme Pharmaceuticals (CSNX:SL)
Through Supreme Pharmaceuticals' wholly-owned subsidiary, 7ACRES is a federally licensed producer of medical marijuana. In September, the company announced the issuance of 130,000 stock options at a price of $0.77 each. Before that, Supreme Pharmaceuticals had closed a private placement of $14,949,755.
Year-to-date, shares of Supreme Pharmaceuticals have increased steadily by 136 percent to $1.18.
Last, but not least, is Mettrum Health–whose shares have increased 116.32 percent to $4.11.
Mettrum Health announced in September that it had entered into an agreement with Cannabis Care Canada to sell its wholly-owned subsidiary Mettrum for $7 million, in addition to entering into a three-year product supply agreement.
Don't forget to follow us @INN_Resource for real-time news updates.
Securities Disclosure: I, Jocelyn Aspa, hold no direct investment interest in any company mentioned in this article.
Editorial Disclosure: Mettrum Health is a client of the Investing News Network. This article is not paid for content.