Overview
Canada Nickel (TSXV:CNC, OTC:CNIKF) is advancing the next generation of nickel-sulphide projects to deliver nickel required to feed the high growth electric vehicle and stainless steel markets. Canada Nickel Company has applied in multiple jurisdictions to trademark the terms NetZero Nickel TM , NetZero Cobalt TM , NetZero Iron TM and is pursuing the development of processes to allow the production of net zero carbon nickel, cobalt, and iron products.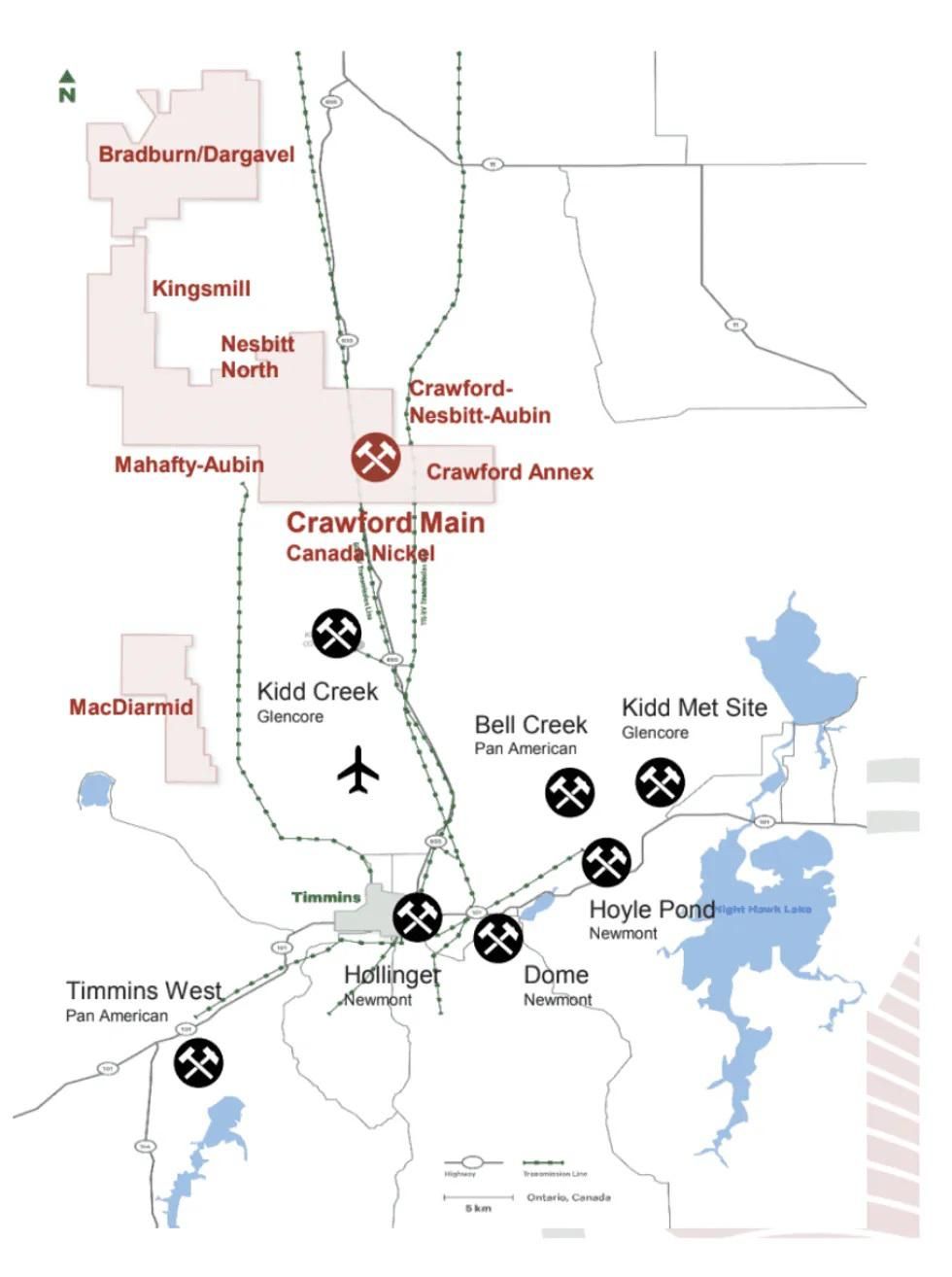 Canada Nickel provides investors with leverage to nickel in low political risk jurisdictions. Canada Nickel is currently anchored by its 100% owned flagship Crawford Nickel-Cobalt Sulphide Project in the heart of the prolific Timmins-Cochrane mining camp. The Company's shares trade on the TSX Venture Exchange under the symbol 'CNC' and are quoted on the OTCQX under the symbol 'CNIKF'. For more information, please visit www.canadanickel.com
Company Highlights
Completed Preliminary Economic Assessment on wholly-owned Crawford Nickel Sulphide Project $US1.2 billion NPV8% and 16%IRR. Feasibility study scheduled for mid 2022.
One of the top 10 nickel sulphide resources globally, with significant expansion potential from regional land package
Peak production of 42ktpa of nickel – would be one of five largest nickel sulphide operations when in production. 25 year mine life generates 842kt of nickel, 21 Mt of iron, and 1.5 Mt of chrome.
First percentile CO2e intensity according to Skarn Associates. Launched wholly-owned NetZero Metals Inc. to develop zero-carbon production of Nickel, Cobalt and Iron and applied for the trademarks NetZero NickelTM, NetZero CobaltTM and NetZero IronTM across several jurisdiction
Key Projects
Canada Nickel's Crawford Project
Canada Nickel's flagship Crawford nickel-sulfide project is located in Ontario's Timmins mining camp, which is home to nearby mining infrastructure including the Kidd Metallurgical Site. The Timmins mining camp has a 100 year history of mining activity.
Canada Nickel filed its maiden resource at the Crawford project in February 2020, including a measured and indicated resource of approximately 263 million tonnes at 0.31 percent nickel, 0.013 percent cobalt, and 0.038 g/t palladium and platinum. Existing exploration establishes the resource as one of the 12 largest nickel sulfide assets in the world.
The company provided a mineral resource update for the project in October 2020. The update reported that measured resources in the Main Higher Grade Zone measured increased by 162 percent to 153 million tonnes (Mt) at 0.32% nickel and the total measured and indicated resource increased by 9 percent to 657 Mt at 0.26 percent nickel for 1.7 Mt nickel. Lastly, the total inferred resource increased by 121 percent to 646 Mt at 0.24 percent nickel for 1.6 Mt nickel, including an increase of 50 percent in the Main Zone (433 Mt at 0.23 percent nickel) and an initial resource from the East Zone of 213 Mt at 0.24 percent nickel (505,000 tonnes nickel).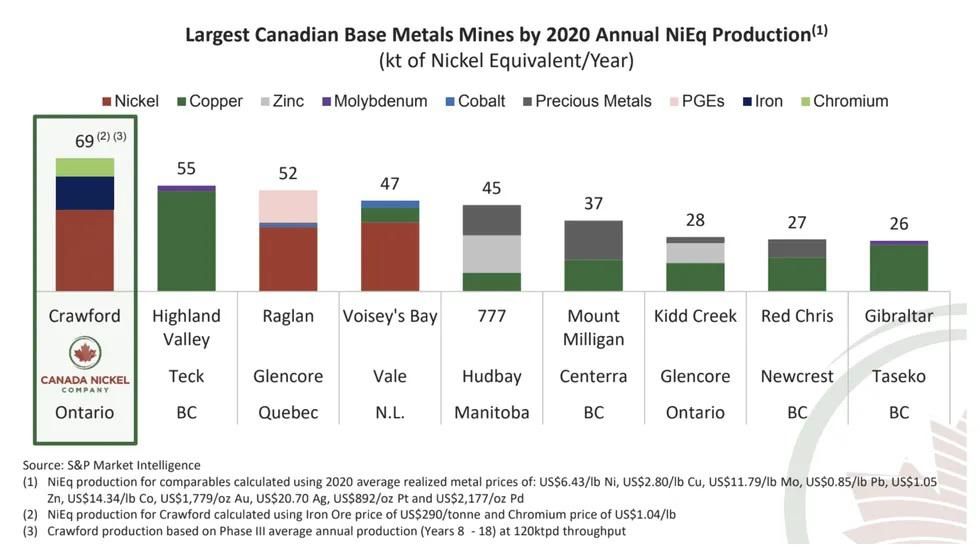 The Crawford property was previously explored by Inco in the 1960s in each large anomaly, with minimal exploration conducted in the following decades. The land package was then owned by a forestry company before being acquired by Noble Mineral Exploration for resource purposes again in 2011. In December of 2019 ownership of the Crawford project was transferred from Noble Mineral Exploration to Canada Nickel in exchange for 12 million shares of Canada Nickel and $2 million in cash.
Canada Nickel believes the Crawford nickel-sulfide project shares similarities to the Dumont project. The Dumont deposit contains approximately 6.1 billion pounds of nickel in proven and probable reserves, with another 9.75 billion pounds of nickel resources in the measured and indicated category.
Significant Exploration Potential
>50% Crawford + Multiple New Targets
The 4,909 hectare Crawford Nickel-Sulphide Project and five other option properties ranging in size of 903 to 5,543 hectares give Canada Nickel access to five additional high potential, regional nickel targets.
Fully consolidated properties contain multiple nickel-bearing target structures 30km of total strike length and 150 – 600m wide
For reference, the Crawford Main Zone resource
is 1.7 km long and 225-425 metres wide
Historic drilling yielded nickel-bearing intersections on all of the target structures
Kingsmill – 0.30% Ni over 503m from 118m in historic hole KML-12-02 (2012) and 0.31% Ni over 302m from 20m in historic hole 27090 (1966)
Nesbitt-North – 0.28% Ni over 163m from 233m in historic hole 27083 (1966)
Mahaffy-Aubin – 0.23% Ni over 127m from 82m in historic hole 31901 (1966) and of 276m of serpentinized ultramafic mineralization (similar host mineralization at Crawford) in historic hole T2-80-2 (1980) with no assays provided
Dargavel – 0.24% nickel over 173m with local assays up to 0.40% nickel in historic hole 25014
PGM-enriched structures similar to Crawford also identified at Kingsmill
1.0 g/t PGM over 2m from 96m within 0.3 g/t PGM over 30m from 69m in historic hole KML-12-11 (2012), 0.8 g/t PGM over 5m from 523m within 0.5 g/t PGM over 24m in historic hole KML-12-07 (2012)
Airborne magnetic and gravity survey totaling 2,731 km completed.
Management Team
Mark Selby — Chairman and CEO
Mark was formally President & CEO of RNC Minerals (Royal Nickel Corporation) where he led a team that successfully raised over $100 million and advanced the Dumont nickel-cobalt project from initial resource to a fully permitted, construction-ready project. He has held a number of senior management roles with Quadra Mining, Inco, and Purolator Courier, and was a partner at Mercer Management Consulting.
Since 2001, Mr. Selby has been recognized as one of the leading authorities on the nickel market. He graduated from Queen's University with a Bachelor of Commerce (Honours) and has also served on the boards of multiple junior mining companies and is currently a Director and Chair of Orford Minerals.
Wendy Kauffman — CFO
Wendy brings more than twenty-five years of experience leading junior and mid-tier publicly-listed mining companies in project financing, capital structuring, capital markets, accounting and internal controls, tax, and financial reporting and public disclosure. Her skills and experience include the completion of a $4 billion finance package for Cobre Panama during her time at Inmet Mining, one of largest finance packages assembled by mid-tier mining company. She was also previously the CFO at Khiron Life Sciences Corporation and held CFO and senior finance positions at Pasinex Resources Limited, Primero Mining Corporation and Inmet Mining Corporation. Wendy holds a Bachelor of Business Administration from Wilfrid Laurier University and is a Chartered Professional Accountant (CPA, CA).
Steve Balch — VP of Exploration
Steve is an Ontario registered geoscientist with 32 years of experience in geophysics, specializing in the magnetic and electromagnetic methods, but also with experience in large exploration compilations. After working at Inco for six years in the Sudbury Basin and at Voisey's Bay, Steve joined Aeroquest in 2001 and helped develop the AeroTEM system, focusing on the on-time measurements of the linear triangular waveform. In 2007, Mr. Balch founded Triumph Instruments and developed the AirTEM system, a multi-coil helicopter-borne EM system that is now in use in Mexico, China, Canada, and Eastern Europe. Steve has also been active in borehole geophysics and has worked to develop new technology including north-seeking gyros, temperature compensated induction conductivity probes, UAV-based magnetometers, and high sensitivity magnetic gradiometers.
David Smith — Director
David is Senior Vice-President, Finance and Chief Financial Officer of Agnico Eagle and has held this position since 2012. He has also held the position of Senior Vice-President, Strategic Planning and Investor Relations. Prior to joining the Company's investor relations team in 2005, Mr. Smith, a Professional Engineer, was a mining analyst and held a variety of mining engineering positions in Canada and abroad. He is a Chartered Director holding a Directorship with Sprott Resource Holdings Inc. and is formerly a Director at eCobalt Solutions Inc. He holds a B.Sc. (Queen's University) and M.Sc. in Mining Engineering (University of Arizona).
Mike Cox — Director
Mike has over thirty years of experience in Base Metal operations with Inco Ltd and Vale SA. He has held a number of senior leadership positions in Europe, Canada and Asia including the oversight of operations which have delivered nickel products to consumers for use in multiple generations of nickel batteries. Most recently, Mr. Cox was Head of UK and Asian Refineries at Vale with responsibility for a portfolio of precious metal and nickel refineries. He is now a Managing Partner at CoDa Associates, a consultancy that provides a range of advisory services to the corporate and public sectors in Europe and Asia. Mr. Cox holds a BSc (Hons) in Chemistry and an MBA, both from the University of Glamorgan.
Request an Investor Kit
EXCITING upcoming projects!
IN-DEPTH reliable insights!
SUCCESSFUL growth strategies!
VALUE-BASED content!
Canada Nickel