Overview
ION Energy Ltd. (TSXV:ION,OTC:IONGF) is a battery metal exploration company focusing on lithium exploration in southeast Mongolia. The company holds one of the largest mining licenses in Mongolia and is leveraging its first-mover advantage to explore an area of more than 80,000 hectares containing lithium brine and spodumene targets.
The global lithium market was worth US$2.86 billion in 2017 and is projected to grow to US$5.88 billion by the end of 2025, according to data by Adroit Market Research. Lithium's growth is being driven by demand from the green energy and electric vehicle markets. Rising concern over global carbon emissions is leading to the rising adoption of renewable energy generation technologies including electric vehicles and large-scale energy storage technologies, all of which require massive amounts of battery metals like lithium, cobalt and nickel. The International Energy Agency projects the number of electric vehicles on the road to reach 125 million by 2030, with each one containing a large lithium-ion battery. Battery-producing megafactories, including Tesla's famous giga-factories, are being built around the world, with 91 such facilities expected to be operational by 2028. Governments around the world, including the United States and Chinese governments, are working to secure supplies of battery metals to prepare for a green energy future.
The Mongolian government has granted ION Energy one of the largest exploration licenses in the country for the company's Baavhai-Uul project in the Sukhbaatar province. The 81,758 hectare asset contains high-grade near-surface lithium brines of up to 810ppm with low potassium and magnesium ratios, which makes for better crystallization of the lithium hydroxide. ION Energy is the first company to be granted a license for this asset, which has never been mined previously. Previous exploration work has been conducted on the project by the Technical University of Mongolia and the Mongolian government.
ION Energy's management team has extensive experience working with the Mongolian government, which has been largely supportive of mining exploration within the country. The Mongolian economy is largely commodity-based and is considered by the World Bank to be stable and growing. The country's GDP reached US$13.01 billion in 2018 with a growth rate of approximately six percent. Mongolia enjoys social and political stability and offers a low cost of doing business for international miners. The country is equipped with high-quality and reliable mining and transportation infrastructure. Mongolia's advantageous position in East Asia puts it close to major lithium markets like China, Korea, Japan and Russia.
The Mongolian government signed a Foreign Investment Promotion and Protection Agreement (FIPA) with Canada in 2017. The agreement established a legal framework under which Canadian investors working in Mongolia are offered greater predictability and certainty for their investments.
The geology of Southeast Mongolia mirrors that the famed Lithium Triangle of South America. Like the Lithium Triangle, the region is an endorheic basin contained within a low precipitation zone.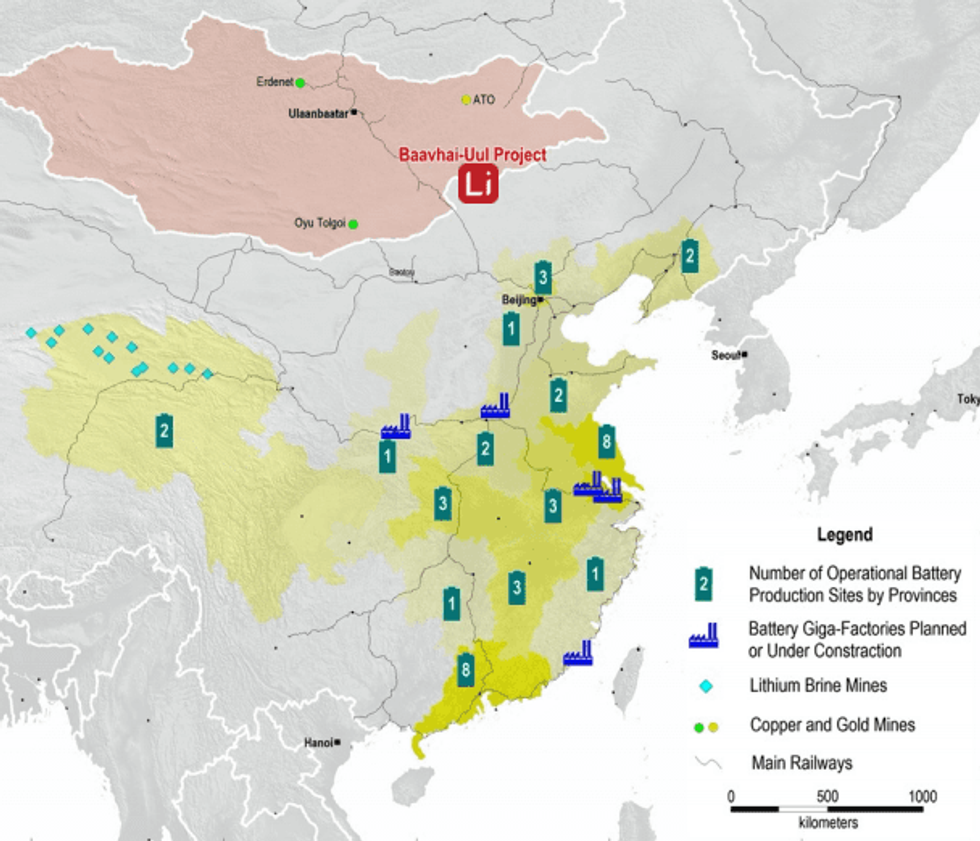 Company Highlights
81,758-hectare lithium brine property in southeast Mongolia
Holder of one of the largest mining licenses in Mongolia
25 percent of the company owned by management
Lithium market boosted by rising electric vehicle and green energy demand
Accomplished management team with extensive experience working with the Mongolian government
Ion Energy entered into an exploration joint venture with Aranjin Resources ("Aranjin") (TSXV: ARJN) to grant one another reciprocal exploration rights to their respective exploration licences within Mongolia.
Key Projects
Baavhai-Uul Project, Mongolia
ION energy's Baavhai-Uul asset is located approximately 800 kilometers southeast of Ulaanbaatar, the capital of Mongolia and 200 kilometers south of Baruun-Urt, the capital of Mongolia's Sukhbaatar province. The property is located about 200 kilometers from the Chinese border. The property totals approximately 81,758 hectares in size. The area is well connected, with paved roads connecting all population centers in the area to the capital city. Gravel roads lead directly to the Baavhai-Uul property. Local towns could supply the project with inexpensive labor, while supplies and equipment can easily be obtained from Ulaanbaatar.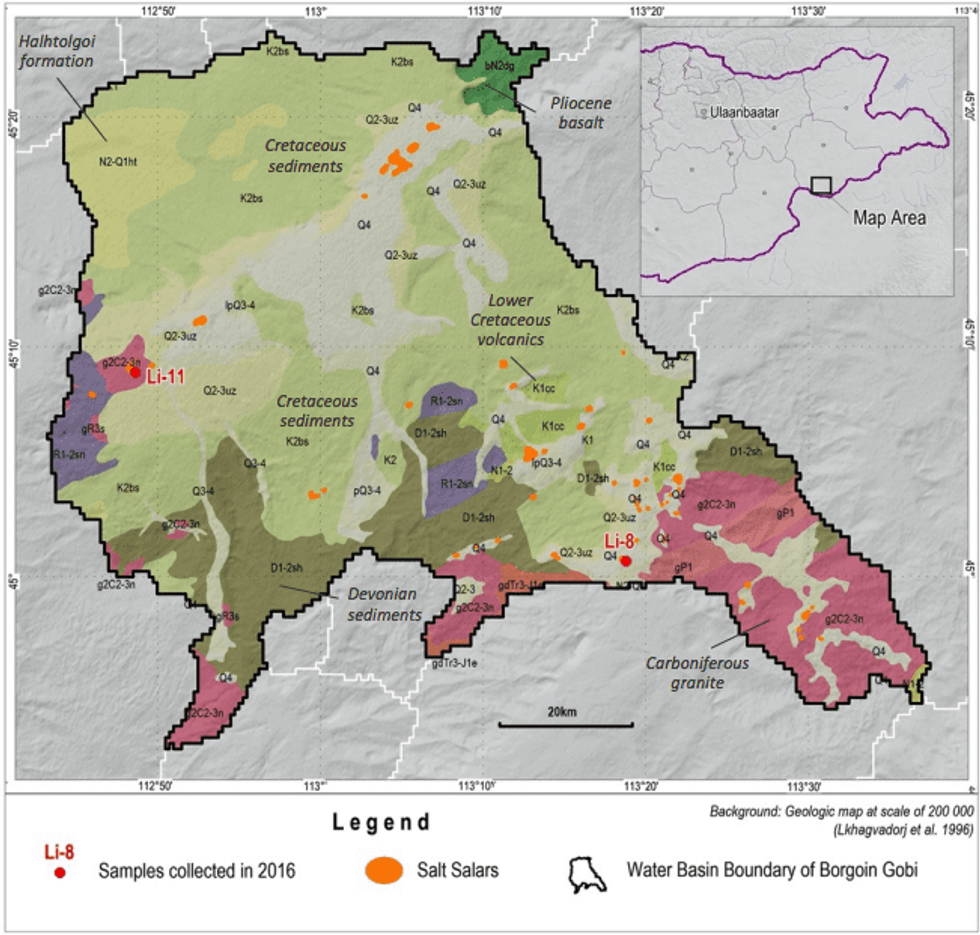 Exploration work by the Mongolian University of Science and Technology
Exploration work has been conducted on the property by the Mongolian University of Science and Technology. The university's work consisted of two pits drilled by hand auger in the lake bottom collected in 20 cm intervals and has indicated the presence of high-grade near-surface lithium brines. Sampling results by the university indicate lithium content in brines of up to 811 ppm lithium with an average of 462.64 ppm lithium. The samples were assayed by the independent certified assay lab Khanlab LLC located in Ulaanbaatar.
Management Team
Ali Haji, BSc - CEO, Director
Ali Haji is the Director of Antler Hill Mining Ltd and Spirit Banner II Capital Corp. Haji serves as an advisor to ATMA Capital Markets Ltd and Steppe Gold.
Mr. Haji has extensive knowledge of the financial services sector after having spent over 13 years in the Asset Management Industry performing strategic and process improvement roles. He started his career as a technology analyst at Invesco Ltd. in 2006 and advanced into various roles including Technology Risk, Controls, Program Management, and Process Improvement with international assignments involving mergers and acquisitions in Hong Kong, U.S.A and Australia. Most recently, he was also a principal contributor to the creation of a Center of Excellence in London, England for Invesco Ltd. Mr. Haji attended The University of Western Ontario and holds a BSc in Computer Science.
Matthew Wood - Chairman of the Board, Director
Matthew Wood is a mineral resource explorer and developer with over 25 years of global industry experience in mining and commodities investments. He serves as the Chairman of Steppe Gold (TSX:STGO). He was a Founding Chairman of Avanco Resources, which sold in March 2018 for AUD$440 million and Hunnu Coal, which sold for USD$500 million in 2012.
He has managed investment deals in diamonds, coal, energy, ferrous metals, base and precious metals, and other commodities. His unique skills in technical and economic evaluation of resource opportunities have resulted in a record of nurturing resource deals from early stage, to market listings and exit strategies for his investors.
He was formally the founder and executive Chairman of Mongolian coal company, Hunnu Coal Limited. Hunnu Coal was IPO of the year for all sectors on the ASX in 2010, and its sale for approximately A$500M in 2011 to Banpu PCL was recognized as the Mines and Money 2012 Deal of the Year. Mr. Wood has founded and been involved in many other resource companies and investments through the years.
He has extensive experience and many key relationships in Mongolia and was recently awarded the Order of the Polar Star, the highest state honor that can be awarded to a non-citizen of Mongolia.
Bataa Tumur-Ochir - Director
Tumur-Ochir is a Mongolian citizen and Executive Director of Steppe Gold LLC. At Steppe Gold, he is responsible for new business acquisitions, development and government and community relations. Mr. Tumur-Ochir is also responsible for daily operations in Mongolia. Mr. Tumur-Ochir is currently a director at GCD Mongolia and CEO and executive director of ASX listed Wolf Petroleum.
Under his guidance, Wolf Petroleum was awarded the "Operator of the Year Award" from the Petroleum Authority of Mongolia, and today, Wolf Petroleum is recognized as the fastest-growing petroleum exploration company with the largest petroleum exploration acreage in Mongolia. Mr. Tumur-Ochir holds a bachelor's degree in business administration and graduate certificates in international business and marketing from Australia and Singapore.
Mr. Tumur-Ochir has strong relationships at all levels of government in Mongolia and was recently appointed independent advisor to the Ministry of Mining and Heavy Industry responsible for foreign investment and promotion.
Aneel Waraich, MBA - Director
Aneel Waraich is the EVP and Director of Steppe Gold, Director of Antler Hill Mining Ltd, CEO of Spirit Banner Capital Corp, Founder of ATMA and ATMACORP with experience in investment banking at Dundee.
Waraich is the founder of ATMA Capital Markets and ATMACORP LTD and a financial services professional with progressive experience in both the asset management and corporate finance businesses.
Waraich focuses primarily on advising public and private companies in the Natural Resources sector. In previous roles at Goodman and Company Investment Counsel and Dundee Capital Markets, he worked as an analyst valuing private companies. Most recently Aneel worked as an investment banker focusing on deal origination, going-public transactions and financings for both public and private companies in the resource and technology sectors.
Enkhtuvshin Khishigsuren - Director
Enkhtuvshin Khishigsuren has over 30 years of Mongolian mineral exploration experience. He has focused his expertise on the precious metals exploration sector resulting in successes for numerous companies. Mr. Khishigsuren spent the first 10-12 years of his career at Central Geological Expedition doing regional geological mapping in various areas of Mongolia, followed by 7 years as senior exploration manager on exploration of precious metal in Mongolia for Harrods Minerals, privately funded exploration company.
Since 2005 he has been running his own company Erdenyn Erel and conducting exploration and consulting services to Western exploration and mining companies. Mr. Khishigsuren has been responsible for identifying targets and properties. His knowledge and experience have resulted in the discovery of several prospective gold and copper deposits in Mongolia; such as the multimillion ounce gold deposit Olon Ovoot, a large molybdenum porphyry deposit Zuun mod and the Shand copper porphyry deposit near Erdenet copper mine.
John McVicar - Chief Financial Officer
Mr. McVicar brings more than 30 years of international business experience in Management Consulting and Finance. His previous roles include Consulting Partner at a Big 4 firm, CFO of a TSX-listed company and several regional finance leadership roles with large US and Canadian multinationals in Canada, the US, South America and Asia. Mr. McVicar is a CPA, CA and graduated with an MBA from Duke University and a B. Comm from Queen's University.
Wendy Li - Director - Asia
Wendy Li's more than 18 years of extensive commercial and business development experience in Asia, including Mongolia and China, has spanned across commodity branding and trading, supply chain management and asset development. Prior to joining Ion Energy, Ms. Li served as General Manager of International Trade for Noble Resources Ltd and General Manager of Marketing for SouthGobi Resources Ltd. Ms. Li graduated from Wilfrid Laurier University, in Waterloo, Canada with a Bachelor of Arts, Honours in Economic and Financial Management.
Request an Investor Kit
EXCITING upcoming projects!
IN-DEPTH reliable insights!
SUCCESSFUL growth strategies!
VALUE-BASED content!
Ion Energy