Better Together: Strategic Partnerships in the Cannabis Market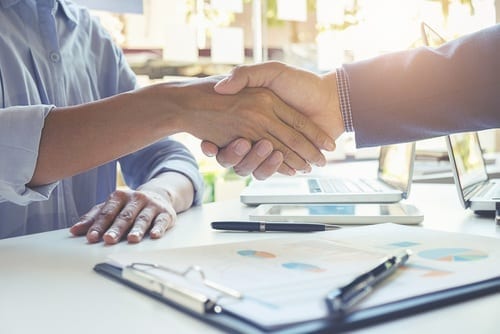 Strategic partnerships in the cannabis market encourage brand growth for participating companies.
Evolving every day, strategic partnerships in the cannabis market are helping to shape the industry.
The spreading legalization of both medical and recreational cannabis here in North America and abroad is allowing the cannabis industry to advance both in terms of clinical research and technological innovation, from cultivation practices to cannabinoid delivery systems. At the same time the growing global health and wellness trend is opening up new market segments for downstream cannabis products.
Within this shifting paradigm, licensed producers are partnering with biotechnology, pharmaceutical, and health and wellness companies as well as other cannabis-based companies to develop new cannabis delivery technologies and beneficial cannabis consumer products. For example, Aurora Cannabis (NYSE:ACB,TSX:ACB) recently partnered with Evio Beauty Group to collaboratively develop a line of hempseed oil product formulations and CBD-infused cosmetics. The partnership will give both companies increased brand recognition and cross-selling opportunities.
Licensed producer Tilray (NASDAQ:TLRY) has partnered with Sandoz Canada, a subsidiary of one of the biggest pharmaceutical companies, Novartis (NYSE:NVS) to produce co-branded cannabis-based medical products such as gel caps and sprays for wholesale distribution to Canadian hospitals and pharmacies. Downstream cannabis extraction company MediPharm Labs (TSXV:LABS) recently entered into a strategic partnership with licensed producer Emerald Health Therapeutics (TSXV:EMH,OTCQX:EMHTF) in which Emerald will provide MediPharm with dried cannabis to create premium quality pharmaceutical grade cannabis oil.
High-margin cannabis consumer product market
Today's cannabis market is moving well beyond big leafy buds as consumers are increasingly interested in alternative consumption methods to smoking dried flower. Cannabis legalization in Canada and many jurisdictions in the United States has led to growth in not only the medical marijuana and recreational adult-use markets — the health and wellness market now represents a third pillar in the global cannabis industry. The global health and wellness market reached a reported $3.7 trillion in 2016 and is expected to grow by 17 percent over the next five years, and cannabis infused products have the potential to play a significant role in that growth.
Whether medical, recreational or health and wellness, the overall cannabis industry is being shaped in large part by downstream cannabis product developers and consumers looking for new ways to integrate the plant's many benefits into an active and healthy lifestyle. Cannabis product companies are already leveraging consumer desire for more health-conscious and discrete methods of cannabis consumption by offering an increasingly diverse range of cannabis infused products, including cosmetics, sports-recovery shakes, pet care, pain-relieving patches, sleep-inducing sublingual sprays, THC-loaded gummies, anxiety-relieving CBD oils, sex-enhancing topical creams, cereals and meal-replacement bars, and CBD-infused ice teas.
With the emergence of the legal adult-use market, analysts expect cannabis product innovation to continue on an even larger scale. In the North American cannabis retail market alone, sales of cannabis-based products are forecast to increase to $20.2 billion in 2021 from $6.7 billion last year, according to Arcview Market Research.
Beneficial strategic partnerships in the cannabis market
Cannabis product companies that can supply the medical, recreational and health and wellness markets early on will be strategically positioned as key players in the evolving global cannabis market. As the companies look to better position themselves to take advantage of this opportunity, strategic partnerships in the cannabis market are becoming increasingly popular, and they have many benefits for both partners.
By entering into strategic alliances with licensed producers, downstream cannabis product companies can obtain access to licenses, an established distribution network, as well as the expertise and knowledge of the management team. In over-supplied markets, licensed producers can ensure their flower will not be rotting away waiting for a buyer, but rather go into high margin cannabis consumer products. Brands with marketable cannabis products can partner with licensed producers as a way to enter a new market, either in North America or internationally, which can give both players a lucrative advantage over competitors. These partnerships can provide access to intellectual property and market share, as well as opportunities for further expansion. And product diversification can enhance competitiveness, profitability and brand recognition.
Companies producing downstream cannabis products can vertically-integrate their operations by partnering with a licensed producer on site, cutting costs and controlling product quality. Pharmaceutical company Canntab Therapeutics (CSE:PILL) has a collaborative partnership in place with licensed producer FSD Pharma Inc. (CSE:HUGE). FSD Pharma is providing Canntab with 10,000 square feet of space in its Cobourg facility in return for profit-sharing and the development of a line of cannabis oral dose delivery platforms and other types of cannabis-based products, such as sleep aids and pain relievers. Canntab's co-location agreement with FSD Pharma also gives them access to the expertise of the World Class Extractions team also onsite as well as their extract products for use in Canntab's manufacturing process.
"Co-locating with FSD Pharma allows us to differ capital costs but also reduces the footprint of our processes. You can imagine the headache of trying to move large amounts of cannabis material between two locations. Everything under one roof. Costs are minimized as we share space and processes are streamlined as we reduce transportation distances to 0. Having an unbroken chain also helps us satisfy the pharmaceutical standards we must respect," Canntab CEO Jeff Renwick told Investing News Network. "Once we have the products we can then turn to FSD Pharma to complete the sales, at least until we have our own license application approved which could be as early as mid 2019."
Canntab has also partnered with another Canadian licensed producer, Emblem Corp (TSXV:EMC,OTCQX:EMMBF), giving Emblem the exclusive right to utilize Canntab's Extended Release (XR) cannabis tablets in Canada. These proprietary time-released tablets are designed to release a predetermined and consistent dose of cannabinoids over an extended period of time, giving the consumer longer lasting relief while reducing the worry of side effects.
Phivida Holdings Inc (CSE:VIDA,OTCQX:PHVAF) is partnered with WeedMD Inc. (TSXV:WMD,OTCMKTS:WDDMF, FSE:4WE) to develop and operate Cannabis Beverages Inc. (CanBev) at WeedMD's greenhouse facility in Strathroy, Ontario. The agreement includes product development, manufacturing, marketing and distribution of cannabis-infused beverages for Canada and export to licensed international markets. "The Phivida team is excited to contribute our management, expertise and product knowledge to the CanBev joint venture," said Jim Bailey, CEO and President of Phivida. "WeedMD is an ideal partner for Phivida and we are thrilled to bring our cannabinoid-infused beverages and brands back home to Canada. WeedMD provides CanBev with solid infrastructure, strong management, world-class genetics and proven success in the Canadian healthcare market."
These strategic partnerships in the cannabis market can also help companies establish a presence in growing global markets. An established player in the US, Nutritional High (CSE:EAT,OTCQB:SPLIF,FWB:2NU) was able to enter the Canadian market via a strategic partnership with licensed producer Canada House (CSE:CHV). Through Canada House, Nutritional High is able to sell it's FLÏ brand, gaining a foothold in the Canadian market.
MYM Nutraceutical's (CSE:MYM) deal with Amsterdam-based Dutch Passion Seed Company is another good example of strategic partnership with an international edge. MYM has inked a series of production and distribution deals for Dutch Passion branded products and seed genetics in Canada, Australia and Colombia — benefiting the global expansion goals of both companies. "As legal production of cannabis has been rapidly increasing worldwide, so has the demand for seed genetics," said Rob Gietl, CEO of MYM. "The Dutch Passion portfolio of seeds will prove to be a very valuable asset to MYM and its shareholders."
Takeaway
As global demand for cannabis products continues to grow, more companies are pursuing strategic partnerships in the cannabis market which will allow their brands to establish a foothold in fast-growing markets. These relationships have significant benefits for both partners as well as providing their investors with better leverage to a global cannabis market with the potential to reach nearly $194 billion by 2025.
This article was written according to INN editorial standards to educate investors.