Gold Investing
Experts: Gold Tokenization to Create "Fungible Currency No Politician Can Print"
Sep. 29, 2022 02:00PM PST
"My vision is that people are using their phones or their watches to pay for a cup of coffee with a gold token," said Tom Palmer, CEO of Newmont.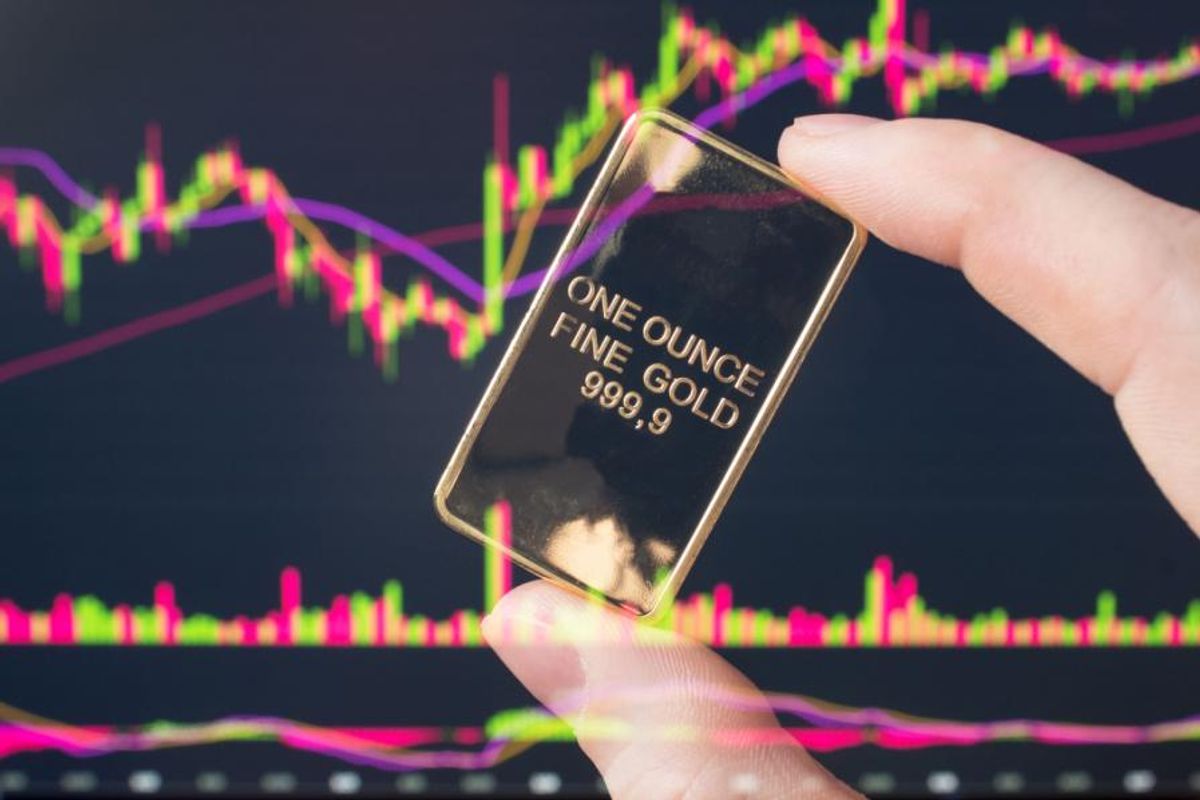 The gold industry is currently developing the first digital gold token. Underpinned by the World Gold Council's (WGC) responsible practises framework, the hope is to revolutionize the currency space with fungible gold.
At this year's Gold Forum Americas, held in Colorado Springs from September 18 to 21, one of the most anticipated presentations was a panel discussion with the CEOs of leading gold-producing companies.
Led by WGC CEO David Tait, it focused on the Gold247 initiative. This effort from the WGC to digitize gold encompasses three areas: integrity, accessibility and fungibility — all of which were discussed by the panelists.
---
For Randy Smallwood, tokenization provides an opportunity to appeal to new investors. The CEO explained that he realized this glaring need when his daughter told him she was using stablecoins to store value.
"It just became readily apparent — we have some work to do to attract the next generation of gold investors and the generations after that," said Smallwood, who is CEO of Wheaton Precious Metals (TSX:WPM,NYSE:WPM) and chairman of the WGC. "We need to modernize how people trade in gold and own gold, and utilize gold as a store of value, as a measure of value."
For Sandeep Biswas, CEO of Newcrest Mining (TSX:NCM,ASX:NCM), the transparency introduced through the integration of blockchain is pivotal. "In gold we're really behind the eight ball, with 48 percent of retail investors citing that lack of trust as why they're not prepared to invest in gold," he told conference attendees.
This is where Biswas believes the WGC's existing partnership with the London Bullion Market is especially critical for establishing an international system for gold bar integrity that fosters trust and transparency. "The gold bar integrity program is a key pillar of Gold247, along with accessibility and fungibility, (and) it is really, really key to get that right."
Gold token draws ETF comparisons
Continuing the panel, Tait asked Mark Bristow how the industry can entice new investors. He cited the emergence of gold exchange-traded funds (ETFs) in the early 2000s as proof that investors need new instruments.
"Everyone was arguing about what (gold ETFs were) going to do to the equities, but it transformed the market," said the CEO of Barrick Gold (TSX:ABX,NYSE:GOLD). "And it allowed people access to gold exposure in a more transparent way."
The executive pointed to the WGC's responsible gold-mining principles, which are part of the Gold247 rubric, as a major draw for ESG-minded market participants; another large draw is the standardization that a digital token would provide the gold market.
"If we're going to really position gold where it should be, you've got to have a good delivery piece of gold, and we can't go ahead and create our own little fiefdoms in how we market our gold," he said. "We need to market it together in one fungible asset."
The panelists also underscored the importance of having tokenized gold in a world of mounting economic uncertainty.
"We've seen signs of the US weaponizing the dollar, the global reserve currency," said Bristow, adding that the need for alternative ways to store wealth has driven the rise of cryptocurrencies.
"There's no better way than gold; it's tried and tested over many, many decades," he said. "For me, it's an exciting opportunity to participate in presenting a really fungible currency that no politician can print."
Digital gold could unlock new demand
New investment options are expected to also lead to an uptick in annual gold demand, which Tom Palmer, CEO of Newmont (TSX:NGT,NYSE:NEM), thinks is paramount for making gold modern.
"'(Digitalization and tokenization) are going to fundamentally change the way that gold is bought and sold," he said. "It is going to take that process out of the dark ages. And I think it's going to lead to significant demand."
Palmer explained that the ability to buy and sell gold instantaneously, while also being confident in how the gold is sourced, will be transformative for the gold sector.
The speed at which gold transactions will occur using blockchain will usher the metal into the 21st century and make it more appealing, said Smallwood. The WGC moved up its original 2030 target date after realizing change was needed "much sooner."
"You will be able to trade gold instantly 24 hours a day, seven days a week, like so many other currencies and stores of value and measures of value in this world," he told the Gold Forum Americas audience. "And that's the objective, to get to the point where we can move gold around and open it up to that next generation."
Although a gold token has garnered comparisons to Bitcoin, Bristow was adamant that they are intrinsically different.
"Cryptocurrency is like an oxymoron," Bristow said. "I've never seen anyone buying something for five cryptos or 10 cryptos, it always has to be denominated in something which is fungible, like a dollar or euro or something else."
He went on to note that fiat currencies — government-issued money that is not backed by a commodity — pose their own set of risks in today's economic conditions.
"What we're doing with the gold token is merely using the blockchain to allow the real-time entry of gold into the currency market," he said of the Bitcoin comparison. "We're just using blockchain technology to create a real efficient way for every person on this planet to own gold as a currency, and not only as a decoration."
Gold's status as a store of wealth and a hedge against uncertainty makes it an extremely viable investment during economic unease. For Biswas, the gold token's emergence will offer investors an "incorruptible" asset amid currency wars and debasement.
Wrapping up the panel discussion, Newmont's Palmer emphasized his belief that a gold token will present the market with a whole new investment instrument.
"My vision is that people are using their phones or their watches to pay for a cup of coffee with a gold token," said Palmer.
"I think that's a very real possibility in the five to 10 year timeframe," he added. "That's why we had to get it back to 24/7, not 2030, because it needs to happen faster."
Don't forget to follow us @INN_Resource for real-timeupdates!
Securities Disclosure: I, Georgia Williams, hold no direct investment interest in any company mentioned in this article.
Editorial Disclosure: The Investing News Network does not guarantee the accuracy or thoroughness of the information reported in the interviews it conducts. The opinions expressed in these interviews do not reflect the opinions of the Investing News Network and do not constitute investment advice. All readers are encouraged to perform their own due diligence.
Investing News Network websites or approved third-party tools use cookies. Please refer to the cookie policy for collected data, privacy and GDPR compliance. By continuing to browse the site, you agree to our use of cookies. 
Originally from Calgary, Georgia has been right at home in Toronto for more than two decades. Graduating from the University of Toronto with an honors BA in journalism, she is passionate about writing on diverse topics, including resources, arts, politics and social issues.
At INN Georgia covers a wide range of topics, including energy, battery and critical metals and diamonds. In her spare time, Georgia enjoys watching documentaries and experiencing Toronto's vibrant food, arts and cultural scene.