Overview
Forum focuses its mineral exploration efforts in Canada's resource-rich Province of Saskatchewan and Nunavut Territory. Saskatchewan ranks among the very top global jurisdictions for mining investment attractiveness. For decades, Saskatchewan. has maintained a consistent favorable regulatory environment that encourages mineral exploration and development.
Saskatchewan is the world's second largest producer of uranium and hosts the richest uranium deposits found anywhere on the planet. The province also remains underexplored for energy metals, thereby offering considerable large-scale mineral exploration and development investment opportunities.
Nunavut is a large northern Territory in Canada with vast natural resource potential. There are currently three operating gold mines and one iron ore mine in Nunavut. Several other uranium, gold and base metals deposits have been discovered.
Forum Energy Metals (TSXV:FMC,OTCQB:FDCFF)
is an exploration and discovery company. Known primarily as a uranium explorer in the prolific Athabasca Basin, Forum broadened its focus by adding a diverse portfolio of energy metal exploration projects near the southeastern perimeter of the Basin. With a strong local presence and over 125 years of combined uranium and metals geological expertise in Saskatchewan, Forum used the decade long weakness in commodity prices to acquire attractive exploration properties in the copper, nickel, and cobalt energy metals space.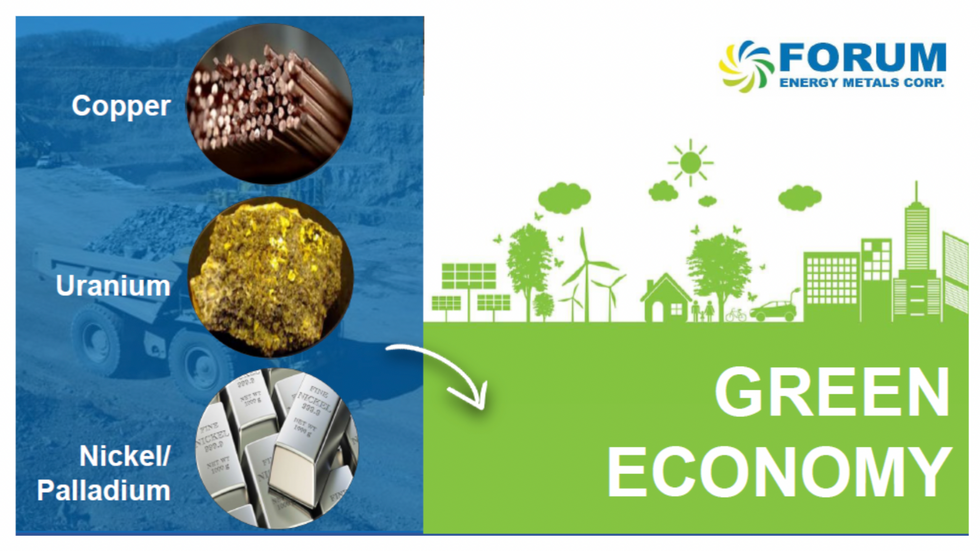 Recent Developments
1. Nunavut Uranium Project (Thelon Basin) - 40 claims totaling 53,402 ha acquired by staking. Formerly held by Cameco, the prospective ground hosts two uranium discoveries, in addition to a third significant uranium showing, and surrounds Orano Canada's 133-million-pound Kiggavik uranium deposit. Orano, formerly known as AREVA, completed six years of pre-development engineering, environmental, and community engagement studies from 2008 to 2014, prior to placing the project on care and maintenance due to the prolonged period of low uranium prices.
The Thelon Basin is, perhaps, the most prospective region in the world for discovering new high-grade unconformity style uranium deposits outside Saskatchewan's Athabasca Basin.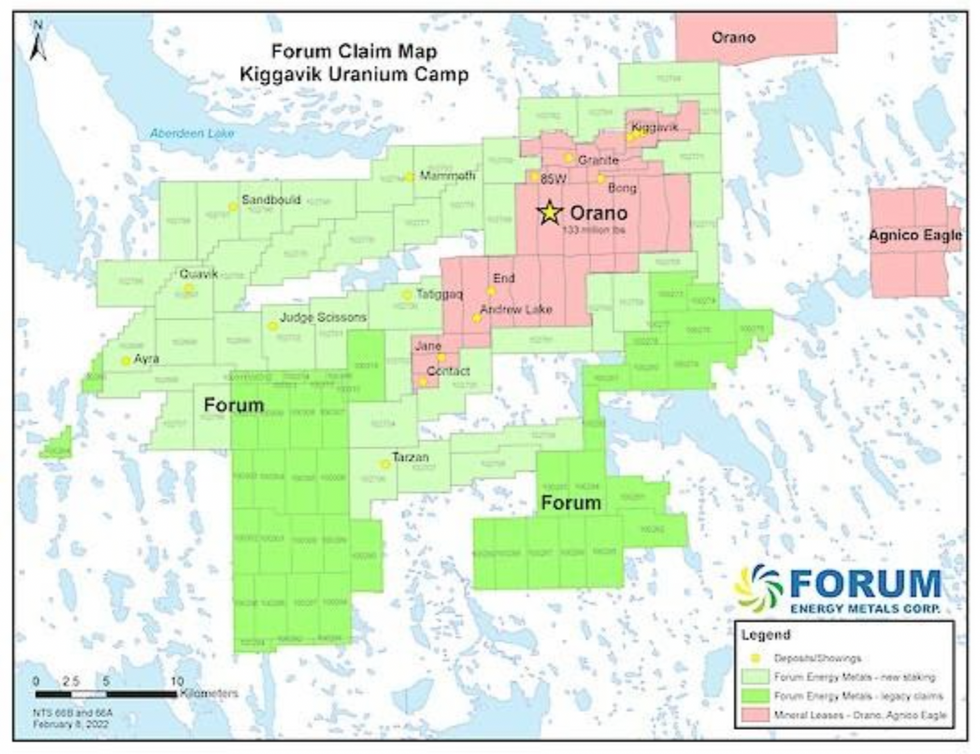 Forum's newly acquired claims cover the east-west and northeast-southwest structural trends hosting the Kiggavik deposits, in addition to Cameco's discoveries made during the period 2008-2012. When combined with Forum's legacy claims, the Company's total land position in the area increases to 97,433 ha.2. Wollaston Uranium Project in the eastern Athabasca Basin to begin a 3,000m drill program in February 2022. The property is located within 10km of Cameco's Rabbit Lake uranium mill and within 30km of Orano/Denison's McClean Lake uranium mill.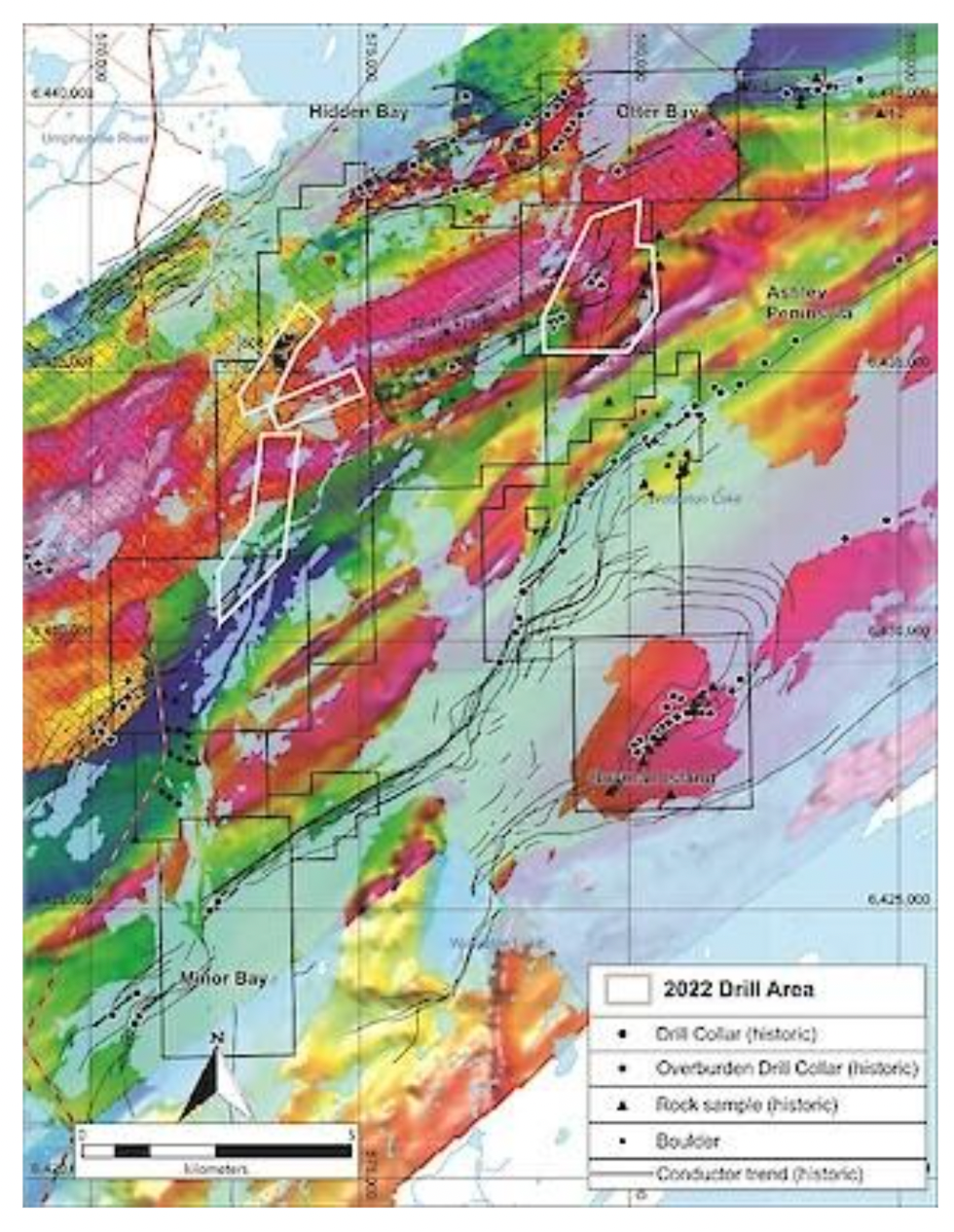 Wollaston Lake: 2022 Drill Areas
3. Highrock Uranium Project optioned to Sassy Resources Corporation for $3.5 million in exploration, $350,000 in staged cash payments to Forum, and staged issuance of 3.75 million common shares of Sassy to Forum. A drill program planned for February 2022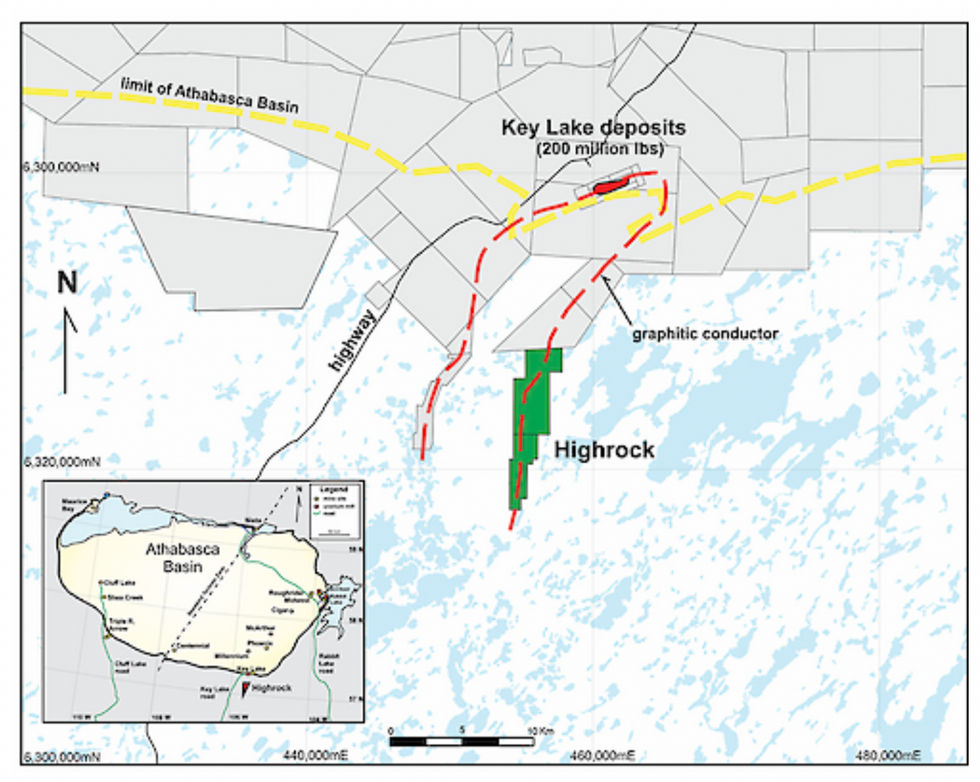 High Rock is on-trend With Cameco's past producing Key Lake Mine, which produced over 200 million lbs. of uranium between 1983 and 1997.
Company Highlights 
Key Saskatchewan Uranium Projects
Wollaston Uranium: Forum 100% - Eastern Athabasca Basin
Highrock Uranium: Forum 100% - on trend with the past producing Key Lake Mine (Sassy Resources Option to Earn 100%)
Fir Island Uranium: Forum 100% (Orano Canada Option to earn 70%)
Northwest Athabasca JV: Forum 39.5%, NexGen 28%, Cameco 20%, Orano 12.5% - the property hosts the 1.5 million lb. Maurice Bay deposit
Maurice Point: Forum 100%
Grease River: Forum 100%
Henday: Rio Tinto 60%, Forum 40%
Costigan: Forum 65%, Trafigura 35% - On trend with Cameco's past producing Key Lake mine
Clearwater: Forum 75%, Vanadian 25% - Patterson Lake Corridor
Key Projects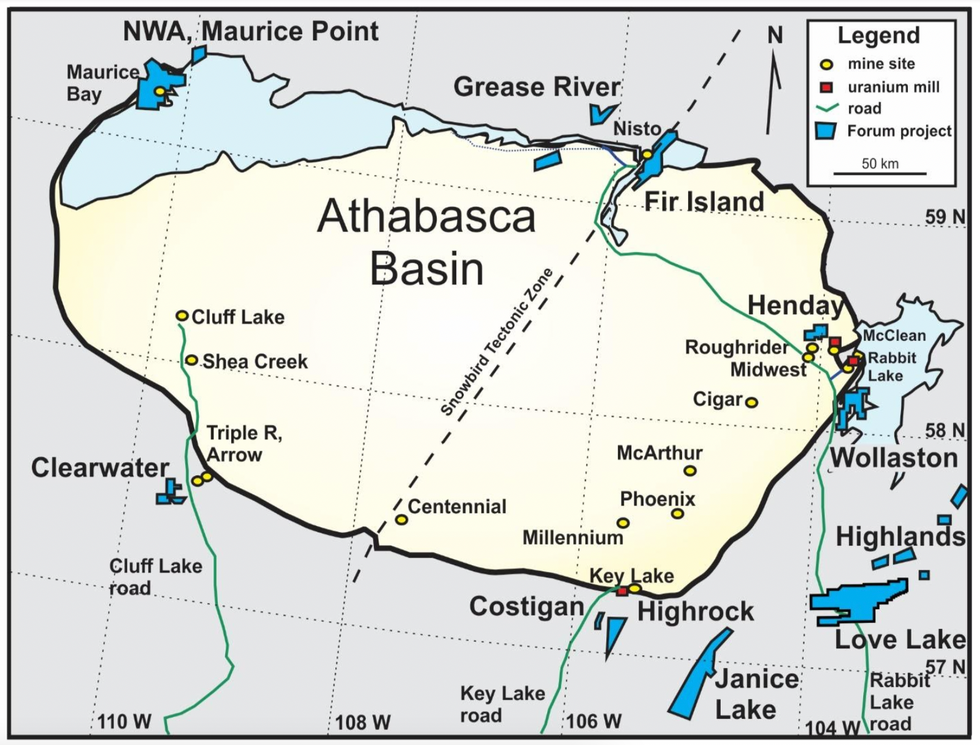 Key Saskatchewan & Other Energy Metals Projects
Janice Lake Copper – Forum 100% - Rio Tinto C$30 million Option to earn 80%. By November 2021, Rio Tinto had spent $14 million in exploration expenditures, which exceeds the $10 million in exploration expenditures required to earn a 51% interest. Rio Tinto has until May 2023 to exercise their right to earn this interest.
Love Lake Nickel-Copper-PGM Forum 100% - Strategically positioned near Forum's Janice Lake copper project.
Quartz Gulch Cobalt, Idaho, USA Forum 100% - On trend with Jervois Mining's Idaho Cobalt Project, the only permitted cobalt mine under development in North America.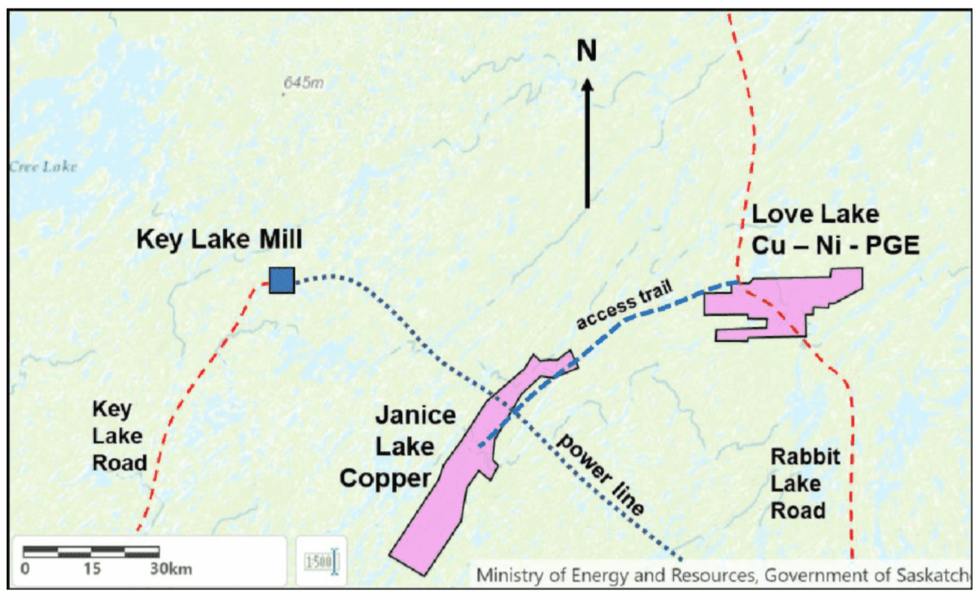 Management & Advisory Team Members
Richard J. Mazur, P.Geo., MBA - President, CEO, and Director
Mr. Richard Mazur is an Executive and geoscientist with over 40 years of Canadian and international experience in the exploration and mining industry as a project geologist, financial analyst and senior executive on uranium, gold, diamonds, base metals, and industrial minerals projects. Mr. Mazur founded Forum in 2004. He is also a Director of Big Ridge Gold Corp., Impact Silver Corp, and Midnight Sun Mining Corp.
Mr. Mazur graduated with a B.Sc. in Geology from the University of Toronto in 1975 and obtained an MBA from Queen's University in 1985.
Ken Wheatley, P.Geo, MSc. - Vice-President, Exploration
Ken Wheatley is a professional geoscientist with the Association of Professional Engineers and Geoscientists in Saskatchewan. He has 40 continuous years of uranium exploration experience in Canada, including AREVA Resources Canada (now Orano), one of the world's largest uranium exploration and production companies and Uranerz Exploration and Mining Limited. His established track record of mineral discoveries includes eight uranium deposits, four of which became producing mines in the Athabasca Basin, Saskatchewan. Wheatley graduated with a BSc. from Laurentian University in 1980 and an MSc. from the University of Saskatchewan in 1985.
Dr. Boen Tan, PhD. - Geological Consultant
Dr. Tan is a member of the Association of Professional Engineers and Geoscientists of Saskatchewan and possesses over thirty-five years of uranium exploration experience. Dr. Tan joined Uranerz, a private German company, in 1969 and after several years as a field geologist in Germany and Australia, moved to Canada in 1973 as a senior geologist and Project Manager for Uranerz Exploration & Mining Ltd. (UEM), conducting uranium exploration in the Athabasca Basin.
Dr. Tan was instrumental in the discovery of the Key Lake uranium deposit and the development of the Key Lake Mine which produced approximately 200 million pounds of U3O8 at a grade of 2.5% over a fifteen-year mine life from 1983 to 1997. After the development of the Key Lake Mine, Dr. Tan continued to supervise UEM's uranium exploration and drilling programs in the Athabasca Basin, including regional exploration in the greater Key Lake area. Dr. Tan monitored the exploration and diamond drilling of UEM's joint ventures with Cameco until 1998. For the next seven years, Dr. Tan acted as a consultant to several companies and joined Forum as a Chief Geologist in 2005. In 2007 he received the 2007 Outstanding Achievement Award from the Association of Professional Engineers and Geoscientists of Saskatchewan.
Aleta Brooke - Director, Community Engagement
Aleta Brooke has over nine years of experience in Community/Stakeholder Engagement, Human Resource Management, and Mining/Energy Operations. Her extensive work experience includes significant time in the high arctic, with a progressive focus on bridging the gap between industry and communities/indigenous groups. Born and raised in a NE Saskatchewan mining family, Aleta's background also spans several diversified industries, including renewable and nuclear energy.
Anthony Balme - Director
Mr. Balme is an active participant in both public and private overseas resource ventures. He is the Managing Director of Carter Capital Ltd., A.M.C. Limited, and two private UK investment funds that have been successful in identifying early-stage opportunities in the resource sector and arranging financings to advance projects to the public market. Mr. Balme is also a Director of Ortac Resources plc, which has an option to earn a 100% interest in the Kremnica Gold project in Slovakia.
Paul Dennison - Director
Paul Dennison has over 35 years executive experience with three of the world's leading investment banks: Credit Suisse, Merrill Lynch & Deutsche Bank. His operational expertise has served at the highest level in the investment banking industry covering key areas such as transaction origination, equity and debt securities underwriting, syndication, structured products, bank supplementary capital, and portfolio management. Presently, Paul is based in Zurich and Singapore as Managing Director with his firm, Investments Asia Swiss GmbH, an introducing broker specializing in sourcing and securing international investment capital for clients.
Janet Meiklejohn, CPA (CA), MBA - Director
Ms. Meiklejohn is the principal of Emerald Capital, a consulting company providing CFO, strategic, valuation, corporate governance, and marketing services to high growth companies. She was formerly VP Institutional Equity Sales focused on the mining sector with numerous Canadian investment banks including Desjardins Securities, National Bank, Salman Partners and Macquarie Capital from 1997 to 2015. Janet grew up in Saskatchewan and has a close personal interest in the development of the uranium industry in the province. Ms. Meiklejohn is currently the Vice President Finance and Investor Relations with the Very Good Food Company, a leading plant-based food technology company, listed on the TSX-V.
Request an Investor Kit
EXCITING upcoming projects!
IN-DEPTH reliable insights!
SUCCESSFUL growth strategies!
VALUE-BASED content!
Forum Energy Metals