Silver Does a Triple Take, Then Rises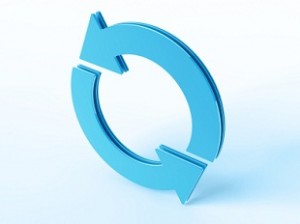 Choppy, sideways and range-bound — at this point, investors are probably well-accustomed to hearing silver described that way. Silver market action has been largely lackluster of late, and some market participants may be growing nostalgic. Although the white metal has not broken out in either direction, there was an interesting development in its price action this week. On Monday, Tuesday and Wednesday, silver's closing New York spot price was exactly the same: $27.83.
Silver ended last week with a close of $28.13. Though much was in the metal's favor — the dollar was down while oil, the euro and gold were up — silver started this week down at about $27.95. The metal was under pressure all day Monday and closed the first day of trading with a loss of $0.30, resulting in the first $27.83 close.
On Tuesday, some short covering was seen, but silver came under selling pressure attributed largely to positive US retail sales and producer price index data, which was seen as a blow to QE expectations. Having reached an intraday low of $27.56, the metal recovered and mimicked Monday's closing spot price.
Wednesday brought more positive US data via the consumer price index, which showed that the cost of living in the US has not changed since July, meaning that there has been no inflation. Although that result has negative implications for QE, silver displayed some upward momentum. The metal rose to an intraday high of $28.13, but was unable to sustain the positive movement and by the end of New York trading had slunk back down to its third consecutive $27.83 close.
Though it isn't every week that this type of price action occurs, in the end, silver remained within the recent range.
Standard Bank warns that there is a real risk that silver could break lower and retest the low $26/oz level. The bank cites weak industrial demand as a driver of that risk.
"The principal problem for silver at this time is that 53% of its demand comes from industrial users and those are the very sources which analysts deem will not step up to the silver plate and use it in the amounts that might have been hoped for by the bulls previously," Jon Nadler, senior metals analyst at Kitco Metals, wrote.
However, market participants expect silver to put up a positive performance if the markets are graced with stimulus or if gold is able to break out of its tight trading range.
Hedge funds are the least bullish on silver in four years, according to Bloomberg, and speculative bets for higher prices have been cut by 72 percent since February. Hedge funds are largely expecting slower growth to further curb demand for the metal. But, as reported in previous Silver Investing News comments, ETF investors are displaying a different attitude. Bloomberg reports that silver hoarded in ETFs is near record levels, with some 18,093 tons being held.
Silver is holding up better than expected, according to Peter Hug, Precious Metals Division director at Kitco. He believes that if gold can break through $1,630, silver testing $29 is a possibility.
Trading volumes of late have also been very low, as previously reported. That is considered seasonal, and market participation is expected to pick up in September. Until that happens, investors following the market should keep developments in perspective given recent trading volumes. At these levels, it is fairly easy to push prices around, and what may appear to be a trend or broad sentiment could actually be the reflection of a fairly small group.
The close
September silver closed COMEX floor trading up $0.38 at $28.20 on Thursday. The closing New York spot price was $28.19.
Silver appears to encounter resistance in the range of $28.30 to $28.40. There is solid resistance at the July high of $28.44. A close above this level could allow for an upside breakout. The bears, hoping that the Standard Bank prediction materializes, should know that there is solid support at the June low of $26.10.
Silver stocks, mostly in the red earlier in the week, were mostly in the green on Thursday.
Company news
Prospero Silver (TSXV:PSL) and Hochschild Mining (LSE:HOC) signed a joint venture agreement to advance Prospero's Baborigame project in Mexico. The terms include an option for Hochschild to earn a 51 percent interest within three years by making total property expenditures of $3.7 million, including a minimum of 3,500 meters of drilling in year one and total cash payments of $1.9 million. The agreement envisions Prospero personnel carrying out exploration activities during the first year, and Hochschild providing work program supervision and input during planning.
Securities Disclosure: I, Michelle Smith, hold no direct investment interest in any company mentioned in this article.