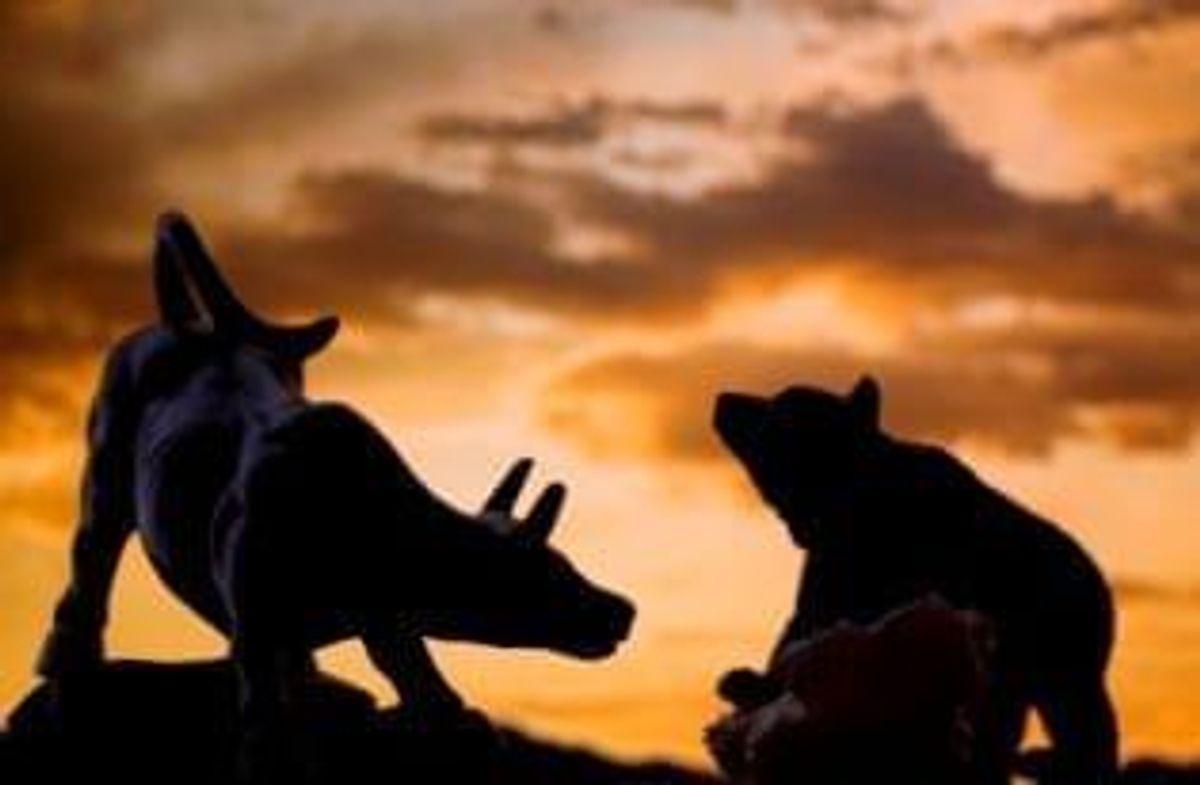 The silver price is currently on a tear. But how high can silver go in 2016?
Although silver neared its 2008 price in the last month, it seems that the white metal could make a comeback within the next year.  
Spot silver prices declined 2.4 percent to $18.90 per share in early trading Monday, bouncing almost 6 percent from its weekly highs. Historically, the SLV closes negative for the month of September approximately 60 percent of the time, with the average monthly drop coming in at 2.5 percent.
Some analysts say that they are not concerned about the recent fate of the price. Most attributed the change as inevitable – a correction of the market that was only led by silver, and followed by gold, among others. According to etfdailynews.com, the metal looks like it may still take an upward turn. They expect silver's new bull market to start in 2017, albeit after the first few months of the year.
However, silver ETFs are presently not faring well. The world's largest silver-focused ETF, iShares Silver Trust ETF (NYSE:SLV), recently broke below the $18 level in premarket trading to $17.93 per share. The decline adds to the fund's loss of 2.74 percent. Despite the recent pullback, the ETF has still risen over 42 percent year-to-date.
According to uk.investing.com, silver futures for Comex's (TSX:HUZ) December delivery were down $0.56, or 0.52 percent to $19.11, a troy ounce in late trade. The Global X Silver Miners ETF (NYSE:SIL), still gained a massive 144 percent year-to-date, but those gains are looking unsustainable due. However, these recent gains may be due to a combination of lower prices and profit-taking, pushing silver to a three-week high in September.
If the Federal Reserve continues to hint at interest rate hikes, a sell-off would likely accelerate in the future. The marketplace is increasing the odds that a hike could come yet this year—and as early as next week. The Federal Open Market Committee (FOMC) meets next week to decide on any changes in US monetary policy.
---
This article was previously published on September 12, 2015. Please scroll to the top to see the latest news.
It's only Tuesday, but already it's been a good week for the silver price.
According to Bloomberg, the white metal has risen an impressive 7.8 percent in the last five sessions, and on Tuesday reached $16.23 per ounce on the COMEX in New York — that's the highest price for a most-active contract in over five months. Meanwhile, an ounce of gold was good for just 77.6271 ounces of silver on Tuesday, the least since February 9.
Given those circumstances, many investors are now asking themselves, "how high can silver go in 2016?" Read on for a look at what may be in store for the precious metal.

Gold leading silver
Silver's recent gains are largely being driven by US dollar, which according to Kitco Newshit an eight-month low overnight Monday. Increasing speculation that the US Federal Reserve will be slow to raise interest rates has also been a factor, as has the current rally in the crude oil market.
Interestingly, silver's run this week comes long after the gold price has gone on a tear. As Gold Stock Bull points out, that's not the norm — "silver typically leads gold higher and outperforms during major advances in the sector," the news outlet states. Check out the chart below to see how the two metals have performed this year: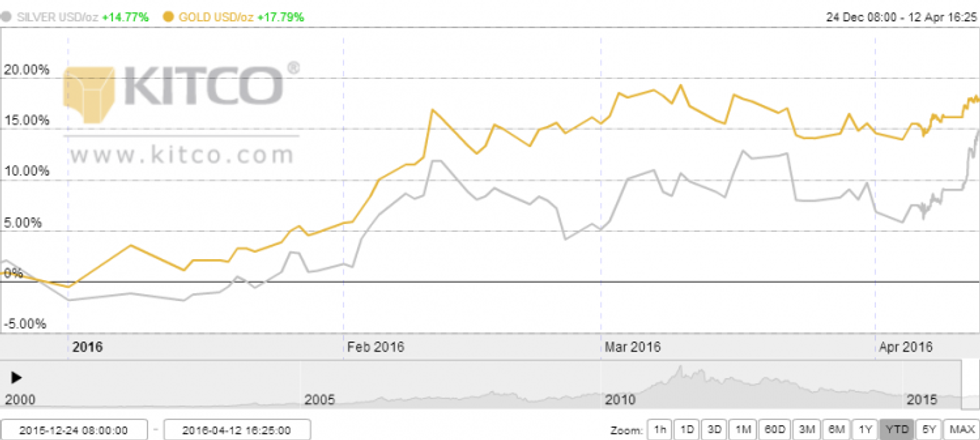 Silver vs. gold price performance year-to-date. Image courtesy of Kitco.
The fact that gold has outperformed silver for much of 2016 has been a source of concern for many market watchers. As Gold Stock Bull states, that's partially because it's drawn the sustainability of gold's rally into question — in other words, could gold's good performance be just a false start?
With silver now picking up (it's up about 14.5 percent year-to-date compared to gold at just under 18 percent), gold's rally is starting to look more sustainable. It's that optimism that's now driving investors to wonder, "how high can silver go in 2016?"
How high can silver go in 2016?
While it's impossible to say exactly how high the white metal will go this year, it's worth noting that the fundamentals are on its side — both industrial and investment demand for silver are expected to remain strong this year.
It's also worth noting that analysts appear to believe good things could be in store for silver. As Commerzbank (ETR:CBK) analyst Daniel Briesemann recently told Bloomberg, "[w]e see further potential for the silver price to catch up on the gold price in the medium term."

Meanwhile,
Reuters quotes Ole Hansen of Saxo Bank
as saying, "[gold] found the expected resistance at $1,255 and it was only when silver took off that it managed to get through. Silver ETF holdings have risen strongly this past month while gold has been almost flat. That could indicate some switch in focus to silver, and the move yesterday highlighted that."
Certainly food for thought for investors moving forward.
Don't forget to follow us @INN_Resource
 for real-time news updates.
Securities Disclosure: I, Charlotte McLeod, hold no direct investment interest in any company mentioned in this article.Related reading: 
When Will Silver Go Up?
Silver Price Predictions 2016: Watch China and the Gold Price
Is Silver Going Up in 2016?
Investing News Network websites or approved third-party tools use cookies. Please refer to the cookie policy for collected data, privacy and GDPR compliance. By continuing to browse the site, you agree to our use of cookies.