Precious Metals Weekly Round-Up: Gold Edges Up on Weaker US Dollar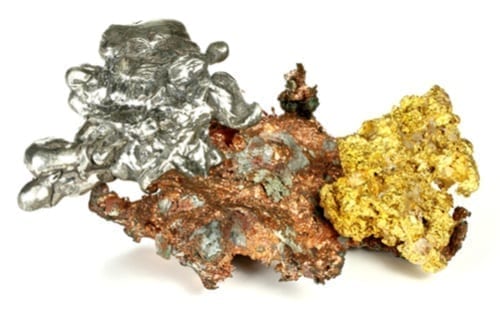 Precious metals edged up on Friday, but were down for the week as investors turned to the US dollar for safety from the current economic and political landscape.
Both gold and silver prices ticked up on Friday (August 17) as the greenback declined following an announcement that the US and China plan to discuss trade issues at some point this month, and as Turkey saw a partial currency recovery.
As of 9:50 a.m. EST on Friday, the yellow metal was trading at US$1,178.80 per ounce and was headed for its biggest weekly fall since May of last year. As for the white metal, it was trading at US$14.69 per ounce as of 9:53 a.m. EST, down 4.2 percent for the week.
Despite the slight metals rebound, market insiders don't believe the increase will be sustained just yet.
"It's reasonable to expect prices to retrace some of the recent aggressive move down in the short term, but there doesn't seem to be evidence for a sustained move higher yet," said Nicholas Frappell, general manager at ABC Bullion.

Early on Thursday (August 16), the yellow metal hit its lowest level in over 19 months when the greenback edged up. The dollar was boosted by concerns about Turkey and China's economic health.
For their part, platinum and palladium both struggled to maintain the slight gains they made in the previous session. On Wednesday (August 15), platinum-group metals fell to record lows for the year, with platinum reaching a 10-year low and palladium facing a 13-month low. As of 10:25 a.m. EST on Friday, platinum was trading at US$777 per ounce, while palladium landed at US$887 per ounce.
Precious metals top news stories
Our top precious metals stories this week feature AngloGold Ashanti (JSE:ANG) canceling its Brazil-based earn-in joint venture (JV) with Equinox Gold (TSXV:EQX), the Donlin gold project receiving major federal permits and Columbus Gold (TSX:CGT) announcing that it will acquire 70 percent of IAMGOLD's (TSX:IMG,NYSE:IAG) stake in the Maripa gold project.
Equinox Gold's Brazil-based earn-in JV with AngloGold Ashanti was terminated by AngloGold, the Canadian miner announced on Monday (August 13).
The JV involved Equinox's Aurizona greenfields concessions in Brazil, where AngloGold has already spent about US$9 million since exploration started in August 2016. AngloGold also completed more than 43,000 line kilometers of high-resolution aeromagnetic radio magnetic surveying and approximately 10,000 meters of drilling on eight targets, plus extensive geochemistry and geologic mapping surveys.
"AngloGold's exploration programs have significantly advanced regional geological models and have highlighted several untested targets that warrant further exploration," said Scott Heffernan, executive vice president, exploration, at Equinox Gold.
The massive Donlin gold project, owned by Barrick Gold (TSX:ABX,NYSE:ABX) and NovaGold Resources (TSX:NG,NYSEAMERICAN:NG), received key permits from the federal government on Tuesday (August 14).
In a joint statement, the companies announced that the US Army Corps of Engineers and Bureau of Land Management have issued a joint record of decision for the project, marking the completion of the multi-year federal environmental review process.
"As one of the largest undeveloped gold deposits in the world, Donlin Gold represents exceptional optionality within our portfolio," said Barrick's executive vice president for exploration and growth.
Columbus Gold announced that it is set to acquire up to 70 percent of IAMGOLD's stake in the Maripa gold project in French Guiana. According to Columbus, the acquisition will solidify the company's position as a leader in both exploration and development within French Guiana.
"With mine permitting well underway at the Montagne d'Or gold deposit, the timing was right for this deal on Maripa," said Robert Giustra, chairman of Columbus Gold.
In other precious metals news
Also making news this week was Dillon Gage Metals, one of the world's largest precious metals wholesale firms, which recently launched its first Digital Metals product, DGGold.
In other precious metals news, Gwede Mantashe, South Africa's Mining Minister, stated that he blames Gold Fields' (NYSE:GFI,JSE:GFI) "poor management" as the reason for the country's current mine woes.

This week, Gold Fields revealed that it will cut 1,100 permanent jobs at its South Deep mine, which in turn sent its shares plummeting.
"Gold Fields is sitting on the second biggest gold deposits in a mine in the world," Mantashe told Reuters. "Going for job cuts is the easy way out. The real problem is poor management," he added.
Not only has South Deep has faced operational obstacles in a tough geological setting 3 kilometers below the surface, but in the last five years it has also lost US$284 million. In response, Gold Fields CEO Nick Holland stated that he would not be stepping down, despite Mantashe's comments.
Additionally, Minera Alamos (TSXV:MAI) announced a positive preliminary economic assessment (PEA) for the La Fortuna gold project in Durango, Mexico. The PEA estimates average contained metal production of around 43,000 ounces per year of gold, 220,000 ounces of silver and 1,000 tonnes per year of copper over a five-year mine life.
Meanwhile, Roxgold (TSX:ROXG) reported positive Q2 results, achieving gold production of 35,828 ounces and record quarterly processing throughput of 75,417 tonnes; that is 12 percent above nameplate capacity. Gold sales increased by 27 percent year-on-year to US$45.8-million.
Finally, Osisko Mining (TSX:OSK) announced that it will acquire all the remaining shares of Beaufield Resources (TSXV:BFD).
Osisko has stated that Beaufield shareholders will receive 0.0482 of a common share of Osisko in exchange for each Beaufield share held. Osisko says the price is a premium of approximately 54 percent based on the 20-day volume-weighted average price of both companies' common shares.
Osisko already holds 26 percent of Beaufield.
Don't forget to follow us @INN_Resource for real-time news updates!
Securities Disclosure: I, Nicole Rashotte, hold no direct investment interest in any company mentioned in this article.