Enbridge Public Relations Battle Continues as Kitimat Residents Vote "No" in Plebiscite
A Joint Review Panel may have recommended that Canada's federal government approve the Northern Gateway Project, but British Columbians have not been so accepting of the pipeline. On Saturday, residents of Kitimat voted against Enbridge's project in a non-binding plebiscite.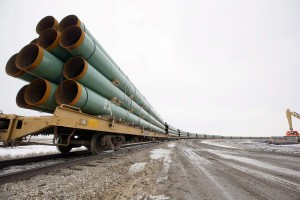 A Joint Review Panel may have recommended that Canada's federal government approve the Northern Gateway Project, but British Columbians have not been so accepting of the pipeline.
On Saturday, residents of Kitimat, located on the northern coast of BC, voted against Enbridge's (NYSE:ENB) project in a non-binding plebiscite. 1,793 votes against the pipeline outnumbered 1,278 supporters to give a split of 58.4 to 41.6 percent, according to The Globe and Mail.
Residents were asked if the pipeline should be approved subject to the 209 conditions set out by the Joint Review Panel of the Canadian Environmental Assessment Agency. The council passed a resolution for the public vote in January, and since then, both Enbridge and opposing environmental group Douglas Channel Watch have been vying for the favor of residents.
Kitimat Mayor Joanne Monaghan praised the "democratic process," saying "[t]he people have spoken. That's what we wanted." The people of Kitimat certainly took the chance to have their say, as The Tyee reported that with over 3,000 votes cast and a voter turnout of 71 percent, more people voted in the plebiscite than did in the last municipal election.
However, not everyone was included. The Globe and Mail notes that those living in Kitimaat Village, a federal reserve, were considered outside municipal boundaries and were therefore unable to vote.
Still, the plebiscite was mostly important in terms of public relations as the results are not binding on the federal cabinet, which is set to make a decision on the pipeline this June. Haisla Nation Chief Councillor Ellis Ross expressed his cynicism regarding the plebiscite, telling the Globe, "[e]ither way it would not have been binding and it doesn't matter in terms of what the project needs to go ahead anyway."
Economic concerns as well as environmental
The pipeline has garnered media attention for the dangers it could pose to BC's unique coastal environment, with many critics pointing to the aftermath of the Exxon (NYSE:XOM) Valdez oil spill in Alaska over 20 years ago. However, the residents of Kitimat have economic concerns as well.
Referring to a number of liquefied natural gas projects and activities by Rio Tinto (NYSE:RIO,ASX:RIO,LSE:RIO), Kitimat councillor Phil Germuth told The Tyee, "[p]eople are also asking, 'If we have all this economic opportunity, why would we take the risk with the Enbridge project?'"
Douglas Channel Watch, mainly seen as an environmental critic, has also pointed out that the 209 recommendations of the National Energy Board "[d]o not restrict the use of temporary foreign workers to build the pipelines." The group believes that the pipeline supports "boom-and-bust economies" rather than sustainable jobs.
However, Enbridge's Katherine Coutinho has pointed to long-term benefits, explaining to CBC News, "[i]t's 188 families that will be impacted by these jobs and as I've said $5 million a year in property taxes is significant for local priorities and I think people see the value in that."
Enbridge responds
Even though Kitimat's plebiscite does not technically bind the federal cabinet in charge of the pipeline decision in any way, Enbridge still seems to want to win over British Columbians. As CBC writes, the company has certainly spared no expense in terms of advertising and open houses to try to win supporters.
That has been construed as an attempt to buy votes by some, although Enbridge seems to see it as a commitment to keeping affected parties informed. On that note, Donny van Dyk, Northern Gateway's manager of coastal aboriginal and community relations, said of Saturday's result, "we have more work to do. And over the coming weeks and months we will continue to reach out and listen to our neighbours and friends so that Northern Gateway can build a lasting legacy for the people of our community."
Similarly, project leader and BC native Janet Holder agrees on Enbridge's Gateway Facts site that the pipeline "must be environmentally responsible, fully involving and providing lasting benefits to Aboriginal communities. And it must create well-paying jobs and an economic legacy for B.C." She also emphasizes that Enbridge is committed to meeting those conditions.
Future challenges
In the long run, however, Kitimat's municipal plebiscite could spell even more trouble for the Northern Gateway Project. Now that the municipality has joined the cities of Smithers, Prince Rupert and Terrace in rejecting the pipeline, the Dogwood Initiative, an environmental group, will aim to put the question to the entire province, using the same legislation that triggered a referendum to end the provincial harmonized sales tax.
Tracey Maynard, a spokesperson for the Dogwood Initiative, told CBC News, "[w]e need to get 10 per cent of all ridings in B.C. — all 85 ridings — to say they'd like to vote on this project. That goes to the provincial government, who basically decides if they want to put it to a vote in [the legislature] or give it to a vote to the people." She continued, "[p]olling repeatedly shows that two in three British Columbians feel very uncomfortable with this project and they want to have their voices heard."
Securities Disclosure: I, Teresa Matich, hold no investment interest in any companies mentioned.