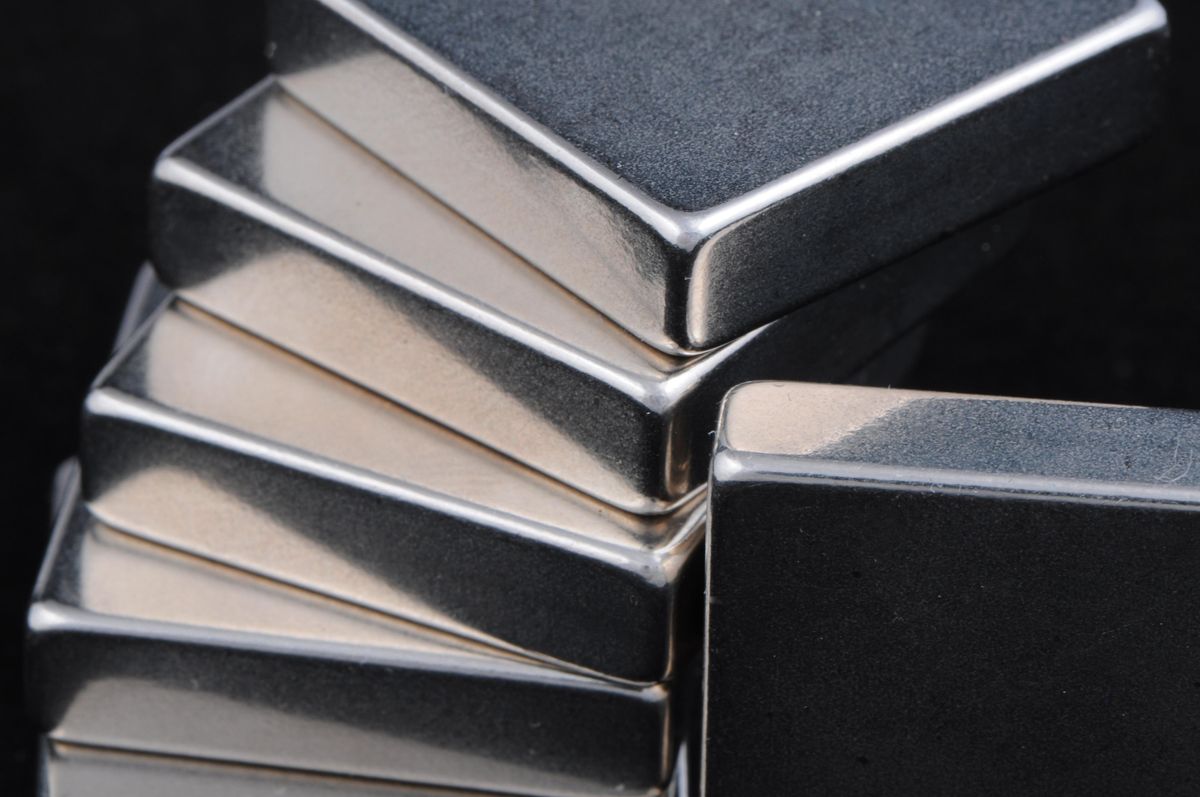 Here's an overview of the main factors that impacted the nickel market in 2022, quarter by quarter.
Click here to read the previous nickel price update.

After climbing to a historic high in the first quarter of the year, surpassing US$100,000 per metric ton (MT), nickel retreated substantially to trade in the US$20,000 range for most of 2022.
The price surge resulted in a suspension of trading on the London Metal Exchange (LME) in early March. At the same time, the Russia-Ukraine war put pressure on prices, while all eyes remained on supply coming online from Indonesia.
For investors interested in nickel, here the Investing News Network (INN) looks back at nickel trends for 2022, including supply and demand dynamics, how the metal performed and what analysts said quarter by quarter.
---
What were the main factors that impacted the nickel market in 2022?
After finishing 2021 trading above the US$20,000 threshold, nickel prices hit their highest level in a decade in mid-January as stockpiles dwindled and potential demand from the electric vehicle (EV) sector supported prices.
The base metal continued to trade higher in February, reaching another milestone as it surpassed the US$25,000 level, partially due to uncertainty hitting markets from Russia's invasion of Ukraine.
Russia is responsible for 9 percent of global nickel output and 15 percent of Class I nickel supply — on which Europe heavily relies.
"If we do see sanctions placed on metal exports or Russian producers, there is very little alternative supply that could feed Europe in the near to medium term," Natalie Scott-Gray of StoneX told INN. "This is particularly true for Class I nickel, which would have a direct impact on the ability for Europe to maintain EV production guidance for this year."
But nickel's price rise during the first quarter was far from over. On March 8, nickel steeply spiked to hit a record level of US$100,000 before the LME decided to suspend trading. "Fundamentals, though supportive of stronger prices, do not justify this frenzy," Wenyu Yao, senior analyst at ING, said in a note on March 8. "It remains to be seen how this crisis ends. However, the market has long been faced with structural issues."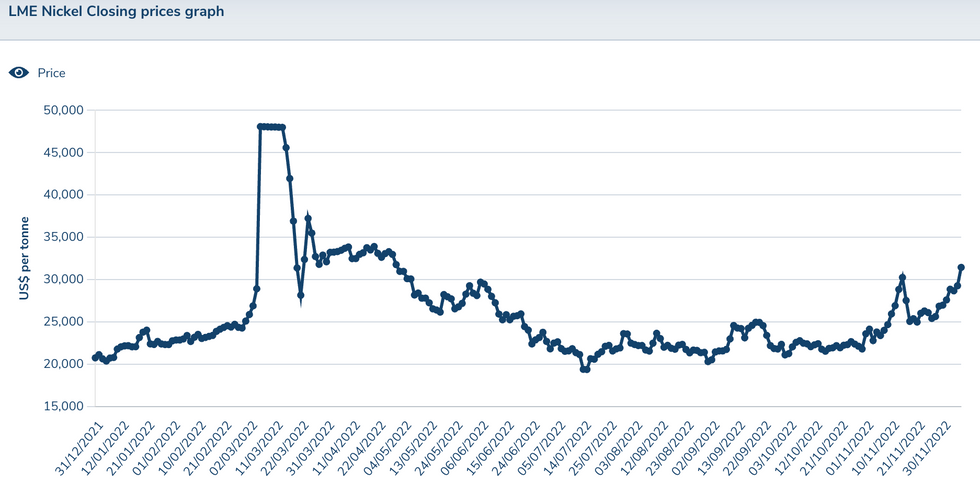 Nickel's price performance year-to-date.
Chart via the London Metal Exchange.
The largest-ever move seen on the LME was attributed to the massive short position held by Chinese tycoon Xiang Guangda, who controls the world's largest nickel producer, Tsingshan Holding Group; he was facing billions of dollars in mark-to-market losses.
The 145-year-old exchange resumed trading, although not without somehiccups, with UK regulators planning to launch a review of the "disorderly market" in nickel contracts in March.
"We expect the LME nickel price to remain volatile in the near term, as the global nickel market finds equilibrium following the price spike and subsequent events," Jason Sappor, senior research analyst with S&P Global Market Intelligence, told INN back in March.
Looking over to nickel demand, the market was already seeing less need within China for stainless steel and EVs, and any further extension of COVID-19 lockdown measures in the Asian country was expected to exacerbate the situation.
"A prolonged (Russia-Ukraine) war will also hurt the demand profile within Europe for nickel, in addition to stretching out supply chain pain given elevated freight rates," Scott-Gray said earlier in 2022.
At the end of the quarter, nickel prices were trading above US$30,000.
With global economic recession fears increasing, nickel prices fell throughout Q2, recording three consecutive monthly losses.
"Although the LME nickel 3-month price has been trending lower since nickel trading on the LME restarted mid-March, the price is still up 7.9 percent since end-2021, finding support from the continued drawdown in Class 1 nickel stocks at exchange warehouses," Sappor said at the time in a report.
Speaking about nickel in Q2, Sean Mulshaw of Wood Mackenzie said he expected prices to retreat a little faster than they did.
"We are now broadly back where we started pre-LME trading halt," he told INN in late June. "We expect a downward trend in nickel prices over the rest of this year and, given where we are now, we could be heading below US$22,000 in Q3."
Commenting on demand from China in the second quarter, Mulshaw said it was weaker than expected on the back of the COVID-19 outbreak. But even now, as restrictions are easing, the rebound is not as strong as forecast.
"Stainless steel production rates have been falling since March, and this will continue at least through July," he explained. "Generally, with nickel prices falling, and therefore stainless prices, stainless customers have become cautious, not wanting to buy a product that then loses value. So orders have dropped."
On the supply side, StoneX modestly increased its forecast, with record levels of nickel pig iron (NPI) production and ex-NPI production in Indonesia. Output levels were being lifted in the country by the expansion of NPI to nickel matte and continued growth in high-pressure acid leach production.
"Although we do factor in a potential downside risk coming from Russian production, given the ongoing war," Scott-Gray said. StoneX's belief was that the European Union likely wouldn't place an export ban on Russian nickel.
Nickel prices ended the quarter trading at US$22,698, declining more than 31 percent since the beginning of April.
The third quarter was dominated by volatility, with nickel reaching its highest point of the period on September 21, when it almost broke the US$25,000 threshold. But prices were unable to hold on to gains, retreating to end the quarter at US$21,107.
Speaking with INN about the main trends seen in the nickel market in Q3, Adrian Gardner of Wood Mackenzie said prices performed as expected, with considerably more stability than seen over the past eight months.
"Push-pull price factors largely canceled each other out, giving small differences between lows-highs of monthly averages," he said.
For Wood Mackenzie, a significantly weaker stainless steel sector across all major consuming areas had been having a negative impact on primary nickel demand since April.
"This weakness will probably extend into Q4 2022, leaving growth profiles for Q1 2023 in doubt also," Gardner said.
Nickel is also a key element used in cathodes for electric vehicle batteries, with many believing demand from this sector will increase significantly in the coming decades.
"Primary nickel demand from the batteries sector, especially in China, which controls about 80 to 85 percent of nickel demand in battery precursors, has been much stronger than expected, and Q4 2022 appears to remain on the same track," Gardner said.
World primary nickel production was 2.49 million MT in 2020 and 2.61 million MT in 2021, and is forecast to reach 3.08 million MT in 2022, mainly due to expected increases in Indonesia and China, as per the International Nickel Study Group.
All in all, the nickel market is set to record a moderate surplus in 2022 upon outright contraction in the largest end use — stainless steel — despite healthy growth in the fastest-growing market — electric vehicles — according to StoneX.
"Meanwhile, production is set to post a record on capacity additions of NPI within Indonesia and alternative routes of Class I production, such as high-pressure acid leach and NPI to nickel matte," Scott-Gray, the firm's senior metals analyst, said.
Nickel price in Q4: Volatility takes the lead
Nickel's performance in the fourth quarter so far has been in an upward trend, with prices breaking the US$30,000 level.
ING's Ewa Manthey said the metals complex has had a volatile year, but nickel is the standout across the complex, managing to hold onto year-to-date gains.
"Still, the LME price is down significantly from its year-to-date highs in March following a short squeeze, as recession fears have undermined market sentiment," she said. "Volatility in the nickel market has become more common in recent months, with reduced liquidity ever since the short squeeze seen back in March."
In November, nickel prices soared to their highest level since the LME meltdown in March, which traders attributed to the low liquidity in the exchange since the unprecedented price spike earlier this year.
"The market is still very thin. What we've seen is the effects of low liquidity play out right in front of us," said Geordie Wilkes, head of research at Sucden Financial, a metals brokerage.
For its part, the LME said has undertaken "enhanced monitoring" of market participants' trading activities in order to stabilize the volatility seen in recent weeks.
"The LME notes the current volatility in nickel," the exchange said. "The price limits in place are functioning as expected and the LME is undertaking enhanced monitoring to ensure that participants' trading activities are being conducted appropriately."
Manthey said she expects more near-term volatility to continue until the LME rebuilds trust in the benchmark nickel contract, volumes pick up again and the market's confidence in it recovers.
"We forecast nickel prices to remain under pressure in the short term as a surplus in the market builds; however, the tightness in the Class 1 market is likely to offer some support," she added.
On December 7, nickel was trading at US$31,441, up from its starting point at US$20,888 on January 3.
Don't forget to follow us @INN_Resource for real-time news updates.
Securities Disclosure: I, Priscila Barrera, hold no direct investment interest in any company mentioned in this article.
Editorial Disclosure: The Investing News Network does not guarantee the accuracy or thoroughness of the information reported in the interviews it conducts. The opinions expressed in these interviews do not reflect the opinions of the Investing News Network and do not constitute investment advice. All readers are encouraged to perform their own due diligence.
Investing News Network websites or approved third-party tools use cookies. Please refer to the cookie policy for collected data, privacy and GDPR compliance. By continuing to browse the site, you agree to our use of cookies.