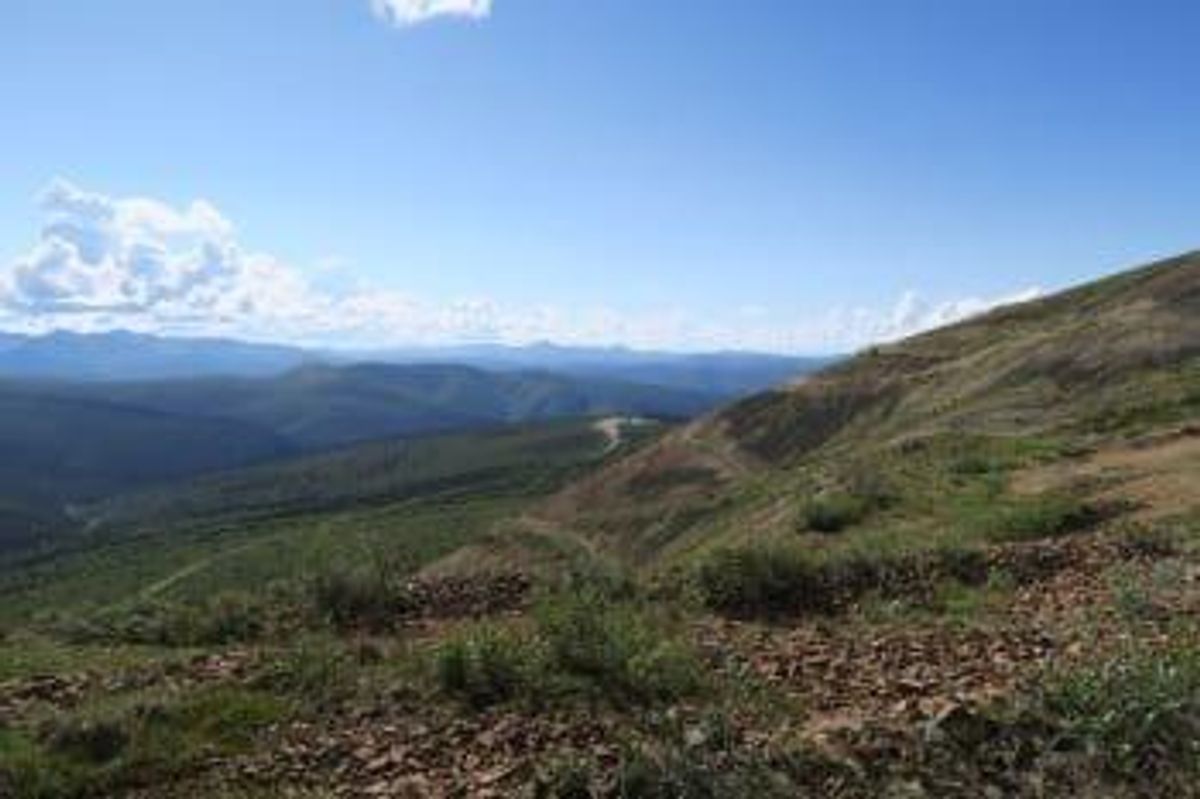 The Investing News Network recently visited Western Copper and Gold's Casino project in Canada's Yukon. Here's a look at the project and what the company has been up to.
Standing on top of a hill on top of the future Casino mine pit, Western Copper and Gold (TSX:WRN,NYSEMKT:WRN) CEO Dr. Paul West Sells pointed to a small point on the road down below.
"See that white mark down by the road?" he said, "That's where the pit will extend to."
There's no doubt about it, the Casino project will be huge. With 4.5 billion pounds of copper, 8.9 million ounces of gold and 6.5 million ounces of silver in proven and probable reserves, Casino is one of the world's largest undeveloped copper deposits—and gold deposits—not controlled by a major mining company. The deposit also holds another 5.4 billion pounds of copper and 9 million ounces of gold in inferred resources, which are not included in the feasibility study or current mine plan.
Furthermore, Casino is expected to be one of the lower cost projects out there, ranked number one on a list of emerging copper producers by Goldman Sachs. The list puts Casino above the rest in terms of required copper price to get a 13 percent risk-adjusted internal rate of return.

That's important, since, as a recent report from
Bloomberg
pointed out, new copper supply set to come online is running into plenty of road blocks. CRU group found that just six mines or expansion projects will be up and running by the end of the decade. Casino is currently in the permitting phase, so the project could be moving forward at just the right time in the cycle.
We recently visited the Casino site, where West-Sells and other team members were able to show us around the project.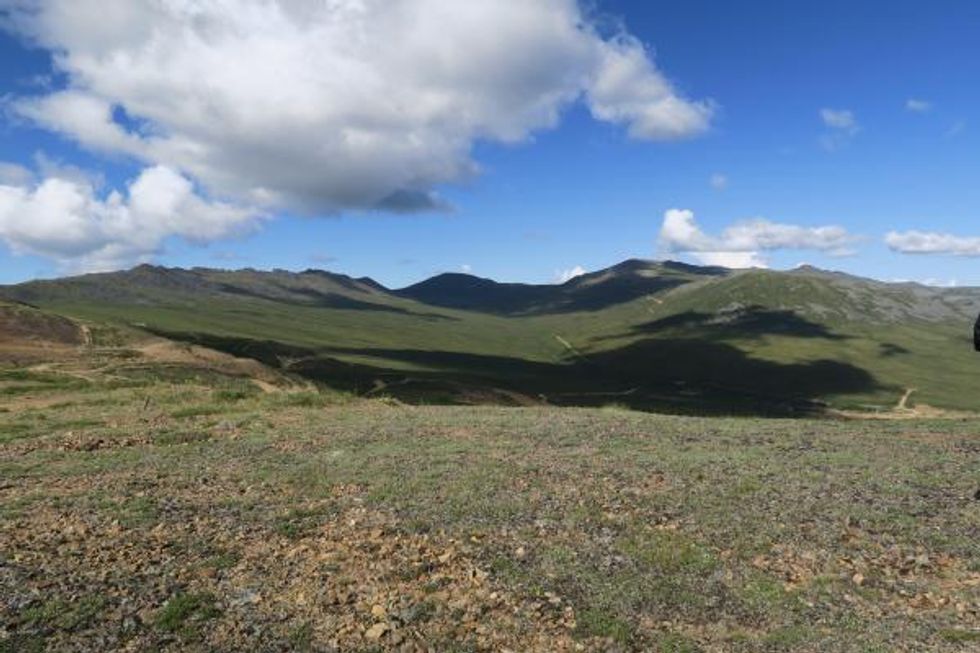 View from the top of the future Casino pit.
The deposit
Located 380 kilometers north of Whitehorse and 100 kilometers from Capstone Mining's (TSX:CS) Minto Mine, Casino is a large-scale, porphyry deposit with copper-rich sulphide mineralization and a gold-rich oxide cap. Western copper and gold bought the Casino project from Ross Beaty's Lumina Resources in 2006, but the property has been held and drilled by various companies since the 1960's.
West-Sells stated that when he started looking at Casino ten years ago, people told him that the project was "way too low grade." However, West-Sells stated that with a life-of-mine grade of 0.5 percent copper equivalent, Casino is actually in line with many of its peers, such as the Mount Milligan mine in British Columbia.
Moreover, the draw with Casino is the sheer size of the deposit. "We're about the same size as Detour. And that's just the gold," West-Sells said, pointing out that Detour Gold (TSX:DGC) has a market cap of about $5.5 billion compared with Western Copper's $96 million.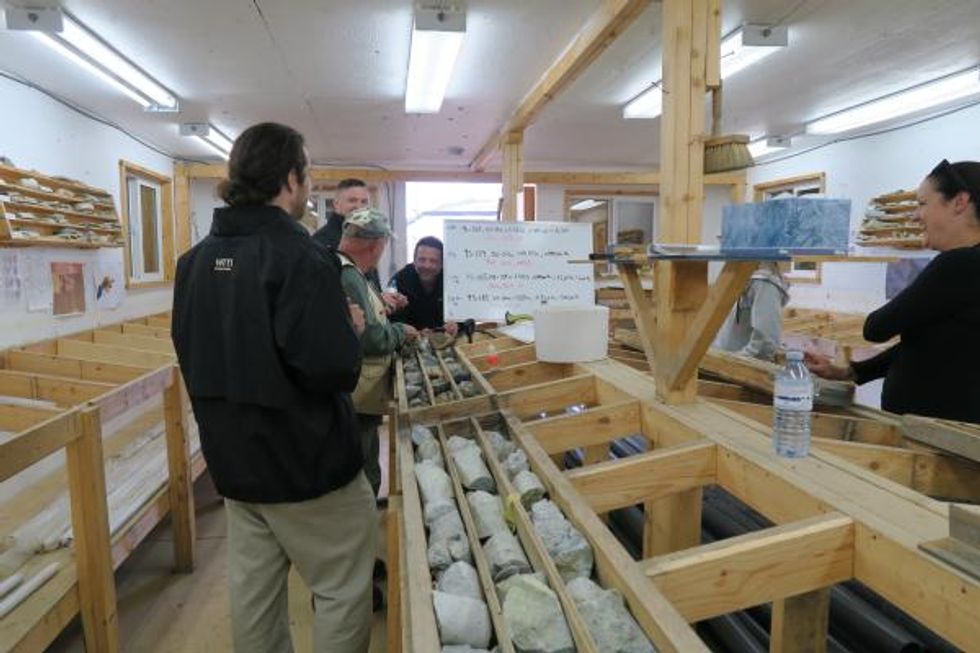 Checking out Western Copper's core shack with Senior Geologist Heather Brown
One particularly interesting point about the deposit at Casino is that there's a deep section of higher-grade explosive breccia. When asked, West-Sells admitted that it was an option to do something similar to what Imperial Metals (TSX:III) had done at its Red Chris Mine—going down to the heart of the deposit to see whether there is a pocket of higher-grade, block-caveable ore. However, this isn't yet part of the official plan.
The mine
Casino has been designed as an open-pit mine with a 124,000 tonne per day flotation mill and a 25,000 tonne per day gold heap leach operation to process the oxide cap. The mine will have a low strip ratio of 0.59:1 over its 22 year mine life (based on proven and probable reserves alone), a key driver for the economics of the project.
The feasibility study for Casino was issued in 2013, so metals prices look a bit high compared to where they are today. However, West-Sells noted that the study also used a 1:1 exchange rate for Canadian to US dollars. With the exchange rate now at about 0.76:1, metals prices are higher in Canadian dollars, doing a bit to balance out that difference.
More importantly, West-Sells stated that using pricing from the first week of July still gives the project a 19.3 percent after-tax IRR. "For a large copper-gold project at this part of the cycle, this is a tremendous return," he said.
Despite the massive scale of the deposit, the proposed mine site plan is relatively compact, with the pit, mill and tailings pond, all located in close proximity to each other.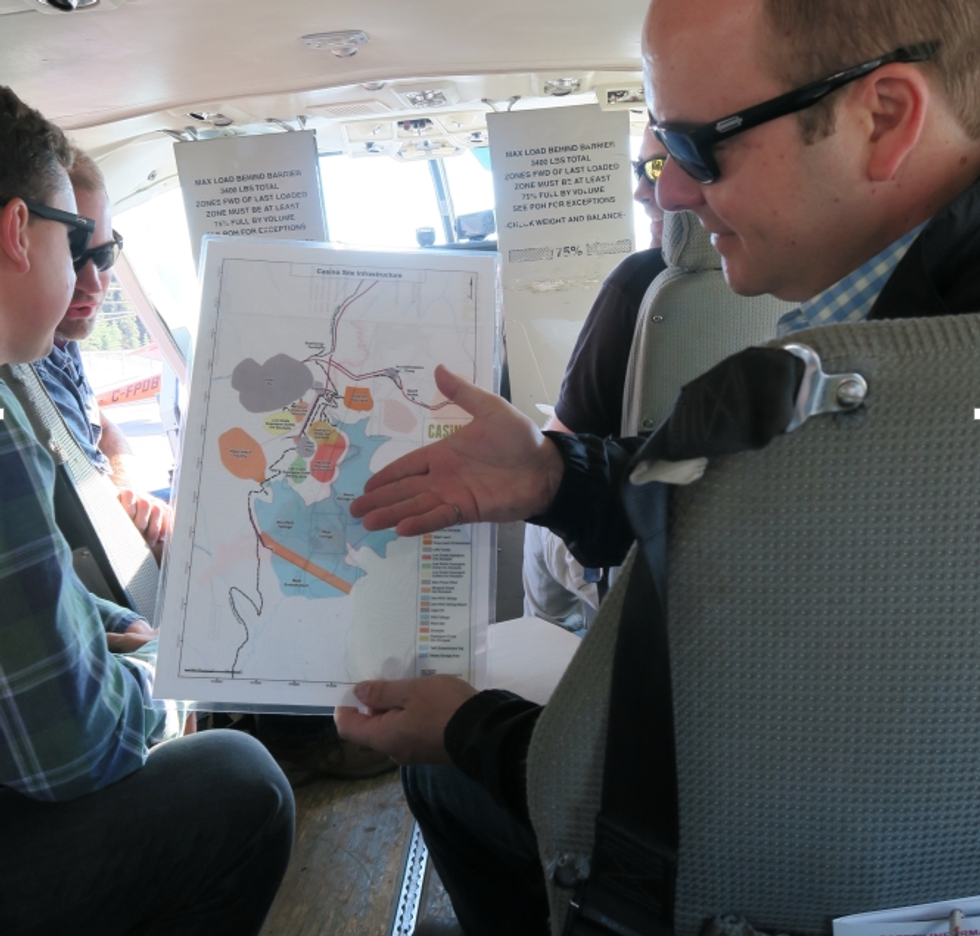 Dr. Paul West-Sells giving us an overview of the layout of Casino from the air.
West-Sells pointed out that the mine, particularly the mill and processing plant, was largely the brainchild of Cameron Brown, Western Copper's VP Engineering, who was previously the project manager at Antofagasta's (LSE:
ANTO
) Los Pelambres mine in Chile.
"He's brought that South American, big Chile mine approach to what we're doing," West-Sells said.
Infrastructure
Lack of existing infrastructure is sometimes cited as a hurdle for mining projects in the Yukon, but West-Sells stated that the infrastructure spend is actually relatively small compared to the overall size of the Casino project. Western Copper needs to build a power plant, upgrade its access road, and build an airstrip, but with all of that considered, it will be about a $300 million infrastructure charge on a nearly $2.5 billion project.
"This is a very low infrastructure charge for a project of this magnitude," West-Sells said.
Casino is expected to be powered by LNG trucked in from Fort Nelson. Western Copper has a memorandum of understanding (MOU) with a group that's looking to build a liquefaction facility in Fort Nelson, and another MOU with Siemens to provide and operate the gas-fired power plant at Casino.
Not to be wasteful, Western Copper will also be able to use heat recovery from the power plant to warm all of the buildings at Casino.
In terms of road access, there's about 130 kilometers of road upgrading needed. However, the Yukon government has been very supportive on this front—it's applied for federal funding to cover 100 percent of costs for the Freegold road upgrade, and to cover 30 percent of the road to Casino. The Casino section was anticipated to cost about $100 million in the company's most recent feasibility study, so the 30 percent discount will certainly be helpful.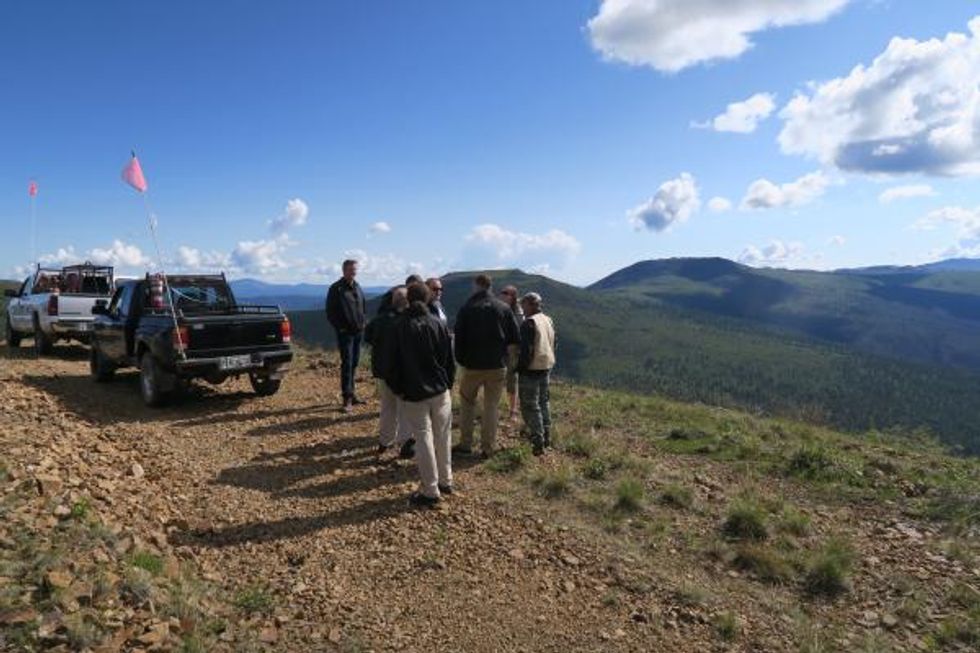 West-Sells telling us more about the deposit from the top of the future mine pit. Casino holdsWest-Sells telling us more about the deposit from the top of the future mine pit. Casino holds 4.5 billion pounds of copper, 8.9 million ounces of gold and 6.5 million ounces of silver in proven and probable reserves and a further 5.4 billion pounds of copper and 9 million ounces of gold in inferred resources.
Permitting underway
As mentioned above, Casino is currently in permitting. The company filed its application with the Yukon Environmental and Socio-Economic Assessment Board in 2014, and was notified in February 2016 that the project would be sent to a panel review.
Western Copper has a set of Environmental and Socio-economic Effects (ESE) Statement Guidelines, which outlines everything it needs to submit to YESAB, and Mary Mioska, Western Copper's senior environmental manager, stated that 70 percent of that work is already done.
"Once that work is done and we submit that, a panel is established, and they have 15 months to go through the panel review," he said. "The big question is when do we think we're going to have all of that done?"
The company is currently working through its scheduling and budget for remaining work, and needs to submit a schedule for submission of a finalized ESE statement to YESAB by August 19th.

One of the main questions surrounding the Casino project is, of course, the tailings facility. Containing nearly 974 million tonnes of tailings and covering 1,120 hectares, the tailings management facility at Casino will not be small.
However, West-Sells stated that the company is well-aware of the changed perception of risk surrounding tailings dams in a post-Mount Polley world, and is proactively looking at changes it can make to ensure the tailings facility is even safer.
"We are looking at a couple of things, to move some things around, to lower the amount of water on it, and to make this even a safer tailings dam than what we have here," he said. "We have to consider what a failed tailings dam looks like, and how we would minimize that [potential] disturbance."
The company has signed cooperation agreements with the Selkirk, Little Salmon/Carmacks and Tr'ondëk Hwëch'in First Nations, and is working towards signing impact benefit agreements with all three groups as well. The mine is located in Selkirk First Nation territory—as is the Minto mine—while the road will run through Little Salmon/Carmacks territory.
Meanwhile, Western Copper has signed a
charter
with the Yukon government, outlining the government's commitment to ensure that environmental permitting for Casino "occurs in a timely and efficient manner." 
"It's probably going to take us around 5 years from start to finish," West-Sells said. "If you look at comparable projects in Canada, it takes about the same."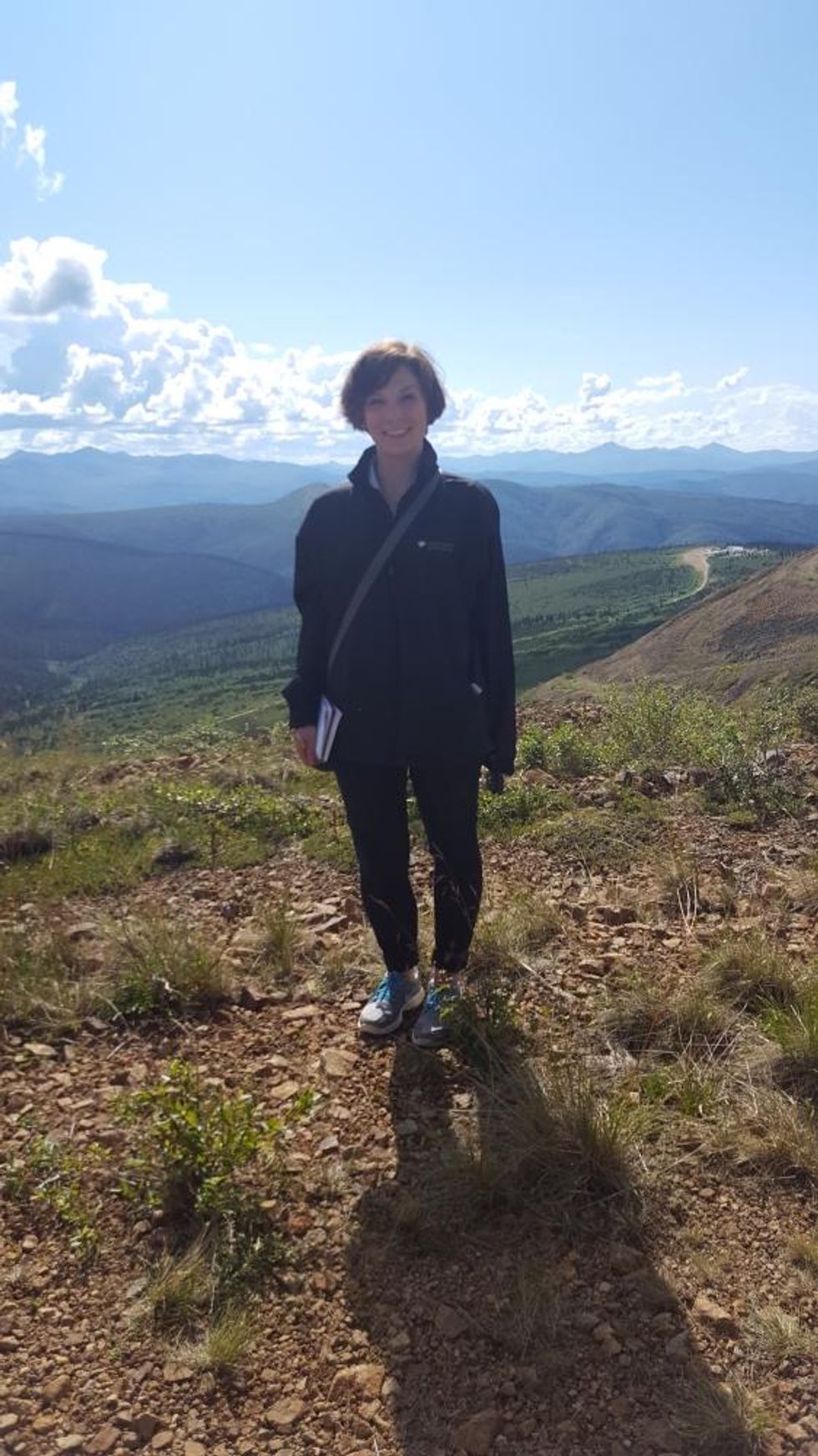 Standing on top of the Casino deposit, camp in the background.
Partners wanted
As it moves through the permitting process, Western Copper is keeping its burn rate low. The company ended the second quarter with $9 million on its balance sheet, and expects to finish the year with about $7 million.
But once Casino is permitted, Western Copper will need just under $2.5 billion to build the mine.
West-Sells wasn't shy about the fact that Western Copper is looking for someone with deeper pockets to help bring the project into production, and soon.
"What I would like to do with this is push towards getting a partner in now, before we get to the end of the EA," he said.
The company may not have to push too hard either. West-Sells added the the company had seen "a lot of interest this year."
"It started at the Denver gold show. Every major gold company wanted to meet with us," he said. "So post that, there's been a lot of activity and a lot of discussion—mostly gold companies right now. A lot of the copper companies are still shedding assets, getting rid of debt."
Still, West-Sells believes that copper producers will be looking for new projects in due course.
"Go back to the Goldman chart—which of those projects do you want to build?" he said.
Western Copper has traded within a 52 week range of $0.29 and $1.34 per share. It is up 184 percent so far in 2016, closing at $1.08 per share on Monday, July 25.
Don't forget to follow us @INN_Resource for real-time news updates!

Securities Disclosure: I, Teresa Matich, hold no direct investment interest in any company mentioned in this article.Editorial Disclosure: The Investing News Network does not guarantee the accuracy or thoroughness of the information reported in the interviews it conducts. The opinions expressed in these interviews do not reflect the opinions of the Investing News Network.Western Copper and Gold is a client of the Investing News Network. This article is not paid for content. 
Investing News Network websites or approved third-party tools use cookies. Please refer to the cookie policy for collected data, privacy and GDPR compliance. By continuing to browse the site, you agree to our use of cookies.