Copper Mining in the United States
By Leia Michele Toovey- Exclusive to Copper Investing News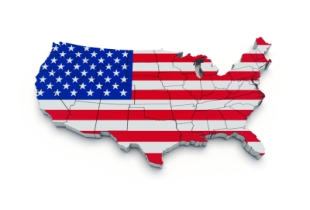 Copper mining  has been a major industry in the United States since the rise of the northern Michigan copper district in the 1840s. In 2009, domestic mine production in the United States was valued at approximately $6.2 billion. The principal mining States, in order of descending production, are Arizona, Utah, New Mexico, Nevada and Montana.  The mines in these States together accounted for more than 99 percent of domestic production; the remaining 1 percent came from copper mines in Idaho and Missouri.
The primary source of copper mines in the United States is porphyry copper deposits.  Porphyry  copper deposits consist of disseminated copper ores that are relatively evenly distributed in large volumes of rock, forming high tonnage, low to moderate grade ores. Despite their relatively low grades, porphyry copper deposits are the most significant source of copper due to their massive scale.  Porphyry copper mines are typically mined for many years due to their size, and they are suitable for open- pit extraction methods. Porphyry copper deposits are mined primarily for copper, although there are co-products, molybdenum and gold , and the by-product silver. In addition, rhenium, tellurium, platinum group elements, arsenic, and zinc are recovered from a few deposits.
The regional, deposit-scale and local-scale environments of porphyry copper deposits are diverse, and despite much scientific study, many features are poorly understood in regard to their relevance as controls of ore formation. While there is general consensus that porphyry copper deposits are structurally controlled, there is no strong agreement as to the relative importance of regional compared to local fault systems.
It is quite hard to generalize when it comes to the geology of the prolific copper deposits in the United States, as there are just as many rules as exceptions. Generally, porphyry deposits form above a magma chamber that intrudes the earth's crust.  This chamber is a result of some sort of crustal stress, commonly crustal subduction. However, the geology of some of these porphyry copper deposits is controlled more by local crustal stresses, than porphyry geology. The Silver Bell district near Tucson, Arizona, provides an example of geophysically-expressed structural control. The Silver Bell district lies along a northwest-trending magnetic anomaly observable in high-altitude, regional-scale magnetic data. Elsewhere in Arizona, porphyry copper deposits are related to arcuate magnetic lows, which are interpreted to be fracture systems where hydrothermal fluids have destroyed magnetite. At the high altitude of these particular magnetic measurements, anomalies reflect the regional-scale "plumbing system" rather than specific porphyry copper deposits.
An example of a world class deposit…
Over its lifespan, the Bingham Canyon Mine has proven to be one of the world's most productive mines. Also known as the Kennecott Copper Mine, it is an open-pit mining operation extracting a large porphyry copper deposit southwest of Salt Lake City, Utah. It is owned by Rio Tinto Group (NYSE:RTP), while operations are managed through Kennecott Utah Copper Corporation. The mine has been in production since 1906, and has resulted in the creation of a pit 1.2 km deep, 4.0 km wide and covering  an area of 7.7 km². The deposit was formed approximately 30 million to 40 million years ago when massive igneous intrusions initiated the process of mineralization. Extreme pressure forced superheated, mineral-rich solutions into fractured intrusive and adjacent sedimentary rock. Upon cooling, the mineralized solutions deposited enormous quantities of metals throughout a broad section of igneous and sedimentary rock that is now known as the Bingham Stock. Bingham Canyon is not presently a source of notable mineral specimens. Copper minerals– primarily chalcopyrite–are present in very low grades and disseminated throughout the granite-like host rock as tiny grains, seams and fracture coatings.
A promising junior…
Nevada Copper Corporation (TSX: NCU) owns 100 percent of the Pumpkin Hollow Copper Property.  The property is located in the copper rich state of Nevada, precisely in the Walker Lane mineralized belt of Western Nevada. The deposit is an advanced development stage copper property, which contains measured and indicated resources totaling 4 billion pounds of copper plus additional inferred resources of 3.9 billion pounds of copper (all using a 0.2% copper cutoff grade). This 7.9 billion pound copper resource and associated 144 million ton iron, 1.3 million ounces of gold and 57 million ounces of silver was estimated effective October, 2007. Contained within the larger resource is a high grade core of 116 million tons grading 1.4 % copper at a 0.75% cutoff containing 3 billion pounds of Copper.  Drilling is currently ongoing at this property, as Nevada Copper has yet to define the limits of the deposit.